A Breakdown Of Black Friday And Cyber Monday
General Ecommerce Advice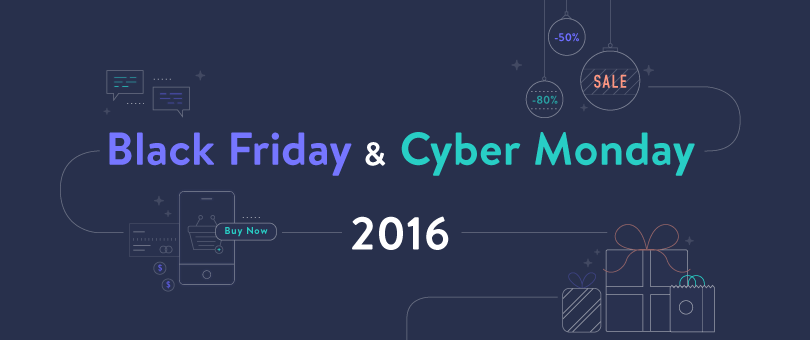 As the dust settles on Black Friday and Cyber Monday 2016, one thing is clear: they continue to be massive commerce events and the most important two days of the year for Shopify merchants.
To help illustrate just how these days compare to a regular shopping day, we crunched the numbers and shared our most interesting findings below.
A Massive Spike in Orders
It's no secret that Black Friday and Cyber Monday outperform the average November shopping day, but what's really interesting is the amount of transactions that ShopWired processed at its peak—a staggering £343,698

The Most Popular Hours to Shop
Interestingly, we discovered an eight hour difference in peak order times between shopping days. On Black Friday, order traffic steadily increased until hitting a 12 p.m. peak. During Cyber Monday, shoppers took a mid-evening break before peaking at 9 p.m. If you noticed that 3 a.m. bump early Friday morning, we're guessing those were west coast shoppers snagging deals at midnight (PST).
Worldwide Growth
Since its inception in 1959, Black Friday has been largely regarded as an American holiday. But in the past few years, and due in large part to the ever-increasing popularity of online shopping, the frenzy has started to catch on worldwide. Spain saw the largest increase in Black Friday orders on Shopify over an average shopping day, but significant growth was also spotted in Denmark, Canada, and the U.K.
The Shift to Mobile
Over Black Friday, we saw significantly more orders originating from mobile devices—a trend that started last year and continued to grow in 2016. The story changed for Cyber Monday, which saw mobile orders dip below desktops by a narrow margin.
Over to You
If you're a Shopify merchant, we'd love to know how these trends stack up against your own personal Black Friday and Cyber Monday experience.