Ecommerce Website Design: What Makes The Perfect Ecommerce Website?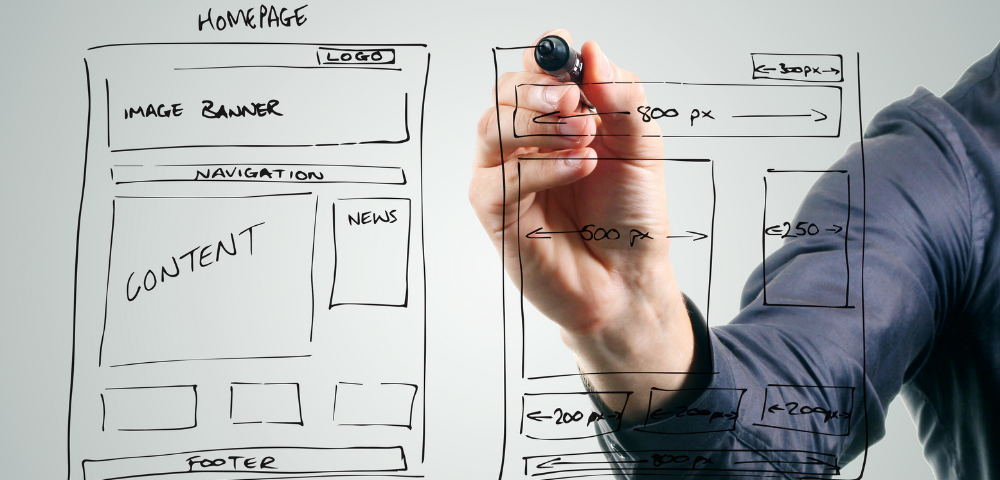 First impressions count. Especially when it comes to ecommerce websites.
Before they read a single word or click on a product, visitors are already forming opinions based on the visual appeal and layout of your site. In fact, according to a study, users form an opinion of a website in just 0.05 seconds. That's why it's so important to have a well-designed, user-friendly website that not only captures attention but also encourages visitors to stay and explore.
As the online marketplace becomes increasingly competitive, ensuring your website stands out for all the right reasons has never been more crucial.
But what makes the perfect ecommerce website?
Good question.
Keep reading on to find out as we explore ecommerce website design best practices.
Table of contents
The benefits of solid web design
What makes the perfect ecommerce website?
4 ecommerce websites with great design
ShopWired: making website design easy
---
The Benefits of Solid Web Design
In the online world, having the best ecommerce web design is more than just looks; it's a strategic tool that can put you above the rest and drive business growth.
Here are five undeniable benefits of solid web design:
1. Enhanced User Experience (UX)
A user-friendly design ensures that visitors can navigate your site with ease, leading to longer stays and increased chances of conversion.
2. Boosted Credibility
A professional-looking website instils trust. When customers see that effort has been put into the design, they're more likely to believe in the quality of the products or services offered. Just think, if you landed on a website that looked bad and performed poorly, would you have full faith in the brand? Probably not.
3. Higher Conversion Rates
Effective design elements like clear call-to-action buttons and intuitive layouts, guide visitors towards making a purchase, increasing your sales. That's why a well designed website that makes it easy for users can be the difference between high or low conversion rates.
4. SEO Advantages
Good web design practices, especially in terms of mobile optimisation and site speed, can improve your site's ranking on search engines, driving more organic traffic.
5. Reduced Bounce Rates
Engaging and attractive design can hold visitors' attention, reducing the chances of them leaving the site prematurely. By reducing bounce rates and increasing engagement time, users become more likely convert.
In essence, a well-designed website is the foundation of a successful ecommerce venture, influencing everything from brand perception to revenue.
---
What Makes The Perfect Ecommerce Website?
Before exploring the nuances of web design, it's essential to understand the broader picture. What exactly constitutes a 'perfect' ecommerce website? Is it just about flashy visuals, or is there more beneath the surface? As we venture further, we'll unravel the layers that make up an ideal ecommerce website, from the power of visuals to the subtle nuances that enhance user experience. Whether you're a budding entrepreneur or an established business owner, these insights will equip you with the knowledge to refine your online presence and captivate your audience.
The Importance of Visuals in Web Design
Visual elements are the first things users notice when they land on a website. According to a study by Adobe, nearly 38% of people will stop engaging with a website if the content or layout is unattractive. This highlights the significance of visuals in retaining user attention. High-quality images, recognisable colour schemes and engaging graphics aid the overall aesthetic appeal of the website.
But beyond looks, compelling visuals can also reinforce brand identity and trustworthiness. Perhaps you're page is embellished with logos your accepted payment gateways, 5-star customer reviews or even badges of industry awards and certifications. These visual cues not only enhance the site's credibility but also reassure visitors of the authenticity and quality of your brand.
Moreover, visuals can guide users through a site, highlighting essential products or information and prompting them to take desired actions. The power of visuals in web design cannot be understated; they are the silent ambassadors of your brand, speaking volumes without uttering a word.
Page Speed: The Need for Speed
In the digital age, patience is a dwindling virtue. As consumers become accustomed to instant gratification, the speed at which your ecommerce website loads can make or break their shopping experience.
Statistics have shown that websites that take more than 2 seconds to load are abandoned by a staggering 47% of visitors. This underscores how important it is to optimise your website's speed. A delay of even a few seconds can result in lost sales, reduced customer trust and a tarnished brand image.
But how can you gauge the speed of your website? PageSpeed Insights is an invaluable tool by Google analyses the content of a web page and then generates suggestions to make that page faster. It works for both desktop and mobile versions of your website. By regularly checking and implementing the recommendations, you can ensure that your website remains swift, efficient, and, most importantly, user-friendly.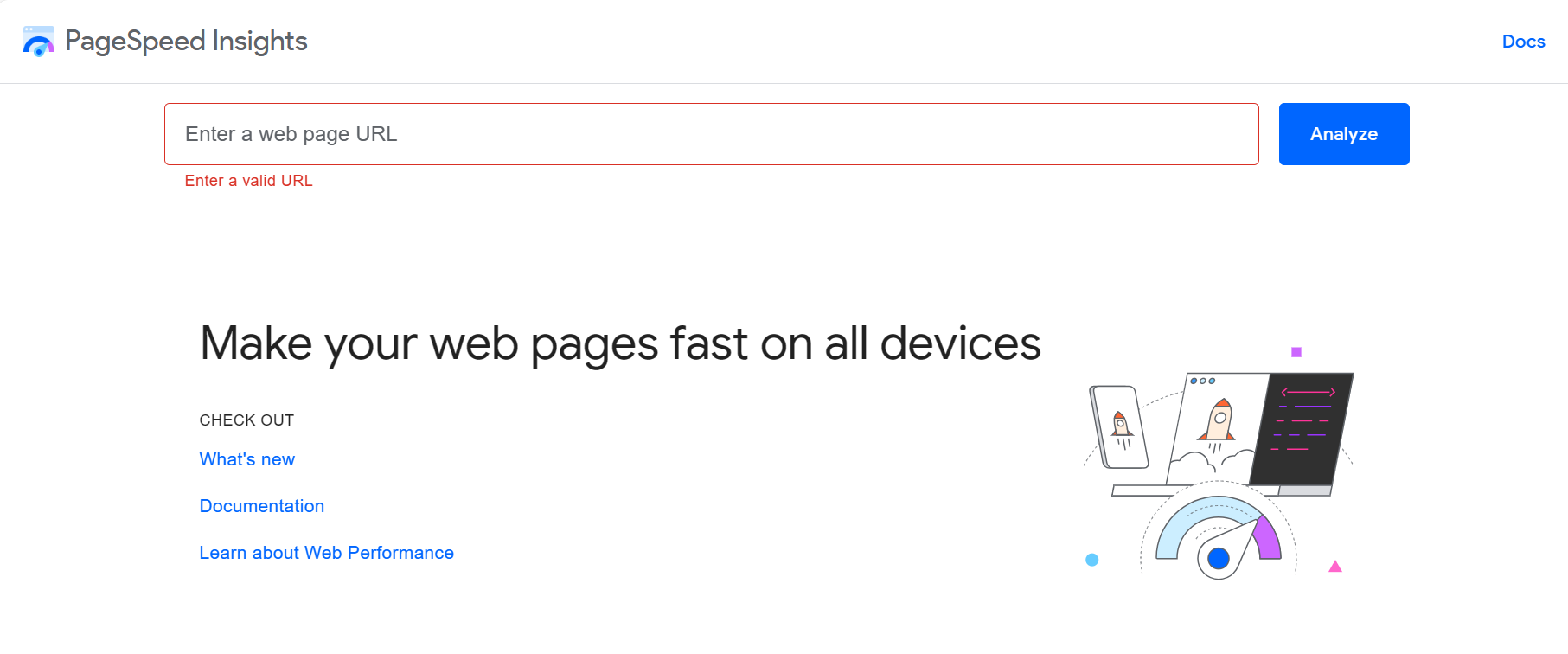 Remember, in the world of ecommerce, speed isn't just a luxury; it's a necessity. Ensure your website is up to the mark to keep your customers engaged and satisfied.
Mobile Optimisation: A Necessity
In today's fast-paced digital world, mobile optimisation is an absolute necessity. With half of global users accessing websites via mobile devices in 2023, it's clear that the mobile-first approach is here to stay.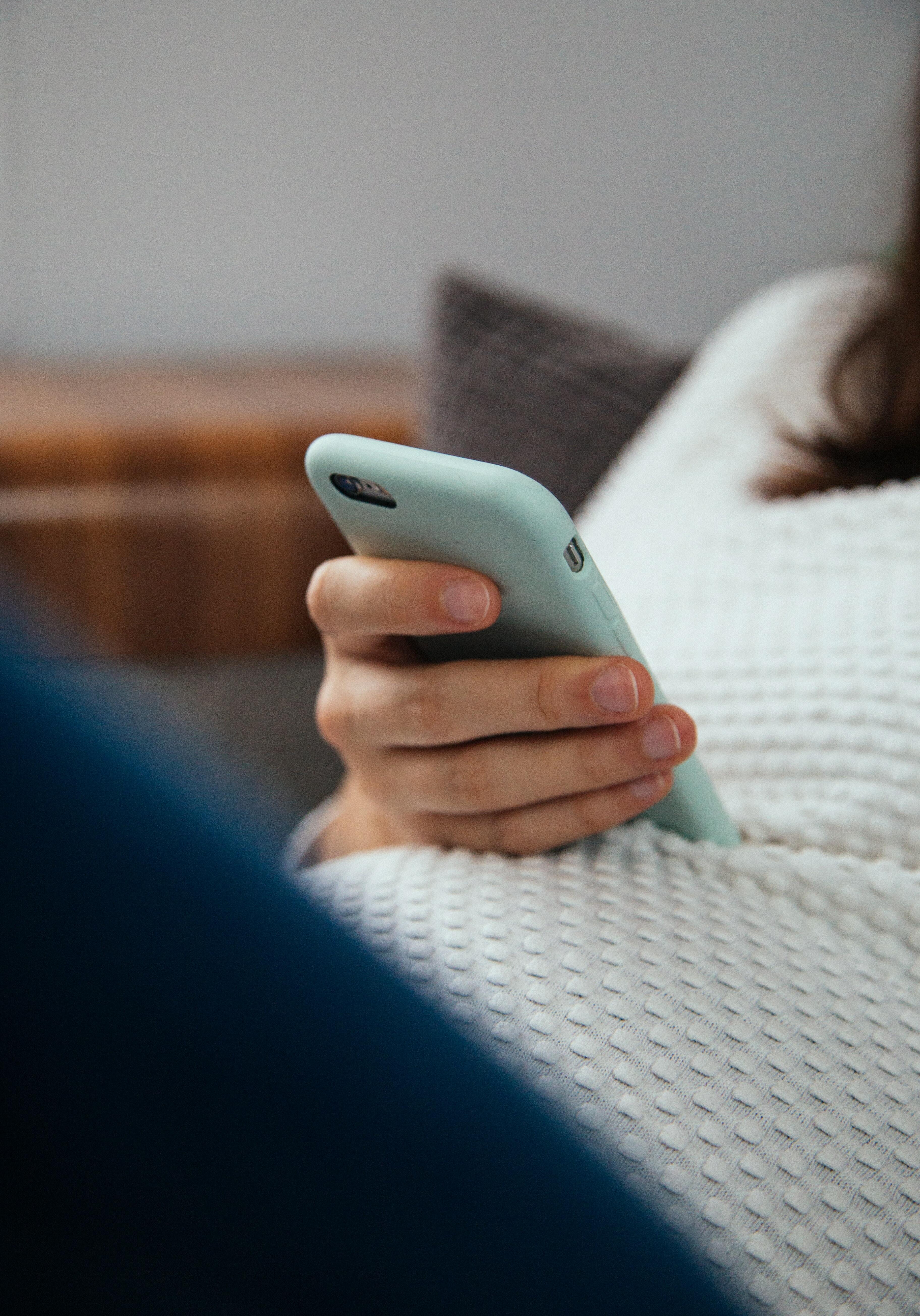 Mobile optimisation ensures that your website looks and functions seamlessly on smartphones and tablets. This not only enhances the user experience but can also boost your site's search engine rankings. Google, for instance, prioritises mobile-optimised websites in its search results. If your ecommerce site isn't optimised for mobile, you're not only missing out on a significant chunk of traffic but also potential sales and revenue.
Responsive Web Design: Enhancing the User Experience
The digital consumer demands a seamless browsing experience, regardless of the device they're using. 73% of web designers believe that a non-responsive design is the top reason people leave a website. That's a significant loss of potential customers and sales.
Responsive web design ensures that your website's layout, images and functionalities adjust automatically to fit the device it's being viewed on, be it a desktop, tablet or smartphone. This adaptability not only improves user experience but also reduces bounce rates and boosts conversions. In the competitive world of ecommerce, a responsive design isn't just a nice-to-have; it's a critical component of your online success.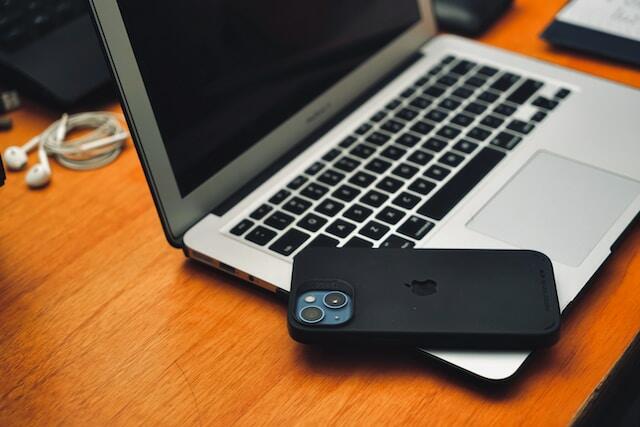 Web Design for Business Success
Your website is often the first touchpoint for potential customers, and its design can significantly influence their perception of your brand. A well-designed, aesthetically pleasing website can enhance brand recognition, build trust and help drive sales. On the flip side, a poorly designed site can deter potential customers and tarnish your brand's reputation.
Investing in a professionally designed, user-friendly website isn't just about aesthetics; it's a strategic move that can propel your business to new heights.
---
4 Ecommerce Websites With Great Design
We've looked at some of the principles and strategies behind effective web design. To provide a clearer picture, we've curated a list of five exemplary ecommerce websites. These sites utilise web design best practices to provide a solid and engaging user experience.
Let's dive in and explore these examples, understanding what makes them good and how they deliver a good user experience.
1. Allbirds
Allbirds is an ecommerce store selling eco-friendly clothing made and packaged from sustainable materials.
Homepage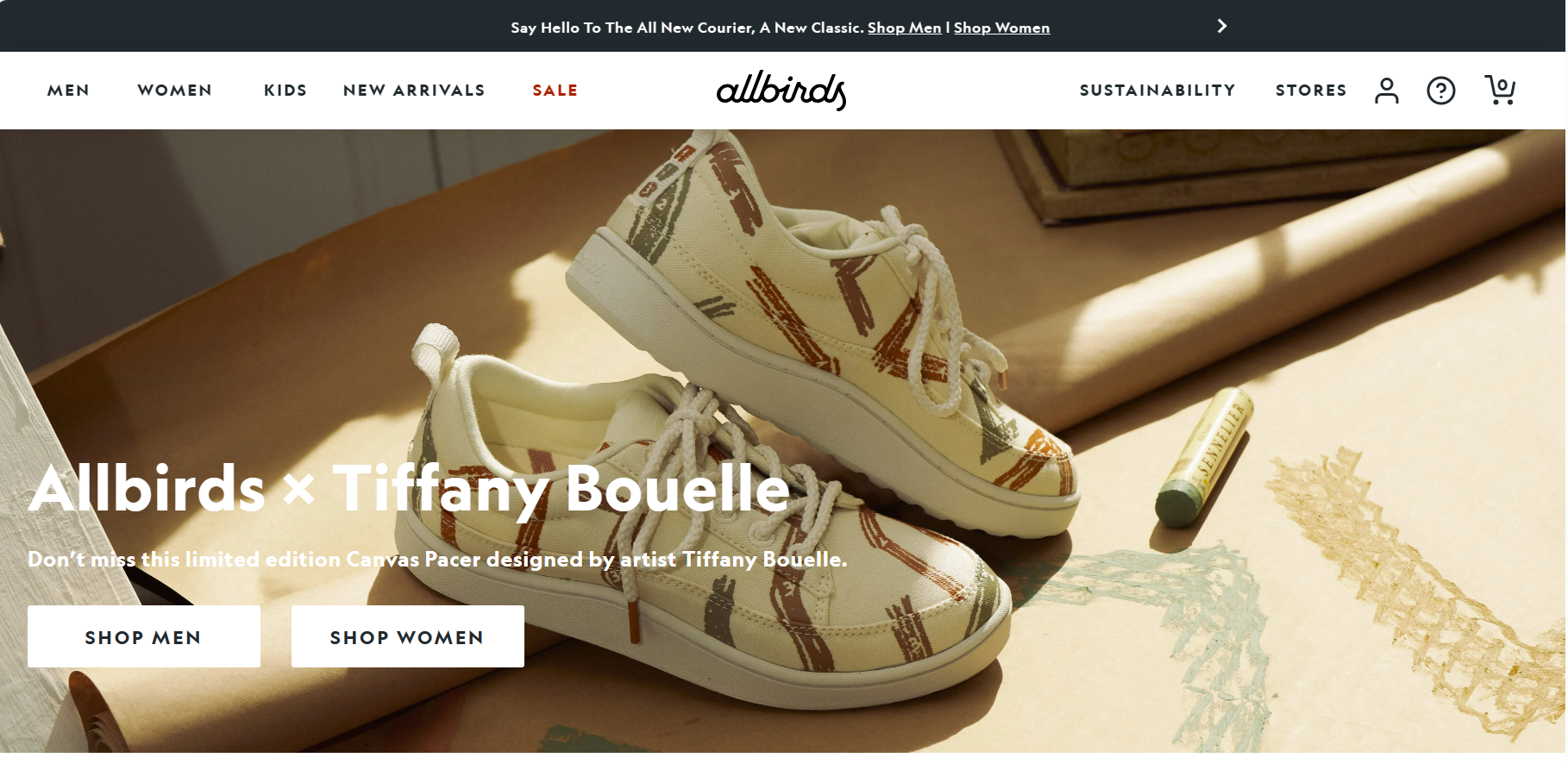 As soon as the user lands on the homepage, it's clear that Allbirds are a design-conscious brand, with a mixture of stunning product photos and lifestyle images throughout the homepage.
At the very top of the homepage, above the header menu is an interactive announcement bar. Users can click the right arrow in the announcement bar to change the announcement, giving them quick access to the latest news, updates and offers, as well as links to other parts of the website. This feature informs and engages visitors.
Below the announcement bar is the website's main navigation header menu. The header contains everything you'd expect to see, including the site's main categories, company logo, store locator, a help button, basket and more.
Below the announncement bar and header menu, Allbirds' latest limited edition collab with artist Tiffany Bouelle takes centre stage on the homepage, with two clear buttons allowing users to Shop Men or Shop Women. It's sleek and simple.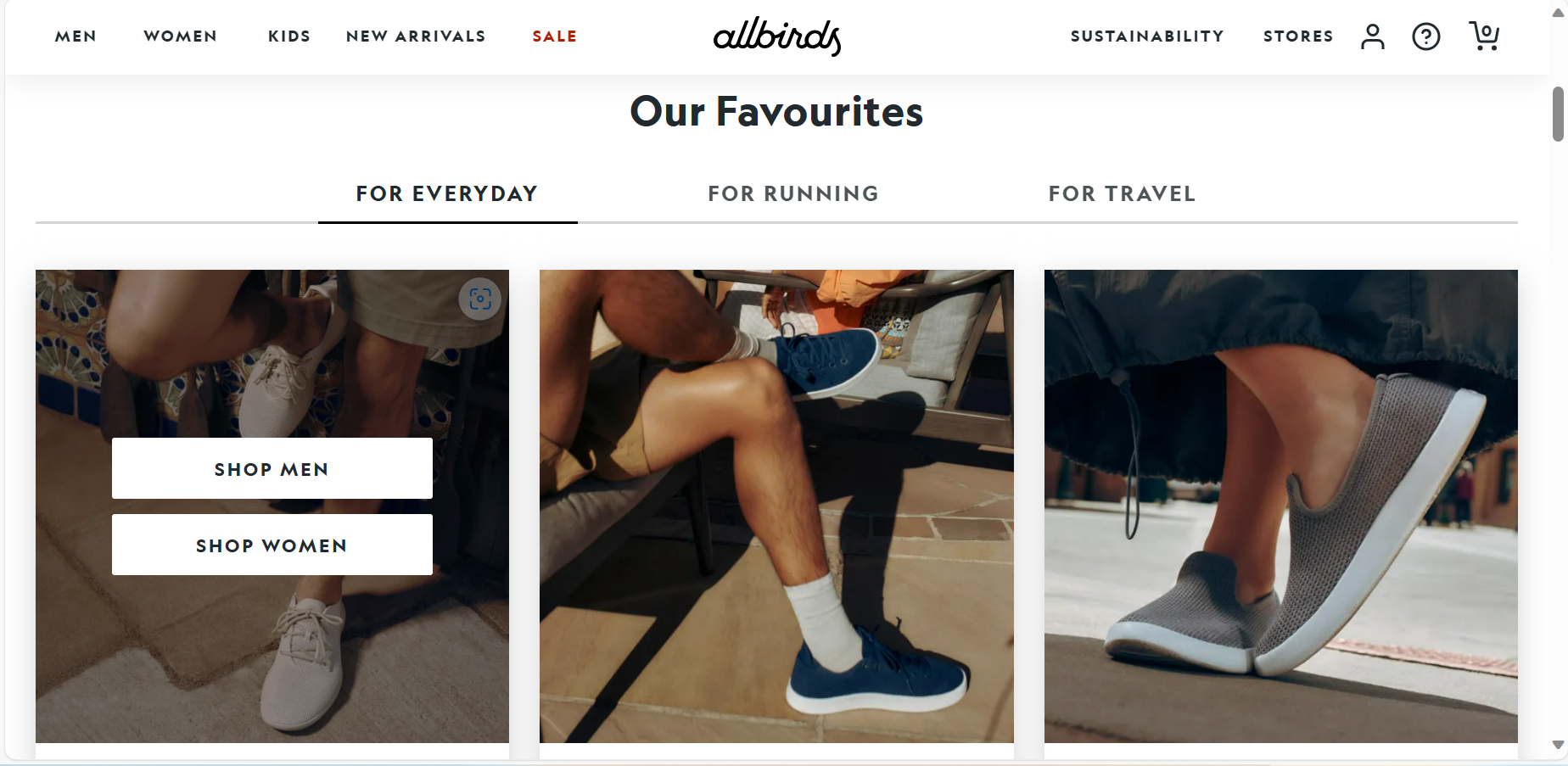 As users scroll down the homepage, they're met with a series of well-designed sections showing different product lines from Allbirds. The first section is labelled Our Favourites, giving users quick access to some of their most popular products. Notice above the images there are 3 options to choose from: Everyday, Running and Travel. As the user hovers over one of the images under the tab, two buttons appear, giving you the option to Shop Men or Shop Women.
The whole design is simple but effective. Not only is the page visually appealing, with the products taking centre stage, but it feels very intuitive. Clicking through to other parts of the website can be easily done by hovering over an option and clicking a button.
As the users continues to scroll down the homepage, a series of new sections appear- all equally intuitive and well laid out. There are sections for New Arrivals, Collections and Updates (see below)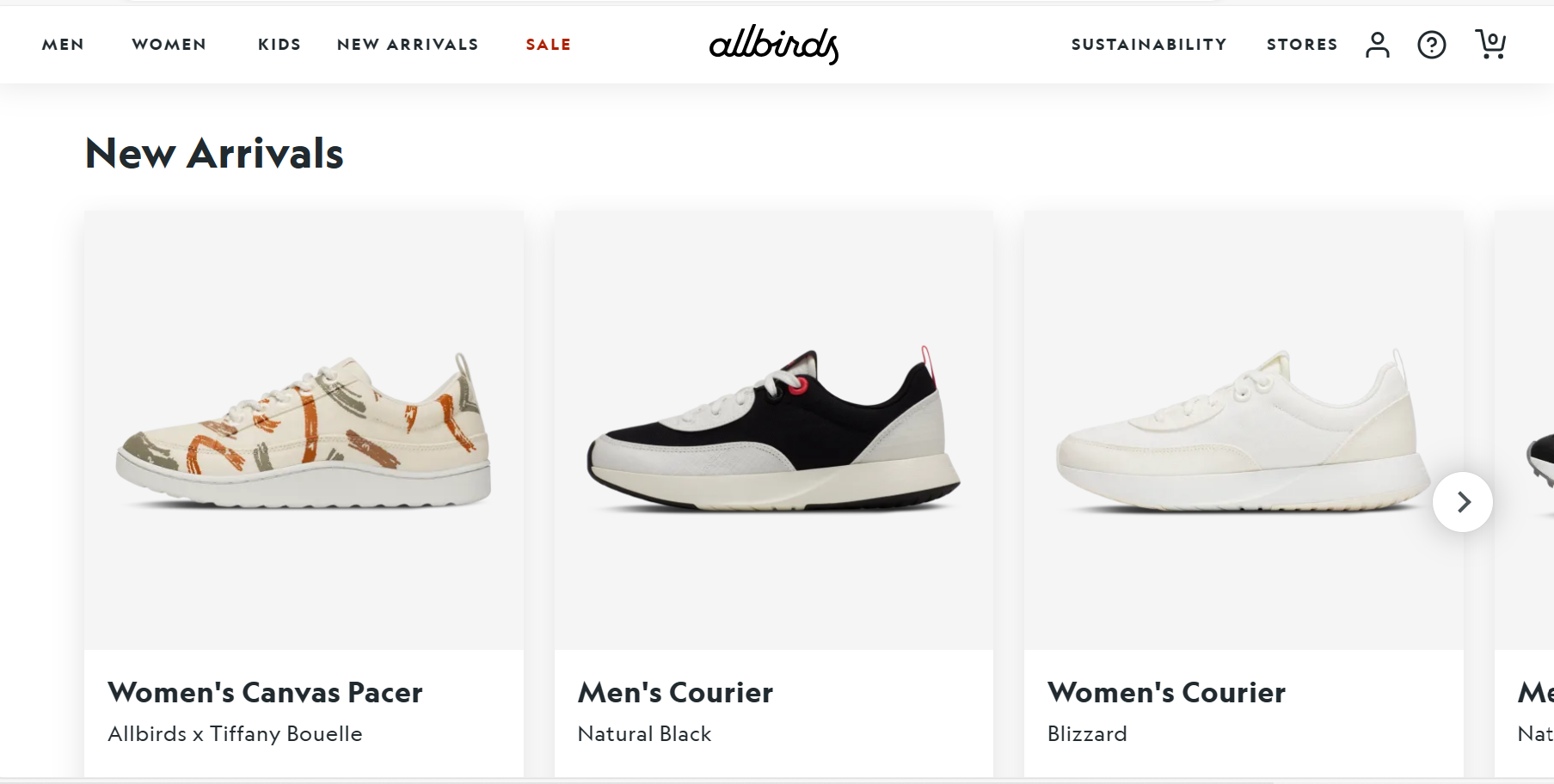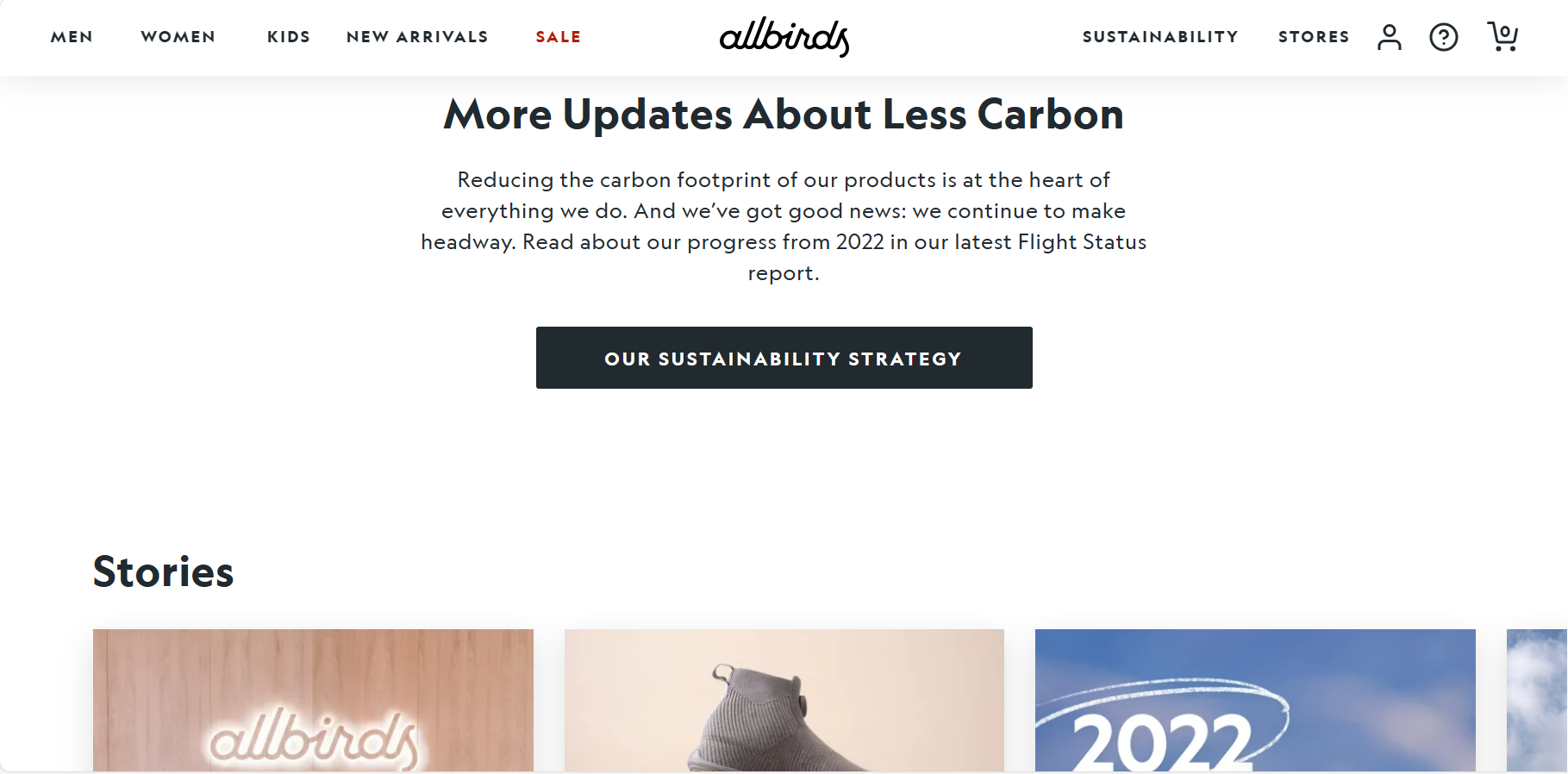 This section informs users about Allbirds' sustainability strategy, as well as the latest stories and updates. This is a great way for engaging visitors and getting them on board with the company ethos. It also breaks up the content so that it's not all product-related, making for an enjoyable and varied browsing experience.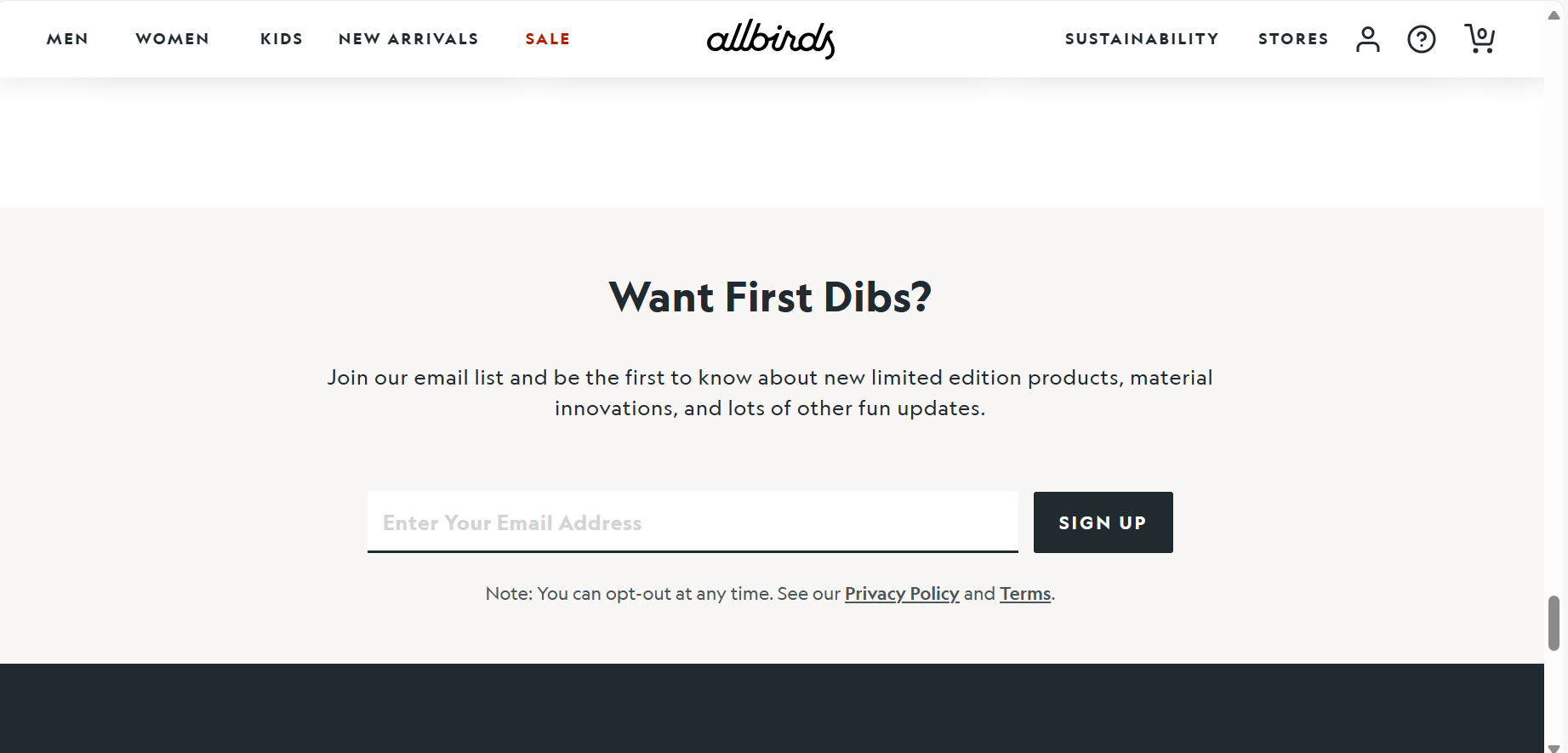 Before users reach the end of the homepage, there's a nice and clear newsletter sign up box. This is useful for getting people to immediately sign up after exploring the homepage.
At the very bottom of the homepage is a footer section containing everything you'd expect from a reputable website, including site navigation, contact information, location options, a certificate and links to Allbirds' social media pages.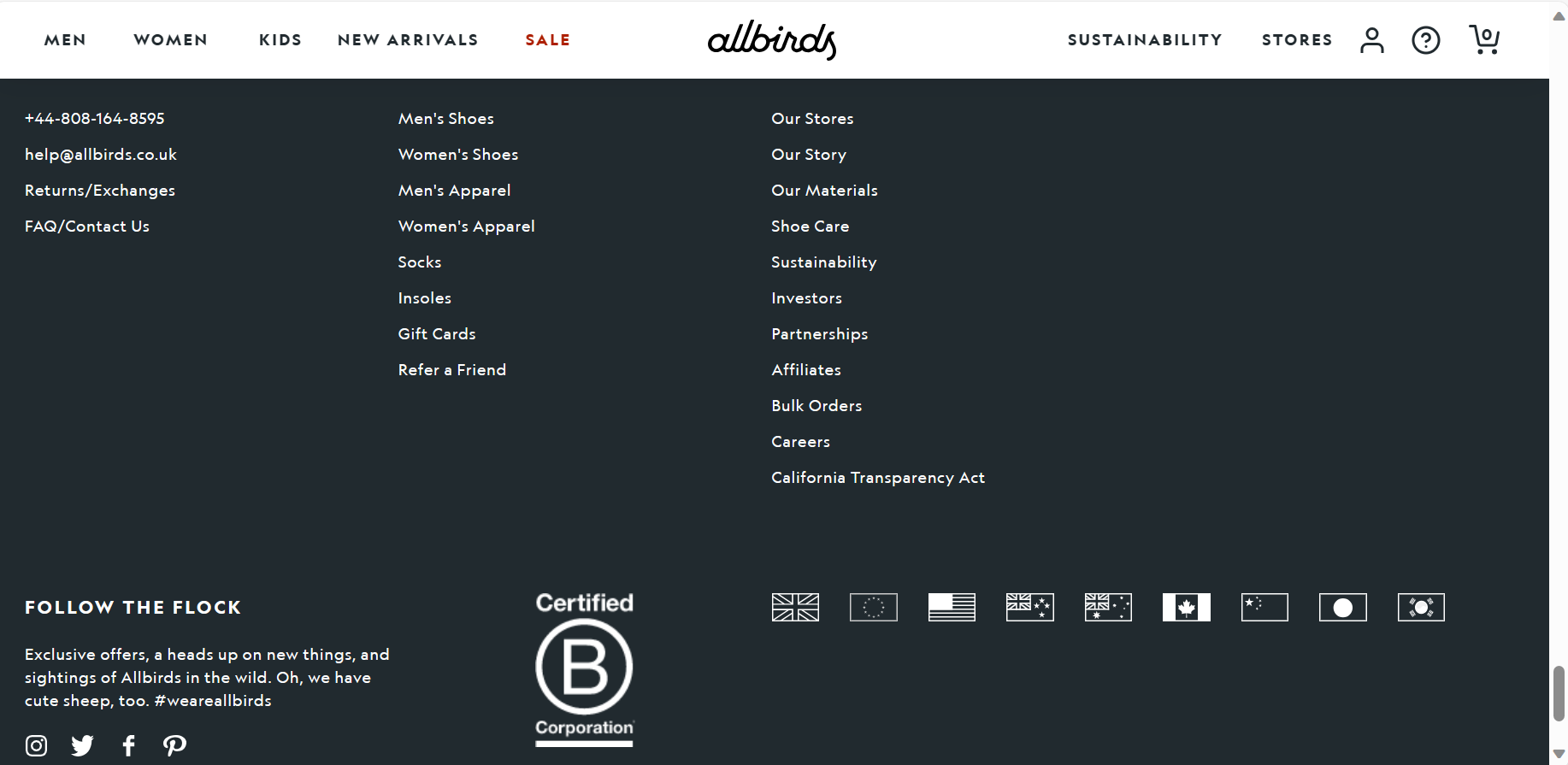 Overall, the design and look of Allbirds' homepage makes for an engaging and enjoyable experience that's easy to navigate at all times. Notice how the header menu sticks to the top of the page in all the screenshots as the user scrolls down? This means you're only ever a click away from accessing any other part of the website.
Product Pages
We've looked at the homepage, but what about the products themselves?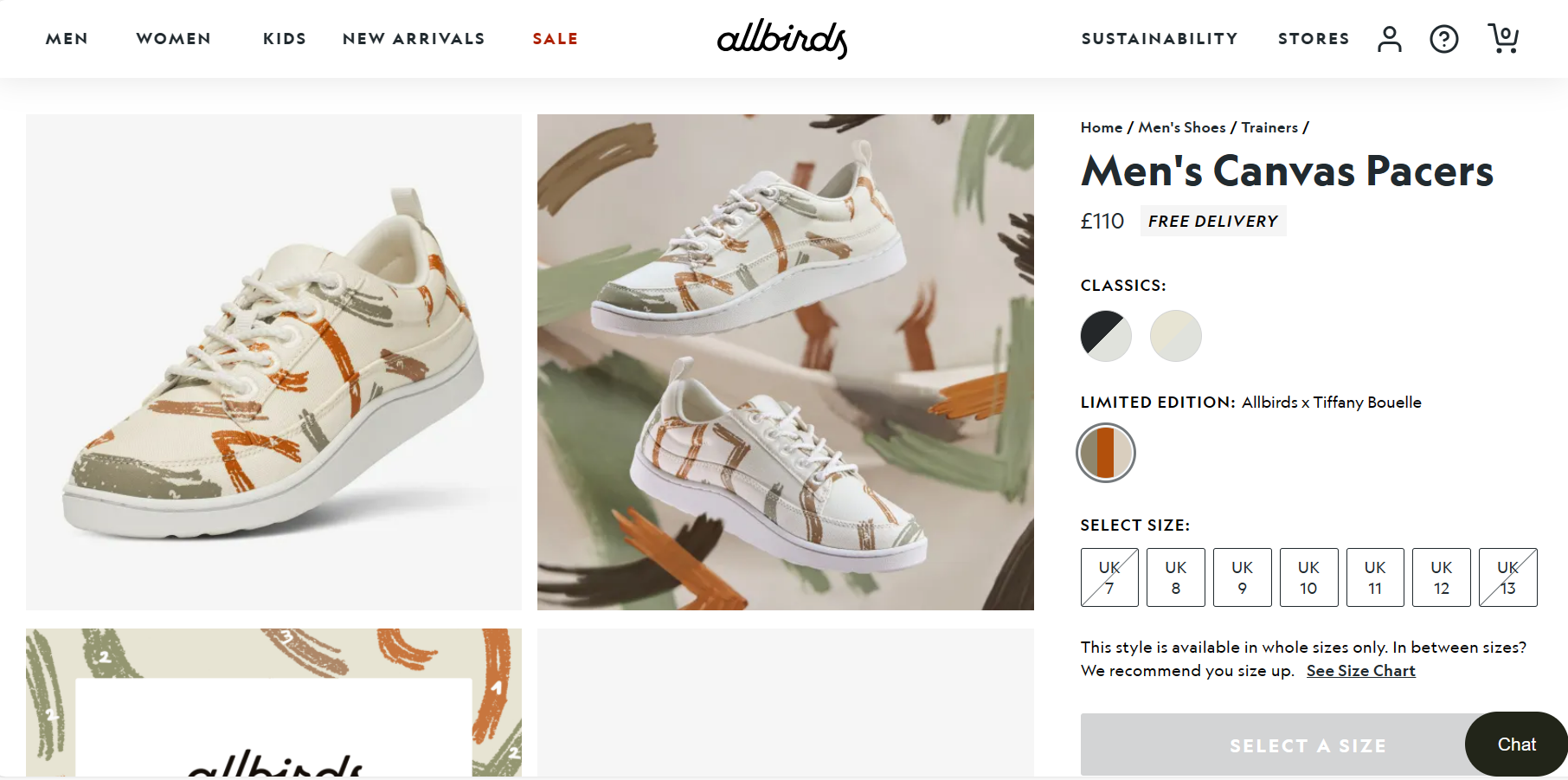 Allbirds' product pages are well put together and enjoyable to browse. The product title and price is clear, the images are high-quality and plentiful, it's easy to choose your colour and size.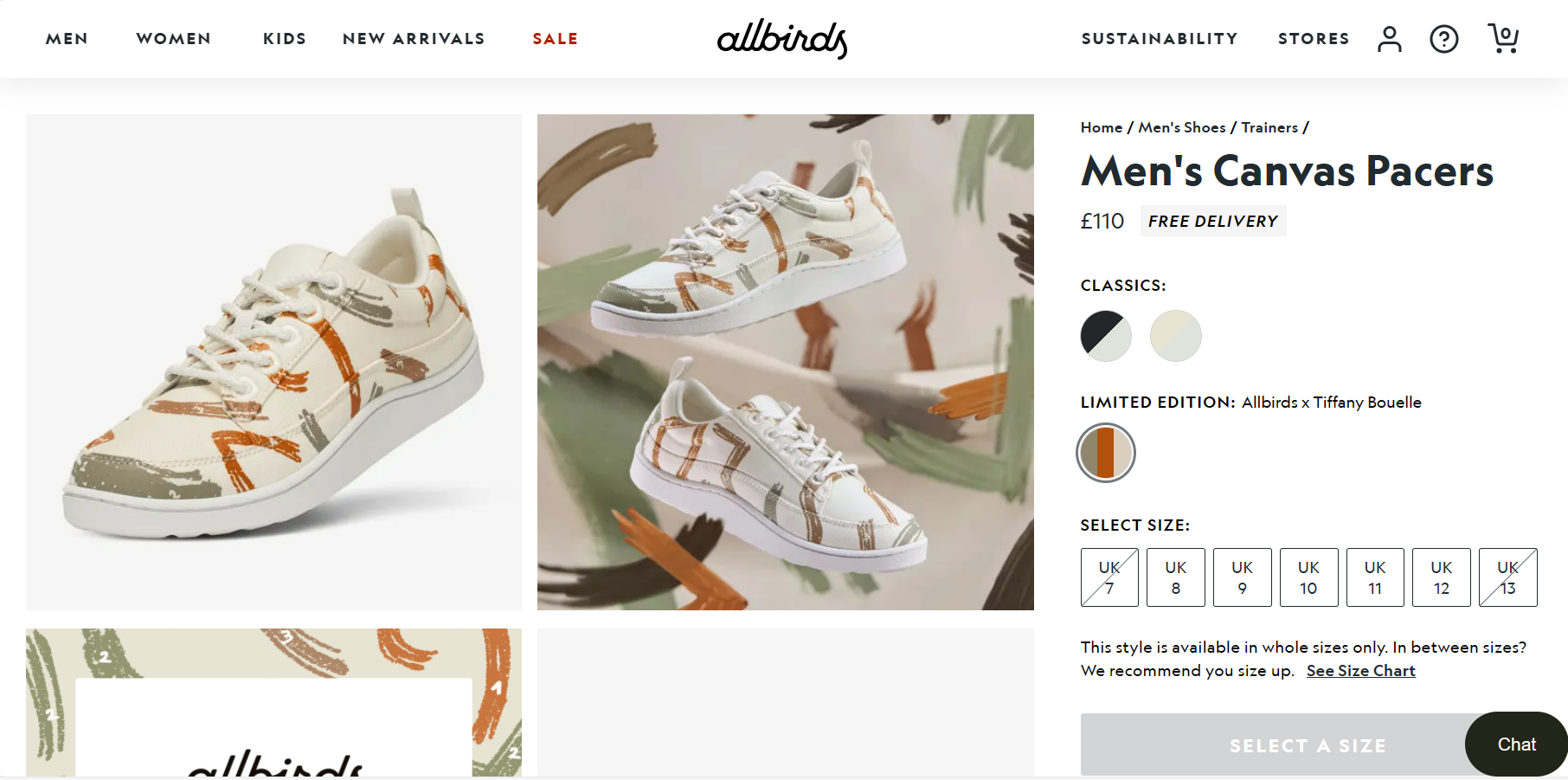 Once the user selects a size, the Select A Size button automatically changes to Add To Cart.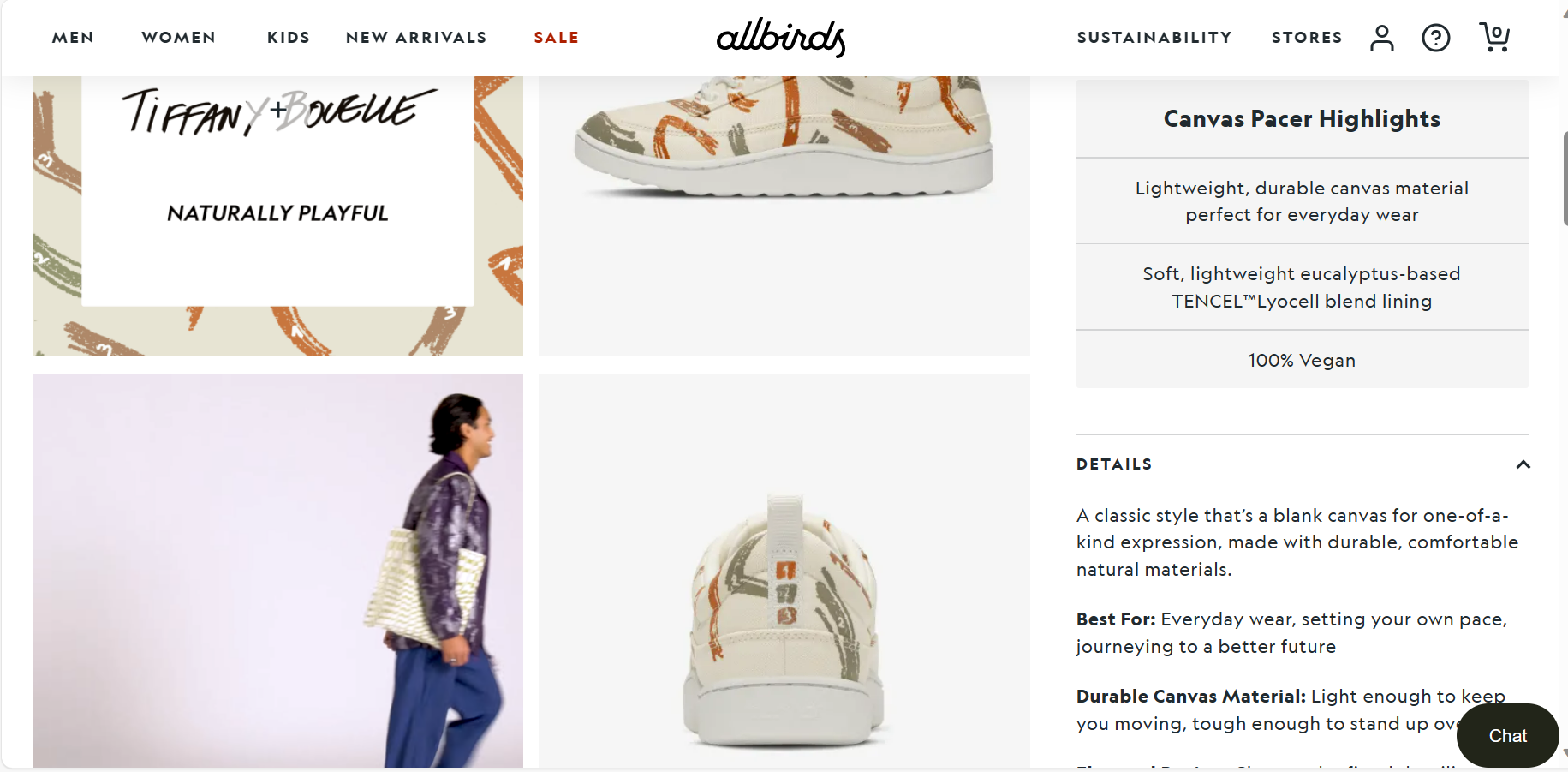 By scrolling down the product page, users will find more details about the product.
Overall, Allbirds is an ecommerce store users will find visually appealing, engaging and enjoyable to use. 5 stars from us!
Beats by Dre
In the world of headphones and audio accessories, few names resonate as profoundly as Beats by Dre. This iconic brand has not only transformed the way we listen to music but has also become synonymous with style and innovation.
Their website is no different. As soon as users land on the homepage, it's clear the design encapsulates the essence of Beats by Dre. The homepage exudes a sense of style and sophistication that mirrors the brand's commitment to delivering both premium sound and aesthetics.
Homepage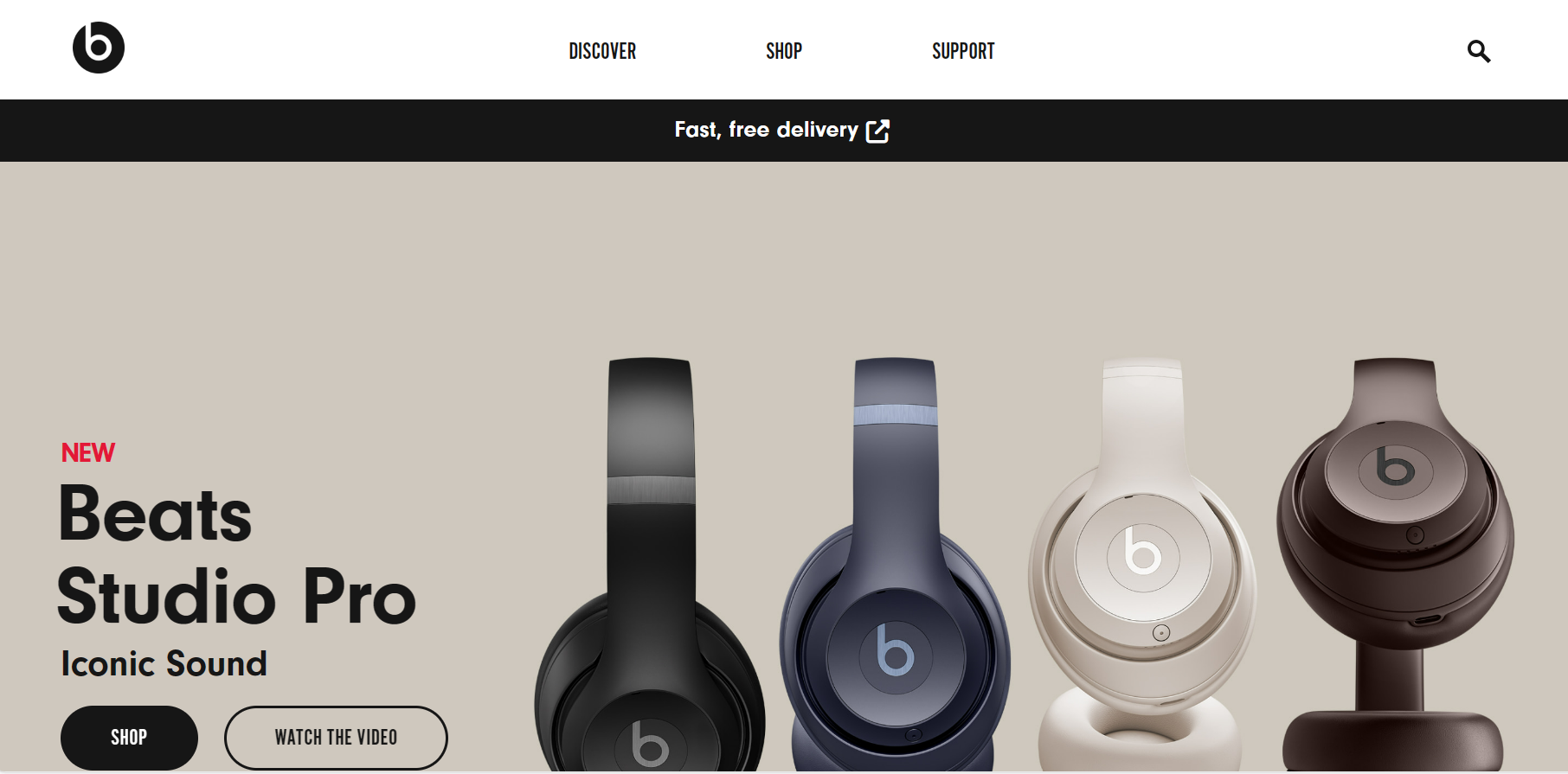 The header navigation menu is a prime example of user-centric design. With just three easy options—Discover, Shop and Support—users can access the website's main pages in just a few clicks. And because the header menu is 'sticky' it remains at the top of the page even when users begin to scroll. This saves the user having to scroll back to the top of the homepage to access the header menu's buttons.
Below the header on the homepage is Beats by Dre's newest product line. Each product has two simple buttons overlaying the image, letting users Shop Now or Watch A Video of the product in action.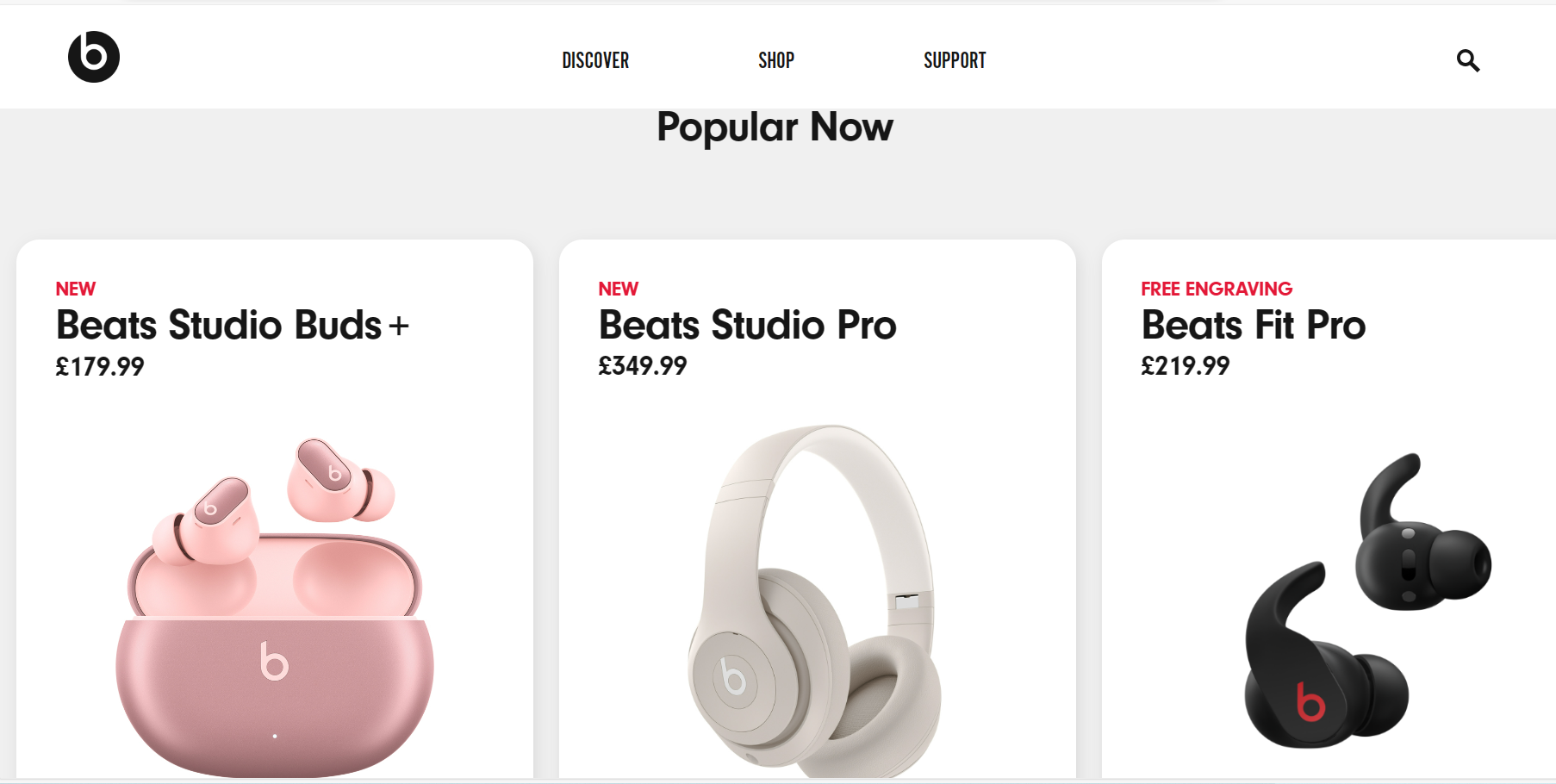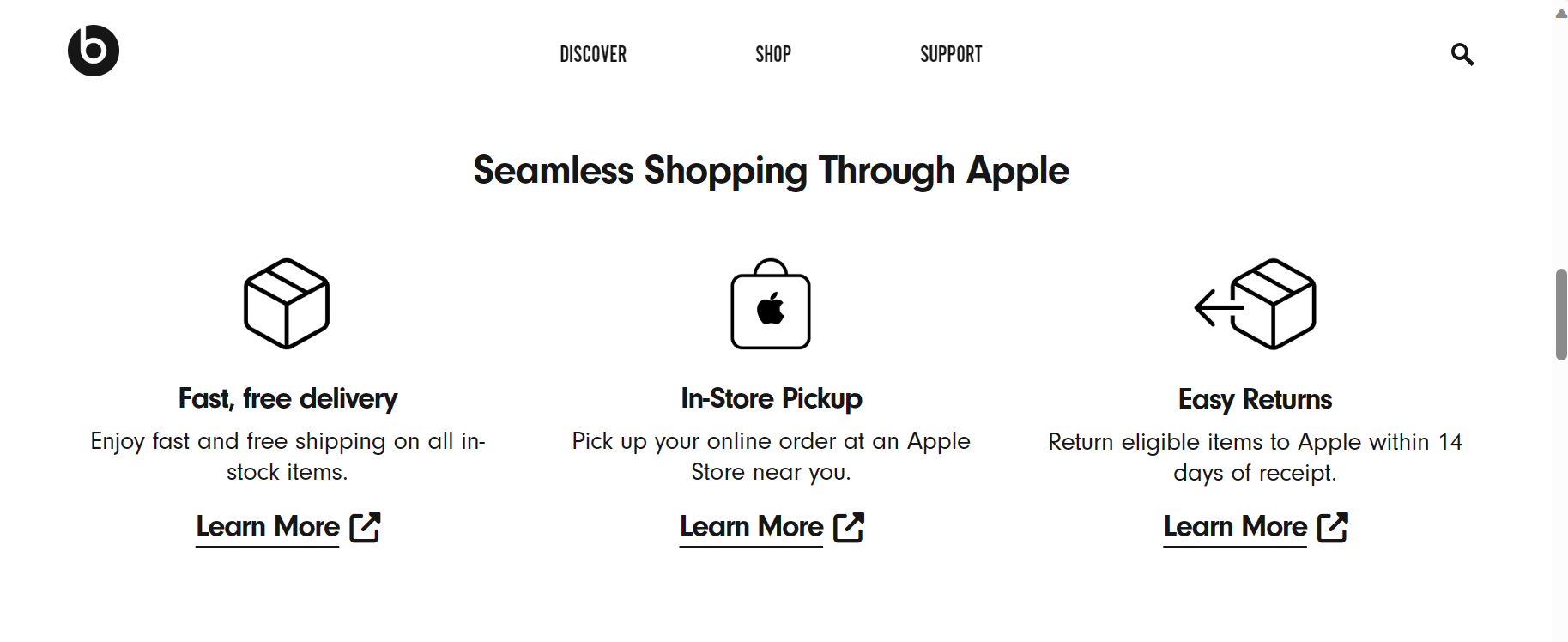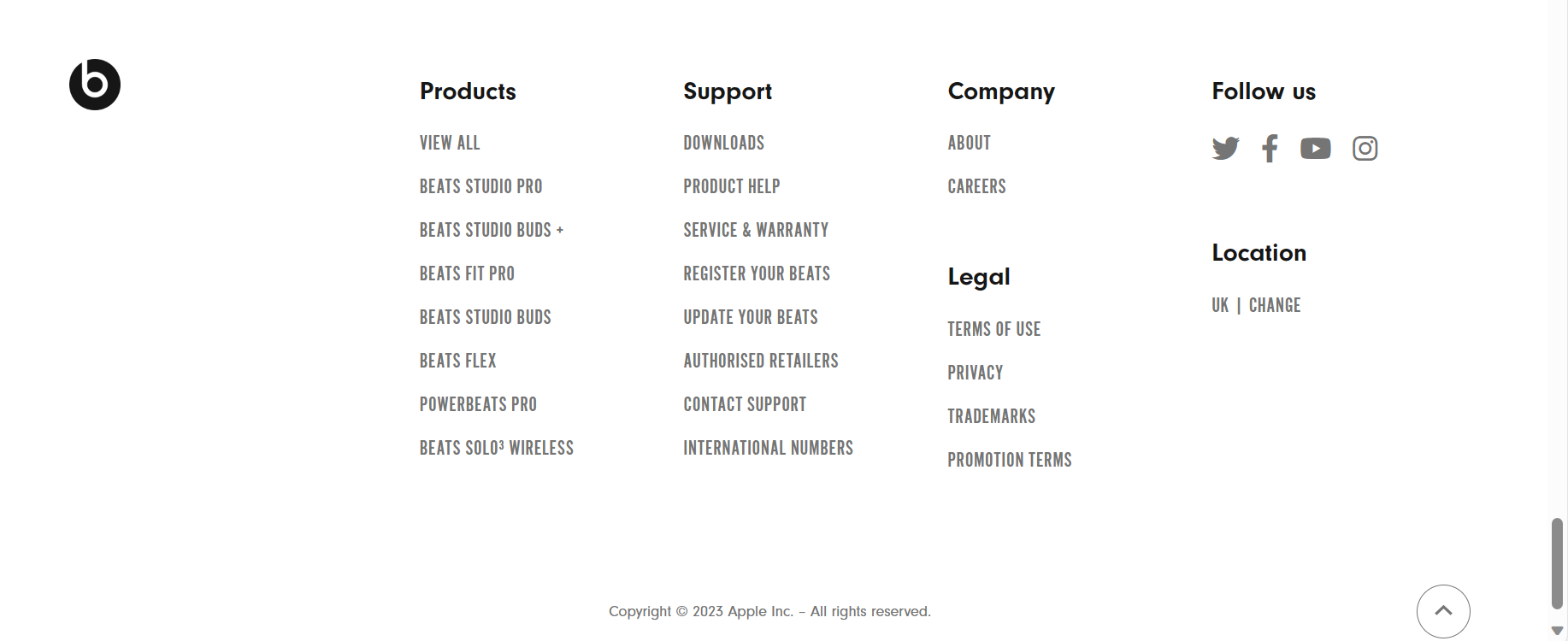 As the user scrolls further down the homepage, several new sections appear: a section about delivery and returns, a section with info about accessories and apps and offers. A footer menu with complete site navigation and links to social media are available at the bottom of the page.
In all, the homepage excels in providing a mixture of strong visuals and key information, all neatly put together in an ergonomic design that feels engaging and easy to navigate.
But what about the product pages?
Product Pages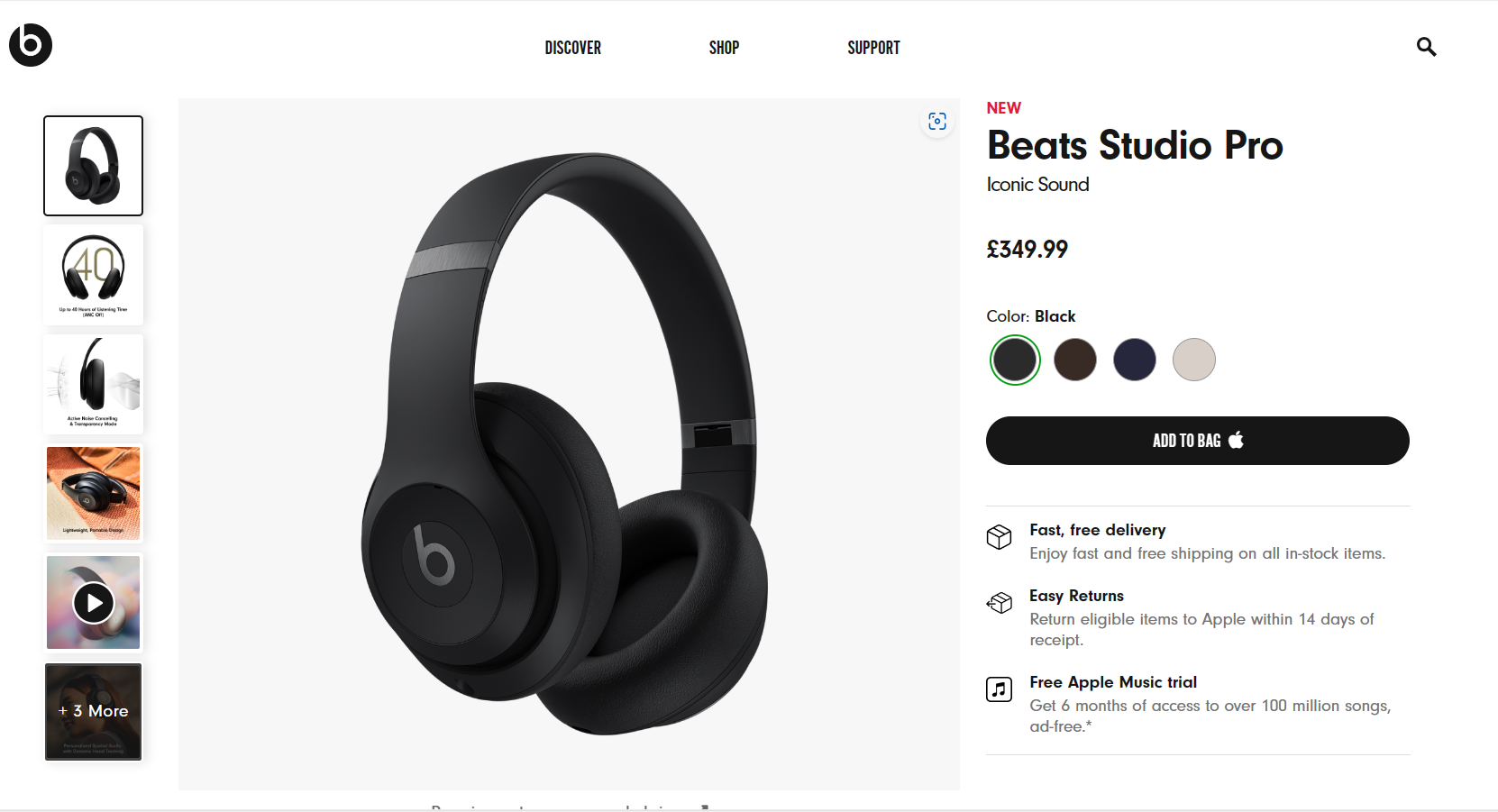 The situation is similar with Beat's by Dre's product pages. They're well-designed, engaging and functional. A high-quality product image takes centre stage, with several more images available by selecting them down the left side. To the right of the selected main image is the product title, price, colour options, a clear Add To Bag button and some key information regarding delivery, returns and a free Apple Music trial.
Overall, Beats by Dre excel just as much in their web design as they do with their product range. Top marks.
Fred Perry
Fred Perry is a classic brand, first formed in the late 1940s. But they certainly haven't lost their touch when it comes to modern design; their ecommerce website elegantly combines their timeless heritage with a contemporary user-friendly interface
Homepage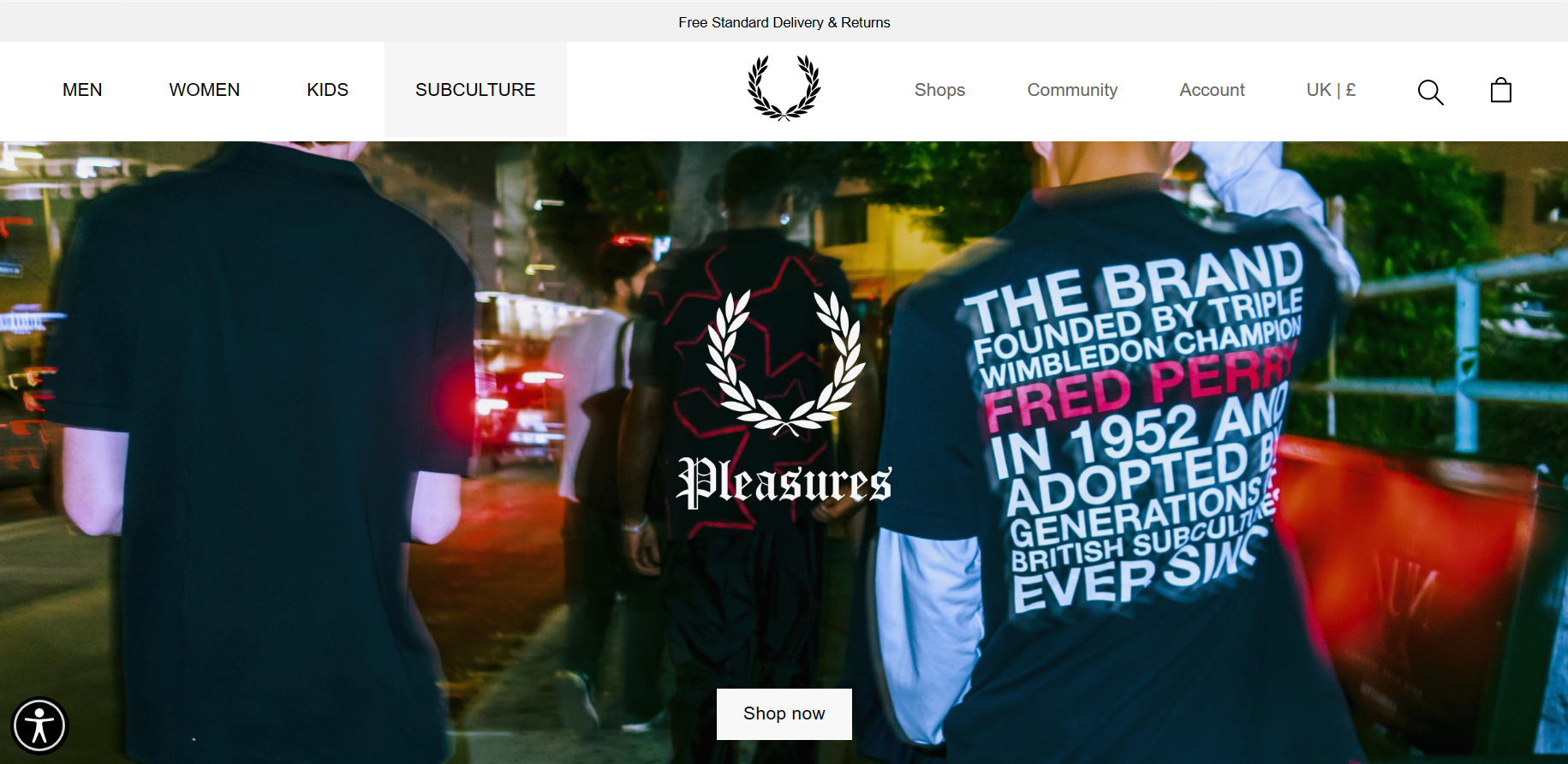 Fred Perry's homepage is rich with content, with plenty of scrolling to do to get to the bottom of the page. But despite the length, the clean and intuitive layout makes navigating and exploring its content easy. You can see the new sections of the homepage appear below as the user scrolls the homepage.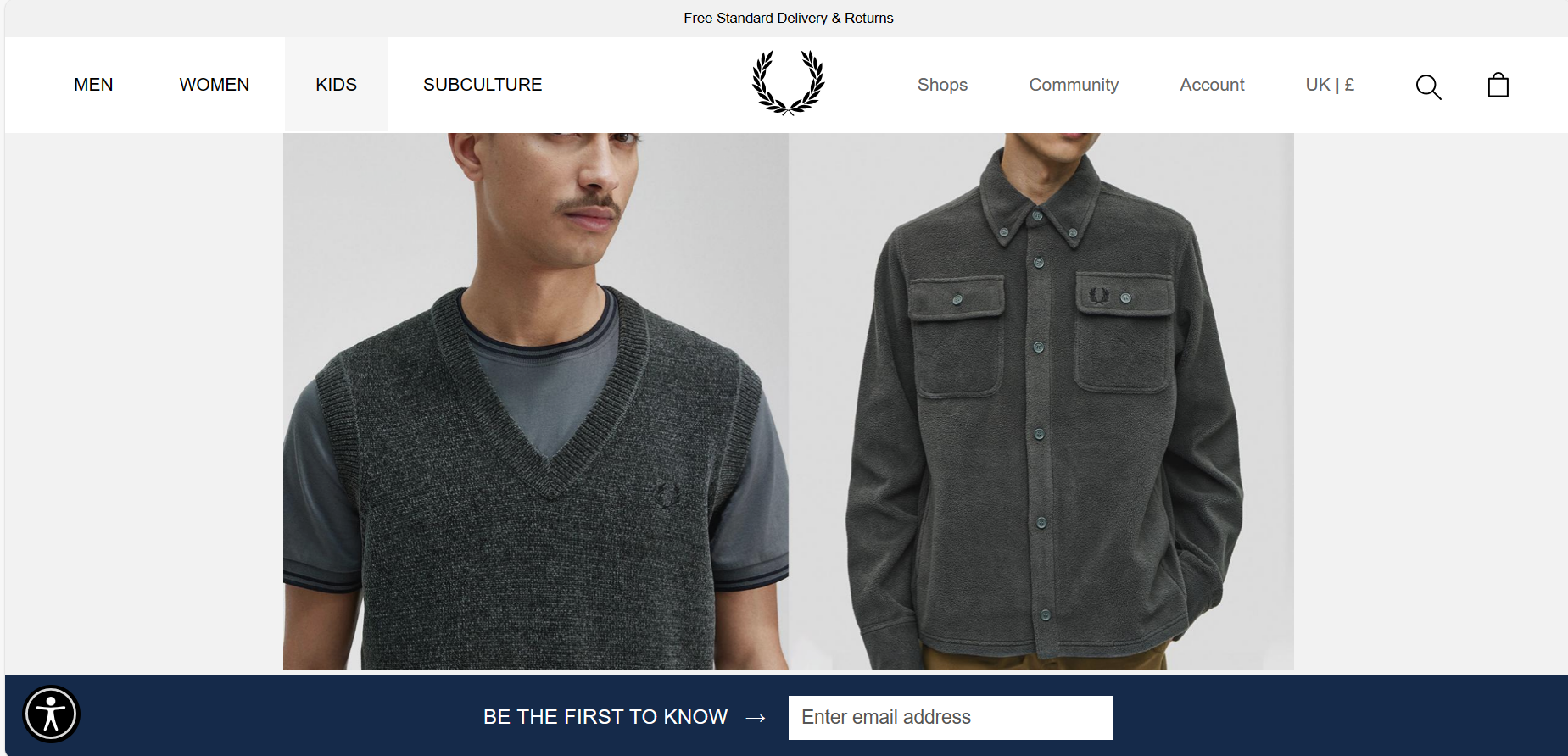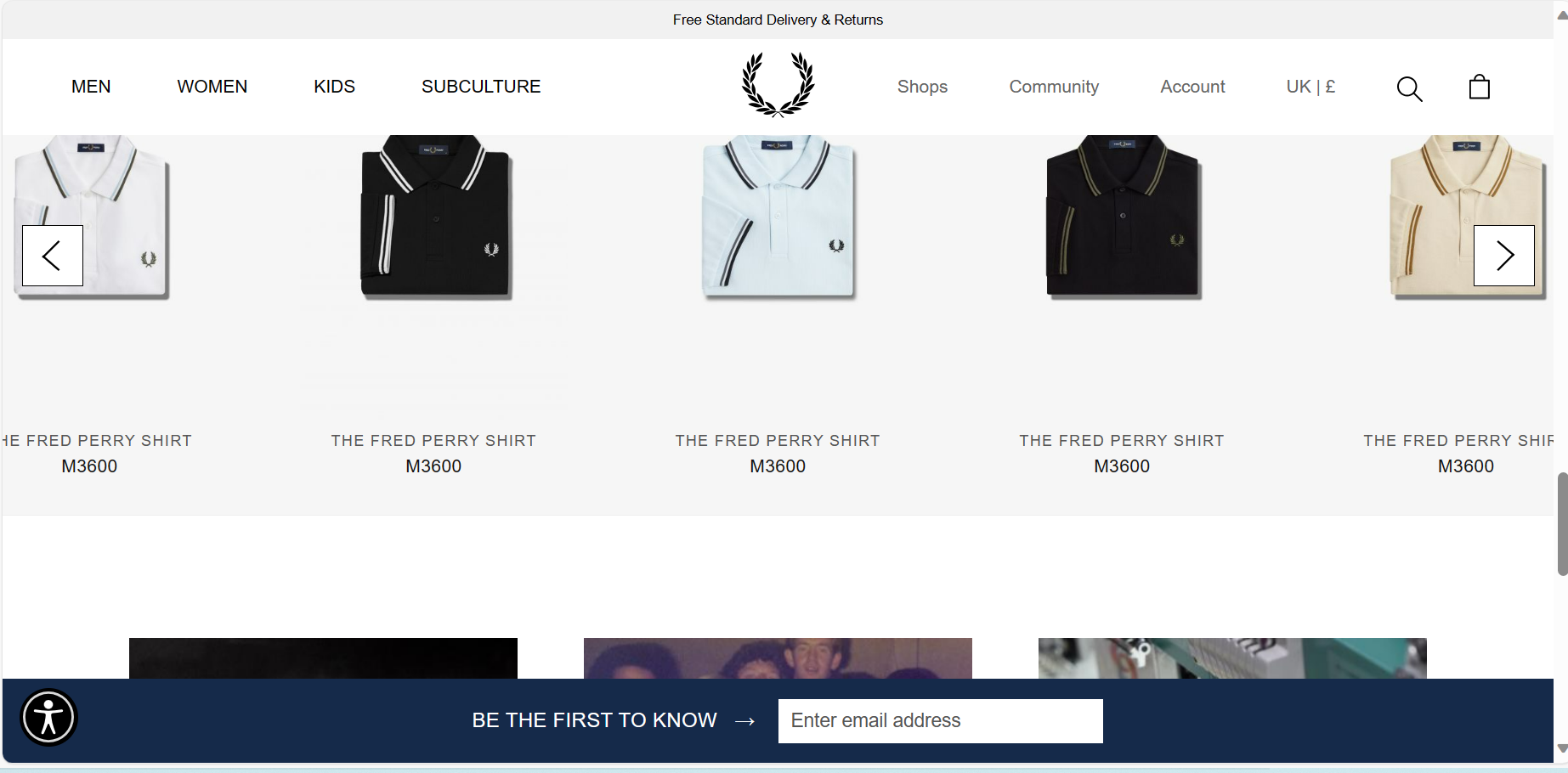 First is a section with the latest product lines, followed be a selection of Fred Perry's most popular polo shirts. Notice in both screenshots the sticky banner asking users to sign up to the Fred Perry newsletter? This is a nice touch, and gently reminds users to sign up without using an annoying full-page pop up instead, which is what many ecommerce websites do. Pop-ups force the user to click close before they've even had a chance to view the page, so Fred Perry's subtle alternative is a welcomed addition.

At the footer of Fred Perry's homepage is everything you'd expect, including full navigation to other parts of the website, social pages, help pages, terms and conditions, available payment methods and more.
Product Pages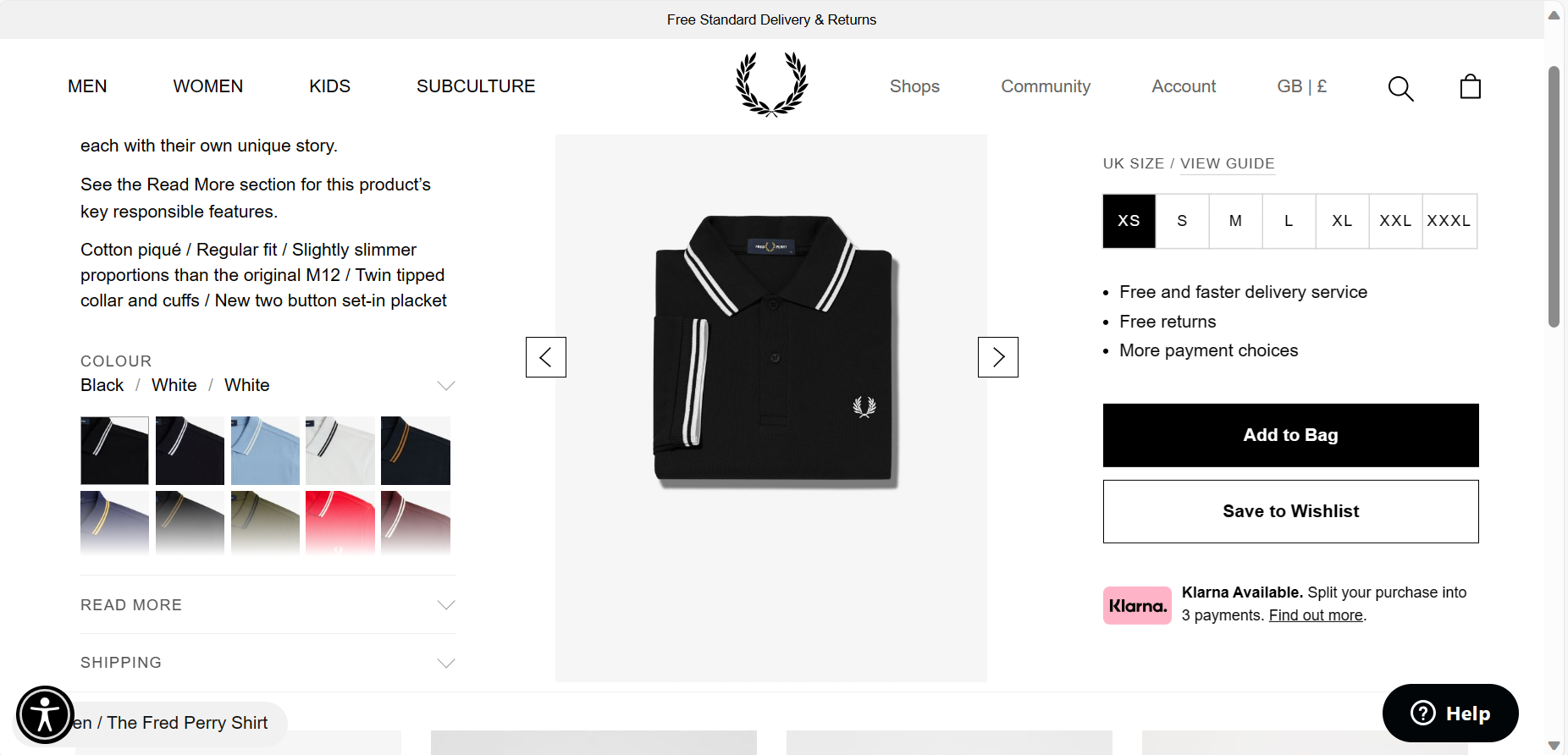 Fred Perry's product pages are well designed, containing everything you'd expect from a top brand. The product image takes centre stage, with left and right arrows either side to cycle through the available images.
On the left hand side is information about the product, along with more colour options. On the right hand side is the option to select a size, get information about delivery, returns and payments, a clear Add to Bag button and the option to Save to Wishlist. Below these buttons is also a bold red reminder that users can pay in 3 with Klarna.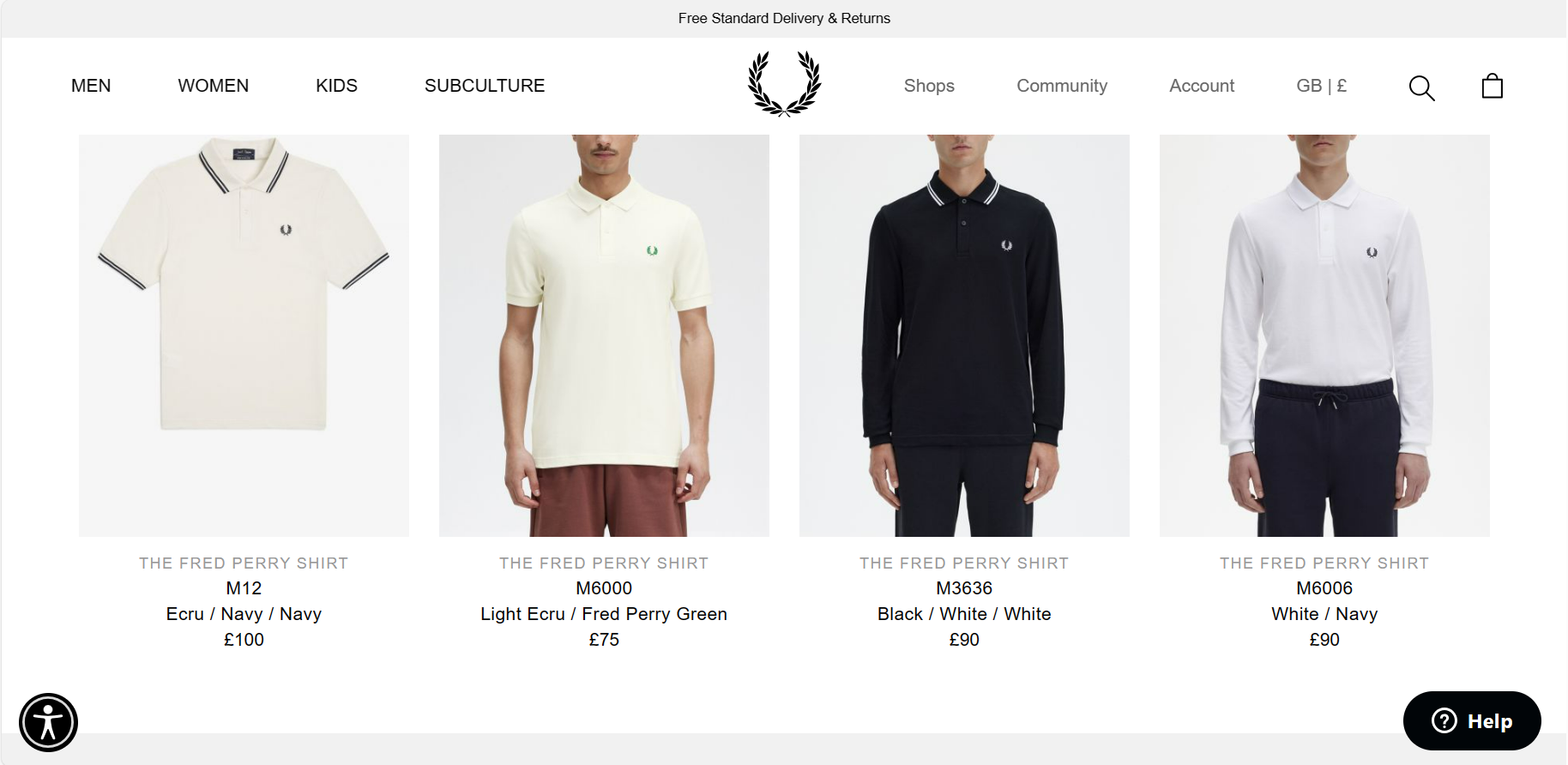 As the user continues down the product page, they'll see related products, easily clickable and well presented.
Overall, Fred Perry's website lives up to its reputation as a leading fashion brand. It looks good. It feels good. We give it top marks.
Space Posters
Space Posters have quite a unique offering, selling minimalist space posters of Nasa space probes coming into orbit with their planetary destination. Unlike the other examples of ecommerce websites in this article, Space Posters whole website is one page. That's right, their website is as minimal as their product.
Homepage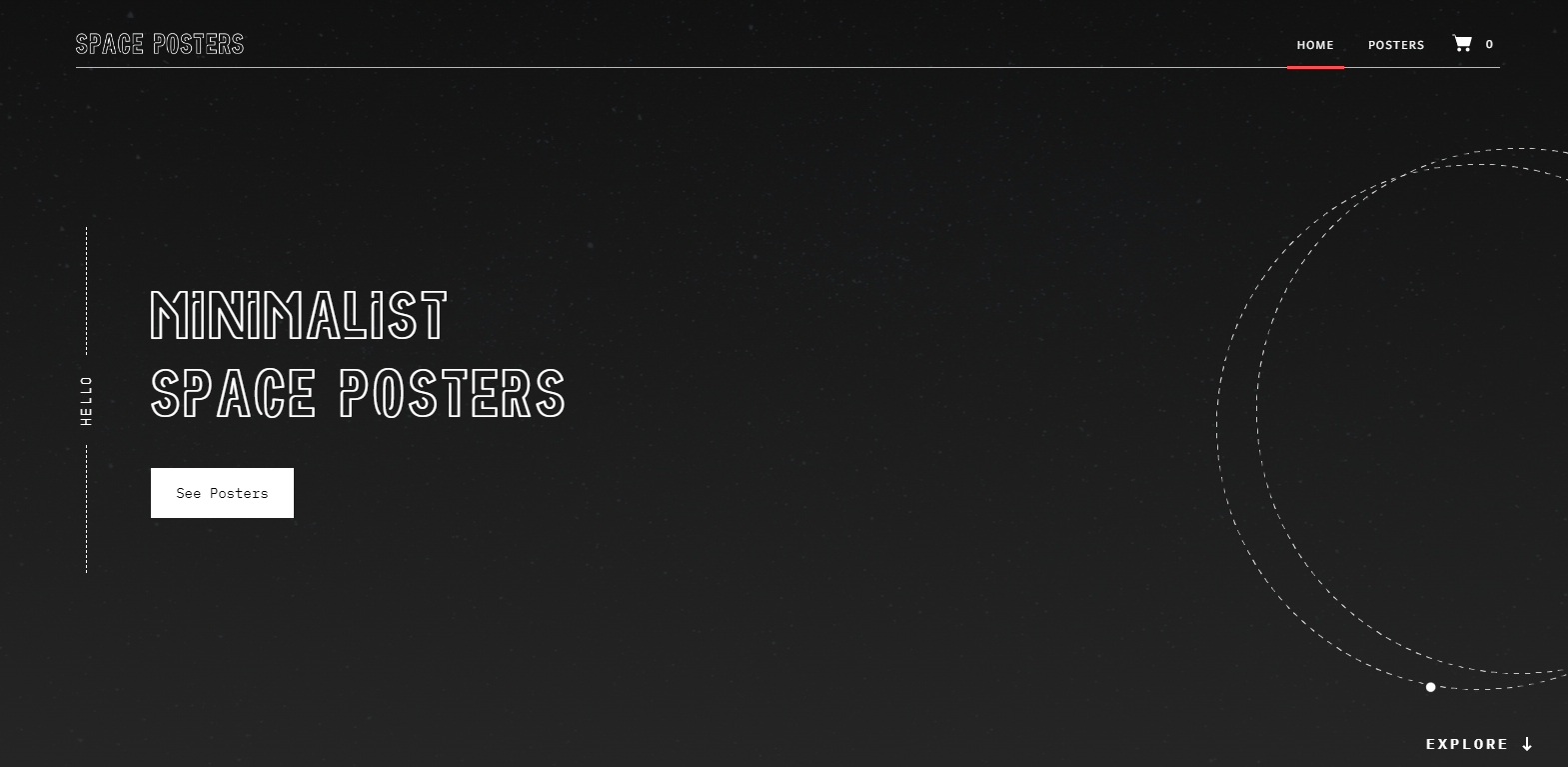 The top of the homepage, sticking to its minimalist approach, contains lots of black 'space', with the only text being 'Minimalist Space Posters' and a button labelled 'See Posters.' If a user clicks the button, the page simply scrolls down to the two products that Space Posters offers (yes, they only offer two products, which again is very minimalist).

Just half a scroll down on the homepage is more information about Space Poster's products: they use enhanced matte paper, they're sent rolled in a tube and they are ultra-high resolution. That's it. That's all the customer needs to know!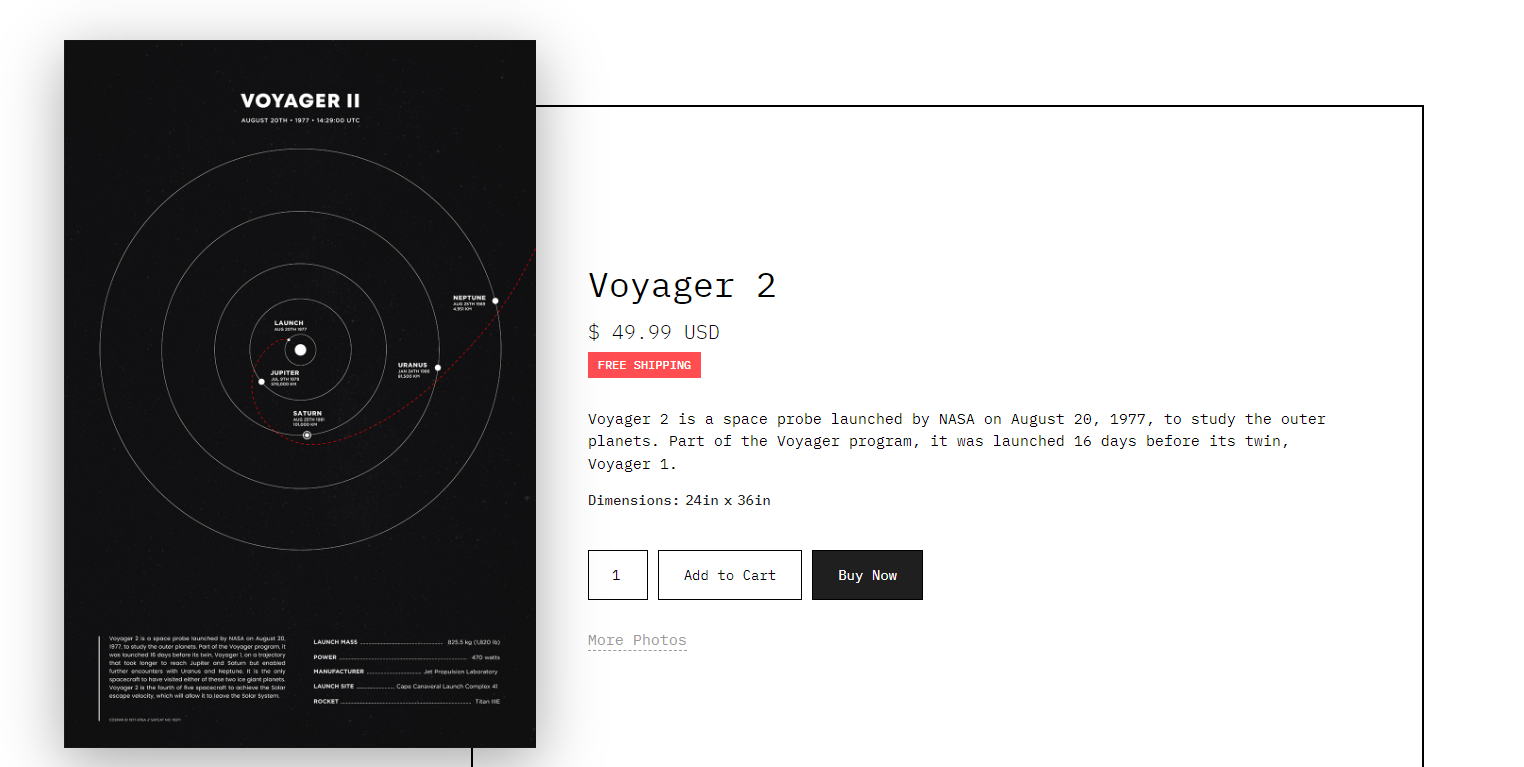 The product section of the page is also very minimalist and easy to follow. There's an image of the poster coupled with the name, price, text about free shipping, the product description, an Add to Cart and Buy Now button. The contrast of the free shipping notification in red makes it stand out amongst the rest of the page, which is monochrome. A nice touch for highlighting a benefit.

At the bottom of the page is the company logo, buttons back to the top of the page, and a box to sign up to the Space Posters newsletter. Sometimes, less is more, and this website does everything you need in a way that's minimal, but also gets that feeling of vast space across.
---
ShopWired: Making Website Design Easy
Today, the easiest way to design the perfect website is by using a dedicated ecommerce platform. Enter ShopWired, a platform designed with the user in mind.
ShopWired simplifies the process of building a website, letting businesses and individuals build beautiful and functional stores with no experience in web design needed at all.
Unlike some other ecommerce platforms that overcomplicate the design process, ShopWired gives users the freedom to design their dream store with ease. With a number of customisable, responsive templates, drag-and-drop features and intuitive design tools, users can craft a site that truly represents their brand.
Let's take a look at some of the key features that make ShopWired number one for designing a great website made for conversions.
Professional, responsive themes
ShopWired offers a wide range of professional free themes, easily customisable and optimised for success. Simply select a theme, install it and customise it further if you need to.
Mobile-optimised
ShopWired themes are designed for mobile commerce success. All our themes are responsive so they work seamlessly on computers, laptops, tablets and smart phone devices.
Customise your store and add branding
Brand and customise your theme with our live preview website builder. See your changes in real time as you add images and text and change colours. You can get your store looking just the way you want.
Expert designers on hand
If none of the free themes suit your brand, get in touch with our expert design team who will work with you to create your visions with a bespoke theme.
Edit HTML & CSS
Full access to the HTML, CSS and JS files for your theme lets you add your own advanced customisations if you need to.
Full Content Management System (CMS)
Take full control of the content of your theme with our content management tools. Add text, images and videos to your website to get your pages looking exactly how you want them.
---
Conclusion
The digital age demands more than just an online presence; it requires a memorable one.
As the importance of web design continues to grow, platforms like ShopWired lead the charge, providing businesses with the tools and expertise they need to not only exist in the digital realm, but to thrive. In a world where design can dictate success, ShopWired ensures every business has the opportunity to shine.
If you're interested in building the website of your dreams, try ShopWired's 14-day free trial today (no card required).