How To: Reducing Shopping Cart Abandonment Rates
The current rate of shopping cart abandonment is 79%. That is 79% of shoppers abandon their purchase at checkout for one reason or another. This article will help you make changes to lower this percentage and increase your e-commerce revenue.
In the realm of bricks-and-mortar stores, the percentage of cart abandonment is much lower. For example, a customer strolls through a store, compares items, adds them to their cart, and just as they are reaching the cashier, they drop their basket and walk away. Or they check all their items through, look at the total and decline to purchase. Or, finally, they go to pay, and even though they have a myriad of purchasing options, the store doesn't accept any of them.
If this was the case in a retail environment, a high street store's lifespan would be extremely short. The example above, whilst not entirely relevant to e-commerce shopping, is a good way to visualise your customers leaving your store. We've compiled 7 common factors that may increase your cart abandonment rate including a case study of the Amazon checkout process.
1. Lack of Trust
Customers are becoming more savvy, more aware of fraud and spam emails. Whilst the emails from the overseas prince or businessman, offering you millions for your bank details are considered humorous now, card fraud or identity theft is no joke.
There are several important trust symbols you can activate easily on your store checkout page that will reassure your customers. It's imperative you acquire trust symbols from reputable suppliers and brands the consumer recognises, for example, Norton, VISA or VeriSign.
SSL certificates will encode your customer's data using public key cryptography and activate a secure session offering peace of mind and security during the transaction process. They apply the "s" to your HTTP, a visual padlock for shoppers data. 13% of all cart abandonment is due to payment security concerns. Simply by making you store lock and key safe, you could increase your conversions by 13%.
It's not just your website that needs to look trustworthy. Can you hand on heart say you are a trustworthy retailer? Hidden charges, such as VAT or delivery amounts, poor customer service or misleading descriptions can deter customers. You can be sure after a poor shopping experience, a customer will tell friends and family, and in the worst case, it will go viral. Be open and honest with your customers; this can be anything from a pricing calculator, an open-ended returns policy, free delivery or a cast iron money back guarantee.
Other trust factors include:
Product reviews.

Providing an FAQ for common questions

Clear contact details & office location
2. Short Attention Spans
We are a culture of the multiscreen, it's undeniable. It's a common occurrence for tech savvy customers to sit with a television on in the background, browsing stores on their laptop whilst using chat apps on their mobile; that is 3 screens to contend with. However tempting it is to offer multiple upsell offers at checkout, newsletter signups or lead generation articles; try to resist distracting your customer too much during the checkout process.
3. Avoid navigational disasters
No doubt you are already using strong call to actions throughout the rest of your e-commerce store, don't stop at checkout! Reduce any confusion and continue to guide your customer. The checkout page should be clearly laid out, preferably with a "breadcrumb trail" to show users how many steps are left. By seeing the steps needed to complete, it can often make the journey easier, especially if it's a long process. We recommend a checkout that's no longer than 3 steps, to minimise frustration and stop customers dropping out along the way.
The back button is also an important part of navigation on a checkout page. You may feel it's counterintuitive, essentially allowing customers to back out of a purchase. However, mistakes can be made, maybe the item is the wrong size or colour, potentially a spelling mistake a postal address, and if you've made a mistake, cancelling this form and returning to the product page can be a chore.
Only make your customers fill out their information once, simplify your forms and try not to trap your customers at the checkout. You could miss out on valuable business. Not only will customers need to change the size or colour of your product, they may want to order more to qualify for a free delivery over purchase amount offer.
4. Speed is Essential
As mentioned above, we recommend a checkout no longer than 3 steps, simply to speed the process up. The faster it is, the less the likelihood of drop off via frustration or confusion.
First, check that your entire website is performing at it should. Use Google's Website Speed Test to make sure you have optimum load times, on every device. A slow load time anywhere on your website will affect your customer experience, page ranking and ultimately your revenue.
Little touches like auto-filling forms or automatically applying any first-time user discounts can make the shopping process faster and appear more tailored. By automatically applying a discount, and lowering the total cost without any action from the user, you help solidify their commitment to purchase and consumers feel like they have a great deal.
Guest checkout is essential. We know how important data is to your marketing strategy, however by giving a little you stand to gain much, much more. 23% of cart abandonment is due to "no guest checkout function availability/having to create an account". ASOS offer a guest checkout option that is 4 steps to complete, nice and easy with no account needed.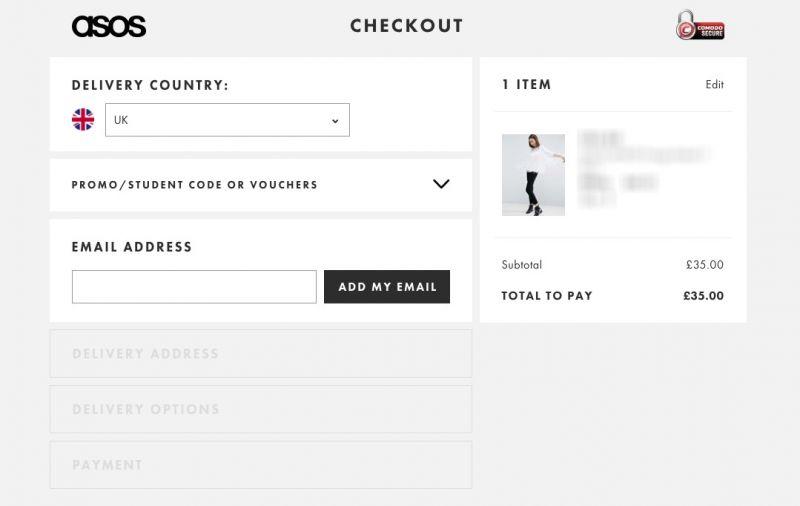 By sacrificing marketing data you are oiling the checkout process, if these customers return, they are more than likely to sign up for an account on the second, or even third order. Especially if you entice customers to sign up with special offers or member benefits. ASOS are the champions of this, not only with members-only reward scheme but early entry to sales, competitions and money off vouchers.
5. Did you forget something?
Sometimes customers are just browsing, just as customers browse in a bricks-and-mortar store. Allowing customers to save their carts, or even automatically doing it for them and allowing them to pick up where they left off, not only increases the chance of a purchase but also opens a communication channel for your to email them with items they've forgotten. Now, storing too much data can seem a little creepy, but if a user is logged in and abandons purchase last minute, there are tools at your disposal to push them to purchase.
Amazon, (see the checkout case study below), are champions of the "Did you forget?" email. Even without entering the checkout process, just by placing an item into the cart, Amazon will contact you regarding your potential purchase. They also include other similar option to the items you abandoned. Try to utilise this opportunity and set up something similar, maybe design a shopping cart abandonment email campaign for future drop outs and see the automatic impact it has on your sales.
6. Accept all payment possible
The digital wallet is the way of future shopping. Customers who embrace online wallets are the customers of tomorrow, relying less on traditional payment methods. Don't alienate them by offering outdated payment methods, it's can only benefit your business in the long run.
As mentioned in the example above, it's rare to get to a physical check out and them not to accept multiple forms of payment, limiting yourself to just Paypal or another service adds a third party between you and your customers, increasing the dropout potential.
7. Pay attention to your delivery charges
Hiding delivery charges until the end of checkout is likely to annoy your customers, and current statistics show 28% of abandonment is down to expensive shipping costs. We've spoken about transparency and trust, and hiding this information to the end is likely to result in a closed window or a quick search for your competitor. Where possible offer free delivery or an increased order value will result in free shipping. This will negate any dispute at purchase point and will make your store look all the more attractive.
Where this is not possible, be transparent about your costs. Your business may simply not be able to offer any delivery discount due to large or fragile items, maybe you prefer to use a tracked or signed for delivery service.
To wrap everything up, there are four emotions that trigger cart abandonment: Impatience, confusion, caution and indecision. These four emotions can occur at several stages through the buying process. If you can convert these negative emotions into confidence, security and excitement using the actions above, you'll be sure to reduce your checkout abandonment percentage and increase your bottom line.
ShopWired offer plenty of tools to help you reduce your cart abandonment rate, try us free for 14 days today.