How To Start An Online Business When You're Not Ready To Start An Online Business
Starting an online business can be daunting. Let's not kid ourselves. Regardless of how easy it's sometimes portrayed, building an online business takes a lot of time, energy, effort, and sometimes money.
Whether you've never started a business before in your life, or you're a seasoned veteran with multiple online businesses under your belt, getting started is always the hardest part. Those initial roadblocks and hurdles for a new project always seem to stall ideas and kill dreams.
So what do you do when you when you know you want to start something, but you're just not quite ready to build a business yet?
Believe it or not, there are some steps you can take towards building your online business even if you're not ready to start selling products yet. These steps are not only easy to get started with but they can also go a long way in helping make your future business much more successful.
In this post, you'll learn exactly what you can do right now to start building your business, without building a business at all. At the same time, you'll learn more about your potential future customers, so when you are ready to sell products, you'll have a much higher chance of success.
Let's dive in.
Understanding Product/Market Fit
In its simplest terms, a business does nothing other than connect a group of people that share a common interest or need with a product or service that will benefit them in someway. The better the match between the group of people and the product, the more successful a business tends to be. This is called product/market fit and finding it is one of the most important things to work towards when you launch any new business.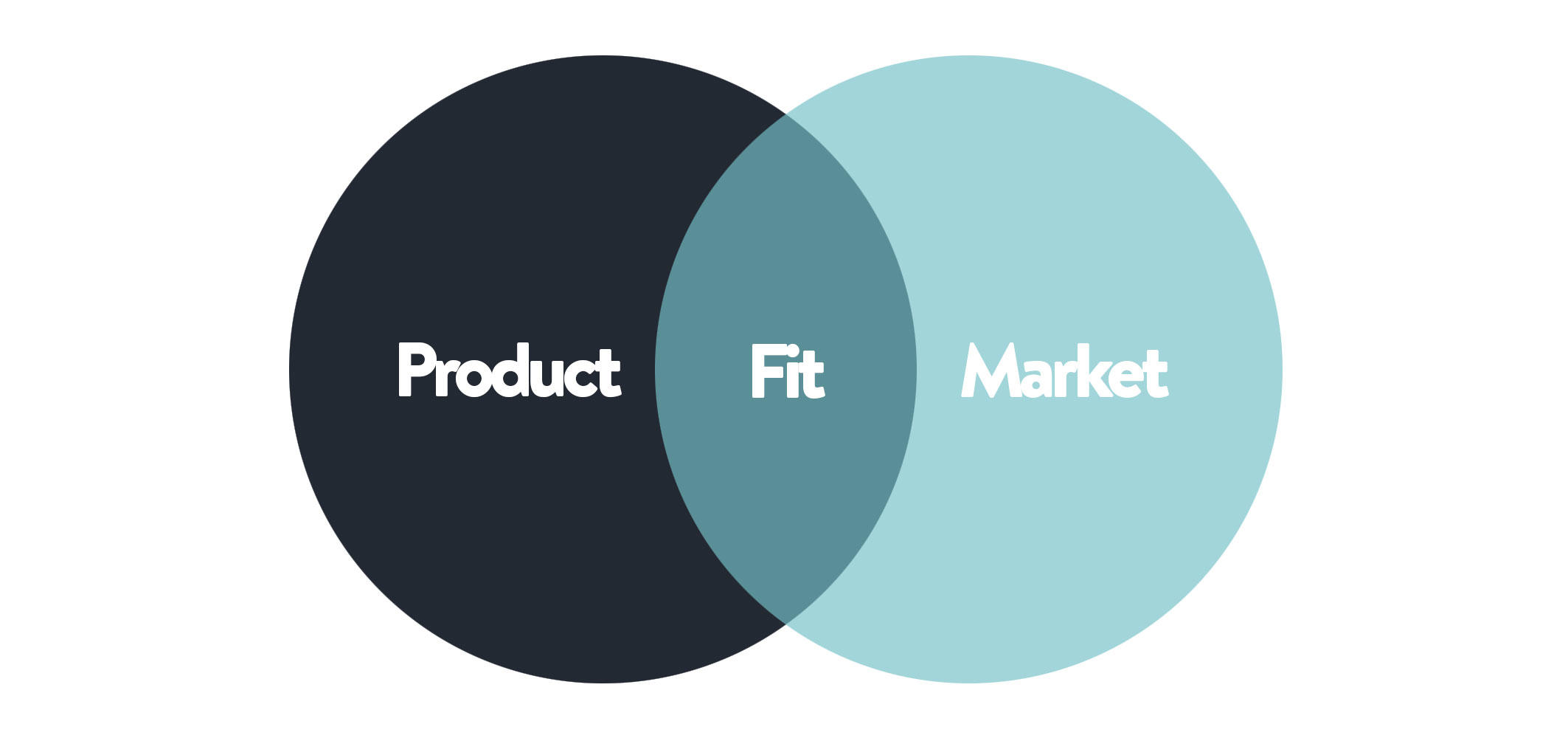 By starting with an audience you inherently will have a group of people that in theory are likely to purchase your product when you launch.
Start Building an Audience
So let's assume you're not ready to start an online business. Maybe you have no time, no money, or no ideas for products to sell right now, your goal at this point should be to start building an audience in a particular niche. This will be a group of people and potentially future customers that you will be cultivating as well as learning from.
If you know what type of product you will want to sell (but just don't have the means to sell yet) then you will likely want to build an audience around that niche and product so that you can attract the appropriate audience for the future. If you're still unsure what you'll sell, I would suggest building a community and audience around something you're fundamentally interested in.
As you begin to grow an audience and communicate with them, you will learn more and more about them, about their likes, interests, desires, and pain points. This all turns into valuable information for products you can sell to this audience at a later point in time, when you're ready.
Ways to Build an Audience
To build an audience, you'll generally need to provide some type of value. People will need a reason to be part of your audience. Generally, there are two ways to provide value in an inexpensive way:
Be a Connector – Helping bring them together with other like minded people to share their interest.
Be a Content Curator – Deliver interesting information on their topic of interest.
Below are several ideas that you can use to start building something immediately around a particular niche:
Start a Blog
Start a Podcast
Start an Email Newsletter
Start a Facebook Group
Start a Instagram Account
Start a Twitter Account
Start a Slack Channel
The Best Way to Get Started
As shown above, there's no shortage of ways to begin building your audience, however, some tend to be better than others and are a bit more future-proof. Consider the fact that if you're building your audience on a platform like Instagram, Facebook, Twitter, or Snapchat, these platforms at any point can change their rules, become irrelevant, or they can ban you.
One of the best, and more future proof ways of building an audience for a future business is to collect emails. When you capture emails, you own those emails. They can't be taken away from you. When it comes to selling products later on, emails also are typically the highest converting channel, so it makes sense to build your audience with emails from the beginning.
Here's how you're going to build your audience by collecting emails:
Select a Niche
Create a Landing Page
Capture Emails
Curate/Deliver Content
Let's dive into more details on each of those elements.
1. SELECT A NICHE
Focusing on your niche market is going to be the reason why people sign up to your email list in the first place. Being blatant about your niche market is what's going to entice people to sign up for your email list. It'll let them know what you specialize in and what they can expect from you.
So, what's a niche market? A niche market is a group of individuals who are passionate about a specific interest and are usually a subset of a larger market. Some examples of niche markets include:
Pugs (a niche market of dogs/pets)
Craft Beer (a niche market of alcoholic beverages)
Beard Grooming (a niche market of men's style/grooming)
Yoga for Expecting Mothers (a niche market of yoga)
Stylish Men's Messenger Bags (a niche of men's fashion)
By focusing on a niche market you can send out content, whether it's created or curated, that's directly appealing to a passionate group of people, and they'll be more likely to support you because your content is specifically of interest to them.
When you create your landing page (next step) you'll want to make it obvious just by looking at your page what niche you specialize in, so people know what they're signing up to your email list for. All you need is a simple message saying something along the lines of, "Join my mailing list to get the best links to the newest styles of men's messenger bags delivered to your email weekly," and people will know exactly what they can expect to receive from you.
2. CREATE A LANDING PAGE
The first step for any online business is to create a presence for your business online. This may seem like an obvious point to make, but if you want to run your own online business you need to have somewhere online for people to go to.
That being said, building an entire website isn't always an easy option, especially if you don't have any actual products to sell. You could create an online store with Shopify, but since you don't have anything to sell yet it's going to look empty and cost you monthly. You could build a blog on WordPress, which is a great idea, however, this requires quite a bit of commitment, and there's a fairly decent learning curve for someone not familiar with WordPress already. What you need is a simple and basic presence online that you can send to people to signup for your email list. You need a landing page.
Landing pages can serve many purposes. For our purpose, a landing page is a simple, one-page website that serves as an entry-point or an introduction to an online business. You don't need a multi-page website that's complicated to build and time consuming to manage, all you need to start building an audience is a simple one-page website that introduces who you are, what you do, and why people should stay connected with you.
Your landing page should include:
Your Name/Your Business' Name

Unique Value Proposition (Sign up to get a weekly email of the cutest baby pug photos!)

Your Email Capture

Links to any Social Media
That's it. You just want it to be a place online that people can go to and find out more information about you and to be able to sign up to your list.
There's no shortage of tools to build simple landing pages. To build your own landing page we recommend using Carrd as they make it insanely easy to set up, they're extremely inexpensive to use. Carrd has a free option, but their premium paid options is only $19/year and give you up to 10 landing pages/websites.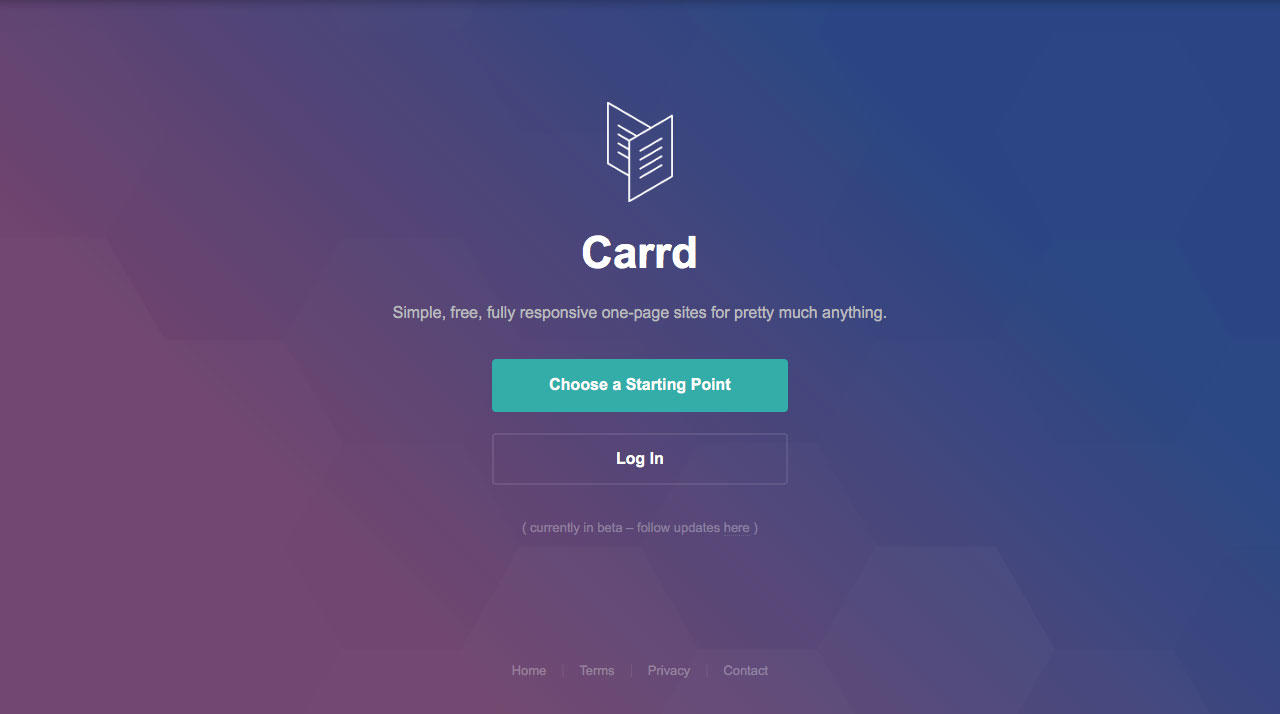 3. CAPTURE EMAILS
This is a hugely important aspect of building an audience. In the ecommerce world, emails are king because they go directly to your audience's inbox. Most importantly, the people who sign up to your email capture are raising their hands to tell you that they're interested in what you're doing and want to stay connected. You want to hang onto these people, because they're going to be instrumental in the future of your business.
By having an email capture you'll be able to start building your audience right from the beginning. One of the biggest mistakes new businesses make is not implementing their email capture soon enough, and thus missing out on building up their list even more. Start building your list now and you'll grow a dedicated audience of people to share information and updates with, and then you'll sell your products to them in the future.
One of the best tools for email capture is MailChimp (Free/Paid) as it's been at the forefront of email marketing for a long while now. It's easy for beginners to use, they have plenty of helpful advice and suggestions available through their blog and their support section, and their service is completely free to use for up to 2,000 email list subscribers. This will give you a great start.
By connecting Mailchimp with your landing page on Carrd, any emails entered on your site will go right into your Mailchimp list where you'll easily be able manage your subscribers and send out relevant and interesting content to them.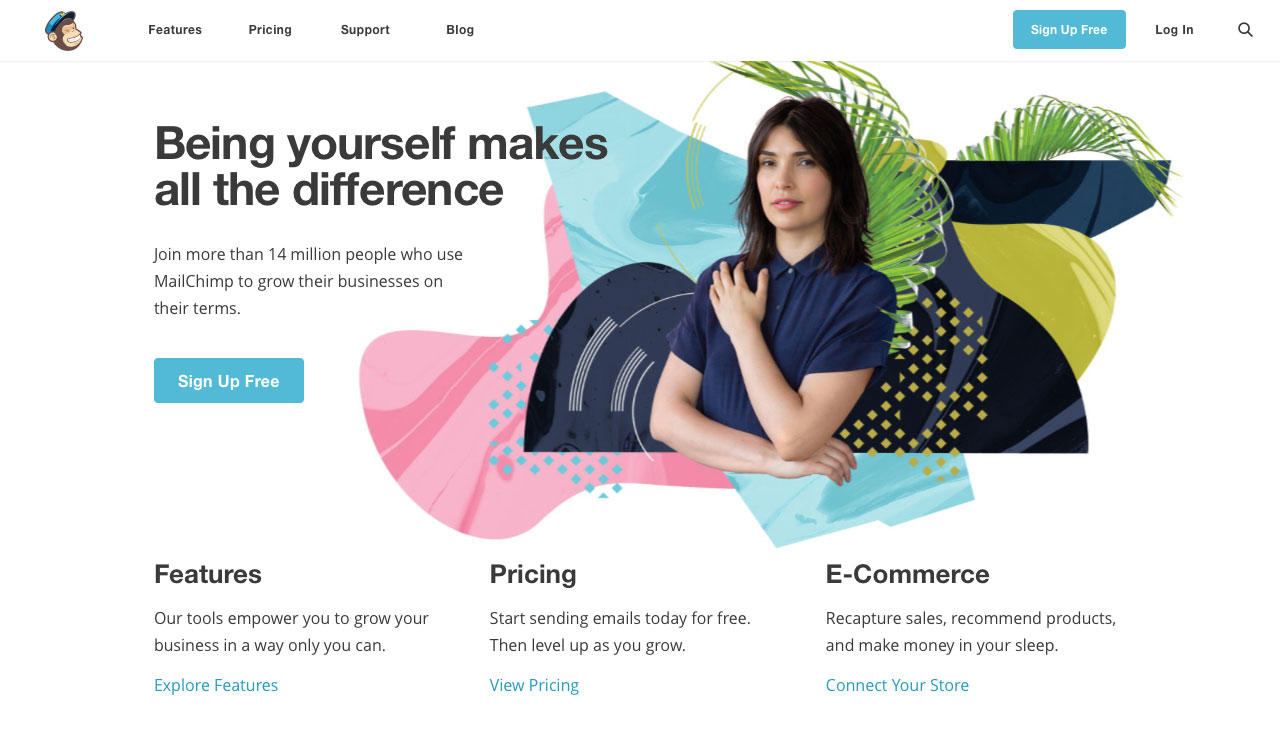 4. CURATE/DELIVER CONTENT
Once you've setup your email capture you're going to need something to send out to your audience on a fairly regular basis. This will help keep them engaged and it will help you to maintain and grow your list as you continue.
There are different types of content you can send out to your audience. Some examples include:
Products – Share the hottest new products in your niche.
Blog Posts – Share new and highly curated blog posts relevant to your audience.
Links/Resources – Depending on your niche, curating links and resources might contain lots of value for your audience.
You can do just one of these things or a mix of these things, whatever works for your particular niche and audience. Remember, the most important thing is that you tell your audience what you will deliver on your landing page, then deliver above and beyond their expectations.
All-In-One Curated Newsletter Services
More recently, there have been all in one services specifically meant for helping you easily build and grow an email newsletter, while at the same time making it easier to collect content to share, as well as making it easier to share that content.
Two of the most popular all-in-one email newsletter curation services is Revue and Goodbits. What's great about Revue and Goodbits in particular is that they're able to store all the links you come across so you don't have to store them somewhere else or try to remember them. When you're ready to send out an email list of all the content you've accumulated you can easily format all the links you've saved into an aesthetically pleasing newsletter just by dragging and dropping files.
Revue and Goodbits are both free for up to 200 subscribers. Larger subscriber lists, custom domains, and branding removal are premium features also offered for a fee.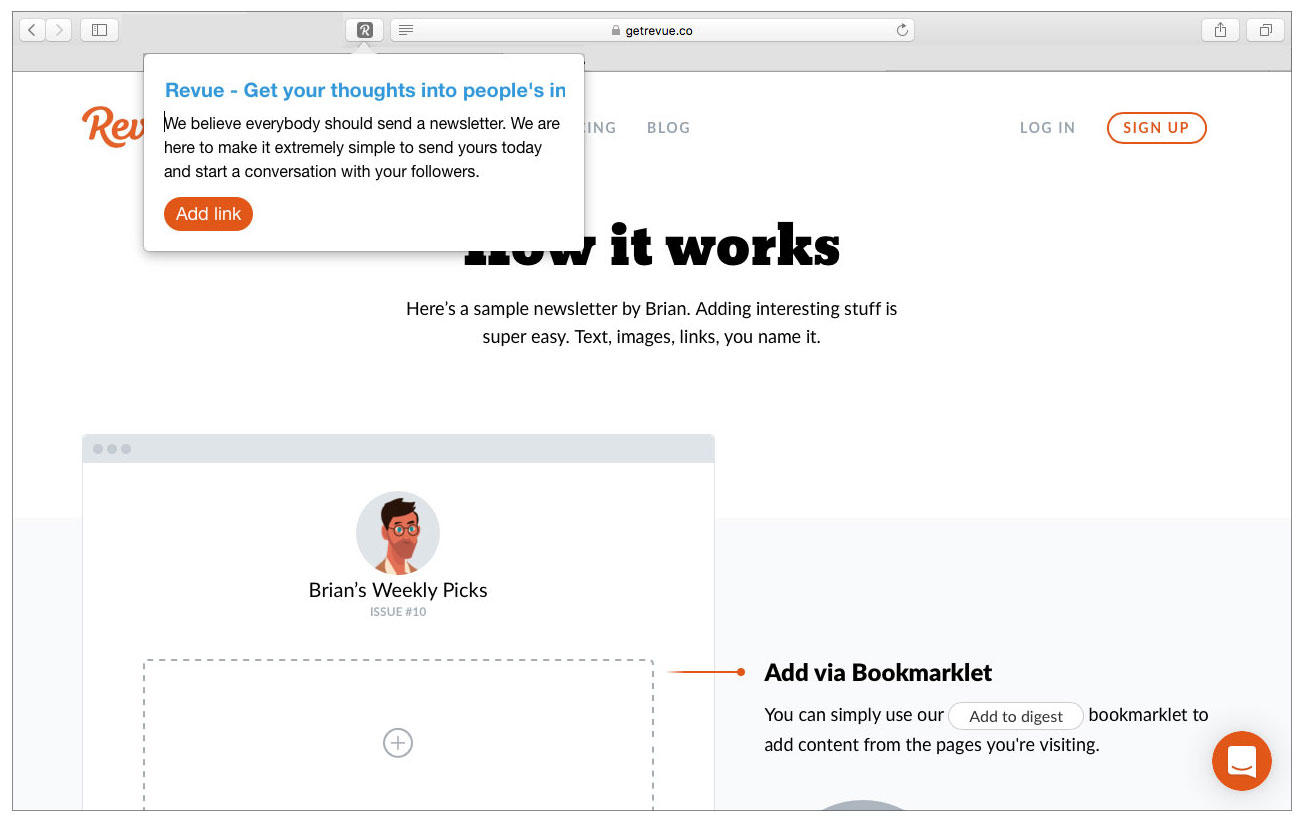 Marketing and Growing Your List
Once you've creating a place online for people to go, you've integrated your email capture and you've started to curate content to send out to your audience, it's time to start building up that audience.
It's important to know before you start that just because you build something online does not mean that people will automatically come and start signing up to be a part of it. Most of the time it takes patience and sending out your first newsletters to friends and family before you actually start building any kind of audience.
However, there are some tactics you can use to get your name out there and start building your list:
Broadcast on Social Media Platforms – Reach out to the audience you already have right now, which is your social media platforms. Whether you have a hundred or a thousand followers, post a picture, make a tweet and link out to your landing page so the people who know you can sign up to it. This will generate some initial traffic to help boost your moral so you have some real people on your email list, even if it's only a few to start. You may also want to consider creating specific social media accounts to help advertise and grow your presence online.
Go Where Your Niche Market Goes – Go to the places online where your niche market hangs out and let them know you exist, whether it's websites, blogs or forums like Reddit. This is why it's helpful to have chosen a niche market you're already a part of because you'll already know where they hang out and how to approach them.
Paid for Some Ads – You could also always use paid ads to help drive traffic to your landing page to collect more emails. Check out this Facebook Ads guide to learn more about getting started with Facebook Ads.
Be Consistent – Keep putting out content no matter how many people are engaging with it, and just keep doing it. The more consistent you are the more likely you will be to grow your audience each month, and it will just keep snowballing.
Example of a Curated Newsletter Done Right
You might be asking or wondering how all of this comes together. Below is a great example of one of our favourite curated email newsletters, Opportunity Overload, by the talented folks over at Need/Want.
Opportunity Overload is a weekly newsletter geared towards entrepreneurs looking for new opportunities (that's you by the way). The newsletter is broken up into several sections and types of opportunities.
Broad opportunities – This includes general trends in society and consumerism for you to think about.
Marketplace: Companies for Sale – A curated selection of small online businesses for sale.
Marketplace: Domains for Sale – A curated selection of domains for sale that might spark and idea for a business.
Community Board – A selection of community posted opportunities.
Sponsorship & Announcements – Sponsors messages (they are now making money from their emails) as well as news about Opportunity Overload.
Conclusion
Remember, the purpose of setting all of this up isn't to become an overnight success. You may not be ready to build an entire business yet, but you can build an audience without having any products to sell just by making an online presence and delivering valuable insight and resources to your growing audience. This is the most productive thing you can be doing for the business you don't even have yet because it will give you a solid foundation of customers who trust your opinion that you can sell to once you actually have the means and resources. Use the resources we've provided to create each component and get started building your audience today.
You can create your very own store with ShopWired - start your free 14 day trial today.