PayPal Fees- How Much Are PayPal Fees?
In the world of online transactions, PayPal is a dominant player, streamlining payments for countless businesses and individuals.
But one question that often arises is: "How much are PayPal fees?"
While PayPal offers the convenience of secure online transactions, it's essential for users to understand the associated costs. This guide will provide an overview of PayPal fees, ensuring that whether you're a seasoned business owner or just starting out, you're well-informed about the expenses tied to this popular payment method.
Ready? Let's begin.
Table of contents
1. Understanding PayPal fees in the UK
2. Additional PayPal Fees to be Aware of
3. The Benefits of Using PayPal
4. Integrating PayPal with ShopWired
5. Best Practices for Leveraging PayPal to Boost Sales on Your Website
6. ShopWired- Digital Payments Made Easy
---
Understanding PayPal Fees in the UK
When it comes to online transactions, PayPal is one of the most popular payment gateways in the UK. However, as with most services, there are associated fees which will vary depending on the country you operate within. For buyers, there aren't usually any fees associated with using PayPal, but the story is slightly different for merchants.
Here's a breakdown of the most common PayPal fees for UK merchants:
Commercial Transaction Rates
Standard rate for domestic transactions:
Card funded payment without a PayPal account: 1.2% + fixed fee of £0.30
QR Code Transactions (above £10.01): 1.5% + fixed fee of £0.30
QR Code Transactions (up to £10.00): 2% + fixed fee of £0.30
All other commercial transactions: 2.9% + fixed fee of £0.30
Receiving International Transactions
European Economic Area: 1.29%
All other markets: 1.99%
Micropayments
For businesses processing payments under £5.00, micropayment rates might be more suitable.
Domestic micropayments: 5% + fixed fee
International micropayments: 6% + fixed fee
Micropayments fixed fee: £0.05
PayPal Payouts
PayPal Payouts allows merchants to send payments to multiple recipients simultaneously.
Domestic PayPal Payouts: 2% of the total transaction amount (capped at £10.00)
International PayPal Payouts: 2% of the total transaction amount (capped at £60.00)
It's essential for merchants to be aware of these fees so that they can be factored into revenue projections. By understanding the cost structure, businesses can make informed decisions about pricing and payment methods.
Note: The fees mentioned above are based on the latest data from PayPal UK as of July 2023. Always refer to the official PayPal website for the most up-to-date information.
---
Additional PayPal Fees to be Aware of
Beyond its primary transaction fees, PayPal also has a range of additional fees that merchants should be aware of. These can vary based on specific circumstances or additional services utilised:
PayPal Inactivity Fee
If you don't log in to your PayPal account or make any transaction for 12 consecutive months, PayPal may charge an inactivity fee. This fee is £9 in the UK, and it's deducted from your PayPal balance. The inactivity fee isn't charged in the US.
Here's a list of countries where merchants are eligible to pay inactivity fees: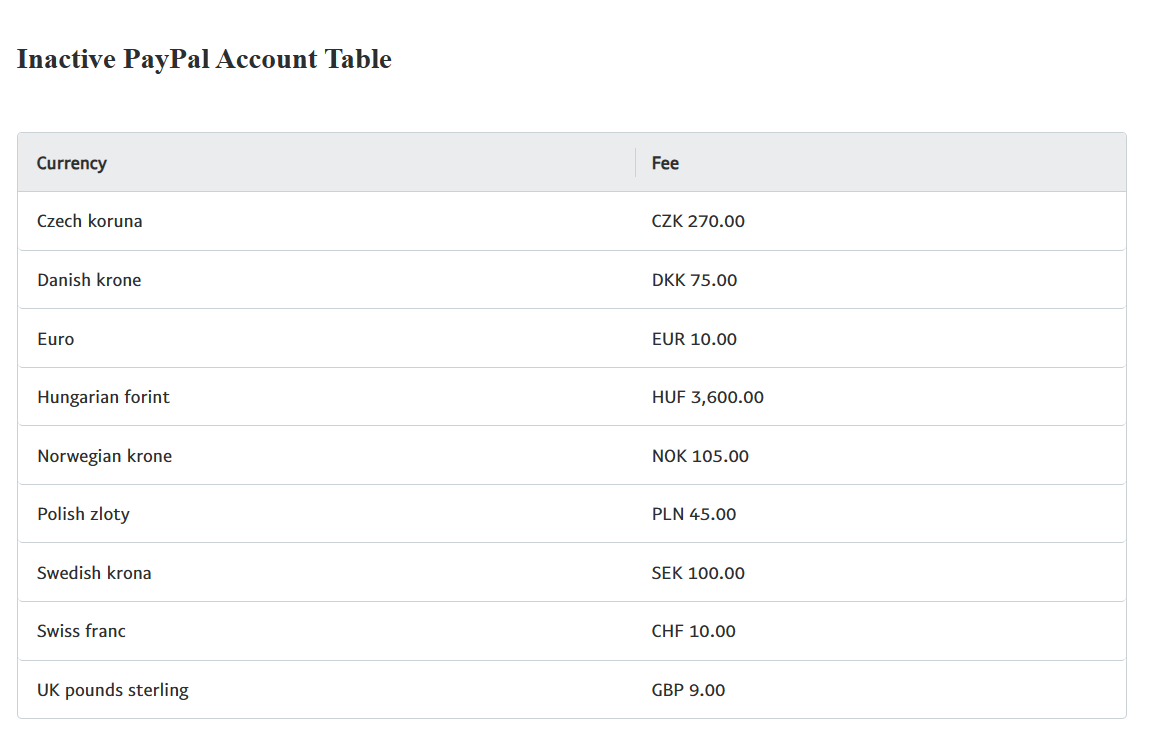 If you've received an inactivity notification from PayPal, please do any of the following in order to avoid paying the fee:
Log in to your account
Pay with PayPal
Send money to friends or family using your PayPal account
Withdraw money from your PayPal account
Donate to a charity using PayPal
Accounts with a zero balance won't be impacted and this won't result in any negative balance.
Chargeback Fee
If a customer files a chargeback with their credit card issuer, and the transaction is found in their favour, PayPal charges a fee to the seller. This fee is £14 per transaction, regardless of the transaction value.
Cross-Border Fee
If you're receiving payments from customers outside the UK, you might incur an additional fee. This is because cross-border transactions involve more processing, and the fee can vary based on the country of the sender. PayPal offers a fixed fee for commercial cross-border transactions, base don the currency received: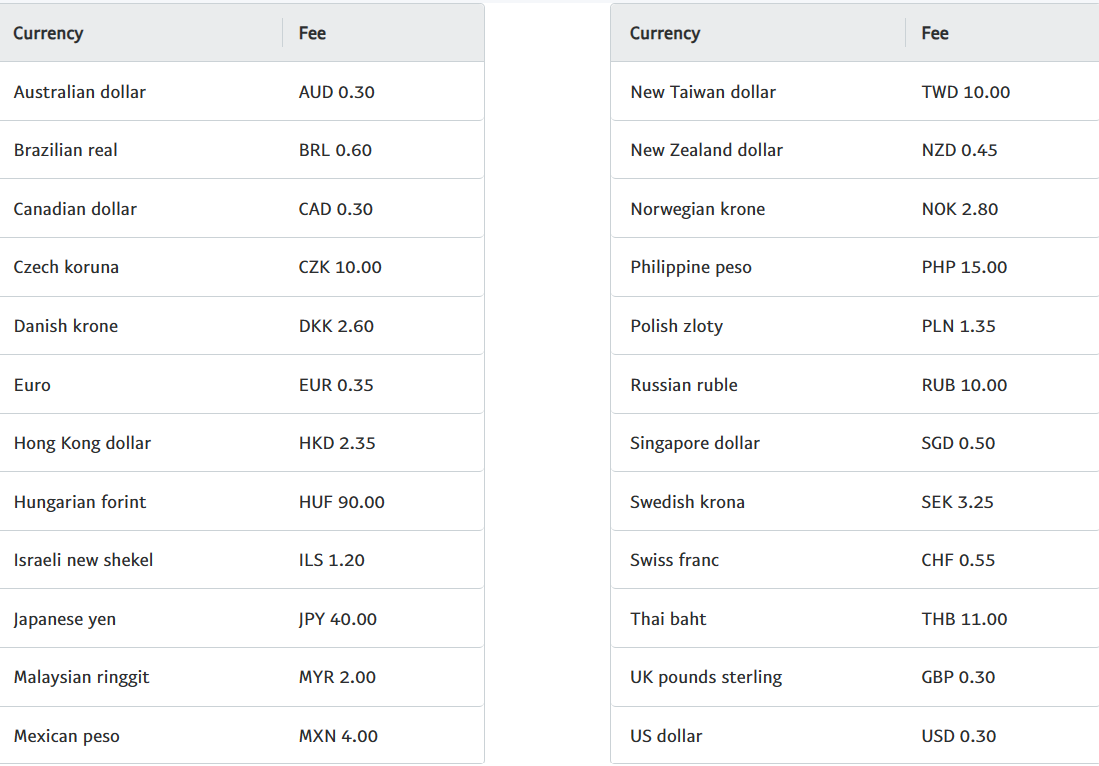 Currency Conversion Fee
If you're dealing with international transactions, PayPal will convert the currency for you. However, they charge a fee for this service, which is typically a percentage of the transaction amount. You can use PayPal's Currency Converter Tool here to work out exactly what fee you'll pay.
Refund Fee
If you refund a Commercial Transaction payment, there are no fees to make the refund. This includes full refunds and partial refunds. However, PayPal no longer returns the transaction fee to the seller, meaning you'll lose whatever transaction fee you paid during the sale.
Instant Transfer Fee
If you want to transfer funds from your PayPal account to your bank account instantly, there's a fee associated with this expedited service. The fee for instant transfers is 1% if you're sending your PayPal funds to a bank account or to a debit card. However, if you don't mind waiting a little longer, there is no fee associated with a standard transfer to bank account, meaning you'll avoid paying the 1%. Although 1% is seemingly small, it can amount to a considerable amount if your balance is large.
It's essential to be proactive and aware of PayPal's additional fees, as they can add up and impact your overall profitability. By understanding the complete fee structure, merchants can make more informed decisions and potentially avoid some of these costs.
---
The Benefits of Using PayPal
PayPal isn't all fees; it offers a plethora of advantages that have made it a preferred choice for many online businesses and customers alike. In fact, there are likely to be many businesses that only exist thanks to PayPal and the service it offers.
Here are some of the standout benefits of using PayPal:
1. Trusted Brand Recognition

PayPal is a globally recognised brand. When customers see the PayPal logo on your checkout page, it instils a sense of trust and security, potentially leading to higher conversion rates.
2. Enhanced Security
PayPal is renowned for its robust security measures. With advanced encryption technologies and fraud detection algorithms, it ensures both merchants and customers are protected from potential threats. Moreover, PayPal offers two-factor authentication (2FA) and regular security updates to further safeguard your transactions and personal information.
3. Simplified Checkout Process
With PayPal's One Touch feature, returning customers can check out without re-entering their payment details, making the process faster and more convenient. This streamlined checkout experience can reduce cart abandonment rates and boost overall sales.
4. Mobile-Friendly
As mobile shopping continues to rise, PayPal's mobile-optimised solutions ensure that customers have a seamless checkout experience, regardless of the device they're using. Gone are the days of having to load up the desktop computer or laptop to make a payment.
5. Global Reach
PayPal allows businesses to accept payments in multiple currencies from over 200 countries, making it easier to tap into international markets. This global reach can significantly expand your customer base and revenue potential.
6. Buyer and Seller Protection
PayPal offers Buyer and Seller protection to ensure both parties feel safe and assured whether buying or selling online. This coverage provides an added layer of security, guaranteeing a safeguard between buyer and seller. Whether you're a customer worried about receiving a faulty item or a seller concerned about chargebacks, PayPal's protection programs have you covered.
7. Dispute Resolution
PayPal offers a comprehensive dispute resolution system, helping merchants and customers resolve any issues amicably and efficiently. This feature promotes trust and provides a safety net for both parties in case of transaction disputes, further enhancing the appeal of using PayPal. Additionally, PayPal's dedicated customer support team is available to assist with dispute resolution, ensuring a seamless experience.
8. Flexible Payment Options
Beyond the standard payment methods, PayPal offers financing options like "Pay in 3", allowing customers to spread their payments, which can encourage larger purchases. For purchases over a certain amount, buyers also often get the option to 'Buy Now Pay Later.' As a merchant, knowing that PayPal offers flexible payment options could help increase your sales as customers have longer to pay for your products or services.
9. Integration with ecommerce platforms like ShopWired
It's becoming common to see the best ecommerce platforms integrating with payment processors like PayPal. For UK-based businesses, integrating PayPal with the UK's best-rated ecommerce platform, ShopWired, is straightforward, ensuring smooth transactions for both the merchant and the customer.
Businesses can leverage the benefits of PayPal to enhance their online shopping experience, build trust with customers and drive sales.
---
Integrating PayPal with ShopWired
For UK-based ecommerce businesses, integrating PayPal into their online store is a strategic and highly recommended move.
ShopWired, being one of the leading ecommerce platforms in the UK, offers a seamless integration process with PayPal. By integrating PayPal into your ShopWired website, customers can checkout instantly from your website's basket page. Customers simply log into PayPal once and can check out without re-entering their password or payment details. This decreases the amount of time it takes for a customer to checkout on your website, which could help increase conversion rates/
Here's a brief guide on how to set it up to start facilitating transactions right away:
1. Create a PayPal Business Account
Before you can integrate PayPal with ShopWired, you must have a PayPal business account. If you don't have one, sign up on the PayPal website here.
2. Activate PayPal in your ShopWired Account
To activate PayPal on your website select Checkout > Payment Gateway from the menu. At the top of the page in the PayPal box select Connect with PayPal:

A pop-up box will now appear asking you to login to your PayPal account.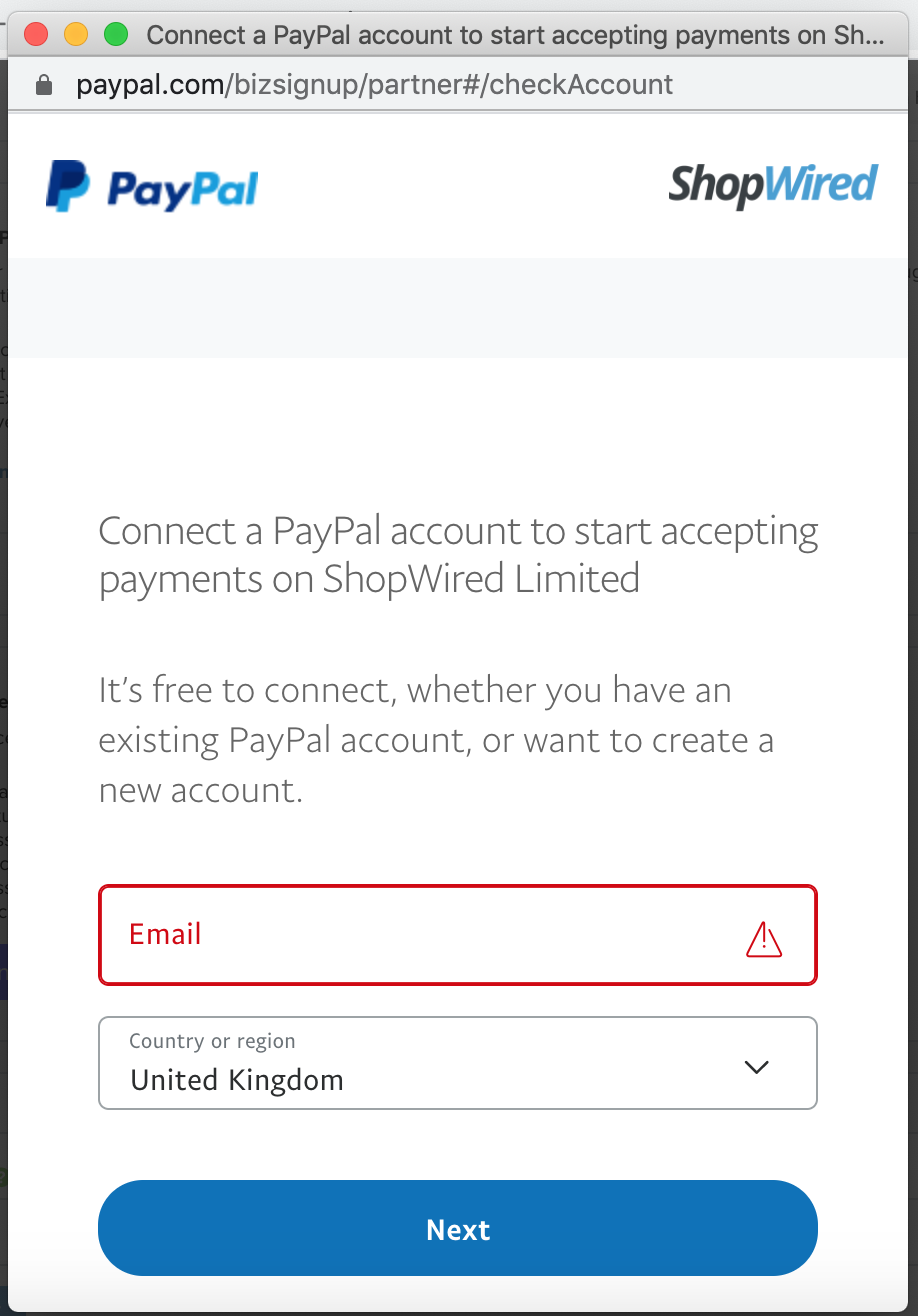 **If you didn't create a PayPal account first, you can create one from this pop-up box.
Once you've completed these steps, PayPal will automatically be activated on your website. You don't need to do anything else. A 'PayPal Checkout' button will now display on your website's shopping basket page. This allows users to bypass the normal checkout process if they want to and pay directly with PayPal.
For more advanced settings, please refer to ShopWired's PayPal help guide here.
By integrating PayPal with ShopWired, merchants not only offer a trusted and globally recognised payment method but also enhance the overall shopping experience for their customers. The process is straightforward, and with ShopWired's intuitive interface, even those new to e-commerce can set it up with ease.
---
Best Practices for Leveraging PayPal to Boost Sales on Your Website
PayPal, being a globally trusted payment gateway, isn't just a tool for receiving payments. It can be a strategic asset that drives customer trust, enhances user experience and can directly influence sales. Chances are, if users see that trusty PayPal logo adorning your website, they're going to be more likely to trust you as a brand.
Here's how businesses can make the most of their PayPal integration:
1. Prominently Display the PayPal Logo
Showcasing the PayPal logo on your website, especially on landing pages and checkout sections, can instil confidence in potential buyers. It assures them of a secure transaction, thereby reducing cart abandonment rates. In today's online world, shoppers want the highest guarantee of security, and PayPal offers that with a trusted name.
2. Optimise for Mobile Checkouts
With a significant percentage of online shoppers using mobile devices, a smooth mobile checkout experience can directly influence sales. We've already mentioned that PayPal works on mobile devices, but you'll need to ensure that the PayPal checkout button is clearly visible and accessible on these devices. Even if your website is running with a responsive theme, you should still check that the checkout process looks and functions just as good on mobile as it does on desktop. Don't assume without checking.
3. Offer Subscription Payments with PayPal
If your business model includes subscriptions or recurring payments, you could use PayPal's subscription services. This allows customers to set up automatic payments, ensuring consistent revenue for your business and convenience for customers. It's a win-win.
4. Promote PayPal's Buyer Protection
We've already mentioned PayPal's buyer protection in this article. Remind customers that PayPal offers it. This assurance can be the deciding factor for many potential buyers who are on the fence about a purchase. This is especially true when it comes to items that are high in value and might be considered a significant investment.
5. Highlight Special Financing Options
If you're leveraging PayPal Credit or "Pay in 3", advertising these financing options on product pages and during the checkout process can encourage customers to make larger purchases. Having flexible payment options could be the difference between gaining or losing a customer, and if the items you sell are expensive, not highlighting these options could be hugely detrimental to your profits.
6. Encourage PayPal Guest Checkout
PayPal Guest Checkout lets customers make purchases without necessarily need to create an account on your platform. This reduces friction in the checkout process and can lead to quicker conversions. If a customer has used this feature before, seeing it advertised on your website could persuade them to buy from you for a hassle-free experience.
7. Stay Updated with PayPal's Features
PayPal continually innovates and introduces new features for both merchants and customers. For ecommerce in particular, PayPal is always looking for ways to improve and simplify the checkout process. Ensure you're up-to-date with these developments and incorporate them into your ecommerce strategy. As PayPal evolves, so does your checkout process.
8. Gather Feedback
Regularly gather feedback from your customers about their checkout experience, especially those who choose PayPal. Use this feedback to continually refine and improve the buying process. If you notice that the majority of your customers use PayPal and enjoy it, then it's definitely worth promoting this on your website.
Remember, the ultimate goal is to create a seamless and trustworthy buying experience. By strategically leveraging the features and benefits of PayPal, merchants can not only simplify transactions but can also drive customer loyalty and repeat business.
---
ShopWired- Digital Payments Made Easy
Navigating the world of online payments can be daunting, but with platforms like ShopWired, it becomes a breeze. Offering integration with over 40 payment gateways, including PayPal, ShopWired ensures that businesses have a plethora of options to cater to their diverse customer base.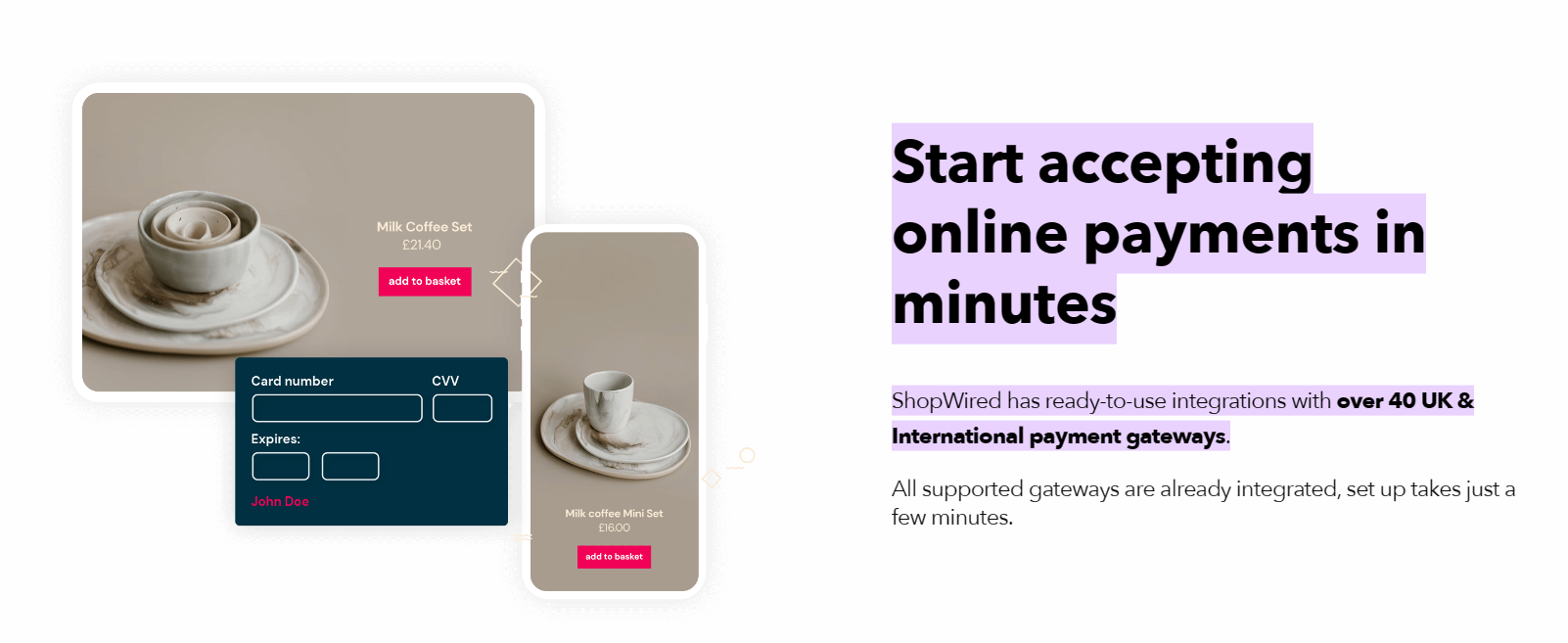 If you're considering venturing into ecommerce or looking to switch platforms, why not give ShopWired a try? With a 14-day free trial, you can explore its features and see first-hand how it can elevate your online store.
Dive into the future of ecommerce with ShopWired and offer your customers a seamless shopping experience. Start your free trial today!