Getting Started With Google Shopping
Google Shopping is a powerful platform that lets online stores showcase their products on both the Google results page and Google Shopping tab.
This unique advertising opportunity helps brands put their products in front of people who are actively searching for them online. And better yet, merchants can list products for free on Google Shopping, making it a cost-effective way to boost visibility and increase sales.
If you're reading this article, you're probably thinking about setting up Google Shopping, but perhaps you don't know where to start.
Well, luckily, you're in the right place. In this guide, we're going to answer some of the most common questions related to Google Shopping, including:
What exactly is Google Shopping?
What are the pros and cons?
How do you set up Google Shopping?
How can you optimise your Google Shopping campaign for maximum results?
How can you measure the success of your Google Shopping campaigns?
We'll also talk about ShopWired's new Google Shopping app and explore how it streamlines the process of uploading and managing your product listings.
Ready? Let's go.
---
What exactly is Google Shopping?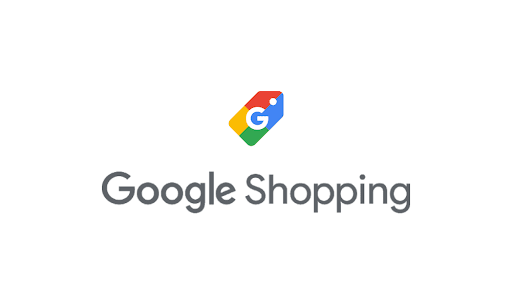 Google Shopping lets online users find and compare products directly on Google's results page, providing a streamlined platform for both buyers and sellers.
To help us understand Google Shopping - let's look at it from both the buyer's perspective and the seller's perspective.
For buyers, Google Shopping operates as a convenient one-stop shop. Shoppers can easily compare product prices, view product images, read reviews and make informed purchasing decisions all within Google's results page. With a simple click, they can visit the seller's website to complete the transaction. It streamlines the buying process, saving time and providing a seamless shopping experience.
For sellers, Google Shopping presents an opportunity to enhance their visibility. By featuring products prominently on Google's search results page and within the Google Shopping tab, sellers can have their products seen by a much bigger audience. A key advantage of Google Shopping is its offering of free listings, which sets it apart from many other advertising formats. This means sellers have the chance to showcase their products in these high-visibility areas at no cost. However, it's important to note that free listings do not guarantee that your products will be displayed. This is largely determined by the quality of your product data and their relevance to search terms used by potential customers. Sellers that want to guarantee being shown on Google Shopping can set up a dedicated paid Shopping Campaign in Google Ads and place bids.
Overall, Google Shopping is a win-win for both buyers and sellers. Buyers get to experience a streamlined and convenient shopping experience, whilst sellers get to showcase their products on Google's results page and Shopping tab.
We'll explore how Google Shopping works shortly, but first, let's look at the pros and cons of using it.
---
What are the pros and cons of Google Shopping?
Google Shopping pros
1. Increased visibility
Google Shopping lets sellers prominently showcase their products at the top of Google's results page and on the Google Shopping tab. This boosts visibility and helps to attract more potential customers without them needing to scroll through the results page.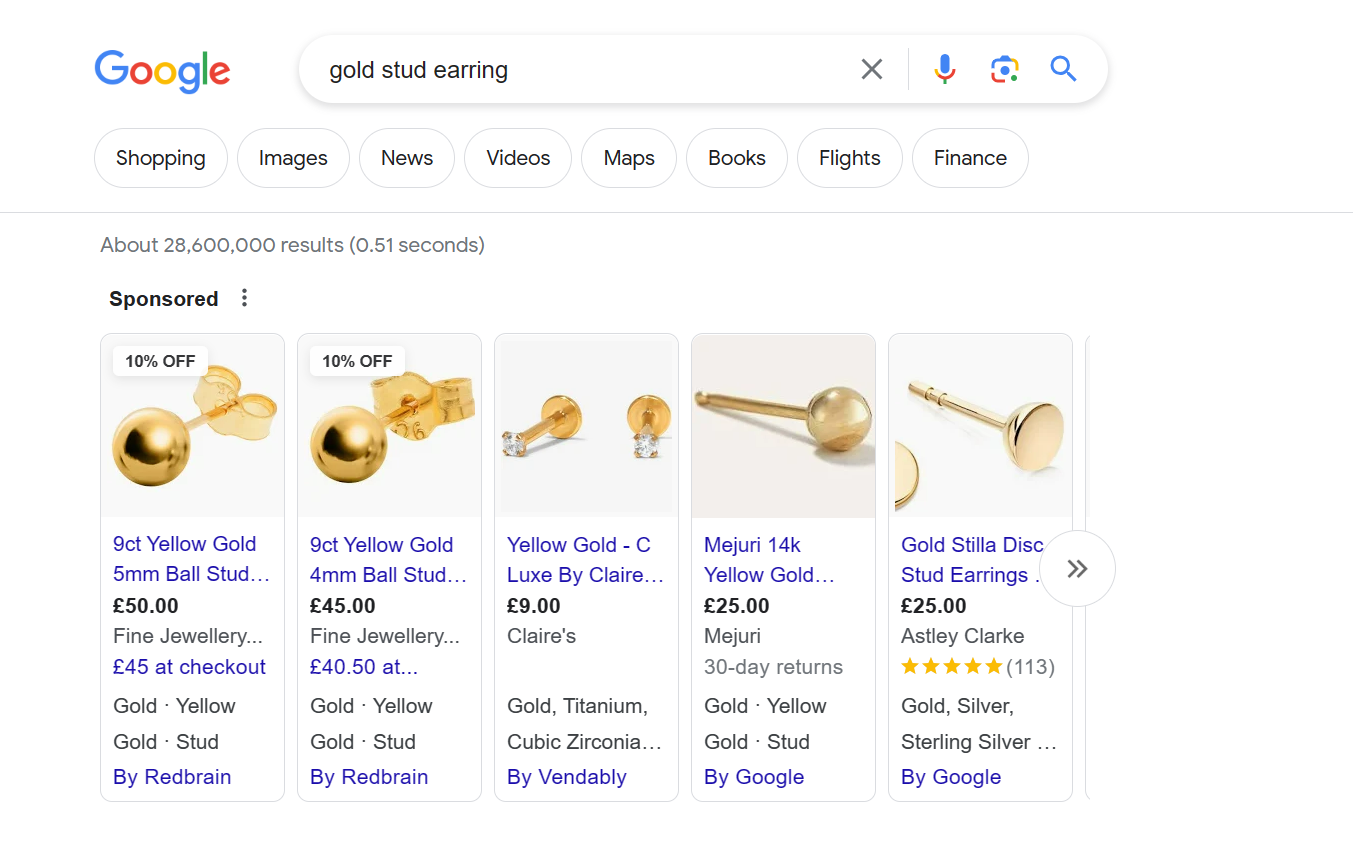 2. Provides trust signals
Having your products displayed prominently on Google's results page alongside other top brands can serve as a trust signal that your brand and products are high-quality and trustworthy.
3. Visual appeal
Having high-quality product images displayed on Google Shopping catches the attention of buyers, making it easier to showcase the unique features and visual appeal of your product range. In fact, the Google Shopping tab was created with the viewer in mind, with each shopping ad consisting of a product image, price, ratings and the name of the merchant. It's a similar experience to browsing through the pages of a real catalogue.
4. Targeted advertising
Sellers that use a paid Shopping Campaign can benefit from Google's powerful targeting capabilities to reach a highly relevant audience who are actively searching for their products. This targeted advertising approach ensures that sellers can connect with potential customers who have shown buying intent.
5. Streamlined shopping experience
Buyers can quickly compare prices, view product details and read reviews directly within the search results page. For the buyer, this streamlined shopping experience eliminates the need to visit multiple websites, saving time and effort in finding the right product at the best price.
---
Google Shopping cons
While the pros of Google Shopping far outweigh the cons, here a few things worth considering:
1. Cost
Unless you're only utilising free listings, running Google Shopping campaigns can be expensive. This is especially true for highly competitive industries, as sellers need to bid for ad placements and pay for each click. But with the right bidding strategy, it's certainly possible to see good results without breaking the bank.
2. Paid Shopping ads get priority over free listings
A notable drawback of free listings is that paid advertisements usually receive priority. While both types of ads share elements like product images, titles, and pricing, free listings are typically positioned below paid listings. This placement difference can impact visibility, particularly in a competitive market.
3. Performance fluctuations
The performance of Google Shopping ads can vary depending on various factors such as product competitiveness, the optimisation level of your products and more. You'll need to keep an eye on things to ensure optimum performance over time.
4. Limited control over search results
Google determines which products appear on the search results page, and sellers have limited control over the specific placement of their products. This is because Google's algorithms consider a variety of factors, such as relevance, user behaviour and bid amount (if paying for ads) to determine the most relevant and engaging products to display to users.
Despite the potential cons, the benefits of using Google Shopping are clear, making it a valuable tool for ecommerce businesses. In the following sections, we'll delve into the details of setting up Google Shopping to help maximise results.
---
How do I set up Google Shopping?
To showcase your products on Google Shopping, you'll need an ecommerce website containing your products.
These days, most merchants opt for a dedicated ecommerce platform like ShopWired to build their website from scratch. Not only does an ecommerce platform provide a user-friendly approach to website building, many of them, including ShopWired, offer dedicated Google Shopping apps to give you greater control (more on that later).
Using ShopWired as an example, let's explore how you can set up your own Google Shopping campaign to maximise your brand's visibility and boost sales.
Step 1- Create a Google Merchant Center account
To list or run ads for your products on Google Shopping, the first thing you'll need to do is create a Google Merchant Center account.
Google Merchant Center is a platform that lets online retailers upload and manage their product data. You'll need a Merchant Center account in order to have your products display on Google Shopping and reach potential customers searching for related items.
Once you've signed up, you'll need to enter some initial basic information and read through Google's terms and conditions. You'll also need to insert and verify your website's URL before you can start shipping any products.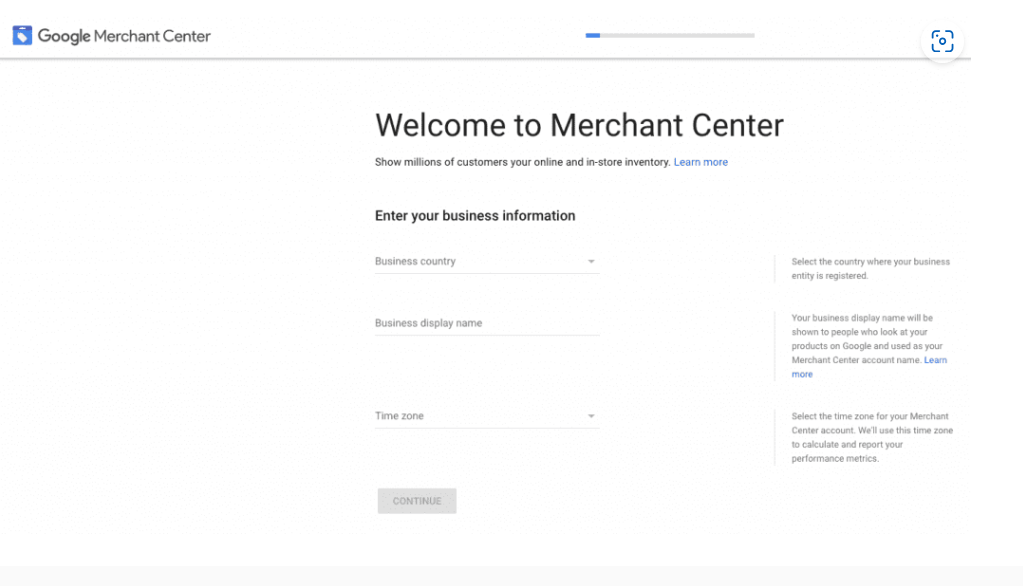 Setting up a Google Merchant Center account is straightforward, that's because the platform builds an onboarding experience tailored specifically to your account. You'll be shown what to do next and you'll be able to see the tasks you've already completed.
You can read Google's help guide for setting up Google Merchant Center here.
Step 2- Connect Google Merchant Center to your ecommerce website
Once your Google Merchant Center account is set up, it's time to connect it to your ecommerce store.
While you can manually upload your inventory directly into Google Merchant Center using a spreadsheet, that sounds like far too much effort!
Many ecommerce platforms now have dedicated apps that let you automatically sync your inventory with your Google Merchant Center account. For example, ShopWired's new Google Shopping app instantly syncs your store's inventory with Merchant Center using an integrated API. By using the API, your Shopwired product data is instantly sent to Merchant Center without having to wait for a feed to be processed.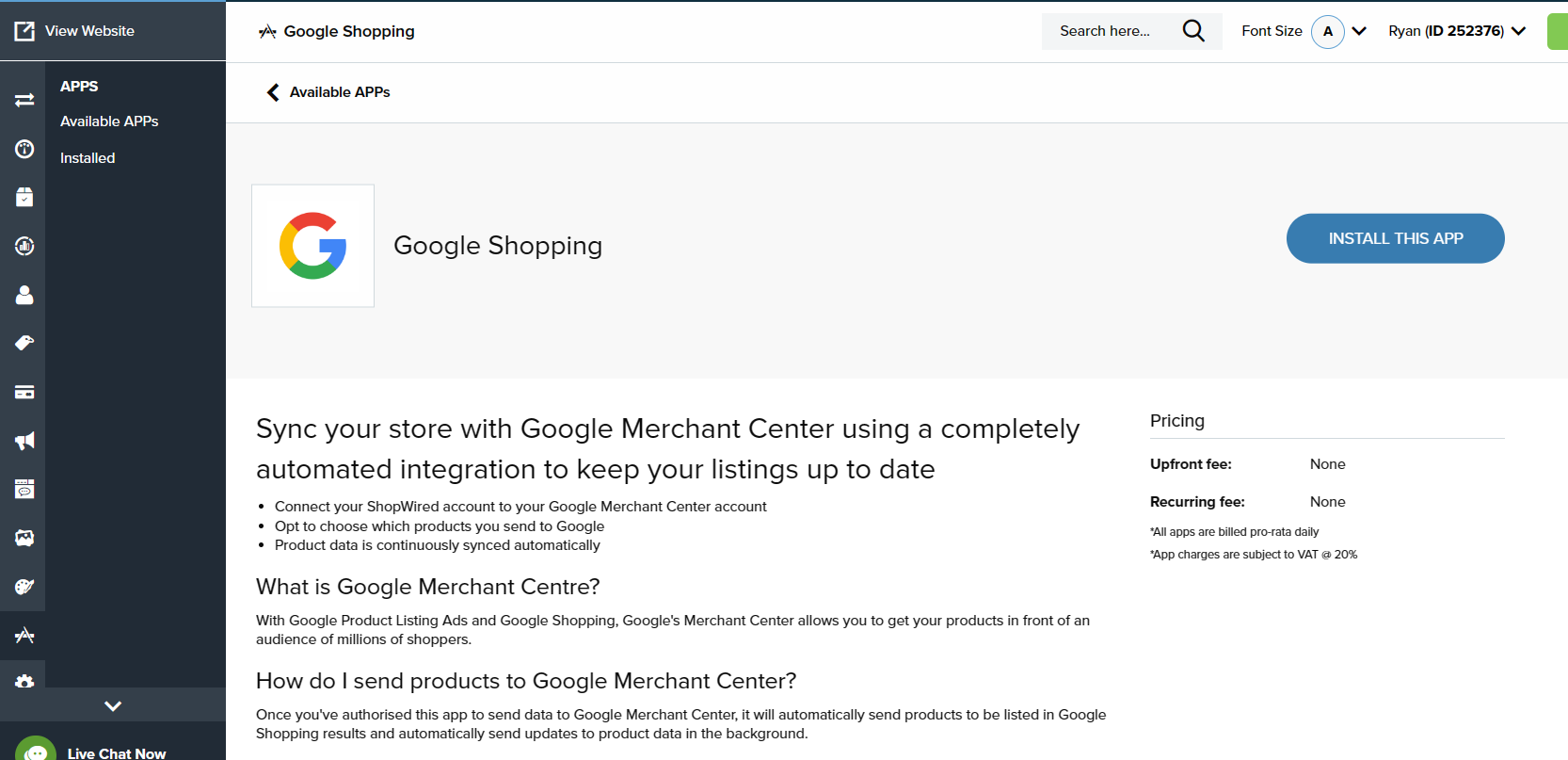 For ShopWired users, simply head to the Available Apps section of your ShopWired account and install the Google Shopping app. When you click install, you'll be shown a list of permissions that you'll be giving to Google. Once you've accepted these and completed the installation, you can connect the app to your Google Merchant Center account.

Step 3- Manage which products are sent to Google Merchant Center
ShopWired's Google Shopping app lets you manage which products are sent to Google Merchant Center. You can choose to send selected products only or all published products.

Selected products only
Selecting this option lets you manually pick which products to send to the Merchant Center. This is done by ticking your chosen products in the table below.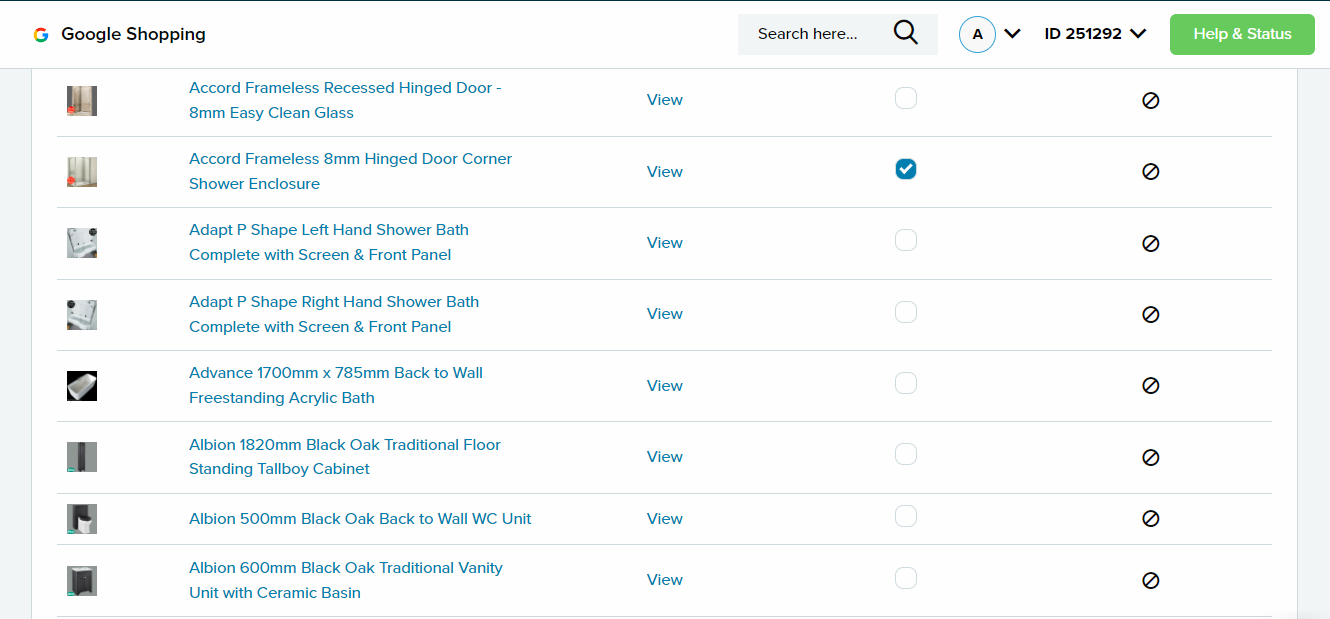 If you opt for this method, you'll need to head to the top of the page and press send now once you've ticked the products you want to send.
After pressing send now, you'll see a confirmation message at the top of the page informing you that your request has been received. After a few minutes, your products should be visible in the Google Merchant Center (please allow up to 30 minutes when selecting a large number of products).

All published products

Selecting this option lets you send all published products in your ShopWired account to the Merchant Center. Please note you still need to press send now for the products to be exported.
Once you've sent your products to the Merchant Center, you can view their status in the table below. You'll see a green exported tab for products that have been successfully exported. Some products may have a red warning triangle if they aren't eligible to be exported. Hovering the cursor over the warning will reveal the reason it isn't eligible to be sent to the Merchant Center (see below):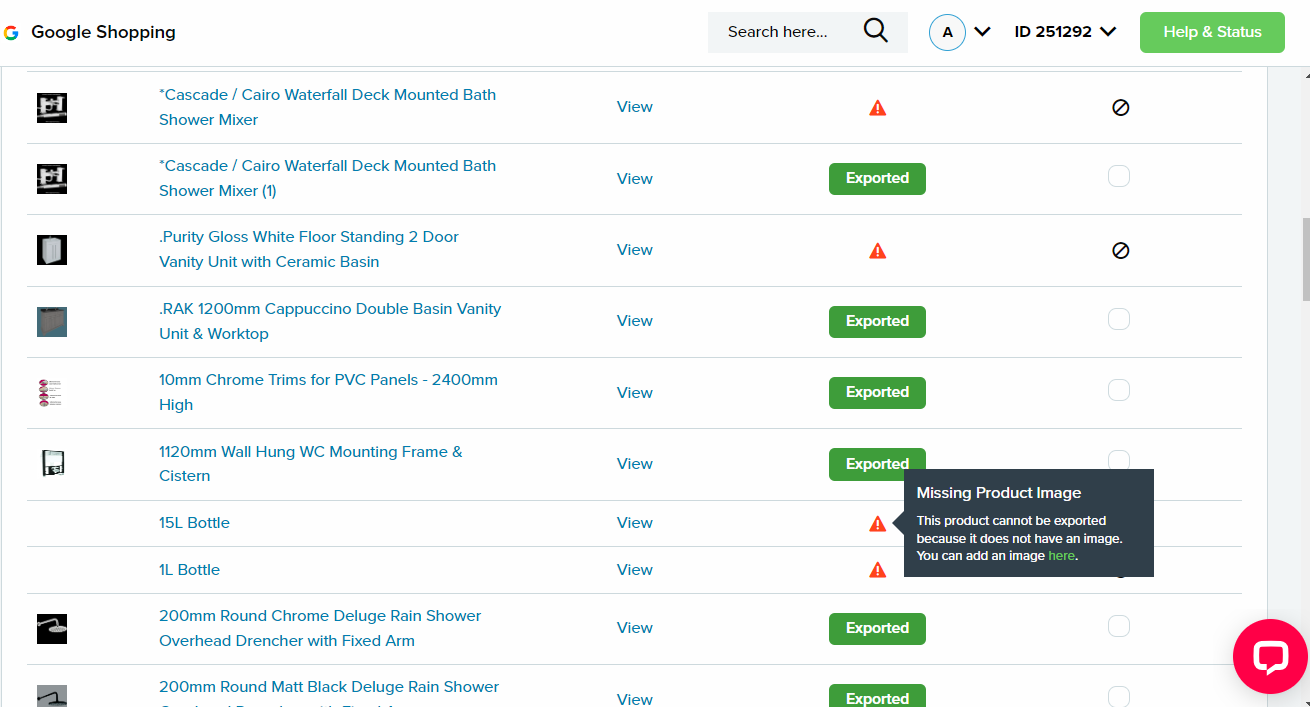 It's important to note that all products need to be active within your ShopWired account and must contain at least one image to be successfully exported to the Merchant Center.
Additional settings
The Google Shopping app also has a list of additional settings that allow you customise some of the information that is sent to Google. You can make decisions such as if you want variations to be exported as separate items, if you want to use a different product title and if you want to include shipping details for products that are sent.
There are also a couple of settings that allow you to determine if you want future products you create or products that you make active to be automatically sent to Google.
Step 4- Ensure your product data is optimised
A Shopping campaign is different to traditional text ads in that you're not bidding on keywords. Instead, as we've already discussed, your product feed contains all the necessary information that Google uses to match your products with relevant user searches and display them as Shopping ads, which is why it's imperative that your product feed is well-optimised.
Let's now go through some of the most important aspects of your product feed and how to optimise it for success.
Product Title
Your product titles should be concise, descriptive and include relevant keywords. A well-crafted product title helps users understand what your product is, and to let Google know when to show your ad to people who are searching for that particular product.
Top tip- If you sell variations of a product such as different colours and sizes, it can be useful to include these in your product title. That's because if someone searches for a 'XL Blue Shirt' they're showing buyer intent and could be more likely to make a purchase.
Product descriptions
Product descriptions should be rich in detail, including the product's features, benefits and any unique selling points. They should also incorporate relevant keywords, as Google uses this information to understand the product and match it with user queries. Make sure the descriptions are clear, well-written and easy to understand to encourage potential customers to make a purchase.
Top tip- Avoid generic descriptions and make sure to differentiate your product from others. This is a great opportunity to highlight what makes your product unique and desirable.
Images
Product images play a crucial role in your product feed as they are the first impression customers get of your product. High-quality, clear and accurate images can significantly influence a customer's decision to click on your product.
Top tip- Ensure your images accurately represent the product you're selling. Include multiple angles and close-ups if possible. Images should be well-lit and set against a clean, neutral background to draw attention to the product.
Google Product Category
The Google Product Category is a crucial aspect of your product feed, as it classifies your product into a specific category, helping Google to understand what you're selling. It's important to select the most accurate and specific category for each product to ensure that your ads reach the most relevant audience.
Top tip- Google provides a product taxonomy that you can use as a guide to find the best category for your product. Be as precise as you can to help Google better match your products with user searches.
Product Type
Product type is a key attribute that you can use to offer more specific information about your product, beyond what's available in the predefined Google product categories. By accurately defining your product type, you can help Google better understand your product and more effectively match it to relevant user searches.
Top tip- product type can be as detailed as you like and match your website's categorisation. The more specific you are, the better Google can target your products to the right users.
Price
The price field in your product feed is arguably the most critical component as it directly impacts a customer's decision to click on your ad. Ensure that your product's price is accurate and competitive, as Google will display this information prominently in your Shopping ad.
Top tip- Regularly update your product feed to reflect any changes in price. This is particularly important during sales or discount periods, as an accurate price can increase the likelihood of a customer choosing your product over others.
Shipping Information
Accurate shipping information in your product feed is crucial and could be the difference between a prospect choosing you or one of your competitors. Include shipping costs, delivery times and any special conditions to help customers make informed decisions.
Top tip- Clearly communicate shipping policies, offer competitive rates, and provide estimated delivery times. Transparent shipping information enhances customer satisfaction and boosts conversions.
Reviews and Ratings
Reviews and ratings play a vital role in building trust and credibility for your products. Positive reviews and high ratings can significantly impact a customer's decision to purchase. Encourage customers to leave reviews and showcase positive feedback to enhance your product's visibility and reputation.
Top tip- Implement a review collection strategy, engage with customer feedback and display reviews prominently on your product pages to build trust and increase the likelihood of conversions.
Sales Tax
Understanding and correctly applying sales tax regulations is essential for compliance. Ensure that you accurately include sales tax information in your product feed to provide transparency and avoid any potential legal issues.
Top tip- Research and stay updated on sales tax requirements in the regions where you operate. Consult with tax professionals to ensure proper compliance and avoid any penalties.
Availability
Accurate availability information is important for managing customer expectations and preventing dissatisfaction. Regularly update your product feed to reflect real-time stock availability and avoid advertising products that are out of stock.
Top tip- ShopWired's Google Shopping app will automatically sync your product feed with your actual stock levels. This helps ensure that customers only see products that are currently available for purchase.
Condition
Clearly indicating the condition of your products in the product feed is crucial for transparency and managing customer expectations. Specify whether your products are new, used, refurbished, or in any other condition category applicable to your business.
Top tip- Provide detailed and accurate information about the condition of your products. Include any relevant details or disclaimers to set the right expectations for customers.
Brand
Including the brand name in your product feed is essential for brand recognition and searchability. Make sure to accurately specify the brand of each product to help users find and identify your products easily.
Top tip- If you're selling your own branded products, consistent and accurate brand information enhances your brand's visibility and credibility.
Apparel Categories
If you sell apparel products, properly categorising them in your product feed is crucial for effective targeting and matching with user searches. Select the appropriate apparel categories to ensure that your products reach the right audience. Apparel categories include:
Gender: male, female or unisex
Age group: newborn, infant, toddler, kids, adult
Size: the size of the product
Colour: the colour of the product
Top tip- Choose the most specific and relevant categories for each apparel product to optimise visibility and reach.
MPN/GTIN
Providing accurate Manufacturer Part Numbers (MPN) or Global Trade Item Numbers (GTIN) in your product feed helps Google identify and categorise your products correctly. These unique identifiers improve the accuracy of matching products with user queries.
Top tip- Ensure that your product feed includes the correct MPNs or GTINs for each product. Double-check the accuracy of these identifiers to avoid any confusion or misclassification of your products.
Step 5- Make sure your products have been approved by Google and check for errors/disapproved products
Before your products can be displayed on Google Shopping, they'll need to be approved. This process can take up to 5 days. Once you've first uploaded your products, they'll be labelled as 'Pending.' Once Google has processed your products, the pending status will change to 'Approved' and your products will now display on Google Shopping.
Sometimes, you may end up with some disapproved products. This can be for a number of reasons, including:
Violation of Google's policies and guidelines
Missing or incorrect product data
Insufficient product information or missing required attributes
Inadequate product images or improper image quality
Non-compliance with specific category requirements
Inaccurate pricing or misleading information
It's important to regularly check for any disapproved products in your Google Merchant Center account and address the issues to ensure all your products are eligible for display on Google Shopping. You can easily find any disapproved products and the reason why by going to the Diagnostics tab in the Products tab on Google Merchant Center. You can also find this information from the Google Shopping app in your ShopWired account.

Usually, the fix for disapproved products is straightforward and the product will be approved after you've fixed the issue.. Most disapprovals are caused by missing product data, to avoid this, ensure all of your products have:
A title
At least one image
A description
A link
An image link
Availability
A price
Take advantage of Google Shopping Free Listings
Unlike most other advertising platforms, Google Shopping lets you list products for free. You don't need to set up a separate Google Ads campaign for this. As long as your products are in Google Merchant Center and adhere to Google's guidelines, they're eligible for Free Listings.
To begin, ensure your products are uploaded to the Merchant Center and then enroll in the Free Listings program. To do this, click the Tools and Settings icon in Merchant Center and then click Free listings setup. From here, you'll be able to follow the steps to create your free listings.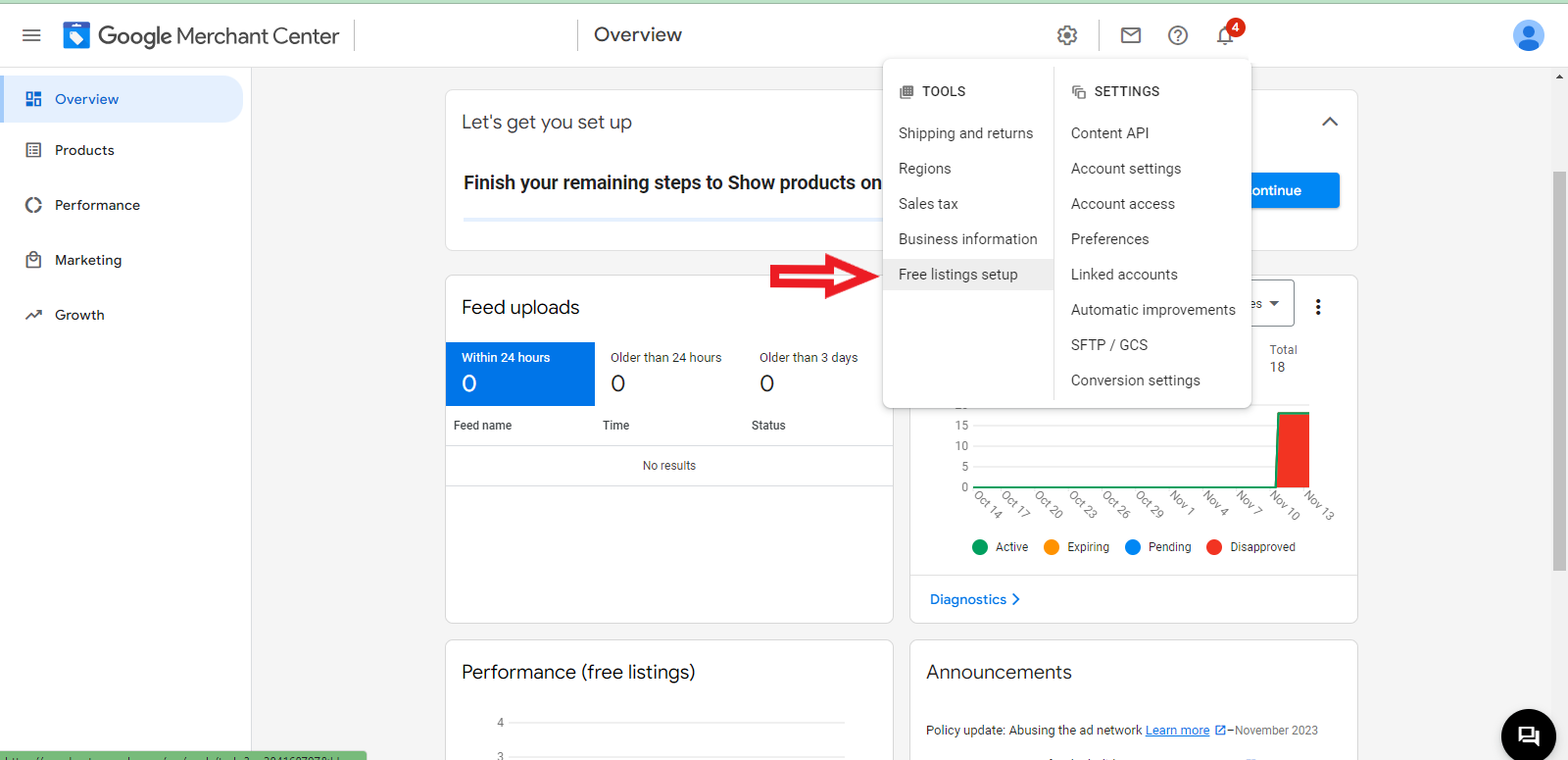 To be eligible for free listings, you must:
Adhere to Google's Free Listing Policies
This includes compliance in areas like Prohibited Content, Prohibited Practices, Restricted Content, and Site Requirements. For detailed guidelines, visit Google's help page.
Showcase Your Return Policy
Your website and Merchant Center account must clearly display your business's return policy. Including details about your return and refund policies in your product data is essential for customer trust and can improve the performance of your listings.
Link Your Shipping Policy
In your Merchant Center account, provide a link to your shipping policy. This makes it easy for customers to find information about shipping rates and delivery times, and this information can be displayed in your free product listings on Google.
---
Create a Google Shopping campaign in Google Ads
For those who want to go beyond free listings, you'll need to create a Google Shopping campaign.
To set up a Google Shopping campaign, you'll need a Google Ads account. You can sign up for a Google Ads account here.
Once you've set up your Ads account, you'll need to link it to your Google Merchant Center account so that you can run your first Shopping campaign. Linking the two accounts is easy- in Google Merchant Center, simply select the settings icon in the top bar, and then select Linked Accounts from the dropdown menu.
For more guidance, check this guide from Google on linking your accounts.
Once your Google Ads and Google Merchant Center accounts are linked, you're ready to set up your first Shopping campaign.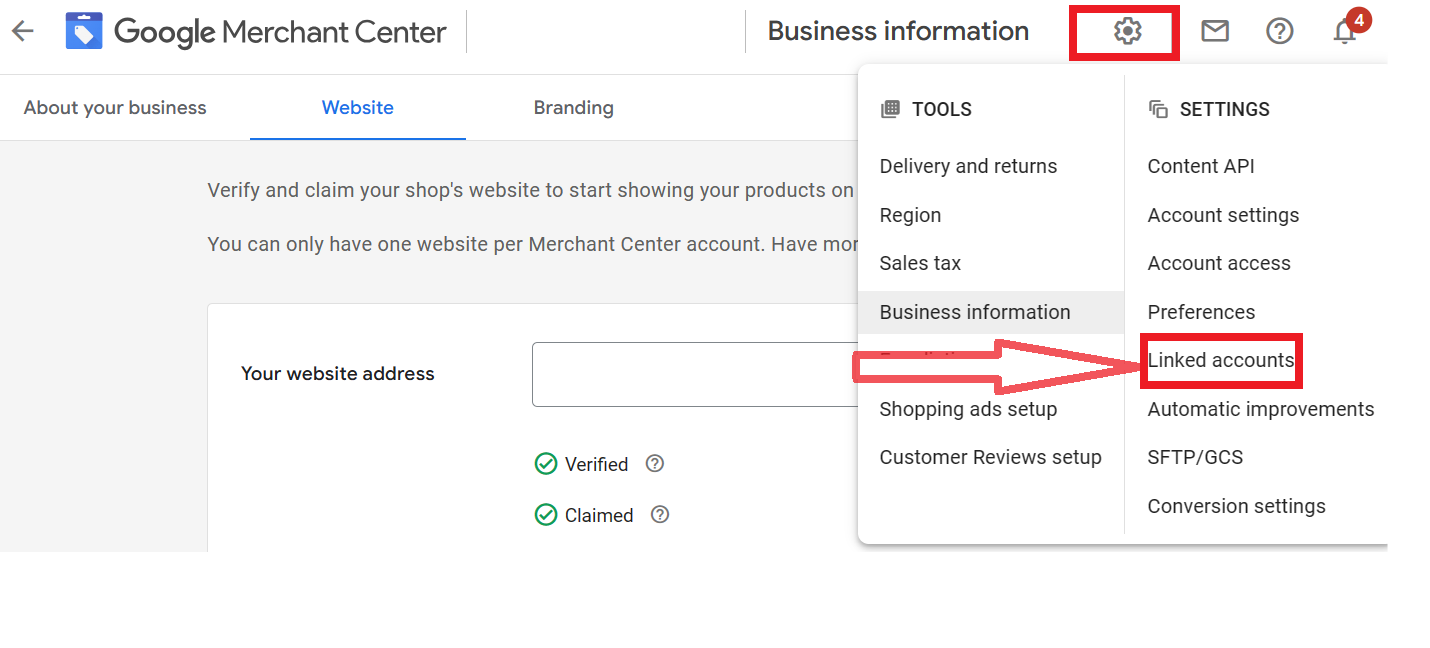 You can set up a campaign by following these steps in Google Ads:
1. Sign in to Google Ads
2. Click Campaigns
3. Click the plus '+' button and then New Campaign
4. Select Shopping for the type of campaign
5. Click Next
6. Choose a campaign name
When you come to set up a new Shopping campaign, there are two types of campaign you can create: Standard Shopping or Smart Shopping.
Standard Shopping campaigns are what most people think of when they hear "Google Shopping." They allow you to create product listing ads that appear in Google search results and on the Google Shopping tab. You have full control over your bidding strategy and can set individual bids for each product or product group.
Smart Shopping campaigns, on the other hand, use machine learning to automate bidding and ad placement. They can also include additional ad formats, like remarketing ads and display ads, which can appear across Google's network of partner sites. Smart Shopping campaigns require less ongoing management than Standard Shopping campaigns, but they also offer less control and transparency.
Choose the type of campaign you want to create, and then proceed with the following steps:
1. Set your budget
This is the maximum amount you're willing to spend on your campaign each day. Google Ads will automatically adjust your bids to try to get the most clicks or conversions for your budget.
2. Choose your bidding strategy
If you're creating a Standard Shopping campaign, you can choose a manual bidding strategy, where you set your own bids, or an automated strategy, where Google sets your bids for you based on your budget and goals. If you're creating a Smart Shopping campaign, your bidding strategy will be automated.
3. Define your target audience
You can choose to show your ads to everyone, or you can target specific demographics, locations, or audiences based on their interests or shopping behaviour.
4. Set up ad groups and product groups
Ad groups contain one or more product groups, and each product group contains one or more products. You can set different bids for each product group, allowing you to allocate your budget towards the products that are most likely to drive sales.
5. Review your campaign settings and then click Save and continue
Congratulations, you've just set up your first Google Shopping campaign! Monitor your campaign's performance regularly to see how it's doing and make any necessary adjustments. Remember, digital marketing is always an ongoing process of testing, learning and iterating.
---
Start your new Google Shopping campaign today
Google Shopping presents a great opportunity to attract potential customers who are searching for products on Google that your online store sells. Hopefully, this guide has given you some key information for helping you get your first Shopping campaign set up and ready for success. We've covered:
how to set up a Merchant Center account,
how to set up a Google Ads account,
how to link your accounts together,
how to connect a Google Shopping campaign with your ecommerce store,
how to optimise your product data for success.
If you're using ShopWired to power your ecommerce store, you can leverage our Google Shopping app to simplify the process of managing and optimising your product data, making it even easier to get started with your Google Shopping campaign.
Get started today and tap into the vast potential of Google Shopping!
Want to give ShopWired a try? Sign up for a free 14-day trial here.