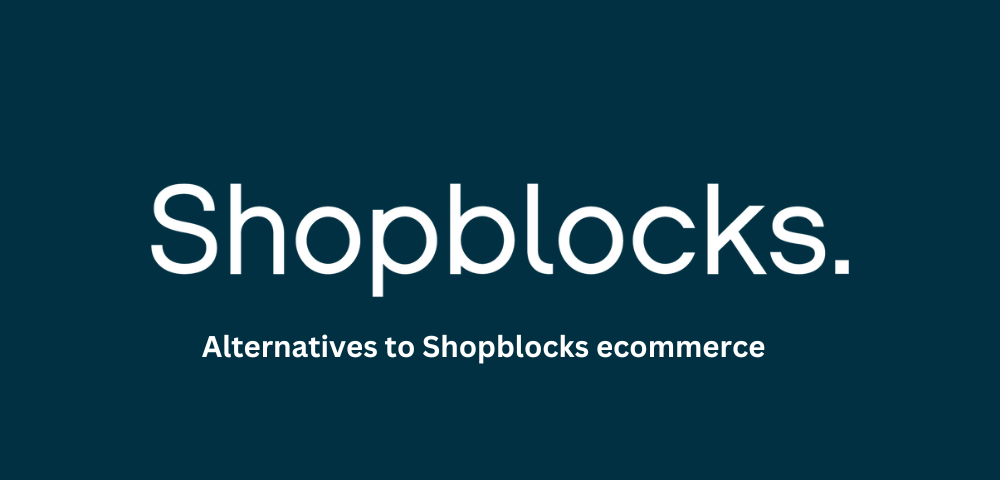 The growing online marketplace has given birth to a plethora of ecommerce platforms, each promising to enhance the online shopping experience. These platforms come with a variety of features designed to cater to the unique needs of businesses and their customers.
Among them is Shopblocks, an ecommerce solution that offers a comprehensive toolkit for merchants to set up, manage, and grow an online store.
But how good is Shopblocks? And is it an ample alternative to other popular platforms like Shopify and ShopWired?
In this guide, we'll explore Shopblocks' main offerings and common pain points before comparing the platform to its rivals to see who comes out on top.
---
What is Shopblocks?
Shopblocks is a relatively new UK-based ecommerce platform that debuted in 2016. Like many of its modern counterparts, the platform is a fully-hosted ecommerce solution, letting merchants build an online store, sell products, and accept payments. If you've used an ecommerce platform before, then Shopblocks will provide a familiar experience.
But one of the areas where Shopblocks differs is with its website design features. It shuns traditional pre-built theme templates for a live builder tool called BlockLab. BlockLab lets you design your store from the ground up by adding blocks of content. Whilst this feature does offer a high level of design customisation and flexibility, it's important to note that it completely replaces theme templates, meaning you'll have to use Blocklab to build your store from scratch.
Beyond Shopblock's unique approach to website design, the platform offers a myriad of features typically expected from an ecommerce platform.
Let's take a closer look at ShopBlocks' offerings, starting with its core ecommerce features.
---
Shopblocks: Ecommerce Features
Shopblocks provides a similar set of core ecommerce features seen on other popular platforms. All of these features are available on all pricing plans.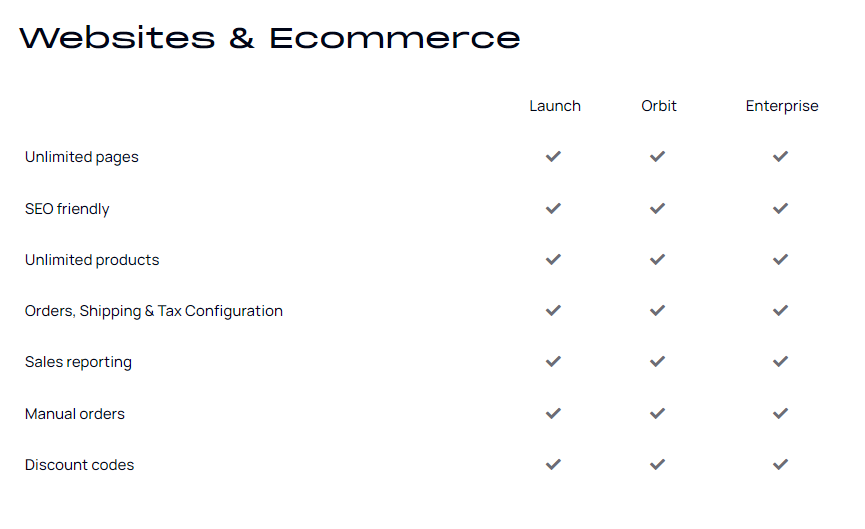 Beyond these features, Shopblocks also offers additional ecommerce features to enhance your store's functionality. These include:
Deals, discounts, vouchers, subscriptions and bundles.
Repeat orders.
B2B trade accounts
Print-on-demand integration.
Multi-language options.
Multi-currency options.
These core features are what you'd expect from any modern ecommerce platform, and although it's good to see them included on all plans, Shopblocks cheapest plan at £99 per month is still considerably more expensive than alternative platforms (more on that later).
The Good
All core features are available on each pricing plan.
All features you'd expect from an ecommerce platform are included.
The Bad
Although all features are available on the cheapest price plan, at £99 per month this is still considerably more expensive than similar alternatives on the market.
---
Shopblocks: Plugins and Additional Features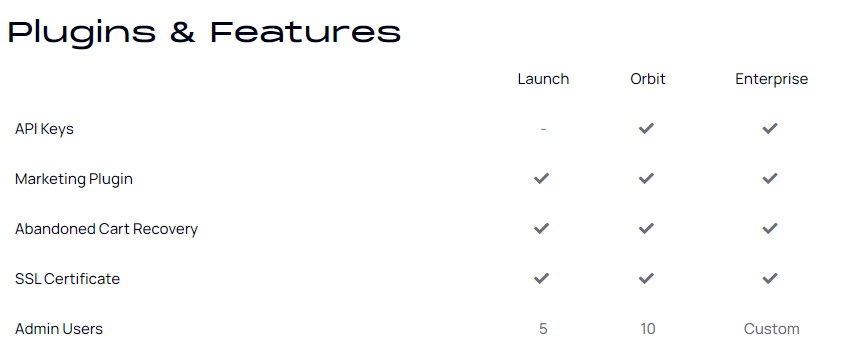 Alongside its core features, Shopblocks also provides an SSL certificate on all plans, a marketing plugin, and abandoned cart recovery.
For users looking to connect their website with external applications, they'll need to be on the mid or higher-tier pricing plan, as API keys are not available on the cheapest Launch plan. With that being said, Shopblocks offers a range of plugins for increased functionality and third-party integrations. The Plugins store has 50+ plugins to choose from, including:
Age Verification
Currency Changer
Customer Groups
Deposits
Digital Products
Facebook Pixel
Feefo Reviews
Google Reviews
Google Shopping Feed
Klaviyo
Location Search
Loyalty Points
Multichannel
1on1Wholesale
Out Of Stock Notify
Postcode Lookup
Quantity Discounts
QuickBooks
SEO
ShipStation
Stock Control
TrustSpot
The Good
There are plenty of plugins to choose from.
SSL certificate is included on all plans.
The Bad
Merchants on the cheapest plan cannot use API keys. This may present a hurdle for businesses that utilise external applications and want to link them to their online store.
API keys only become available on the middle-tier Orbit plan, which at £249 per month is considerably more expensive than alternative platforms that offer this feature for less.
---
Shopblocks: Payment Processing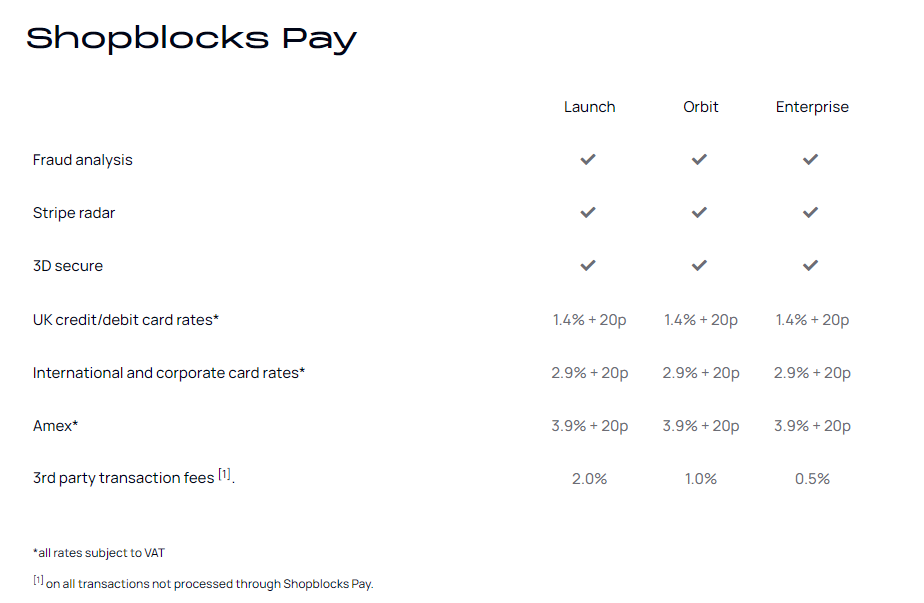 Shopblocks integrates with multiple payment gateways to give customers plenty of ways to pay. According to their website, these include Stripe, PayPal, SagePay, Worldpay and many others.
As well as integrations with payment gateways, Shopblocks also offers:
Fraud analysis
Stripe Radar fraud analysis
3D secure checkouts
These features are pretty standard across all ecommerce platforms.
Shopblocks also lists its payment processing fees, with 1.4% + 20p for sales to customers using UK debit/credit cards, 2.9% + 20p for international and corporate cards, and 3.9% + 20p for Amex. It's worth bearing these rates in mind, as they will inevitably eat into profits.
The Good
Shopblocks offers a range of payment gateways to choose from
Fraud analysis features add peace of mind for merchants and customers.
The Bad
Other ecommerce platforms offer integrations with more payment gateways. ShopWired, for example, integrates with over 40 payment gateways.
Merchants on the middle and top-tier pricing plans still pay the same card payment processing fees as users on the cheapest Launch plan.
---
Shopblocks Support
Shopblocks offers a range of support options, including live chat, phone support and email support. They also have a series of guides and tutorials online for a more DIY approach.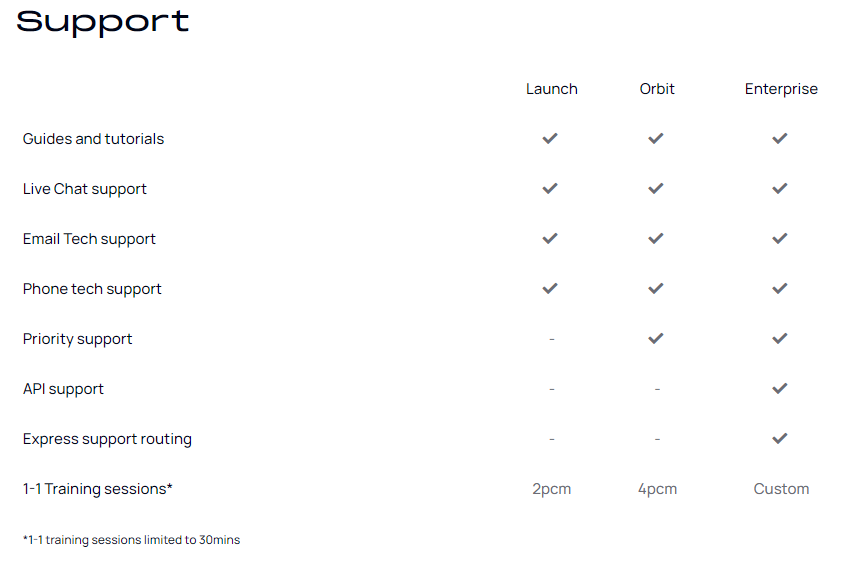 While Shopblocks' does offer a range of support options, it's important to note that live chat and phone support is only available from 9am-5pm UK time. For merchants outside of the UK or for those needing to contact out-of-hours, email support will have to suffice. It's also important to note that priority support is not available on the cheapest plan, and API support is only available on the most expensive Enterprise plan.
The Good
Shopblocks has multiple support options, including live chat, phone support and email support.
There are also online guides for those who want a faster solution to common problems.
The Bad
Support is limited to 9am-5pm UK time.
Users on the cheapest plan don't get priority support. At £99 per month, this is disappointing.
API support is only available to merchants on the most expensive Enterprise plan.
---
Shopblocks Pricing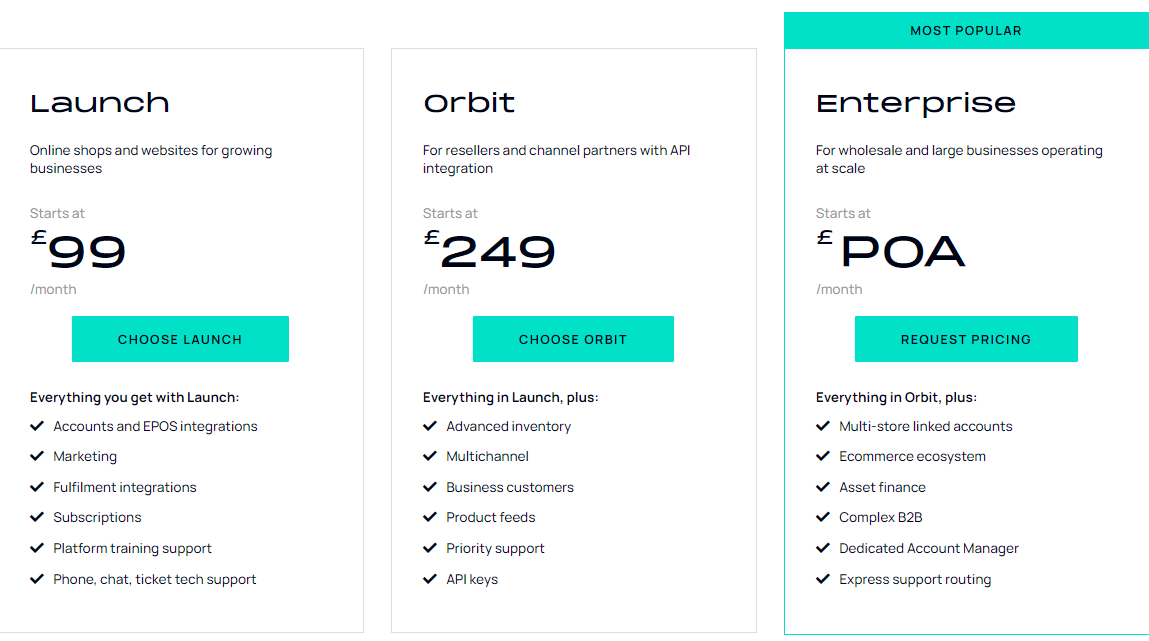 Shopblocks has three main price plans: Launch, Orbit and Enterprise. Generally speaking, these prices are far higher than alternative platforms on the market. For example, the cheapest Launch plan at £99 per month, is more expensive than ShopWired's Pro plan and Advanced plan, at £34.95 and £69.95 per month respectively.
The Good
Core ecommerce features are available on all price plans
The Bad
Shopblocks is considerably more expensive than its rivals, with the cheapest Launch plan costing a considerable £99 per month.
---
5 Reasons You're Looking for a Shopblocks Alternative
If you find yourself reading this blog, it might be that you're frustrated with Shopblocks and want an alternative.
Here are 5 common reasons you might be looking for a Shopblocks alternative.
1. BlockLab Web Designer is Complex
Shopblocks' web designer tool BlockLab boasts flexibility, but at a cost. The process is time-consuming and complex compared to platforms that offer customisable theme templates that simplify the design process.
2. Pricing Concerns
Shopblocks' pricing is far more expensive than alternative platforms. The cheapest price plan at £99 per month is more expensive than ShopWired's Pro plan and Advanced plan at £34.95 and £69.95 per month, respectively.
Additionally, ShopWired's top-tier Premium plan is only £129.95 per month which highlights greater value for money, especially when compared to Shopblocks' middle-tier Orbit plan, which skyrockets to £249 per month.
For startups and new entrants to the ecommerce space, Shopblocks may be too much of an investment, especially when alternatives are available which offer more for less.
3. Mixed Reviews
A quick glance online reveals a mix of customer reviews. Common gripes include issues with usability and customer support, which could be a deal breaker for businesses seeking the guarantee of reliable support.
4. No Free Trial
Shopblocks doesn't offer a free trial, denying potential customers the chance to test-drive the platform before committing financially. This is disappointing, especially given that many competitors provide free trials, including ShopWired who offer a 14-day free trial with full access to the platform's core features and add-on apps.
Shopblocks does offer pre-arranged demos with a member of the team, but these are not really a replacement for getting hands-on experience with a free trial.
5. Limited Customer Support Hours
Shopblocks' customer service operates within standard UK business hours, which may not suffice for international clients or those who need assistance outside of 9-5.
Not having the option to speak to someone out of these hours could impact operations if an issue arises.
---
Shopblocks Alternatives: ShopWired and Shopify
For those seeking an alternative to Shopblocks, two names come to the forefront: Shopify and ShopWired. Both platforms boast robust feature sets with affordable pricing plans.
But how do they stack up against Shopblocks?
Let's explore what each brings to the table.
---
Shopify: A Viable Alternative
Shopify is probably the most well-known ecommerce platform on the market today. Known for its ease of use and large customer-base, Shopify offers a straightforward and rewarding experience for merchants of all levels.
Here's what makes Shopify a strong contender:
Pricing
Shopify's pricing starts with a more accessible entry-level plan compared to Shopblocks. At £25 per month, Shopify's Basic plan provides a comprehensive set of ecommerce features at a fraction of Shopblocks' entry-level plan at £99 per month.
User-friendly Experience
Shopify is known for its ease of use, offering a more intuitive experience with ready-to-use themes and a user-friendly interface that contrasts with the complexity of Shopblocks' BlockLab.
Extensive Feature Set
Shopify's feature range is expansive, including a vast app marketplace with over 3000 apps, built-in SEO capabilities, and advanced analytics. These features provide a rich ecosystem for store owners to expand their functionalities as needed.
Reliable Customer Support
Unlike Shopblocks' limited hours, Shopify boasts 24/7 customer support, ensuring help is available whenever needed. This is crucial for businesses operating across different time zones.
Seamless Integrations
Shopify has a plethora of marketplace integrations, allowing for easy connection to external applications to enhance the sales experience.
Scalable Architecture
Businesses planning for growth find Shopify's scalable infrastructure particularly attractive, as it can handle increased traffic and transactions without compromising performance.
Shopify offers a balance of user-friendly design, comprehensive features, and reliable support, all available in an affordable package. This makes it a strong candidate for those considering an alternative to Shopblocks.
Next, we'll see how ShopWired not only matches up to these standards but also introduces unique advantages that may tip the scales in its favour for certain merchants.
---
ShopWired: Tailored for Ecommerce Success
ShopWired emerges as a strong contender in the ecommerce platform race. Let's explore what sets ShopWired apart:
Pricing and Value
ShopWired offers a competitive pricing model that appeals to businesses of all sizes. It strikes the perfect balance between affordability and feature-richness, challenging both Shopblocks' higher price points and Shopify's need for third-party apps which may add to the cost.
With ShopWired, merchants gain access to a platform that's not only cost-effective but also rich in features right out of the box. This approach lets businesses allocate their resources more efficiently, ensuring they get the best value for their investment.
User Experience and In-House Apps
ShopWired not only ensures an accessible entry point for businesses with its pricing but also excels in providing a cohesive user experience. Unlike Shopify, which often requires additional third-party apps for full functionality, adding complexity and hidden costs, ShopWired's in-house app ecosystem is robust and integrated.
ShopWired's apps work seamlessly with the core platform, offering a unified experience. This native integration means that users can expect a higher level of stability and support. It also reduces the need to navigate an external app marketplace. Businesses can leverage ShopWired's built-in features without the worry of compatibility issues or additional subscription fees.
And because the majority of ShopWired's apps are developed and maintained by a single provider, users benefit from streamlined support, which can save time and reduce frustration during both setup and daily operations.
Extended Customer Support Hours
Ecommerce issues don't clock out at 5 pm; they can arise at any moment. Recognising this, ShopWired extends its support far beyond the typical workday. With Live Chat and phone support available from 9 am to 11 pm UK time, ShopWired is there when help is needed. This is a stark contrast to Shopblocks, which confines its support to standard UK business hours.
Amazon Web Hosting with 99.99% Uptime Guarantee
Uptime is critical in ecommerce; every minute your site is down could mean a lost sale. ShopWired understands this, which is why it chose Amazon Web Services (AWS) for hosting. AWS's robust infrastructure guarantees 99.9% uptime, ensuring that ShopWired stores are reliably online, ready to serve customers and process orders without interruption.
Top-Notch Online Reviews and Customer Satisfaction
The experiences of others can be incredibly telling when it comes to choosing an ecommerce platform. ShopWired shines in this regard, with glowing reviews across various forums and review sites.
ShopWired has 4.8 out of 5 stars on TrustPilot from 505 reviews and a 4.9 out of 5 star rating onG2.com out of 91 reviews.
All Themes are Free
ShopWired has a whole host of free and customisable themes to choose from. All themes are responsive and designed with the user in mind. This is in stark contrast to Shopblocks' complex BlockLab web design tool, and Shopify's often costly theme marketplace.
ShopWired's new version 5 themesalso bring drag and drop functionality to the table, letting merchants design their dream store with ease.
14-Day Free Trial
ShopWired's 14-day free trial gives merchants the opportunity to test the platform out before committing to a paid subscription. This is a feature lacking from both Shopblocks and Shopify. ShopWired's free trial offers access to all the platform's core features and app store.
---
The Verdict
Shopblocks is a respectable ecommerce platform with an array of useful features. However, its steep pricing, the complexity of its web designer and the absence of a free trial detract from its value.
For merchants looking for an alternative solution that ticks all the boxes, Shopify and ShopWired both offer more bang for your buck. Both Shopify and ShopWired offer a comprehensive set of ecommerce features, free customisable themes and a wide range of apps to increase functionality. But only ShopWired offers easy access to a top-rated UK support team and having high levels of support can make the world of difference to building and maintaining your own business.
Want to give ShopWired a try? Sign up for a free 14-day trial today!