Reviews
Is ShopWired the best-rated ecommerce platform in the UK?
ShopWired is the UK's top-rated ecommerce platform, and for good reason too. With a powerful set of ecommerce features that lets you build your dream online store from scratch, ShopWired really is the perfect ecommerce solution.
With many other ecommerce platforms and website building tools, you'll need either need coding skills or have to download additional third-party apps to get things working as they should. But with ShopWired, everything you need is native to the platform, meaning you won't need to spend money enlisting coders or buying third-party apps to get full functionality.
Anyone can build a store with ShopWired- and that's how the platform has been set up, with a user-first approach that gives you all the tools you need to start building your website right away. Even those with no website-building experience will get along just fine. And with ShopWired's new drag-and-drop Version 5 themes, building your dream store is now easier than ever!
ShopWired has received plenty of reviews online. So, if you're unsure whether it's the right platform for you, we've put some of them together in this post to show you what people really think about ShopWired, and whether it's the right platform for you.
Let's take a look at ShopWired's reviews.
---
ShopWired review on Ecommerce CEO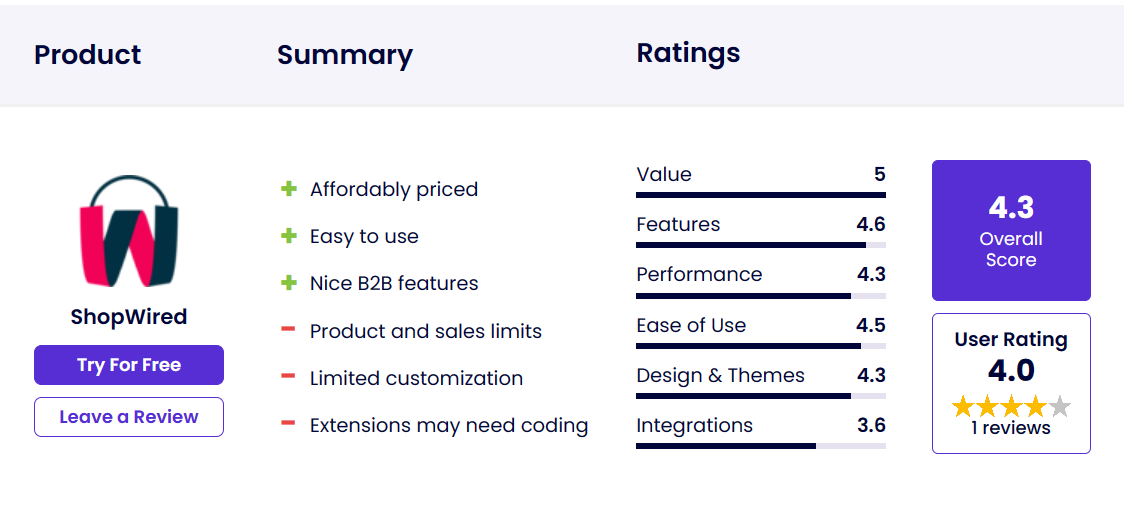 Ecommerce CEO is a website dedicated to all things...you guessed it, ecommerce! Alongside their own help and guidance services, they offer in-depth reviews on the best ecommerce platforms around, including ShopWired.
Ecommerce CEO gives ShopWired an overall score of 4.3/5 with a user rating of 4.0 (although at the time of this post this is from only one user).
Let's take a look at what Ecommerce CEO has to say about ShopWired.
---
ShopWired pricing
One of the first things people look for when choosing an ecommerce platform are the available pricing plans.

Ecommerce CEO touts ShopWired's prices as one of its best features, highlighting the amount of core features that come included for free as part of all pricing plans, including
Responsive themes
Mobile optimised site
Site customization options – change colours, text, images, etc.
Full content management system with blogging features
Full access to HTML and CSS
Free SSL certificate
Abandoned cart recovery
Conversion-optimised checkout
Selection of payment gateways (40+)
Easy tax settings: automatic calculation
Shipping discounts with the option to offer free shipping
Buy now, pay later options like Klarna, Clearpay, Laybuy, and Zip Pay.
Offline payment options
Inventory management
Multiple user accounts
SEO management features
Reward points, offers, gift cards
Social media integrations
Email marketing integrations
Digital products
Subscriptions
Product bundles
Dropshipping integrations
Print on demand integrations
Standard US support
Multichannels support
Analytics and reporting
Support for wholesale and B2B
Back order and pre-order
Multi-currency support
These features are available on all plans. On many other platforms, such an exhaustive list of features is only available on higher-end pricing packages, making ShopWired great value for money!
Ecommerce CEO also points out that customers who pay annually can save 20% on their overall pricing plan, while 2-year subscriptions come with a huge 30% discount, making ShopWired even greater value for money for long-term subscribers.
---
ShopWired Features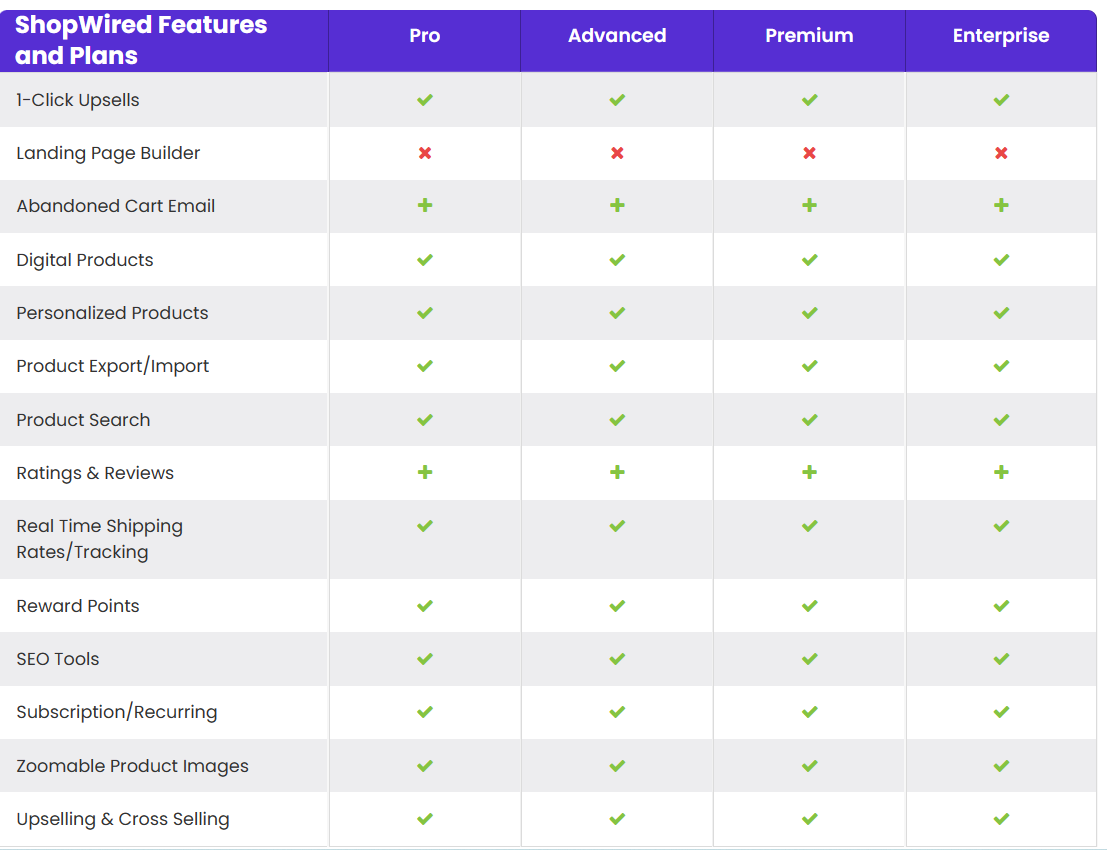 As you can see, all of Shopwired's main features and functionalities are available on all pricing plans.
---
Marketing and SEO tools
Marketing Tools
Ecommerce CEO sings the praises of ShopWired's marketing tools. These include:
Gift Cards/Vouchers
Discount Codes
Reward Points
Google Feed
Abandoned Cart Recovery
And more.
Again, these are all free to use on any package and can be vital tools for increasing conversions and encouraging existing customers to return.
SEO Tools
Ecommerce CEO give nod to ShopWired's easy-to-use SEO tools. These user-friendly tools help you easily perform search engine optimisation (SEO) on your website to help you climb the search engine rankings. Some key features include:
SEO-Friendly URLs you can edit
Custom metadata: edit page meta title and description
Automatically generated sitemap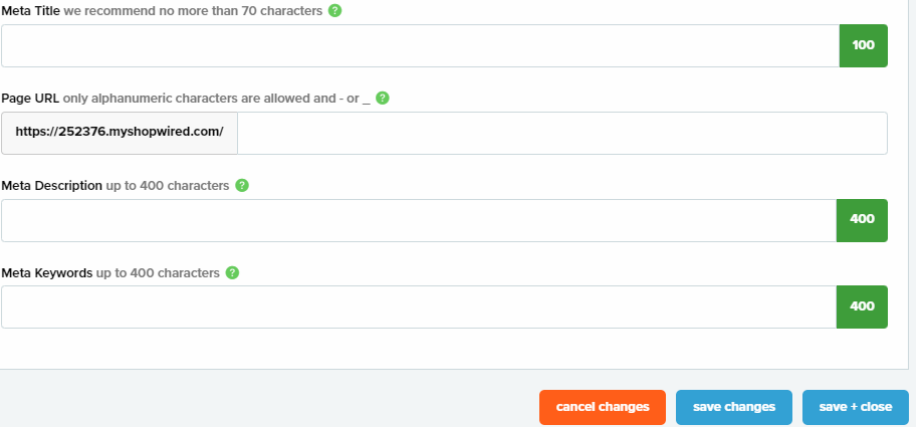 A lot of ecommerce platforms aren't as SEO-friendly, but with ShopWired you don't need any HTML knowledge. ShopWired gives you full control from the dashboard.
Blog App
ShopWired's free Blog app lets you add a blog to your website. Starting a blog can be one of the best ways to drive traffic to your website. ShopWired's blog editor makes it easy to add title tags, heading tags, images, videos, links and everything else you'd expect.
Ecommerce CEO agrees saying that the inclusion of a blog makes ShopWired a great platform for connecting with your audience and boosting SEO.
With well-written, engaging blog posts, your ShopWired website could gain more authority and visibility within your niche, all from the same website as your online store.
---
B2B features
While many ecommerce platforms focus solely on selling to consumers, ShopWired has a range of features specifically for B2B sales. Ecommerce CEO agree that this makes ShopWired a great choice for B2B merchants, or even businesses that want to offer wholesale options alongside their retail offerings.
Trade accounts: Users can allow different prices for trade only products/categories- and restrictions to offline payment methods such as checks or bank transfers.
Credit accounts: Lets customers checkout and charge their account
Bulk discounts: Offers discounts to customers for bulk orders.
Quote system: Customers can request quotes which can be sent by email, including a payment link to complete the order.
---
Ecommerce features
Ecommerce CEO picks out some of the best ecommerce tools available on ShopWired. These tools are aimed at increasing conversions and rewarding customers for purchasing:
Multi-Currency: Display prices in GBP, Euros or US Dollars with just a click of a button.
Product Extras: Upsell related products from the shopping basket.
Product Reviews app: Let customers easily leave reviews on your products.
Multi Buy Offers: Add incentives like discounts on multiple purchases.
Shipping management: Easily ship orders via ShipStation or Royal Mail Click & Drop. Rates and delivery exceptions can be set by postcode.
---
Performance

In terms of performance, ShopWired makes the top 5 in these benchmark results with a high score of 4.3 for overall performance, comfortably beating other top ecommerce platforms, including Shopify, WooCommerce, Adobe Commerce and Wix.
---
Apps and integrations
ShopWired has plenty of apps and integrations available to add more features to your website, letting you add things like:
Google Shopping
eBay
Mailchimp
Back in Stock notifications
And more.
Again, these are available on all pricing plans, including ShopWired's cheapest Pro plan.
---
Making Sales
Ecommerce CEO highlights how easy it is to make sales on ShopWired. Whether you sell physical products, digital products or print on demand or dropshipping products.
You'll also pay ZERO transaction fees besides any payment processing fees from your chosen payment gateways.
Themes

Ecommerce CEO puts ShopWired in the top 5 again for themes.
ShopWired has 20 delightful themes, with a brand new theme Watermelon coming soon. Each theme all looks great and gives you the freedom to choose how your online store looks. Each theme is responsive, meaning they're optimised for mobile as well as desktop.
The latest version of ShopWired's themes, Version 5, brings a new and intuitive drag-and-editor tool. This gives merchants more control over the customisations of their theme with little-to-no coding required. Simply drag and drop your website's sections to change the layout.
---
Ease of use
Ecommerce CEO puts ShopWired in the top 5 for ease of use. To get started you'll just need to sign up and activate your 14-day free trial. When this is over, you can add your payment method to continue onto a paid plan if you wish to continue using the platform.

Ecommerce CEO also highlights the fact that you don't require tons of additional coding to get started on ShopWired. Most additional functionalities are available as Apps on ShopWired's App store, making it easy to enhance your store without seeking technical support.
---
Support
ShopWired are known for their A* support. With a friendly team available on live chat from 09-00am-10:00pm, Monday-Friday, help is never far away if you need it.
---
The Verdict
In all, Ecommerce CEO rates ShopWired highly, with a nod to the amount of available features, themes and customisation, ease of use, support and performance. Win!
Keep reading as we look at another review- this time from Ecommerce Gold.
---
Ecommerce Gold

Ecommerce Gold is another well-respected website that writes reviews and guides on ecommerce platforms.
They introduce ShopWired with the following:
Ecommerce Gold gives ShopWired an overall score of 4.6/5, stating that:
'The platform is very easy to use, from the dashboard to the theme customisation (thanks to the new Version 5 framework) and it is all backed up by excellent UK-based support and the platform performs well in our performance testing.'
Let's jump into Ecommerce Gold's full review of ShopWired.
---
ShopWired review on Ecommerce Gold
ShopWired pricing
Ecommerce Gold highlights the affordability of ShopWired's pricing plans, mentioning that they're perfect for anyone, from individuals and small businesses to large businesses and enterprises. They also highlight the generous up to 30% discounts for subscribing to a three-year subscription.

They also mention ShopWired's 14-day free trial on all plans, which is great for letting merchants test the platform before committing to a paid subscription.
---
ShopWired features
Ecommerce Gold begins the review by acknowledging just how many features ShopWired has to help you start, build and grow an ecommerce business. They mention the amount of apps that are available, and how can be added with a simple one-click download and install.
Ecommerce CEO also mention that any apps that do require additional coding to work can be handled by the ShopWired team for a small fee.
---
Marketing and SEO tools
Ecommerce Gold highlights the great selection of marketing and SEO tools that come with ShopWired, stressing the importance of these for marketing your website and gaining visitors.
Some key mentions for marketing include:
Google Feed – easily submit your products to Google Shopping
MailChimp Integration – create and grow an email marketing list with the help of MailChimp
Gift Vouchers – sell gift vouchers for your online store
Reward Points – incentivise customers and encourage them to return with reward points
Abandoned Cart – automatically email customers who abandon their carts to encourage them to complete their purchase
Create Sales – offer a percentage discount off a selection of products
Discount Codes – create discount codes for special offers
Social Share – let visitors and customers share your products on their social media pages
Back in Stock Notifications – let customers receive a notification when a product is back in stock.
And SEO features:
Ecommerce Gold also talks about the range of SEO tools available on ShopWired to help your store's ranking on the search engine results page, including:
Blog – create blog content on your ShopWired store, great for SEO and engagement.
Custom Meta Data – set custom metadata for all of your products such as a meta title, description and keywords
SEO-Friendly URLs – automatically generated URLs that are search engine friendly, can also be edited to your preferences.
Sitemap – automatically generated sitemap that can be submitted to search engines
---
Reporting and Analytics
Report and analytics are super-important when running an online business, and are often overlooked by other ecommerce platforms. ShopWired understands the need for analytics and reports, and comes with a comprehensive list of features for giving merchants insights into many aspects of their business.
Ecommerce Gold point out the following reporting and analytics features:
Gross Profit Report – use product cost price to generate a gross profit report on sales for a selected period
Sales by Product- view sales by product
Sales by Category- view sales by category
Sales by Month- view sales by month
Payment methods- see how your customers pay
Failed Searches – see what your customers were searching for but couldn't find
Visitors – break down of your site's visitors, including pages viewed and conversions. .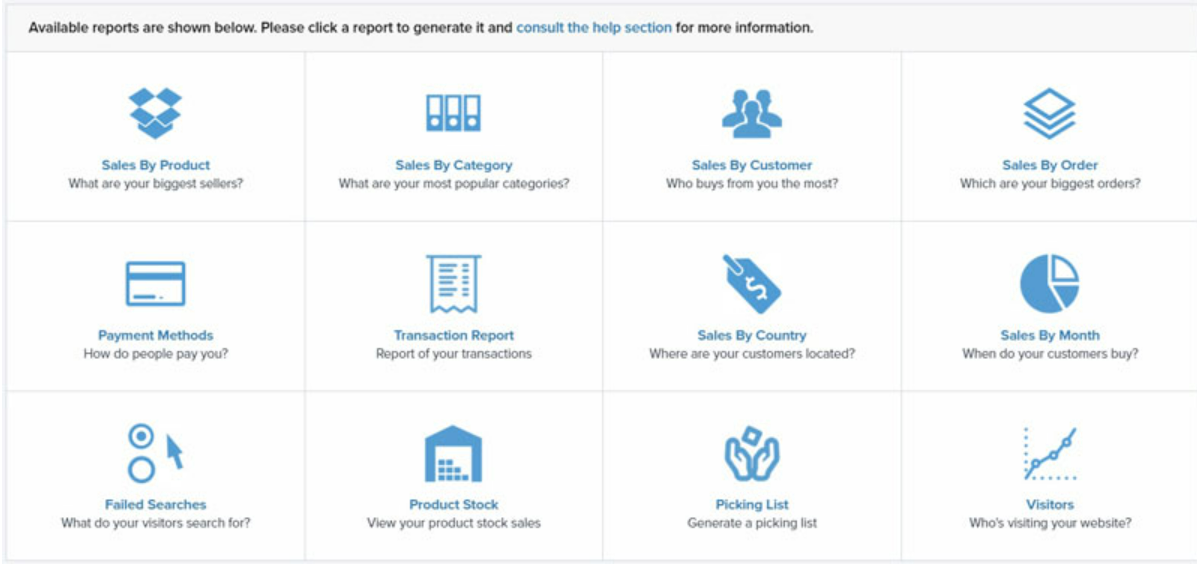 ---
ShopWired payment gateways
Ecommerce Gold points out the range of payment gateways available on ShopWired, giving customers different options to pay. In all, ShopWired has over 40 payment gateways, including:
Stripe
Amazon Pay
Worldpay
Sagepay
Barclaycard EPDQ
Nochex
Payment Sense
Elavon
They also highlight that, if you use a different payment gateway to any on the full list, ShopWired will look into this for you and see whether they can add your preferred payment gateway to your account.
---
Transaction fees
One of ShopWired's stand-out features is that it doesn't charge additional transaction fees. This is a rare feature in the industry and can help online store owners save a significant amount of money in the long run.
---
Shipping
Ecommerce Gold has a section on ShopWired's shipping options, which are plentiful and easy to understand. They discuss how you can:
Different delivery zones- separate prices for different zones, such as UK, Europe or America
Set delivery methods- by price or weight, such as free delivery when you spend a certain amount
Set a default rate for zone- set a default delivery rate for a particular zone
Can offer click and collect- a great option if you have a storefront or warehouse where customers can come and collect their purchase.
---
ShopWired B2B features
Ecommerce Gold states that, although ShopWired is mainly geared towards B2C ecommerce, it excels when it comes to B2B too.
They talk about ShopWired's main B2B features, including:
Bulk Discounts– offer your customers a percentage or fixed price discount when ordering in bulk
Quotation System– customers can request quotes for items, which can then be sent via email with a link to pay
Trade Accounts– set different prices for trade customers and have trade-only sections of your website.
Credit Accounts– allow customers to checkout and then charge them on account
VAT– choose whether to display VAT or not on prices.
Ecommerce Gold go on to say that ShopWired has one of the most comprehensive lists of B2B features compared to other ecommerce platforms.
---
ShopWired's Themes
Ecommerce Gold also talk about the wide range of themes available on ShopWired to help you build the perfect-looking store ready to gain conversions.
They call the new Version 5 themes a game-changer, allowing far greater theme customisation than ever before. The new drag-and-drop customer tool lets merchants easily change the appearance of their store by moving sections of the page around and adding or removing new ones. That's greater customisation with no coding!
You can find out more about ShopWired's new Version 5 themes here.
---
ShopWired Support
As already mentioned in this post, ShopWired has the best-rated ecommerce support in the UK. Ecommerce Gold talk about the small but friendly team, available to help between 09:00am- 10:00pm, Monday- Friday. They also mention that having a smaller team means you'll often be connected to the same support agent whenever you need assistance.
ShopWired support is available via Live Chat and email, while calls can be scheduled if further assistance is required.
---
ShopWired Web Hosting and Performance
Ecommerce Gold state that ShopWired's servers are some of the best in the world. By using Amazon Web Services (AWS), there's no worry about running an enterprise level business. Here's what you get:
Unlimited Bandwidth
Unlimited File Storage
PCI Level 1 Compliant Servers
Global Content Delivery Network (CDN)
99.95% Uptime
Continuous back-ups
And most important Blazing Fast Serve
Ecommerce Gold didn't just take our word for it though, putting ShopWired through a bunch of benchmark tests where it performed exceedingly well, both on desktop and mobile.
---
ShopWired ease of use
Again, Ecommerce Gold highlights how easy it is to get started on ShopWired. Simply sign up to a 14-day free trial and then decide at the end if you wish to continue as a paid subscriber.
They talk about the Dashboard and how easy it is to use, and the setup guide that walks new users through the process of setting up their store with some handy tips and tricks, including:
Setting up Business Info (address, contact details, VAT settings)
How to create a new Category
How to create a new Product
How to set up your Checkout (payment methods & delivery rates)
Selecting a theme for your site
How to go live (link your domain name)
They go on to discuss how easy it is to set up and manage your inventory, as well as manage your orders, all from one dashboard!
---
The Verdict
Ecommerce Gold finishes the review by asking- Is ShopWired any good?
The answer? 'Yes...Version 5 framework for their themes has made them one of the best options for UK businesses as they now offer a very good all round platform for businesses of all sizes.
This is because the platform is very easy to use as the admin dashboard is well designed, they offer a good range of standard features along with a nice selection of apps to add additional functionality and integrations with third-party platforms, which is all backed up by highly rated and helpful UK based support.'
---
TrustPilot
ShopWired scores excellently on Trustpilot, scoring an excellent 4.8/5.0 stars. At the time of this post, 96% percent of reviews are excellent and only 2% percent are negative.
These reviews make ShopWired the best rated ecommerce platform on Trustpilot, which is an excellent feat.

Here are some snippets of reviews left by ShopWired merchants on TrustPilot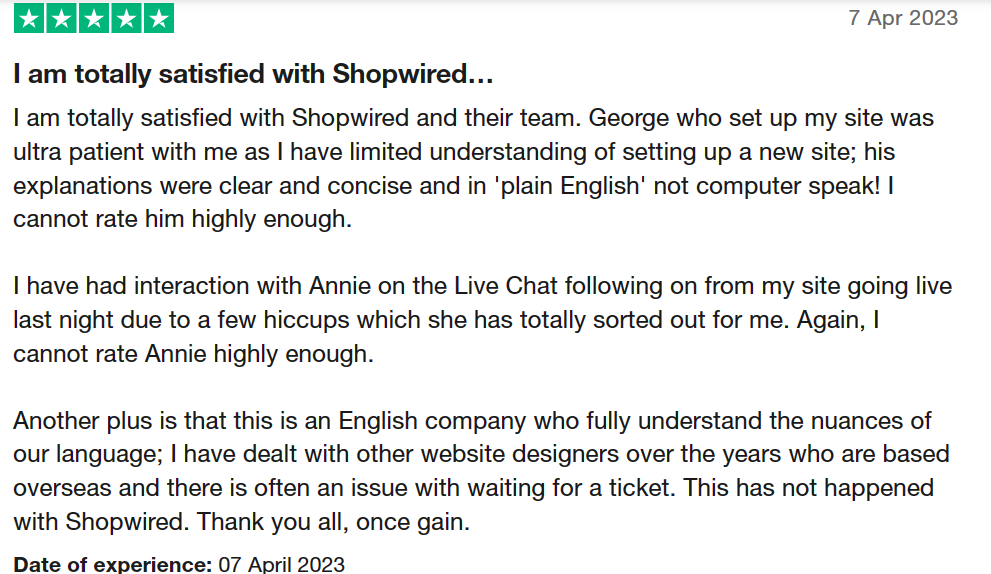 ---
G2
It's a similar story on G2.com. For customer satisfaction and popularity, ShopWired scores 4.9/5.0 out of 91 reviews, and easily surpasses the score of similar platforms like Shopify, at 4.4/5.0 or BigCommerce at 4.2/5.0.

Here is a review left by a ShopWired merchant on G2: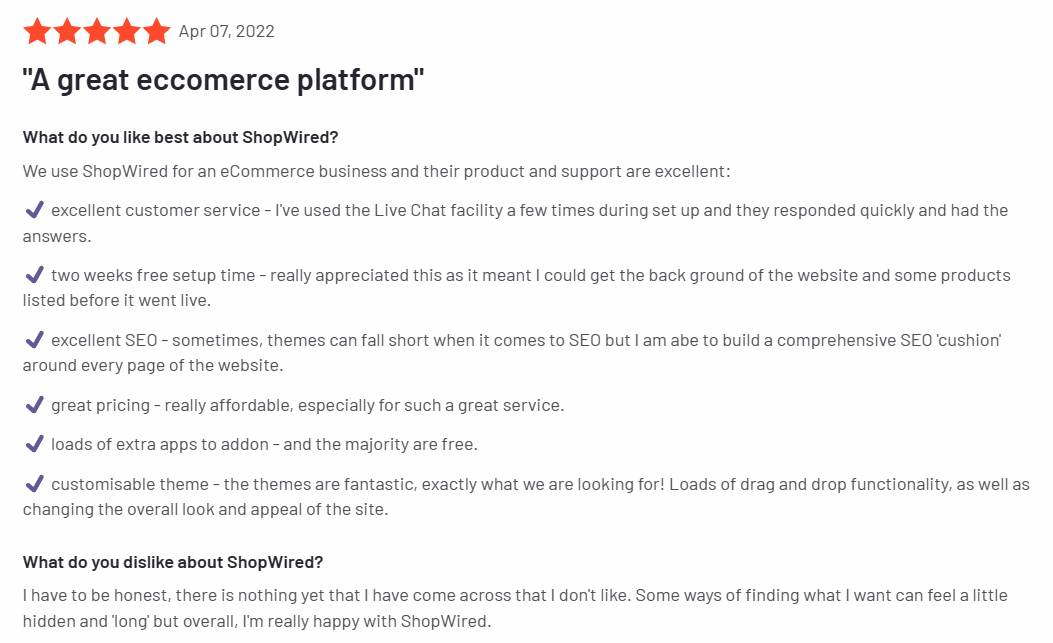 While ShopWired doesn't yet have many reviews on G2, they are building and in a positive direction.
---
Conclusion
In all, ShopWired has many favourable reviews online, putting it above some leading ecommerce platforms like Shopify. There aren't many negative mentions at all, proving the good feelings felt all round about ShopWired from users and reviewers alike. It's still worth pointing out that ShopWired are always looking for ways to improve the platform, and take customer reviews into consideration all the time, so expect the platform to continue improving moving forwards.
Want to try ShopWired for yourself? Sign up for a free 14-day trial here.
---
Frequently Asked Questions
What is ShopWired and how does it differ from other ecommerce platforms?

ShopWired is an all-in-one ecommerce platform that lets you build a stunning online store right out of the box. One of the defining features of ShopWired is that we're a UK-based company with UK support. It's why we're a better alternative to Shopify for many UK merchants.


How easy is it to migrate my existing online store to ShopWired? Are there any tools or support available for migration?

Migrating to ShopWired from another ecommerce platform is easy, and we have detailed guides for anyone looking to migrate from Shopify, BigCommerce, EKM, Bluepark and others. For those seeking assistance with their migration, we also offer a migration service where we'll handle the work for you. Migrations can be completed in as little as 7 days (although others can take longer).


Does ShopWired offer mobile optimisation for its online stores? How do the stores perform on mobile devices?

All of ShopWired's themes are responsive, meaning they'll look and function just as well on mobile devices as they do desktop.


Are there any transaction fees associated with sales made on ShopWired?

ShopWired does not charge transaction fees. However, if you choose to use any of our 40+ payment gateway providers, they may charge a fee, so please check beforehand.


Can I integrate applications or plugins with my ShopWired store?

Yes. ShopWired has an app store with plenty of apps to extend the functionality of your store. And because most of our apps are built in-house, you won't need to contact third parties for support if any issues arise.


How does ShopWired's customer support operate? What channels are available for merchants seeking assistance?

ShopWired has a team of friendly and experienced support staff to aid you with any queries or problems. Our team is UK-based and is available from 9-11pm UK time. Support channels include live chat and scheduled calls.


Does ShopWired have an Enterprise solution?

Yes. ShopWired does offer an enterprise solution for users who are running high-turnover businesses or who are interested in the extra perks that an enterprise package offers. Please get in touch if you require an enterprise package.