The 7 Best Payment Gateways of 2023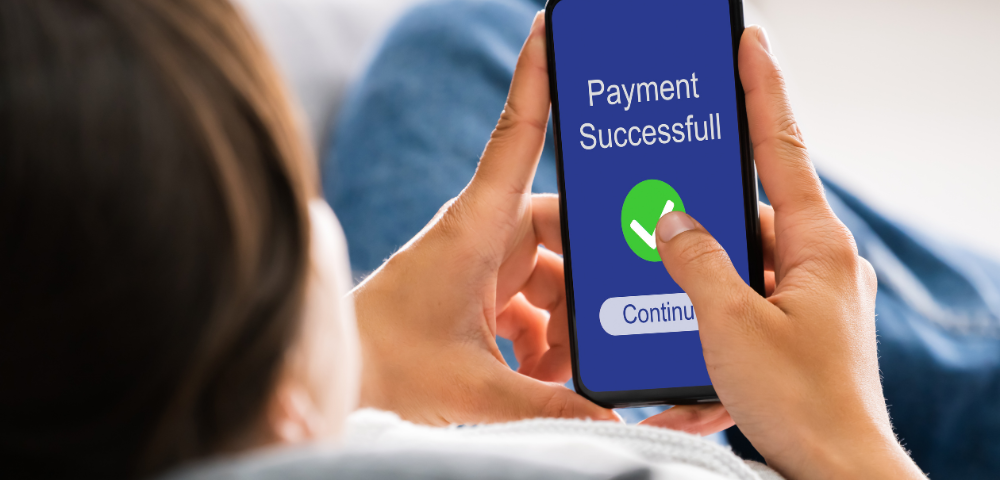 Offering multiple payment options for customers is essential in the digital world. With 33% of the world's population now doing their shopping online, providing a range of payment options could be the difference between gaining or losing a sale.
In this article, we'll explore seven of the best payment gateways of 2023:
ShopWired Payments
Stripe
PayPal Express Checkout
Amazon Pay
Klarna
Opayo
and Square.
These gateways have been popular amongst merchants globally in 2023 and will have you well-served leading into 2024.
Ready to find out more? Let's go.
---
What is a Payment Gateway?

A payment gateway is a technology that lets sellers accept debit or credit card purchases from customers. Payment gateways don't store money, they simply facilitate the movement of funds from the customer's bank account to the merchant.
For online stores, there are two main types of payment gateways: hosted payment gateways and direct integration payment gateways.
Hosted Payment Gateways
Hosted payment gateways direct customers to the gateway's website to enter their card information. Once entered, the user is taken back to the merchant's website and the purchase is complete.
Direct Integration Payment Gateways
Direct integration payment gateways let the customer enter their card details on the merchant's website without being redirected to an external page.
Whether you choose a hosted payment gateway or opt for direct integration, both serve the purpose of securely processing online transactions. The right choice for your online store will depend on your customers' needs and the shopping experience you want to provide.
---
How Does a Payment Gateway Work?
Here's a step-by-step guide for how payment gateways work.
1. Checkout Process
A customer browses your online store, adds items to their basket and proceeds to the checkout process. Here, they input their card details, such as name, number, expiration date, and CVV. This will either happen on the seller's website for direct integration gateways or on the gateway's website for hosted payment gateways.
2. Data Encryption and Fraud Checks
The gateway encrypts the card details and performs initial fraud checks before forwarding the information to the acquiring bank.
3. Transaction Authorisation
The acquiring bank transmits the data to card schemes for additional fraud screening, and then to the issuer for authorisation. The issuer verifies transaction details and fund availability before approving or declining the payment.
4. Confirmation to Merchant
The payment gateway receives the issuer's response via the acquirer and communicates it to the merchant. Depending on the response, the merchant either processes the sale or requests an alternative payment method.
5. Funds Capture and Settlement
After authorisation, merchants can capture the payment amount. This reserves the funds but doesn't bill the customer until capture. The acquirer then collects the payment from the issuing bank and credits the merchant account.
Payment gateways perform the above steps instantaneously, resulting in a seamless payment experience for both the merchant and the customer.
---
Payment Gateway Security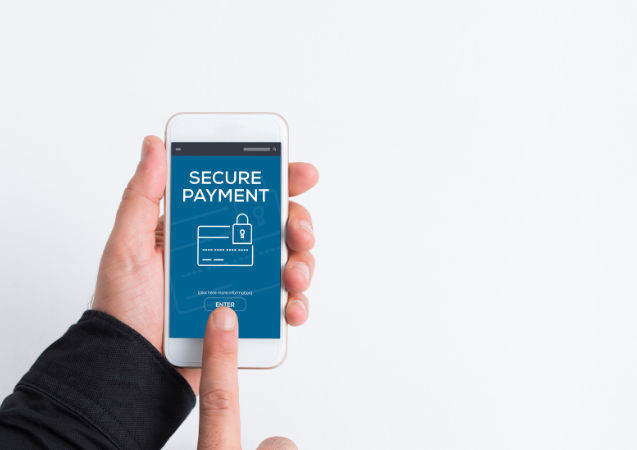 Security is paramount for payment gateways, especially with the potential for cyberattacks and fraud constantly growing in the online world. Here are the key features of a secure payment gateway:
PCI DSS Compliance
The Payment Card Industry Data Security Standard, also known as PCI DSS, is a global standard for securely accepting and processing credit card payments. This international standard ensures the secure handling of card transactions and personal data.
Tokenisation
Tokenisation substitutes sensitive credit card information with a unique identifier, or token, during transactions. In the event of an interception attempt before the data reaches its secure decryption destination, the intercepted information will appear as an indecipherable format, thus safeguarding the card details.
3D Secure
3D Secure adds an extra layer of security by requiring two-factor verification from the card issuer during transactions. With the global shift to 3D Secure 2, online payments are now even more secure.
---
The 7 Best Payment Gateways of 2023
These days, there are numerous payment gateways available to choose from. Here's a list of 7 of the best payment gateways of 2023.
1. ShopWired Payments

ShopWired Payments integrates seamlessly with your ShopWired ecommerce store
ShopWired Payments is available to UK-based businesses using ShopWired to power their online store. Built on Stripe's robust and reliable infrastructure, ShopWired Payments allows for straightforward credit/debit card processing, as well as support for Apple Pay and Google Pay. You can also use ShopWired Payments to take subscription orders on your website or process mail-order or telephone transactions. There is no monthly fee or setup cost for using this integration.

ShopWired Payments is easy to set up via the payment gateways page of your ShopWired account. Merchants simply click the 'setup ShopWired payments' button to get started with the onboarding process. Once installed, your ShopWired order and transaction data is linked together seamlessly within your ShopWired account to give you the perfect overview of your current figures.
Along with providing the infrastructure, Stripe also performs the onboarding and identity verification process on behalf of ShopWired Payments. Furthermore, ShopWired Payments is PCI compliant and supports the latest 3D Secure Version 2 security protocol for added peace of mind.
ShopWired's partnership with Stripe, one of the world's leading payment platforms, gives ShopWired users access to a world-class payment processing experience complete with the reliability and security that Stripe carries.
Additional transaction fees
ShopWired Payments charges a competitive transaction fee of 1.5% + 20p for all U.K. cards. For businesses that process high volumes, ShopWired Payments can offer customised fees to help save costs.
Full ShopWired Payments fees are as follows:
Standard/Consumer UK Cards: 1.5% + 20p
Business/Premium UK Cards: 2.2% + 20p
EU Debit/Credit Cards: 2.5% + 20p
International Debit/Credit Cards: 3.25% + 20p
American Express: 3.0% + 20p
You can find out more about ShopWired Payments here.
**For merchants using ShopWired in the UK, ShopWired Payments has now replaced Stripe.

---
2. Stripe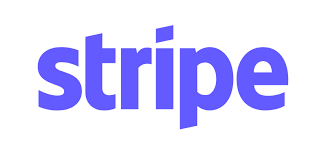 Stripe is a standout choice for businesses seeking a modern, all-in-one payment solution
Stripe is one of the most popular payment gateways with over 300,000 businesses offering Stripe as a payment option. Stripe offers everything sellers need to accept credit/debit card payments, including those made through Apple Pay or Google Pay, with the funds going directly into your bank account. Stripe has no setup fees or monthly fees.
One of the key benefits of using Stripe with ShopWired is the ability to process recurring payments using ShopWired's subscription system. This feature makes it an excellent choice for businesses looking to integrate recurring payments into their online ecommerce store.
Additional transaction fees
Stripe charges a competitive transaction fee of 1.5% + 20p for all U.K. cards. If you're processing a large volume of transactions, Stripe may offer a reduced transaction fee, which can help save costs.
Full Stripe fees are as follows:
Standard/Consumer UK Cards: 1.5% + 20p
Business/Premium UK Cards: 1.9% + 20p
EU Debit/Credit Cards: 2.5% + 20p (+ 2% if currency conversion is required).
International Debit/Credit Cards: 3.25% + 20p (+ 2% if currency conversion is required).
American Express: 3.0% + 20p
To open a Stripe account, click here. You can also find out about setting up Stripe on your ShopWired store here.
---
3. PayPal Express Checkout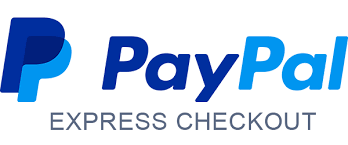 Great if you want to use a widely recognised and trusted brand
PayPal is one of the most recognised names in online payments, and for a good reason. It offers a user-friendly interface, robust security measures and the ability to accept payments from all over the world. PayPal is great for businesses that want to leverage a trusted brand, which is why millions of businesses around the world use it.
With PayPal Express, customers can make payments either by entering their card details or by logging in to their PayPal account via the portal. The flexibility of these options bring added convenience for customers. .
If you're using ShopWired, when you enable the PayPal Express Checkout on your store, users will see a 'Pay by PayPal' button at the bottom of the basket page.
Additional transaction fees
PayPal fees are dependent on the transaction type, currency, and location. A breakdown of any additional fees will be provided on your bill. A full list of PayPal fees can be found here.
PayPal will also offer cheaper fees for high volumes of orders though, so it's worth doing some research to find out exactly how much you'll be charged.
---
4. Amazon Pay

Great for trust and customer convenience
Amazon Pay, Amazon's own payment processing service, is an excellent choice for businesses seeking a recognised and trusted payment gateway.
The Amazon Pay checkout experience is straightforward. Customers simply log into their Amazon account to make a payment. They'll be able to choose from their saved addresses and credit/debit cards, making transactions quick and hassle-free. This setup is similar to what PayPal's payment gateway offers. Many people are familiar with Amazon and will already have an account, so offering Amazon Pay is a smart move.
Customers of ShopWired merchants will see a 'Checkout with Amazon' button on the basket page which takes them to the Amazon checkout process.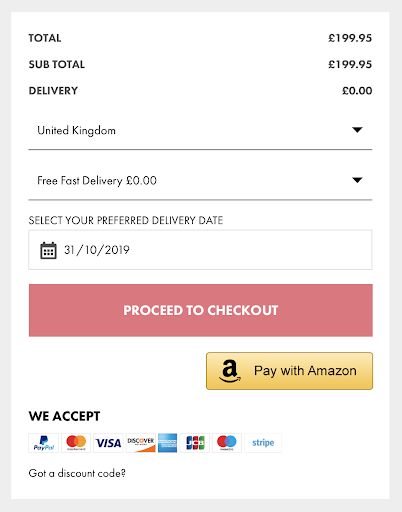 Additional Transaction Fees
The transaction fees for Amazon Pay depend on the monthly payment volume processed through your account. For a comprehensive breakdown of the fee structure, you can refer to the detailed schedule provided here.
---
5. Klarna

Ideal for flexible payment solutions
Klarna is known for its flexible payment options that give customers more control over their purchase decisions. Their popular Pay in 3 and Buy now Pay Later services allow customers to pay for their purchases in instalments or delay the full payment to a later date.
Klarna's seamless integration with online stores offers a smooth checkout experience for customers. The service doesn't just stop at ecommerce; Klarna also supports in-store payments, making it a comprehensive payment solution for both online and brick-and-mortar retailers.
Klarna's security protocols are on par with industry standards, making sure all transactions are safe and customer information is well-protected. Klarna also conducts rigorous fraud checks to minimise the risk of unauthorised transactions for added peace of mind.
By choosing Klarna, merchants can cater to customers who value choice and the ability to manage cash flow effectively.
Additional transaction fees
Klarna doesn't currently advertise its fees online. Instead, your fees will be outlined during the onboarding process depending on the size of your business. There are no monthly fees or set up fees for using Klarna.
---
6. Opayo

Great if you're looking for a payment gateway with a strong UK presence
Formerly known as Sage Pay, Opayo is one of the most trusted payment gateways in the UK. It's great for businesses that want a reliable and secure payment solution with U.K. support.
Opayo offers a range of payment options, including online, over the phone and in-person, making it a versatile choice for businesses of all types. The Opayo payment gateway integrates seamlessly with many ecommerce platforms (including ShopWired) to offer a smooth and secure checkout experience for customers.
Opayo's fraud screening is a particular highlight, providing free enhanced fraud screening on each transaction, including cardholder, payment and address checks.
Additional transaction fees
For merchants signed up to a paid monthly subscription, Opayo lets you process 350 transactions for free. Beyond this, transaction fees start from 0.99%. On a free plan, however, transaction fees start from 1.99% + £0.12 gateway click fee. There's also a £99 one-off joining fee, so these costs should be factored in.
---
7. Square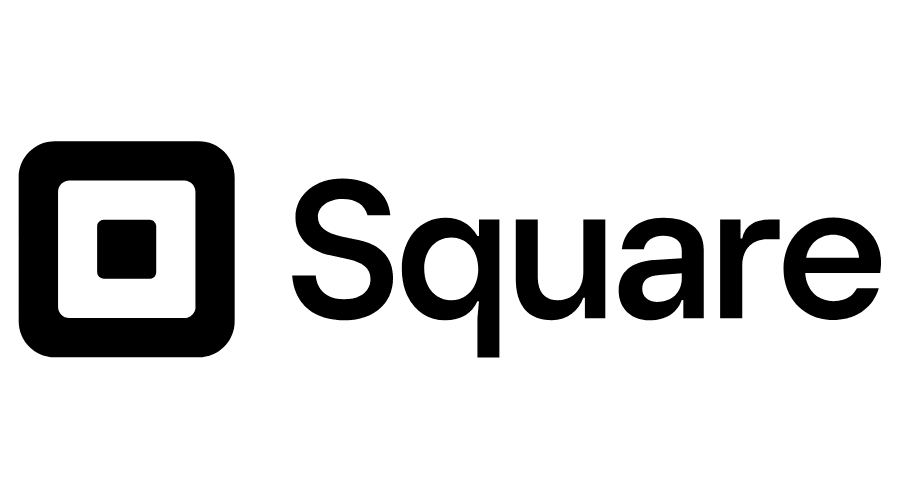 Great for businesses that sell online and in physical stores
Square is popular among small and mid-sized businesses that sell online and in-store. That's because Square offers a free magstripe reader when you sign up. This allows you to accept payments in-person as well as via the online payment gateway. In fact, Square provides a range of hardware options for in-person transactions, including mobile card readers that connect to smartphones and tablets, as well as more advanced POS systems. This makes Square a versatile choice for businesses that operate offline as well as online.
The security measures employed by Square include encryption, fraud monitoring, and dispute management to ensure secure transactions from end to end. Square also adheres to PCI DSS guidelines to protect sensitive data.
Additional transaction fees
When a customer makes a purchase through your Square Online Store, Square Online Checkout, or ecommerce API, the fee is 1.4% + 25p for UK cards or 2.5% + 25p for non-UK cards. There are no monthly fees or setup costs for using Square.
---
Choosing the Right Payment Gateway
Choosing the right payment gateway is an important part of setting up your ecommerce store. Ultimately, your choice will depend on your specific needs and the needs of your target customer. You'll also want to factor in any additional transaction fees, set up costs or monthly fees for using the gateway.
In this article, we've explored 7 of the best payment gateways of 2023: ShopWired Payments, Stripe, PayPal Express Checkout, Amazon Pay, Klarna Opayo and Square. Each has its strengths, but we would always recommend a direct integration like ShopWired Payments for a seamless experience for you and your customers.
ShopWired- Integrations with Over 40 UK and International Payment Gateways
ShopWired has ready-to-use integrations with over 40 UK & International payment gateways including our very own ShopWired Payments. Each gateway is already integrated into the platform, and set up takes just a few minutes.
Check here for a full list of ShopWired's payment gateways.
With 2023 almost coming to an end- the list of payment gateways in this post will continue setting merchants up for success in 2024. Be sure to check back soon for any updates