What Is An Ecommerce Platform?
In the ever-evolving world of online business, one term reigns supreme: ecommerce platforms. These digital powerhouses have revolutionised the way we buy and sell, offering businesses and entrepreneurs a gateway to global markets.
But what exactly is an ecommerce platform, and how does it hold the key to unlocking success in the digital realm?
In this guide, we'll delve into the world of ecommerce platforms, uncovering their immense potential and the game-changing advantages they bring to businesses worldwide. Keep reading on for more!
What is an Ecommerce Platform?
An ecommerce platform is your digital command centre. It's a software solution that lets you manage your virtual assets, marketing, digital sales, and operations. It's where you catalogue products, register purchases, and manage a user's relationship with your brand. A powerful tool that, when leveraged effectively, can significantly increase efficiency and return on investment (ROI).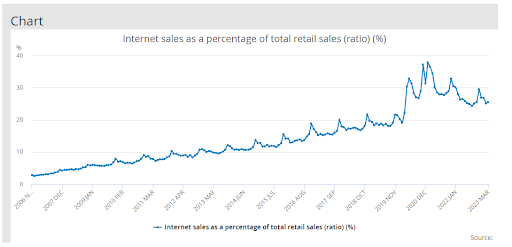 According to the Office for National Statistics, approximately 25% of all sales now take place online. In truth, this percentage would probably be higher, but recent strikes to postal and delivery services in the UK have led to a slight decrease.
Types of Ecommerce Platforms
Three distinct types of ecommerce platforms serve different needs and come with their unique pros and cons:
Open-Source Platforms
Imagine having a Lego set where you can build whatever you want. That's an open-source platform. It allows you to modify and control everything. It's excellent for companies with robust DevOps teams who can tweak the software to their needs.
However, it can be a challenge for small-to-medium-sized businesses or those without a development team. That;s where the next type of ecommerce platform comes in…
Software as a Service (SaaS) Platforms
In the realm of ecommerce, SaaS platforms have emerged as the preferred choice for budding entrepreneurs and small businesses.
SaaS ecommerce platforms, such as Shopify, ShopWired, and many others, offer a range of powerful features and services to facilitate online business operations.
With SaaS, businesses subscribe to access software and tools hosted on the cloud, eliminating the need for complex infrastructure and technical expertise. These platforms provide a plethora of benefits, including professionally designed themes, easy customisation options, abundant features, integrated marketing capabilities, and more. They empower entrepreneurs to build and scale their online stores efficiently, catering to the evolving needs of the digital marketplace.
SaaS platforms are probably the most popular type of ecommerce platform, and are great for getting up and running quickly, offering APIs for seamless integration with your existing tools.
Headless Platforms
Offering the best of both worlds, these platforms decouple the shopping cart from the CMS, giving you increased flexibility and control over your frontend services. By decoupling the shopping cart from the Content Management System (CMS), headless platforms provide freedom to design the frontend without constraints imposed by the backend. This means you can create a unique, personalised user experience that aligns with your brand's vision and goals.
How to Choose the Right Ecommerce Platform
Selecting the perfect ecommerce platform for your business is a lot like finding the perfect pair of shoes. It has to fit well, be comfortable and suit your style. Here are a few key considerations:
Budget
Be aware of both the upfront cost of the platform and the ongoing costs related to design, development, cybersecurity, hosting, maintenance and licensing. On top of this, many ecommerce platforms will also charge additional costs, such as transaction fees, or fees for downloading applications.
Target Market
Your chosen platform should enable you to effectively reach your customers on the digital channels they frequent. Omnichannel delivery is vital. Most ecommerce platforms come with integrated sales and marketing channels to let you spread your brand out across the online world.
Scalability
Your ecommerce platform should be able to grow with you. Ensure it can scale to match the pace of your business's expansion. Many providers offer different pricing strategies, with higher prices usually letting you sell more products and make more in revenue. This is usually a good option, letting you scale without needing to migrate elsewhere or build from scratch.
Customer Service
Choose a provider known for excellent customer support. Issues can arise, and when they do, you want a reliable team ready to help. Different platforms have different levels of support, with some offering live chat, phone calls and help guides, while others usually offer at least one method to get in touch.
Why ShopWired?
ShopWired is more than just an ecommerce platform—it's a partner in your business's digital journey. ShopWired offers a plethora of features to help you build a robust online store to reach your full potential.
ShopWired: The Ecommerce Solution for You
ShopWired is a comprehensive ecommerce solution designed to cater to businesses of all sizes. Whether you're a small business just starting out or an established company looking to expand, ShopWired grows with you, ensuring your digital presence scales alongside your business.
With stunning, responsive themes, a plethora of marketing and SEO tools, a range of payment gateways and top-rated UK-based support, ShopWired is one of the best ecommerce platforms around.
Don't believe us? Sign up for a free ShopWired trial today.