What is The Cost of Starting a New Business?
Starting a new business can be an exciting and rewarding venture, and in today's digital world, it's easier than ever. But before diving in, it's essential to tally up the costs of turning your idea into a thriving business.
This blog will walk you through the standard costs faced when starting a new business. So, keep reading as we explore the figures behind launching your new business and how ShopWired can help minimize those startup costs.
---
The Digital Shift Towards Ecommerce
Gone are the days when starting a business meant renting a physical storefront, dealing with hefty overheads, and being limited to a local-only customer base. Today's entrepreneurs have access to a global audience who are only a click away. This shift from brick-and-mortar to virtual shops has revolutionized the startup game.
Although starting up an online business is comparatively cheaper than a traditional startup, there are still plenty of expenses to consider. From web hosting and domain names to web design and marketing, the digital era brings new obstacles to overcome.
The following sections will explore these expenses and also look at how to streamline them into an affordable ecommerce package.
---
1. Domain Name and Hosting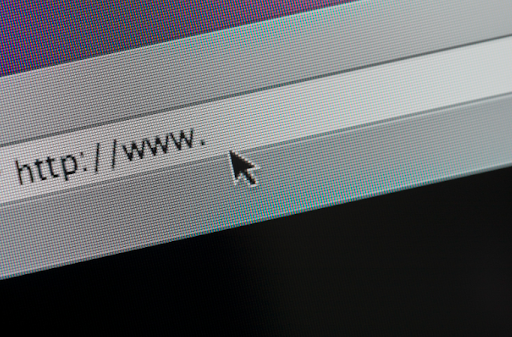 When setting up a new online business, two of the first things you'll need to consider are your domain name and hosting service. This is where the identity of your online business takes root.
Domain Name
The domain name is the cornerstone of your online identity – it's how customers find you on search engines and remember you. Think of it as your digital street address. For example, users looking to access Wikipedia would type www.wikipedia.org into their browser's search bar.
Domain names typically cost between $10 to $50 annually depending on the uniqueness and the provider you choose. If your heart is set on a domain name that's already taken, you can offer to buy it from the current owner, but this may come at a premium.
Hosting
Next up is hosting– essentially, where your online store lives.
These days, there are plenty of web hosting providers to choose from. A web hosting provider is a company that lets businesses make their websites available on the internet. The services that web hosting providers offer will vary, but they usually include website design and storage space.
Choosing a reliable hosting provider is crucial as you'll need a website that loads quickly and is available around the clock. Depending on your needs, hosting can cost between $5 to over $100 per month.
ShopWired's Seamless Solution
ShopWired is an ecommerce solution that provides a comprehensive list of features for helping you build an online store.
With hosting included in its packages, ShopWired removes the hassle of finding a separate service to house your site. Here are some of ShopWired's hosting benefits:
Hosted on Amazon Web Services for top-tier reliability and scalability.
Automatic data backups throughout the day for quick recovery.
Immediate access to the latest features and security patches with ongoing updates.
Continual platform monitoring to guarantee 99.99% uptime.
256-bit SSL security and Level 1 PCI Compliance to protect customer and business data.
ShopWired also lets you easily link a new or existing domain name to your ShopWired store within your account settings. But please bear in mind that ShopWired doesn't offer custom domain names. You'll need to visit a domain registrar for this. We recommend Namesco.

By giving your business a memorable domain and reliable hosting, you've taken the first crucial steps towards building a successful online presence. With ShopWired, these steps are not just easy but also cost-effective. Say goodbye to expensive hosting and hello to cheap and reliable hosting all included within your ShopWired plan.
---
2.
Website Design and User Experience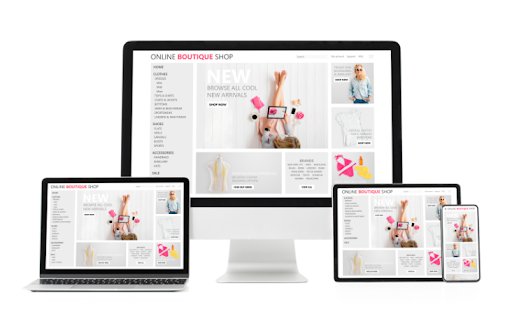 Your website is the face of your online business, and its design is pivotal in attracting and retaining customers. It's about creating an experience that is not only visually appealing but also intuitive and user-friendly.
However, crafting these vital aspects of your business doesn't come without a price tag. The investment in website design and user experience can vary greatly, often reflecting the complexity of your vision and the tools needed to bring it to life.
Crafting the Visual Appeal
Your website design should embody the essence of your brand. It needs to be attractive, functional, and reflective of your business values.
While many website builders offer built-in tools to aid in design, the complexity of creating a truly bespoke and branded look often requires professional help. Professional website design varies widely in cost, from a few hundred to several thousand dollars. Some platforms have experts available to help with your website's design, but these services tend to be on the more expensive side.
Optimizing for the User
A seamless user experience goes beyond good looks; it's about creating a seamless journey from the first click to the final checkout. This involves intuitive navigation, fast load times, and a responsive design that adapts to various devices and screen sizes. Implementing these features requires a strategic blend of design and development expertise.
The additional costs here can include user interface design, mobile optimization, and possibly even user testing to ensure your site resonates with your audience. It's not just about making a site that looks good—it's about crafting one that feels good to use.
Leveraging ShopWired's Built-In Design and UX Features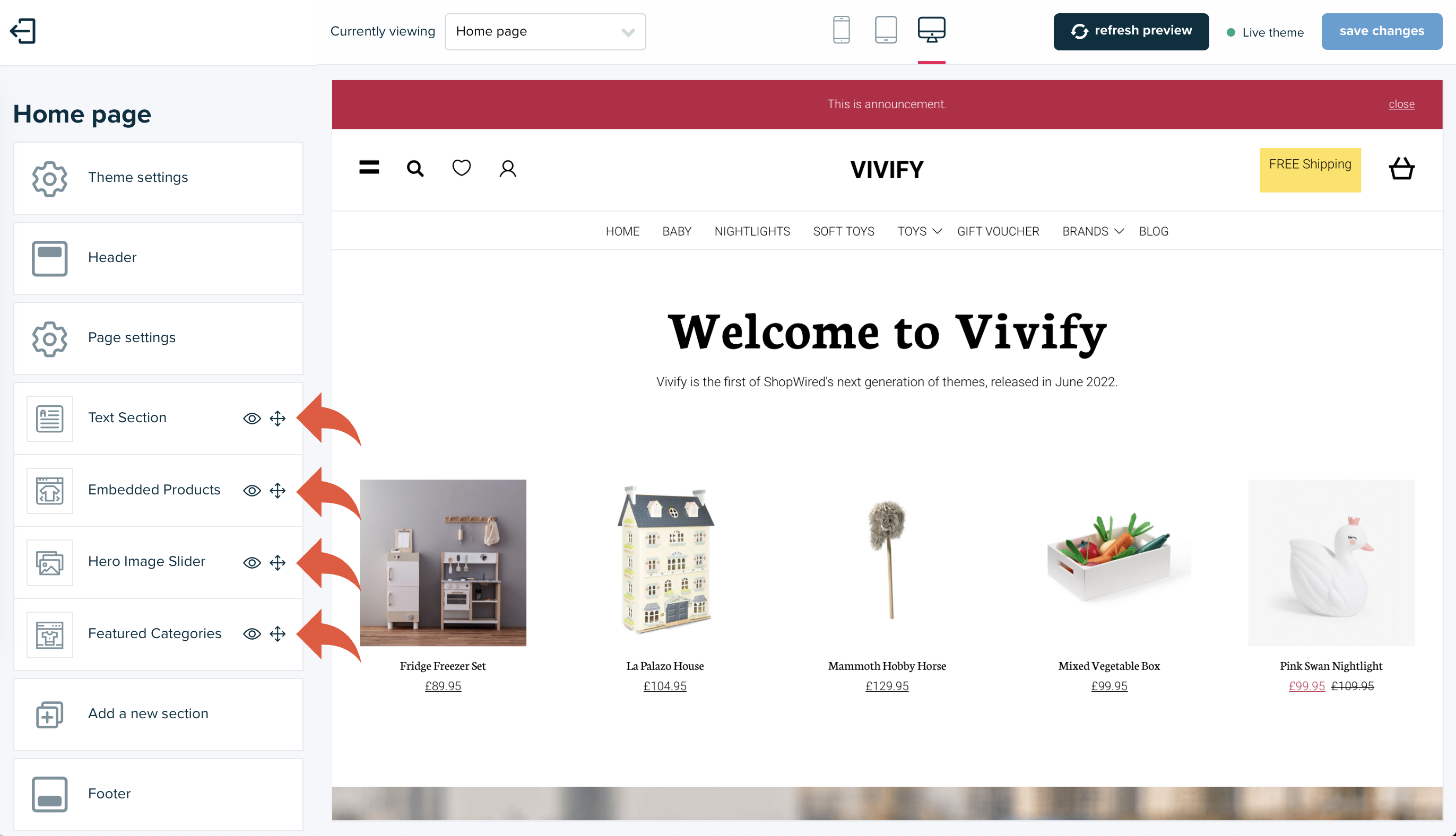 ShopWired handles most of your web design and user experience right out of the box. With ShopWired, the power to craft a visually stunning and easy-to-navigate website is at your fingertips, without the need for advanced technical skills or a hefty budget.
ShopWired offers a plethora of fully customisable themes, all responsive and optimized for mobile. The latest Version 5 themes come with an intuitive drag-and-drop editor, meaning anyone can design the perfect website with no web design knowledge required.
And best of all? All of ShopWired's themes are free of charge.
This can significantly reduce costs compared to independent design services, ensuring your website stands out without breaking the bank.
ShopWired's comprehensive design solutions provide a cost-effective route to a professional and customer-centric online store, ensuring your ecommerce venture is visually compelling and easy to use from day one. Their built-in features are designed to maximize user engagement and satisfaction, which are key to increasing conversion rates and building a loyal customer base.
---
3. Inventory and Supply Chain Management
For ecommerce stores, your inventory is your lifeline. Managing it efficiently can be the difference between profit and loss. Let's look at the costs and considerations for getting your products to your customers.
Initial Inventory Investment
Starting with the right amount of inventory is a balancing act. Too much, and you risk tying up capital and incurring storage fees; too little, and you might miss sales opportunities. The initial cost will vary based on the type and quantity of products but expect to invest anywhere from a few hundred to several thousand pounds.
Ongoing Inventory Management
The cost of managing inventory includes storage, insurance, and possibly wastage. As your business grows, these costs will scale, but effective management can keep them in check. On average, you can expect to pay anywhere from $150-300 per month for inventory management software. On top of this, you'll likely need to pay customer support fees and maybe an additional onboarding fee.
ShopWired: Streamlined Inventory Management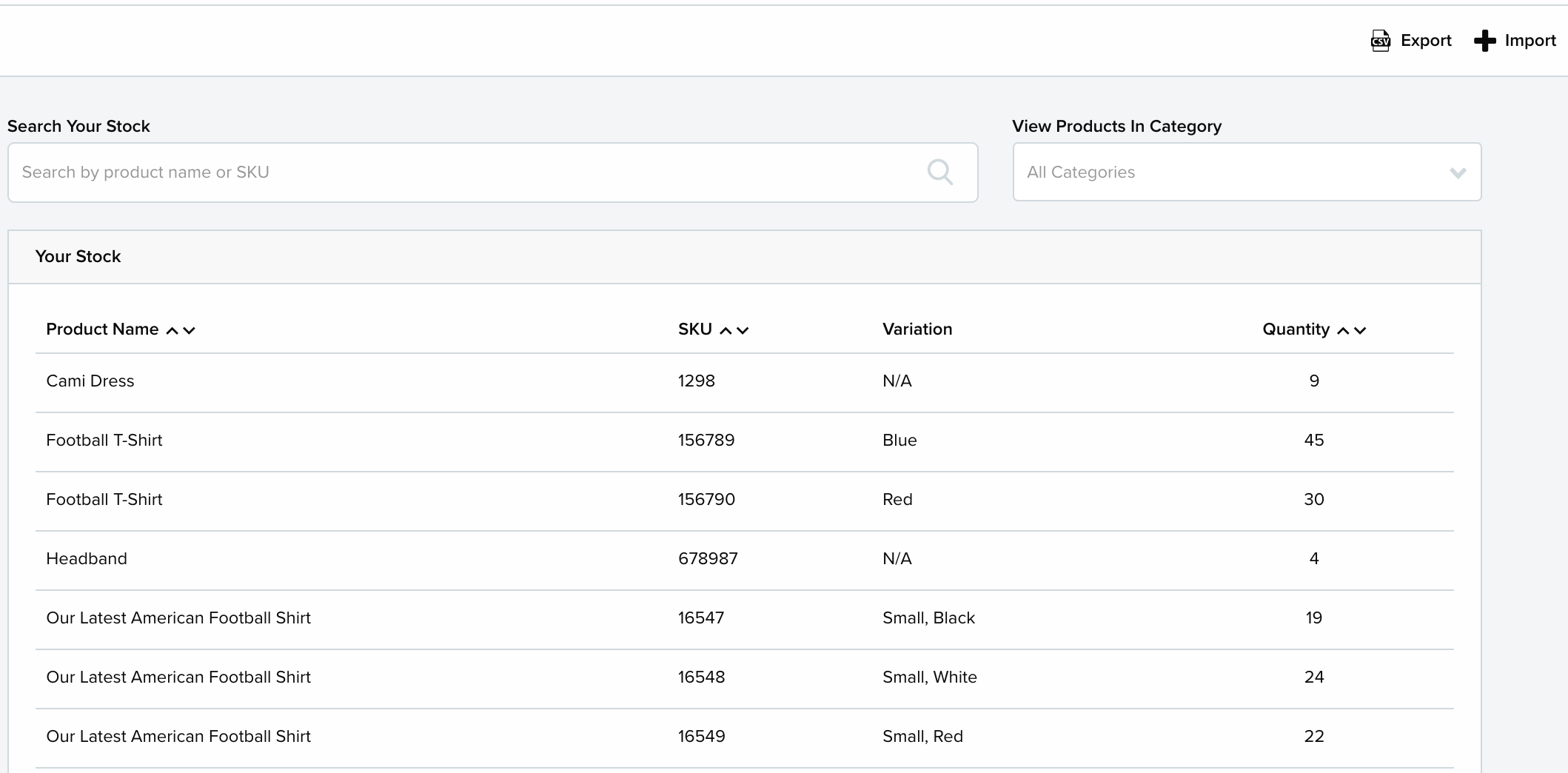 ShopWired simplifies inventory management with built-in inventory management tools that let you track stock levels, set up alerts, and manage orders efficiently, all within your monthly plan. This not only reduces the need for separate software but also helps you avoid overstocking or stockouts.
Managing your inventory effectively can save you money and keep your customers happy. ShopWired's integrated inventory management tools take the stress out of this equation, allowing you to focus on what you do best—selling products and growing your business.
It's also worth pointing out that ShopWired offers direct integrations with Dropshipping and Print-on-Demand services to let you eliminate the need to handle inventory at all. ShopWired's DropWired service, as well as integrations with Printify and Printful let customers take advantage of these low-overhead business models. These models can be game-changers, especially for new businesses looking to minimize upfront costs and risks.
---
4. Payment Processing: Understanding the Costs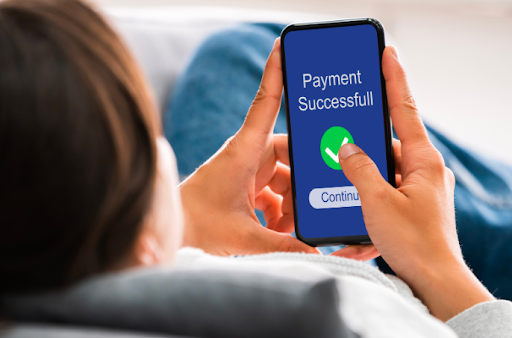 Ecommerce is all about convenience, and that extends to how customers can pay for their purchases. Payment processing is a key feature of ecommerce websites, but it also comes at a cost for merchants.
Transaction Fees
Every time a customer makes a purchase, a transaction fee is incurred. These fees are usually a percentage of the sale, plus a fixed amount. Depending on the payment processor, fees typically range from 1.4% to 3.5% of the transaction, plus a small fixed charge.
Monthly Fees and Payment Gateways
Some payment processors charge monthly fees or require you to use a specific payment gateway, which can add to your costs. It's essential to understand these fees to choose the most cost-effective payment processing solution for your business.
ShopWired's Transparent Payment Options

ShopWired partners with over 40 payment gateways and offers transparency on any associated fees.
Understanding the fine print of payment processing fees can help you save money and avoid surprises. With ShopWired, the process is made simpler, offering you clarity and control over the payment processing aspect of your ecommerce business, ensuring a better margin on your sales.
You can find more information about ShopWired's payment gateway providers here.
---
5. Marketing and Advertising: Budgeting for Visibility and Sales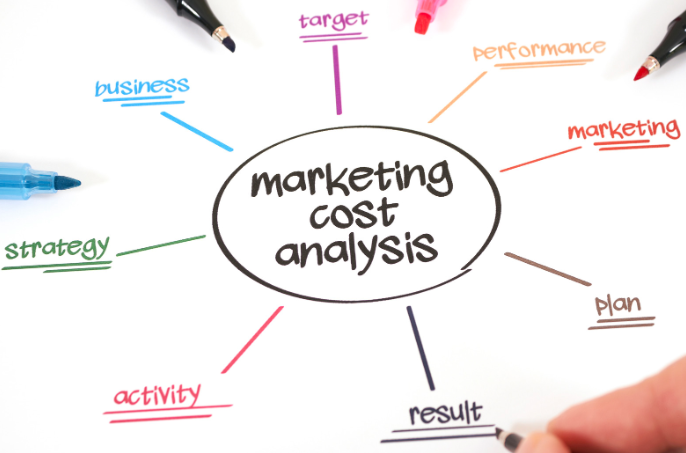 No matter how great your online store looks or how amazing your products are, you need to invest in marketing and advertising to attract customers. Let's explore the costs involved and how to maximize your marketing budget.
The Cost of Marketing
Marketing costs can encompass a range of activities, from pay-per-click advertising to social media campaigns and search engine optimization (SEO). Initial costs can start from as little as a few dollars a day for targeted ads, to several thousand pounds for comprehensive campaigns designed by professional agencies.
Customer Acquisition and Retention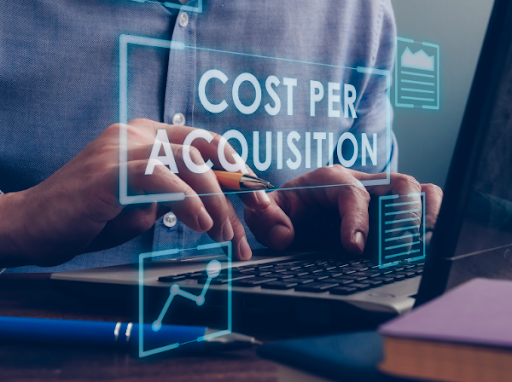 The ultimate goal of your marketing efforts is to not just attract customers but to keep them coming back. This includes costs for email marketing tools and customer relationship management systems, which can vary widely based on the services you choose. Expect to pay anything from hundreds to thousands of dollars per month for these services.
ShopWired- Integrated Marketing Tools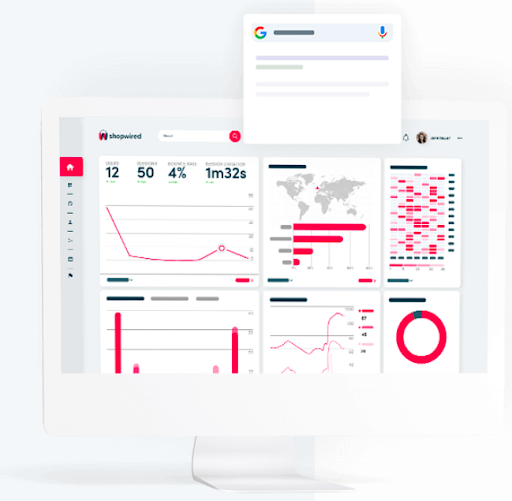 A good ecommerce platform provides integrated marketing tools to help you get started without a hefty initial investment. The majority of these features should be free to use and included for free on all plans. From SEO features that help customers find you online, to email marketing functionalities to keep your audience engaged, letting you build your brand's presence and drive sales.
Beyond the foundational marketing tools, a good ecommerce platform offers specialized SEO and PPC packages tailored to elevate your store's visibility in a competitive marketplace. While these advanced services often come with an additional fee, they should be competitively priced and provide excellent value-bringing a wealth of knowledge and a deep understanding of ecommerce to the table, making sure that your marketing efforts are not just cost-effective, but also highly targeted and efficient.
---
6. Customer Support: The Heartbeat of Your Business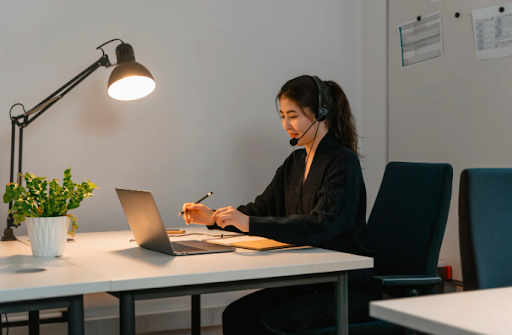 Providing stellar customer support is not just a good practice; it's the heartbeat of a thriving online business. The quality of support you offer significantly influences customer satisfaction and loyalty. However, delivering this essential service efficiently often involves certain costs.
Investing in Customer Support Platforms
The digital age offers a variety of customer support platforms, from live chat and ticketing systems to comprehensive Customer Relationship Management (CRM) solutions. These platforms can range from free basic versions to premium services costing upwards of $100 per month. The level you require will depend on the scale of your operations.
Hiring and Training Your Support Team
For many businesses, human support agents are indispensable. The cost of hiring customer service staff will vary by location and expertise level, but it's important to factor in wages, benefits, and the expenses associated with training them to represent your brand effectively.
The Role of Automated Support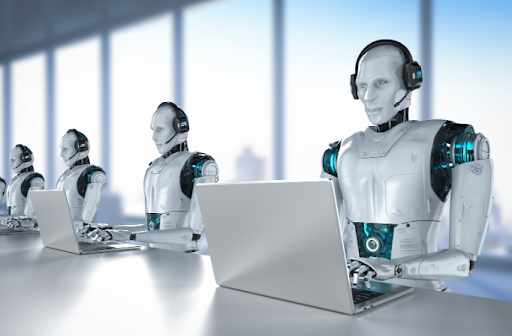 Automating certain customer service processes with AI chatbots can help manage costs while providing instant assistance to customers. Initial setup costs for a chatbot can be a one-time investment, and the long-term savings on labor can be substantial.
ShopWired's Integrated Customer Service
ShopWired understands the importance of customer support and provides a range of features to manage customer queries effectively. Your ShopWired dashboard also serves as a CRM meaning there's no need for a separate customer service software subscription.
The advantages of using ShopWired for customer support include:
Reduces the need for additional software and subscriptions.
ShopWired's dashboard enables easy tracking and management of customer interactions.
Automated alert features ensure no customer query goes unanswered.
Direct integration with external customer service platforms if you choose to expand your support channels.
Effective customer support can save you money in the long run by boosting customer retention and word-of-mouth referrals.
With ShopWired's tools, you can ensure that your customer service is both high-quality and cost-effective, letting you pour more resources into growing your business rather than managing day-to-day queries.
---
So How Much Does It Cost to Start an Online Business?
Starting a new business comes with a myriad of costs that, if not managed wisely, can significantly eat into profits.
From initial setup fees for domains and hosting to ongoing expenses for design, inventory management, payment processing, marketing, and customer support, the financial web of starting up can be complex.
Here's a breakdown of the typical costs associated with starting a business:
| | | |
| --- | --- | --- |
| Cost Category | Potential Cost | Notes |
| Domain and Hosting | $75-$1250 per year | Costs vary by domain uniqueness and hosting package |
| Web Design and User Experience | $300-$10,000 per year | Depending on whether you use a template or hire a designer. |
| Inventory Management | $150-$300 per month. | Plus initial inventory costs, which can vary widely. |
| Payment Processing | 1,4%-3.5% per transaction | Plus any monthly gateway fees. |
| Marketing and Advertising | $100 - $5,000 per month | Based on campaign scope and platforms used. |
| Customer Support | Free - $100+ per month | Depending on the platform and level of service required |
By seeking out these services individually, it's likely that your monthly costs could skyrocket to thousands of dollars per month.
However, ShopWired presents an all-in-one solution that mitigates many of these costs by including them as part of an affordable pricing plan. And better yet, all of ShoWired's core ecommerce features are available on the most affordable Pro plan at £34.95 per month.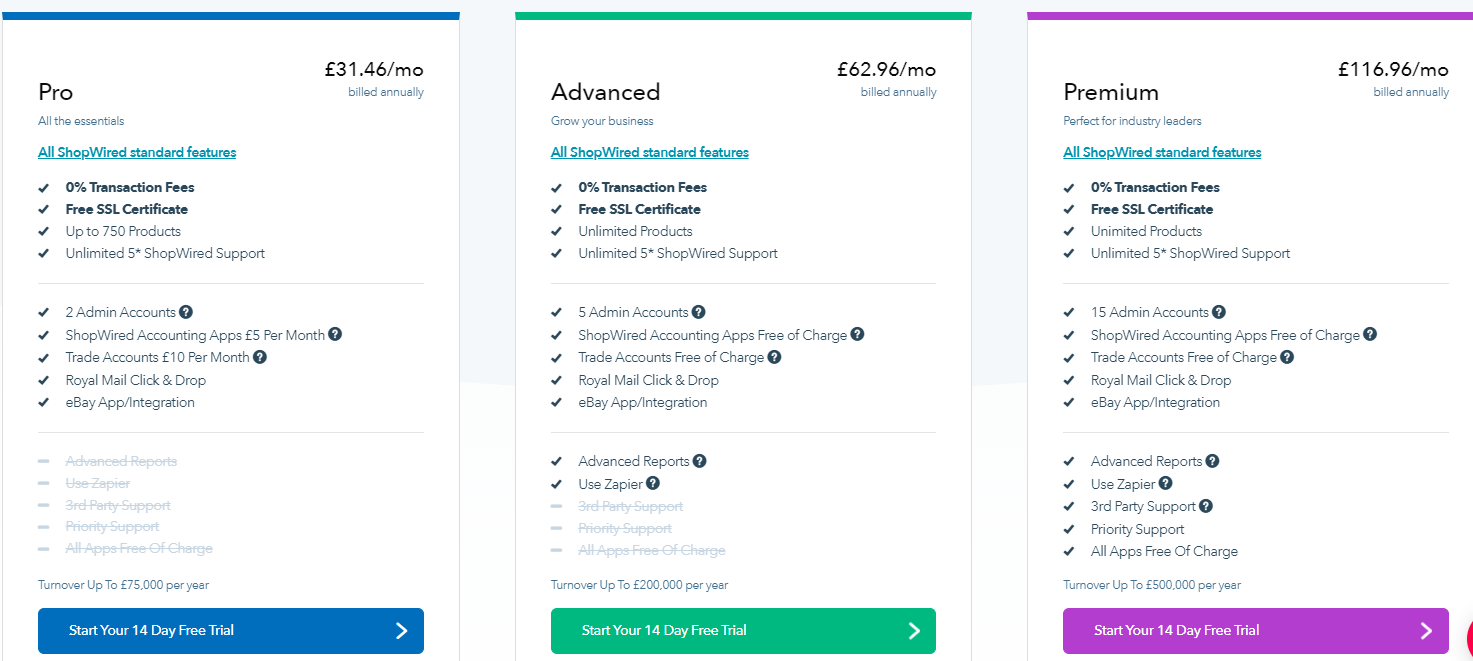 By offering a suite of integrated tools and services, ShopWired simplifies the startup process, allowing entrepreneurs to focus on growing their business rather than juggling multiple service providers. This approach not only streamlines operations but also offers a cost-effective strategy for launching and scaling up in the ecommerce arena.
Want to know more? Try a 14-day free trial today.