Ecwid - The Pros, Cons, Pricing & Alternatives
A full review of the Ecwid ecommerce platform
In this article, we'll be reviewing Ecwid - one of the most popular ecommerce platforms in the UK
Ecwid is a versatile ecommerce solution that allows users to seamlessly integrate ecommerce functionality into their existing websites.
Since its founding in 2009, Ecwid has become a prominent player in the ecommerce industry. Whether you're a small business owner or a larger enterprise with specific requirements, Ecwid offers a range of pricing plans tailored to meet diverse needs.
In this review, we'll delve into all the essential aspects of Ecwid, including its pricing structure, key features and available support options. We'll also look at other reviews of the platform online. By the end, you'll have a thorough understanding of what Ecwid has to offer and how it can benefit your online business.
Let's jump in.
---
What exactly is Ecwid?
Ecwid is slightly different to all-in-one ecommerce website building platforms like Shopify or ShopWired. That's because Ecwid operates primarily as an ecommerce plugin for an existing website. That's where the name comes from- Ecwid is short for 'Ecommerce Widget.'
Platforms like WordPress, Wix, Tumblr and Weebly offer direct integration with Ecwid, meaning you can easily transform a website on any of these into a fully fledged ecommerce store. This makes Ecwid a good choice for businesses that already have a website on these platforms and want to add a shopping feature without a complete redesign or migration.
But although Ecwid primarily serves as an ecommerce plugin, they have released a website builder more recently called Instant Site. Instant Site lets you build a basic ecommerce website from scratch, and while quite basic, does offer some good themes to choose from and basic customisation options.
We'll explore Instant Site further on in the review.
---
Ecwid Pricing plans
Ecwid's ecommerce widget is available on four different price plans:
Free: £0 per month
Venture: £19 per month
Business: £39 per month
Unlimited: £99 per month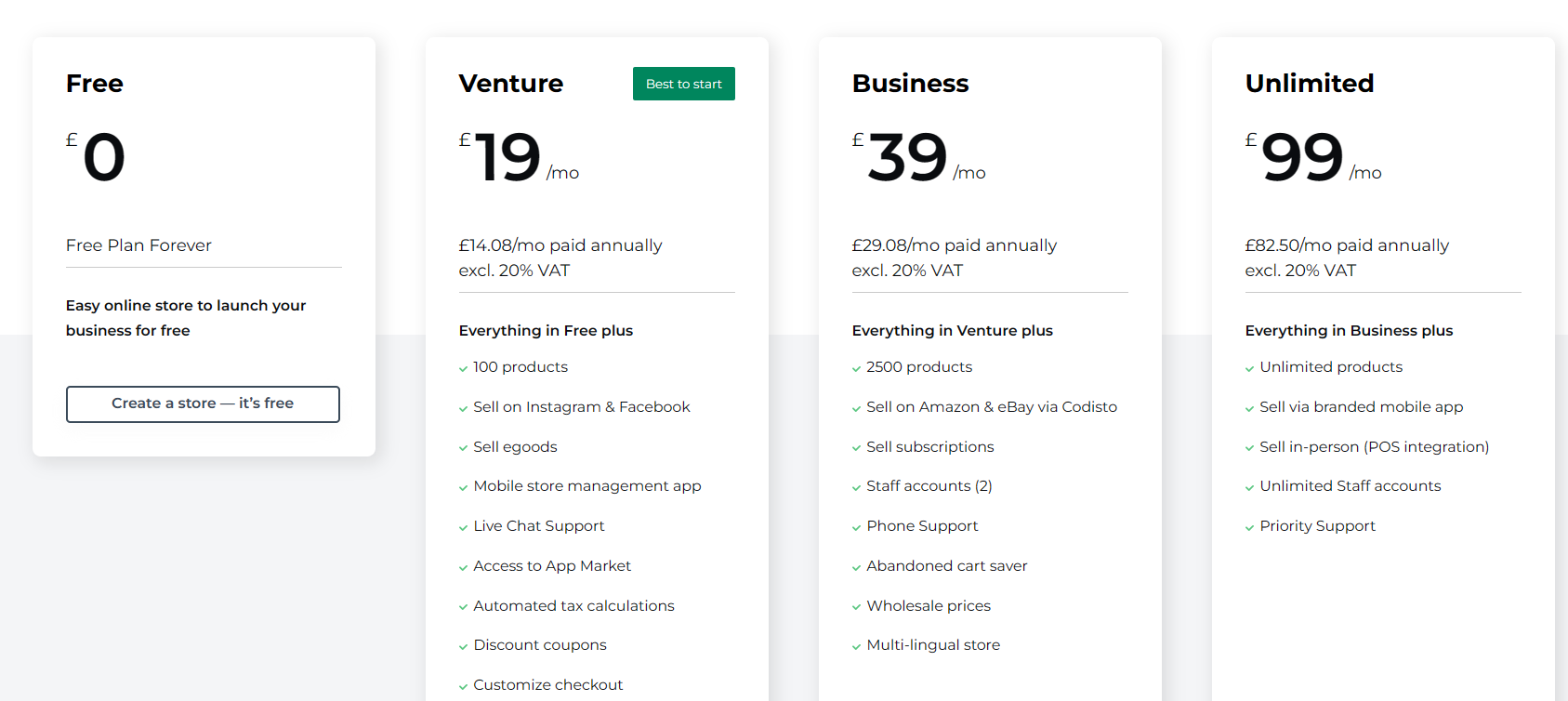 Each plan provides access to a certain level of features, with the Unlimited plan giving access to all of Ecwid's ecommerce features. The screenshot above shows what you'll get on each plan.
The prices shown above are when paid monthly, but Ecwid do offer a discount if you pay annually (which amounts to two months free usage when compared to paying monthly).
Let's now take a closer look at each plan's offerings.
Ecwid - Free plan
Ecwid has a free plan, which is great for merchants that want to test the waters before subscribing to a paid plan. However, with that being said, the free version of Ecwid is rather basic and lacks many of the platforms vital features. For example, you can't:
sell digital products or services
offer discounts to customers
sell on social channels such as Instagram or Facebook
have more than 5 different products on your store.
utilise mobile responsive checkouts
advertise via social media.
Unfortunately, the lack of features makes it hard to recommend Eciwd's free plan as a viable ecommerce solution. The free plan is only recommended for smaller businesses with a handful of products, or for those looking to move on to a paid plan in the near future but want to gain some familiarity with the platform.
Now let's explore Ecwid's paid plans.

Ecwid - Paid plans
As with most other ecommerce platforms, the more expensive the plan, the more additional features, functionality and tailored support you'll receive.
In this next section, we'll briefly look at what each paid plan offers, before exploring Ecwid's main features overall further down in this review.
Venture
Ecwid's Venture plan lets you sell up to 100 products, either physical or digital. You'll also gain access to all of Ecwid's supported payment gateways and shipping partners.
For small-to-medium sized businesses with a small range of products, the Venture plan might provide everything you need to get started. However, there are still many features missing from the Venture plan that you don't get unless you go up a level to the Business plan.
For example, on the Venture plan, you won't be able to list products on Amazon or eBay. There are also limitations on the way your products are displayed to users. For example, you can't set up product variants, and customers won't be able to use product filters when browsing your store, both of which could damage the user experience.
Business
With Ecwid's Business plan, you'll get everything from the Venture plan with some additional features and functionalities.
Arguably the biggest difference is that you can sell up to 2,500 products, which is a huge leap from 100 on the Venture plan. You can also:
add products to Amazon and eBay
sell products via a subscription service with automatic payments
set up wholesale categories and prices for trade customers
access telephone support
utilise smart marketing features such as automated emails to cart abandoners.
The Business plan is a clear step up from the Venture plan, and will probably provide enough features for most businesses.
Unlimited
Being the most expensive plan, the Unlimited plan unlocks everything Ecwid has to offer, including:
an unlimited amount of products
full access to Eciwd's point-of-sale (POS) features.
sales via your own branded mobile app
in-person sales
unlimited staff accounts.
It's also worth noting that, if you pay for Ecwid's Unlimited plan annually instead of monthly, you'll receive 12 hours free customisation work.
Ultimately, the plan you choose will depend on your needs, goals and potential scalability. For most, the Venture or Business plan will provide enough to get you started, but for larger businesses, or for those with additional needs, the Unlimited plan with access to all of Ecwid's features might be the only suitable option.
---
Ecwid - customer reviews
To see what real users think of Ecwid, let's take a look at some current reviews from around the web.
Trustpilot

Ecwid has an overall score of 3.5/ 5 stars on Trustpilot, which puts it into the Average category. Looking at some of the most recent reviews, common complaints include issues integrating Ecwid into their website, as well as issues gaining a good level of support when things go wrong.
It is worth noting, however, that some of Ecwid's negative reviews have stemmed from fraudulent websites posing as Ecwid to scam people, so the overall Trustpilot score should be considered with that in mind.
G2

Ecwid receives a more favourable overall score of 4.7/ 5 stars on G2.com. Most reviews on this website talk about Ecwid's ease of use. Negative remarks tend to center around the lack of features on certain plans and limited themes to choose from. In all, though, Ecwid is rated very highly by users on G2.com.
---
Features & functionality
The following list of features are all available on Ecwid's Unlimited plan.
Ecwid full list of features
Ecommerce features:
sell physical products (both physical and digital) and services.
product filters
product variations
recurring subscriptions – (recurring payments from your customers)
Inventory management
automated tax calculator
pre-orders
gift cards
delivery estimates
Marketing tools
Ecwid gives its users a bunch of useful marketing tools to help promote their brands. Some of Ecwid's marketing features include:
social media integrations- sell on Facebook or Instagram
run Google Ads and Facebook Ads campaigns
automated email marketing campaigns
send out Newsletters*
discount coupons
advertise on TikTok
abandoned cart emails
and more..
SEO tools
Ecwid also comes with SEO tools to help boost your website's organic visibility. For example, you can easily add a meta title and meta description to a page. However, it's disappointing to see some other important SEO features missing, such as the ability to create a custom URL for each page.
---
Payment gateway integrations
Ecwid integrates with plenty of payment gateways, with over 40 to choose from. Some of the most popular payment gateways usable with Ecwid include:
Stripe
Klarna
PayPal
Worldpay
Square
Apple Pay
Ecwid also offers a variety of offline payment options, including
cash on delivery
bank transfers
invoice payments.
It's worth noting that these transactions require manual processing, and any changes in order status must be individually updated within the Ecwid system.
---
Additional / hidden costs and fees
We've already explored the monthly cost of each of Ecwid's pricing plans, but are there any additional fees to know about?
Payment processing fees
Although Ecwid itself doesn't charge transaction fees, each payment provider has its own fee structure. You'll need to account for these when choosing your payment gateways, with an average fee of approximately 2.5% + 25p per transaction.
Themes
Ecwid offers a selection of free and paid themes, with over 70 free options available. Paid themes, based on the CMS you use, can range from £75 annually to £250 for a lifetime access. If you're integrating with WordPress, there's an abundance of free themes to choose from, reducing the need for Ecwid's options.
Additional apps/ plugins
Lastly, while Ecwid's API platform allows for the integration of additional plugins, these may come with their own costs, especially if your website is heavily customised. These extra costs can significantly increase the overall price of using Ecwid.
You can check out Ecwid's App Market here to find out what each app costs.
---
Shipping and delivery options
Ecwid provides a good set of delivery options tailored to meet the needs of diverse businesses. This includes local delivery, where businesses can establish delivery rates for designated zones and restrict deliveries to specific hours.
Customers can also opt for self-pickup, allowing them to collect their orders directly from your location, with possibilities for in-store, curbside or drive-through pickups.
Ecwid is compatible with an array of global shipping companies, such as:
UPS
FedEx
USPS
GLS
Royal Mail
Canada Post
Australia Post.
In addition to these international carriers, options for numerous national shipping services are available, and users can add extra carriers as needed.
Shipping rates can be managed flexibly depending on the carrier. Some offer automatic rate calculation, while businesses can also set their own rates, including free shipping, conditional free shipping, flat rates or custom rates determined by weight or subtotal.
---
Visitor analytics and other stats
Ecwid's native analytics capabilities are quite basic, providing only a brief sales summary in the main dashboard. For a more comprehensive analysis, the installation of a supplementary app is necessary.
We would always recommend Google Analytics for the best data collection and insights, but Ecwid suggests two free applications for this purpose: Kliken and MonkeyData. Both of these offer a more in-depth look at your site's performance compared to Ecwid's native analytics.
---
Using Ecwid - How easy is it?
In this section, we'll explore how easy Ecwid is to use.
Effectively, there are two ways you can use Ecwid. You can either use their website builder to build a new online store from scratch. Or, you can use Ecwid as a plugin with another platform like Wix or WordPress.
Let's take a look at both methods.
---
Building a store from scratch
Ecwid's website builder, known as Instant Site, provides everything you need to build a new online store and start making sales.
The first thing you'll need to do is select a theme. This will determine how your website looks and feels, so it's important to choose a good template. Ecwid has over 30 free themes to choose from, with many of these being based on popular website designs, so you should be able to find something suitable for your brand.
Once you've selected a theme, you'll be able to customise it further by rearranging sections and adding new sections. You can make layout changes to your homepage, product and category pages.
One significant constraint of Ecwid's website builder is its inability to create new custom pages or incorporate a blog into your store, which may be less than ideal for many users.
The only pages you can have on your store are predetermined and as follows:
Terms & Conditions
Privacy Policy
Shipping & Payment Information
Returns Policy
and an About Page.
While Ecwid allows you to construct a simplistic site, it lacks the comprehensive capabilities that are expected from a complete website builder. If you plan to implement SEO as part of your marketing approach, for example, Ecwid's website builder may prove inadequate for your needs.
If you're looking to build a store from scratch, we'd recommend an all-in-one ecommerce and website building tool like ShopWired.
Ecwid- used as an ecommerce plugin
Ecwid is originally known as an ecommerce plugin, which is the platform's main unique selling point.
Ecwid integrates directly with platforms like WordPress and Wix, but it can be used on almost any website. In a nutshell, you'll just need to copy and paste the Ecwid embed code onto a chosen page on your website.
If you're already using Wix or WordPress to host your website, you'll just need to download the Ecwid plugin from the respective app store.
---
Customer support
Ecwid has varying levels of support depending on which price plan you're on.
For those on the free package, support is limited to email only, which can tend to be long-winded and is less direct than other options.
Moving up to the Venture plan adds live chat support to the mix. While the Business and Unlimited plans add phone support, with Unlimited customers receiving priority support.
Beyond direct support, Ecwid also has a Help Centre with a range of guides and answers to common questions.
---
Hosting - reliability and speed
Ecwid's web hosting environment has everything you'd expect from an ecommerce platform, including:
Hosted on Amazon Web Services (AWS)
Level 1 PCI DSS compliance for secure payment processing
Utilises Cloudfront CDN for optimised content delivery
Secure checkout process for customer transactions
Unlimited bandwidth for handling high levels of traffic.
---
Using Ecwid for the first time
Signing up is easy. You'll just need an email address and password to sign up for a free plan. Of course, you'll also need payment details if subscribing to a paid plan.
Once you've signed up, you'll be taken through to the Ecwid dashboard. The dashboard is easy to navigate and contains all the menu options you'd expect. And to make navigation even easier, the left sidebar menu splits the menu's options up into three categories:
Store Management
Sales Channels
Configuration.
Overall, navigation around Ecwid's dashboard is very easy and intuitive.
To help things further, you'll also see a brief setup guide when you first log into your Ecwid account. The guide helps you add your ecommerce widget to your website or social profile to start making sales.
The rest of the guide shows you how to add products to your store, configure regional settings, set up ways to receive payments and set up shipping.
For users on a free plan, some options shown in the set up guide will be greyed out in your account.
---
Inventory management
The process of adding a new product on Ecwid is straightforward. The use of a tabbed layout with clearly labelled sections streamlines the process, providing easy navigation and access to all necessary options.
However, one aspect that could be improved is the inability to modify or edit the URL of a product. While Ecwid generates SEO-friendly URLs for products, they often include a random number sequence at the end, which may not be optimal from an SEO perspective and lacks the cleanest URL structure.
One useful feature on the add product page is the ability to preview the product listing in the form of a pop-up, letting you see what the page will look like to visitors.
Organising products is also simple, with a straightforward category structure which lets you set up parent categories and sub-categories.
There's also now a bulk editor which lets you make fast edits to multiple products. Things you can change in the bulk editor include:
Product Title
SKU Code
Availability
Price
Stock
and more.
---
Order management
Ecwid's order management functionality provides merchants with a comprehensive set of tools to effectively manage and process orders.
From the Orders tab, merchants can easily monitor orders, export orders as a CSV file, print invoices and perform other standard tasks.
Overall, Ecwid's order management system is easy to use and has everything you'd expect from an ecommerce platform.
---
Final thoughts
Hopefully, this guide has given you some guidance on whether Ecwid 's ecommerce platform is for you. Ultimately, the decision will come down to your needs.
If you're looking to use Ecwid as an ecommerce widget, then it may be a great solution as this is the platform's primary function. The ability to simply add some code to turn your existing website into an ecommerce store may be just the solution that some need.
However, if you're looking to build an ecommerce website from scratch, we think that Ecwid's Instant Site, while useful, might be a bit too basic in comparison to other ecommerce platforms. Of course, we'd always recommend ShopWired as the best all-in-one ecommerce website builder.
Want to try ShopWired for yourself? Sign up for a no obligation 14-day free trial with ShopWired today.