Making money with print on demand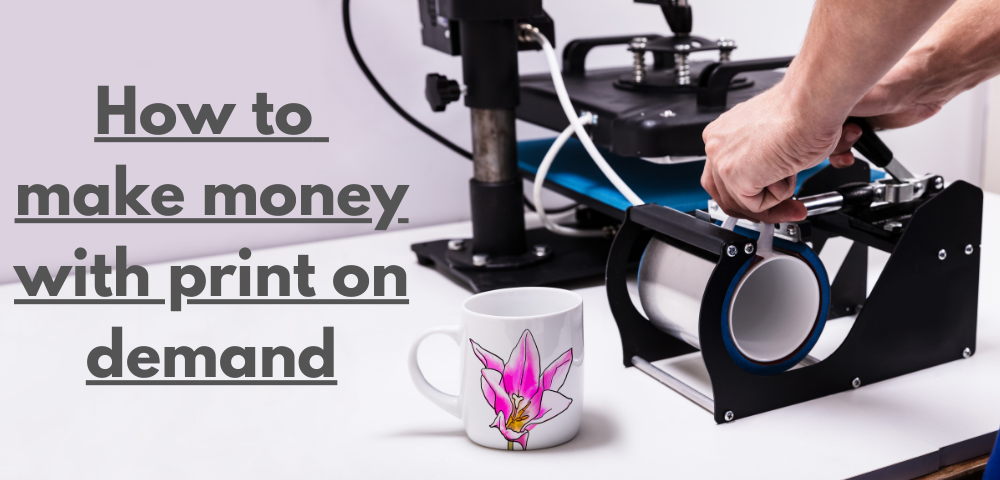 Want to make money online without the hassles of inventory and production?
Print on demand is the solution.
With this business model, you can sell custom-designed products with minimal startup costs. All you need is a bit of creativity, a reliable print-on-demand supplier, and an ecommerce platform like ShopWired.
In this article, we'll explore how print on demand can earn you money online. We'll also explore how ShopWired makes it easy to sell your creations with integrations with two of the most popular UK print on demand suppliers: Printful and Printify.
---
What is print-on-demand?
Print on demand lets you earn money online without the typical challenges associated with starting up a business.
You simply sign up to a print on demand provider, browse their catalogue of white label products, choose the products you want to sell, then upload your designs. The supplier handles the printing, fulfilment and shipping of the products for you, and as items are made to order, you only pay for the products that are sold.
The print on demand model eliminates many of the initial challenges of starting a profitable business, and is generally a low risk way to start making money. You don't need expensive equipment. You don't need to buy a huge amount of stock upfront. You don't need a storage facility to hold inventory.
Let's take a closer look at the pros of running your own print on demand business.
---
Print on demand benefits
Easy to set up
Simply choose a print on demand supplier like Printful or Printify, upload your design to a blank product and then sell it through your online store. It's fast. It's simple.
Inexpensive
Starting a print on demand business costs less compared to traditional business startups. You don't need expensive equipment or a bulk load of stock as items are produced to order.
Shipping handled for you
Shipping is handled by your print on demand provider. Most orders can usually be printed, packaged, and shipped within 2-3 days. You'll have more time to focus on other things, like creating new designs, maximising sales through your website and brand development.
Variety of products available
You can sell almost anything with print-on-demand. From t-shirts, hoodies and tote bags to skateboards, stickers and phone cases. If your print on demand provider stocks it, you can sell it!
Printify and Printful both have a huge catalogue of products to choose from, including clothing, bags, hats, and accessories.
Creative control
Print on demand gives merchants creative control over their products.
With just a few clicks, you can design and create unique products, choosing the designs, colours, and styles that appeal to your target market. Once your designs are ready, you can use the preview tool to see how it looks. This means you can check out how your product looks in real-time without having to wait for samples to arrive.
---
But what if I haven't designed logos or graphics before?
To make products that people want to buy, you'll need quality artwork and eye-catching designs.
But don't worry if you haven't done any designing in the past. There are several ways you can get the perfect designs for your print on demand products.
If you have the skills, you could use a popular tool like Adobe Photoshop or Illustrator to make your own unique designs.
For those less artistically inclined, a platform like Canva can help you make professional looking designs. The simple drag and drop editor and library of templates let you start designing without needing advanced design skills.
Another option is to outsource your design work to a freelancer. There are plenty of affordable designers on freelance websites such as Fiverr and Freelancer. Be sure to check out prices and reviews.
---
Making Money With Print on Demand
Whether it's a part-time side-hustle or a full-time venture, a successful print on demand business can start making profits right away.
Ultimately, how much you can make depends on a few factors. These include:
Your niche
If you still don't know what to sell online, you need to niche down!
The best niches for print on demand will bring the best profits. Finding a niche that is in-demand and has a loyal customer base can greatly increase your chances of success.
To find a niche, research popular keywords and phrases, look at what products are selling well on marketplaces and consider your own interests and expertise.
Your products
People want high-quality products with good-looking designs. If yours are lacking, you'll struggle to gain new and returning customers and could potentially receive negative reviews.
To avoid such fates, order product samples and scrutinise them before adding them to your store. If you're not happy with them, customers won't be either.
Print on demand subscription costs
Most print on demand providers offer both free and paid packages. You'll have to factor in the pros and cons of each in regards to your budget. For many, a free plan with reduced features is enough, but incentives like product discounts and the ability to run multiple stores might make a paid plan more attractive.
Your pricing strategy
Don't sell yourself short by offering the lowest price, instead find a middle ground amongst your competitors to appeal to a wider audience. For example, if t-shirts in your niche sell for £17-£23, sell yours for £20.
While it's important to price your products competitively, remember to consider your profit margin too. You'll need to factor in all costs when determining your prices to ensure you're making a healthy profit.
Your marketing efforts
Marketing is crucial for making a success of your efforts. After all, no matter how great your product or service is, if people don't know about it, they won't buy it.
Having a website with a user-friendly layout and SEO optimised content can help drive traffic to your store organically, whilst a social media presence and email marketing campaigns can further help showcase your brand and boost engagement.
You'll need to dedicate some time to marketing your print on demand products and come up with a plan to get your product line in front of your target audience to generate new leads and gain customers.
---
ShopWired: Making Print on Demand Easy
Using a dedicated ecommerce platform like ShopWired to create an online store is a better option than relying solely on your print on demand provider.
With ShopWired, you can build the perfect looking store to showcase your print on demand products. You can add additional features like reviews, ratings and social media links. You can collect analytics data to make data-driven decisions to drive your marketing efforts. You can manage your whole print on demand business from one centralised hub. ShopWired lets you do it all!
ShopWired also integrates directly with both Printful and Printify to give you greater control of your print on demand business.
You can:
Import your custom-designed products into ShopWired to add them to your store.
Automatically export orders to your print on demand supplier who will print and ship items when a purchase is made.
Utilise marketing and SEO tools to boost the visibility of your products online.
Create a blog and link to your products to drive traffic.
Collect data and track key metrics for a data-driven approach.
To get started, simply download and install the Printify or Printful app to link your ShopWired store. Check out our Printful and Printify help guides for a walk through on installing and using the apps.
After you've installed your chosen apps and linked your accounts, you can start sourcing blank products to print your designs on and sell.
Easy setup
Simply connect ShopWired to Printify or Printful and import your print-on-demand products into your ShopWired account. It just takes a few clicks.
Beautiful store themes
Create a stunning website with your own branding using one of ShopWired's free themes. Display your delightful print on demand products however you choose.
Built-in marketing tools
With dedicated built-in marketing tools, ShopWired will have you set up for success. From SEO and conversion tools to email marketing and social network sharing, the range of marketing tools on hand will ensure you get your print on demand products in front of the right audience.
No transaction fees
ShopWired's starting package is £34.95 + VAT per month. Unlike other ecommerce platforms we don't charge transaction fees on your sales.
---
What type of print on demand products should I sell?
Looking to start a print on demand business but not sure where to start? Don't worry, we've got you covered! Here are some tips to help you choose the right products and designs that will make your business stand out in the crowded online marketplace.
First things first, take a look at the catalogues of your chosen print on demand providers to see what blank products are available. From t-shirts and hats to mobile phone cases and tote bags, the options are vast. Choose the products that are most relevant to your niche and target audience.
Be sure to check out our recent post on selling and sourcing print on demand products for some ideas and inspiration.
Once you've identified the products you want to sell, you can then begin to create designs that will capture the attention of your customers.
Here are some design ideas to inspire you.
Unique, custom products
If you have artistic flair or access to designers, creating and selling unique, custom products is a surefire way to stand out in the online marketplace and start earning money with print on demand. Not only do you get to showcase your creativity and style, but you also have the opportunity to offer something truly unique and tailored to your audience.
Think about it - when someone buys a custom product from you, they're getting something they can't find anywhere else. And as they show off their new purchase to friends and family, they'll be spreading the word about your brand. Great!
With the right approach and a bit of marketing savvy, selling unique custom products can lead to significant profits and growth for your business.
Sell products with licensed designs
Some of the best selling products are products with licensed designs.
By obtaining licensed designs, you could gain access to recognisable and exclusive designs that your customers already know and love, such as logos, characters, and themes from popular culture. This approach can boost sales and customer engagement, making it a smart choice for anyone looking to start or grow their print on demand business.
Sell products with popular quotes or slogans
Film and TV quotes, song lyrics, and funny slogans are all good ideas for print on demand.
They offer a great way to express personality, show off interests and make a fashion statement, and thanks to on demand printing, it's easy to start selling these popular products.
You'll just need to tap into what's currently popular and trending. Whether it's a timeless movie quote on a tote bag or song lyrics on a t-shirt, these products can be top-sellers. But, as always, it's important to make sure you have permission to use the source material before selling the products.
Sell products with seasonal or holiday themes
Holiday-themed products are a great way to make extra cash during certain times of the year. For example, Christmas is a great time for novelty items like Christmas-themed hats and jumpers. Halloween could be a good time to bring out the spooky designs.
And the best part? You can pick up where you left off the following year as the demand for holiday-themed products tends to be consistent. It's always a good idea to plan ahead and start creating your designs and products well in advance so you are ready to capitalise on the holiday season rush.
---
Start selling your print on demand products today
Print on demand offers a great way for entrepreneurs to make money online. With access to thousands of white label products that can be customised with your own designs, you can experiment and explore to find the best products to sell online.
As print on demand yields lower profit margins than other sales strategies, you'll need to sell high volumes to make significant profits. But with a solid niche, excellent products and a solid ecommerce platform like ShopWired making it easy to market and sell them, it's possible to turn a print on demand business into a successful and profitable venture.
There's no time like the present- get started today!