Printful vs Printify
Comparing print-on-demand suppliers? Our guide will help you choose
Printful vs Printify - which print-on-demand platform provides the best products, the best service and the best price!
Are you looking into selling shirts with your designs on them? Or maybe you want to be a part of the growing print-on-demand industry which is forecast to be worth 3.1 billion dollars in the global market for t-shirt sales alone by 2025.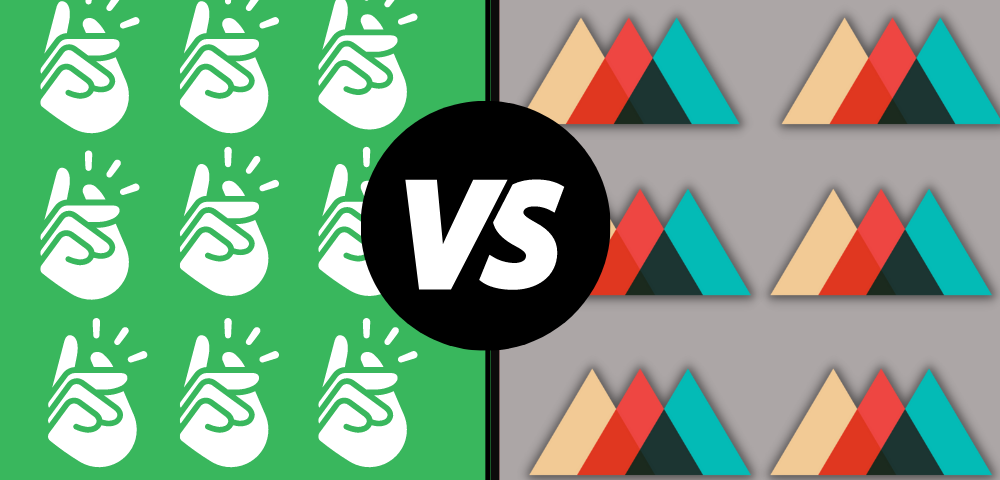 Print-on-demand (or POD) companies allow you to fulfil your dreams of starting a business selling clothing and household items without the often paralysing costs that can be associated with the industry. POD companies print and fulfil orders for you, so you only need to worry about marketing your products and providing customer services to your buyers.
While you will end up paying more per item with POD companies (since they aren't mass printing for you, it uses more of their time and resources to produce a product for you) you also won't need massive amounts of funding to get your business running.
---
---
The two players
Two of the biggest players in the print-on-demand industry are Printful and Printify, and to help you figure out which company would be best for you to use, we've provided you with a thorough comparison, so you can determine what's best for your company. For further reading, Printify have also put together a helpful comparison of their services versus Printful's.
While Printful and Printify fundamentally offer the same service, they do so in completely different ways. Printful owns their production process and will print and ship your products directly from their warehouses in the US, Mexico, Canada and Europe. Additionally, they partner with companies in Japan, Brazil and Australia to ensure worldwide coverage of their services: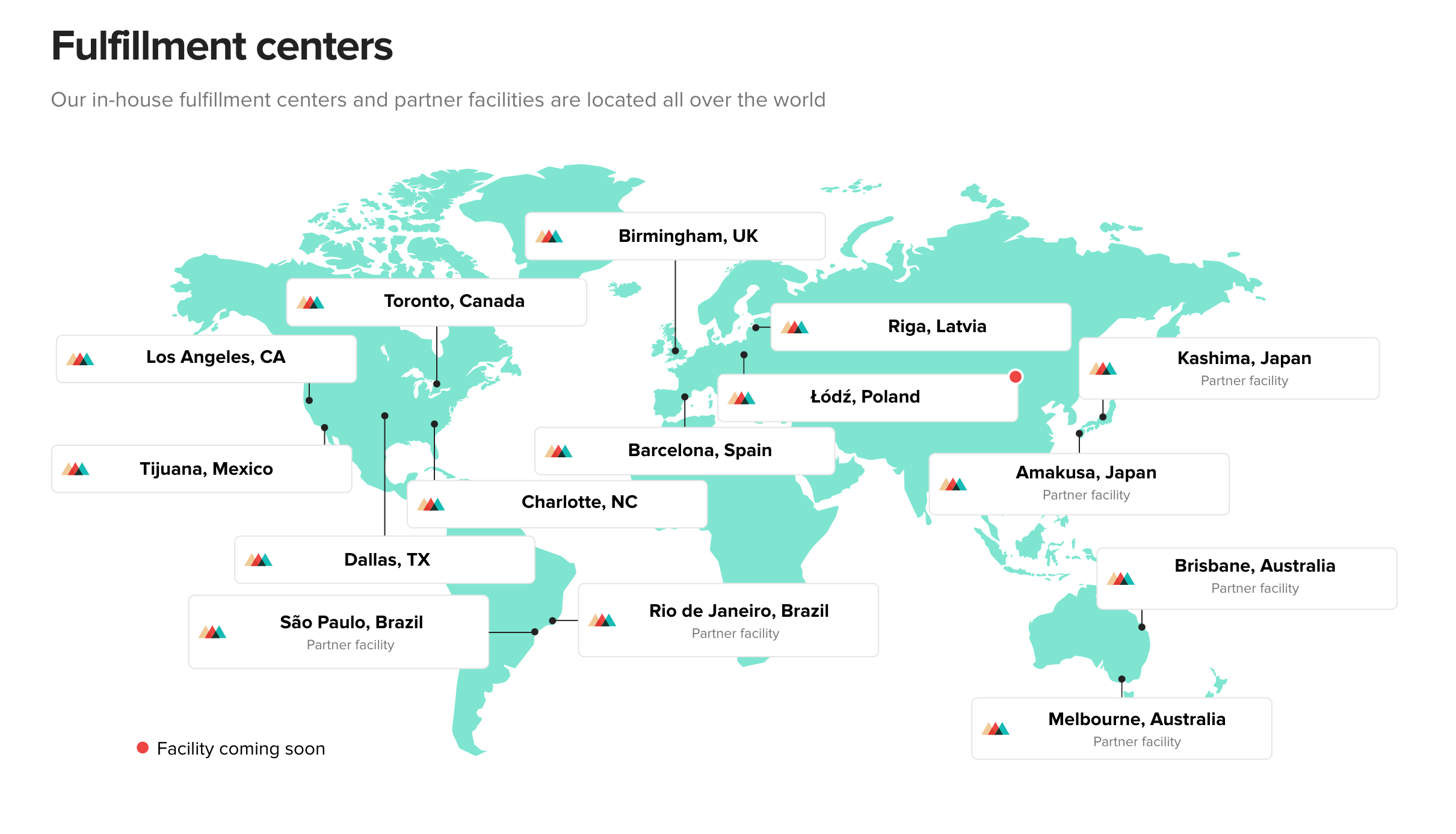 Printful takes responsibility for the printing of your products, and have invested more than £58.1 million into their printing equipment.
Printify, on the other hand, doesn't do any of the printing itself. Instead, they provide a POD network to connect you to partner providers, who you can choose from to fulfil your orders. Their partners are located in North America, Europe, China and Australia: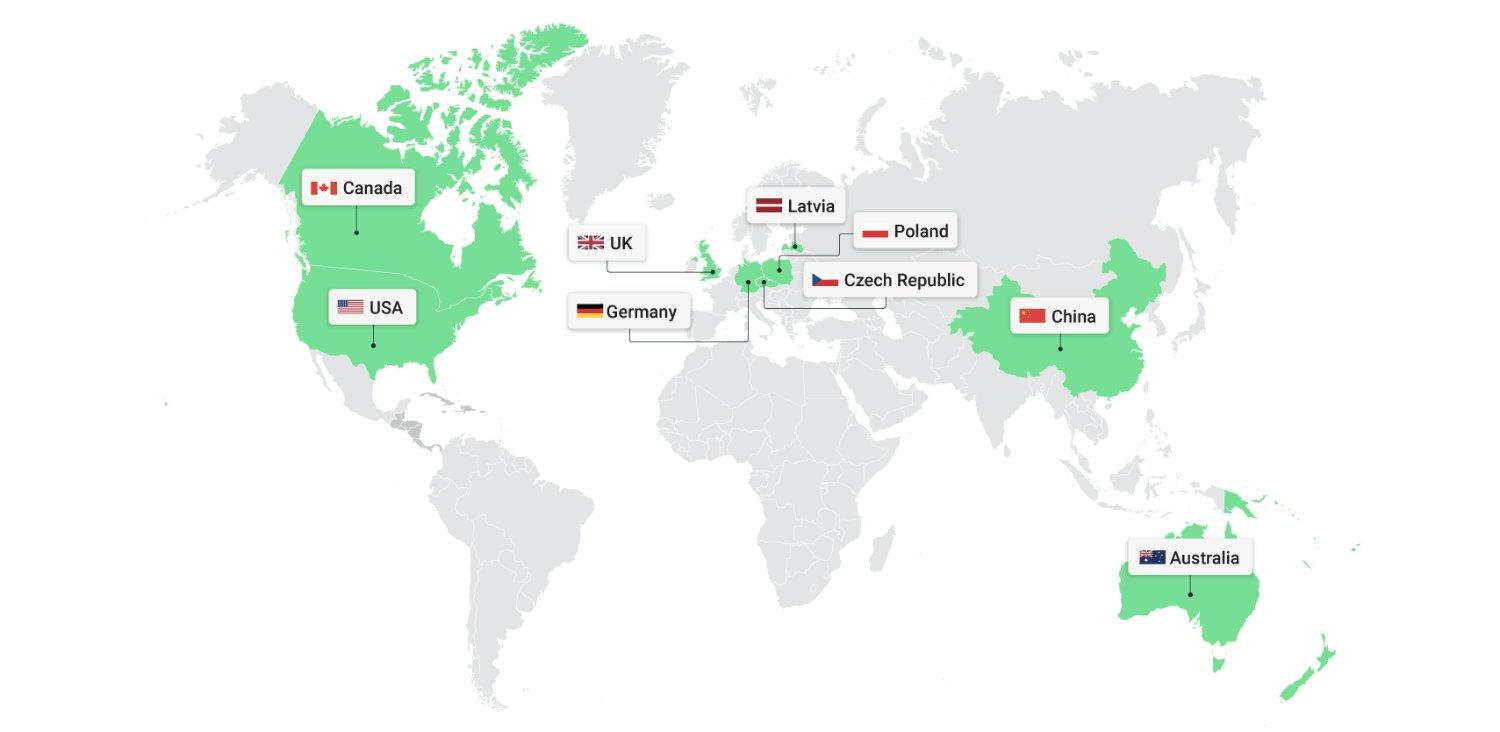 Both Printify and Printful provide you with resources to place your designs on a range of products, with a product customiser, mockup generation and ways to brand your products.
Naturally there are pros and cons to the way both businesses operate:
Pros

Because they print everything themselves, the standard of print quality is very high across their whole range of products and everything is quality tested by them before being sent out.
Production times are standard for their products as you're only dealing with them, so there's no long waits for specific products.

---

Cons

Because they print everything themselves there's no flexibility if you don't like the service offered.
Their production is more expensive due to them not outsourcing and investing so much into their equipment.

Pros

Because Printify uses many different suppliers, if you're not happy with one, you can always switch.
You can shop around with their different suppliers to make sure you're paying the best price.

---

Cons

It can take a lot of time and sample purchasing to find the best supplier.
The risk is higher that you'll end up working with a supplier who lets you and your customers down.
Production times can vary widely from one product to the next.
---
Printful vs. Printify -
Choosing a great POD company is vital to your success, so we're going to give you a comprehensive look at how these companies stack up in the key categories that matter to doing well in the POD industry.
Pricing
In our first category, these two companies are going head-to-head on pricing. We'll examine how much working with these companies will cost you for everything from the products you buy to any monthly package fees you might incur.
Packages
| | |
| --- | --- |
| Printful | Printify |
| Regular Printful: Free | Regular Printify: Free |
| Printful Plus: $9/month | Premium Printify: $29/month |
| Printful Pro: $49/month | |
For Printful, the free plan covers all of your basics, allowing you to customise all of their products, create designs, download mockups and utilise thousands of clipart images. Upgrading to the Plus plan also allows you to remove the background for your images, create custom mockups and create marketing promos. The top plan gives you access to everything already mentioned in addition to a few extra hundred clipart images, free premium images, free digitising of embroidery files and a carrier-based shipping option. While none of these paid options come with a discount on product pricing, Printful runs a reward scheme that gives you a percentage off if you sold enough in the past month. The more you sell, the greater the reward.
With Printify's free option you have access to unlimited designs and you can have up to 5 stores on your account. Upgrading to Premium Printify allows you up to 10 stores and you also will receive a 20% discount on the price of all products. It'll be worth doing the calculations to see if paying the monthly price to have 20% off will be worth it to your company. You can always wait to sign up until you see how well your business does, and you can also cancel at any time as there's no contract with Premium Printify.
Products
The most important consideration when it comes to pricing is what the product is actually going to cost you to have it produced and then shipped to your customer. Comparing product pricing is not a straight-forward task as there are many factors which influence the final price of a product on these platforms. To give an all-round view of which is cheaper we've performed a few tests. For these tests we'll decide the winner purely based on pricing, and not on other crucial elements to the purchasing process such as delivery times and quality. Also, for the tests we're basing them off of a company which is based in the UK, but since Printify only uses USD for currency, we'll look at everything in US dollars.
Test #1
We've found an identical product on both sites which you can ship to and from most parts of the world: the Unisex Bella + Canvas 3001 t-shirt. For this test we're looking at the costs if you order the shirt in the colour black, size medium, for shipping to an address within the UK.
Here's a breakdown of what selling one of these shirts will cost you:
With Printful, this shirt in this colour has the option to ship from the UK, meaning its shipping costs are lower than if it was shipping from elsewhere. The shirt itself will cost you $12.95 and shipping will cost you $4.39, for a total of $17.34.

With Printify how much this shirt will cost you will depend on the printer partner you choose. For argument's sake, we've chosen a provider who is based within the UK so that shipping costs are cheaper and delivery is quicker. With the M-A-N-A Factory, the shirt will cost you $10.72 and shipping will cost $3.10, for a total of $13.82.

Test #2
But now let's say you're still based in the UK but you want to expand your operations and sell to customers in the US. How much will this shirt cost you then? Let's check out prices for a black shirt again.
For Printful, since this shirt, in this colour, also has the option to be sourced from the US, it'll actually cost you less to ship it to a US customer than it did for a UK customer. Pricing for the shirt, when sending it to the US, is $12.95 with shipping at $3.99 for a total of $16.94.

For Printify, we'll find a different provider to use since we now want to ship to a different country. We'll use the cheaper of the top-rated US partners. With Printforia the shirt will cost $9.93 with shipping costing $4.00 for a total of $13.93.

Test #3
Let's try a different product from a different category completely: a knit beanie. Let's once again say that you're based in the UK and want to ship to a customer also in the UK. We should note that these two knit beanies are not sourced from the same manufacturer, so there could be significant differences in quality. That being said, let's see how they compare on price:
For Printful, a knit beanie will cost you $13.75 and shipping will cost $4.39 for a total of $18.14:


For Printify, unfortunately for a similar knit beanie there are no UK partners who provide this product, so we've had to look at the costs of using a US partner. Using MyLocker the beanie will cost you $12.99 and shipping will cost you $8 as you'll have to use their 'Rest of World' shipping calculations to get the true cost. The grand total here would be $20.99:

We've used the three tests above to not only show you who's cheaper, but also to indicate to you that working out the best deals on these websites can sometimes be a little complicated as there's so many factors involved. Now onto the winner:
Winner: Printify!
Even though Printify doesn't come out as the cheapest in every single scenario, they do in most (we did do a few more tests than the ones shown above), and the products where they are cheaper, they are considerably cheaper than the alternatives offered by Printful. If you were to factor in the savings you would receive if you were to sign up to Printify premium, then Printify would win this category by a landslide. But pricing isn't the only (or possibly even the most important) category to look at when deciding between the two. Let's move on to...
---
Availability of products
Printful offers 335 products which you can customise.
Printify offers over 600 products for you to customise.
Printify's numerous partnerships with printing providers worldwide means they can offer a much larger catalogue of items for you to utilise. While not all of those products will have appropriate production and shipping times for your business, there is still a plethora of choices. In addition to the apparel items which you would expect from a POD supplier, Printify also offers a variety of other product types which can help you to expand your own store. If you're interested in selling more than just clothes (or something other than clothes from the beginning) then Printify will be a great choice for you to find items such as face masks, baby accessories (such as bibs, beanies and blankets), a variety of different sorts of bags, mouse pads, stickers, Christmas ornaments, playing cards and yoga mats, just to name a few.
Printful's model of owning their own printing process, means they have fewer product options for you to choose from, but you'll still find plenty of options for staple items such as clothing products, hats and bags. Additionally, Printify offers plenty of other product types to choose from including jewellery, pillows, wall art, stationery and water bottles. Printify are constantly adding new products, to give you new ideas of what to sell to your customers.
Winner: Printify!
---
Fulfilment times
How quickly will your products make it to your customers if you choose to use Printful or Printify? This will depend on the production time and the delivery time of each product. Let's take a closer look at each platform to get a better idea of their lead times:
When looking at Printify's products, it was easy to see what sort of production times you'd be looking at with each partner as their average over the past 30 days is displayed for you by each one on each product:

Production times will vary greatly depending on which partner you use, which can become complicated if you're selling multiple POD items from multiple partners as your customers might receive parts of their order at vastly different times. Due to working with so many different partners, Printify don't clearly state what shipping times are for each product when viewing it. Instead you can use their shipping rates page to find the partner that you're wanting to work with to see what they advertise their shipping times to be.
Printful's production and shipping process is handled entirely by them, but since they have multiple fulfilment centres around the world, shipping times vary depending on where the product is located. For the production process Printful says it takes between 2-5 days to produce an order. Their shipping times are then displayed on each product for each country you can ship to, which will give you an idea of how long it'll take the product to get to your customer:

Winner: Printful!
While both companies ship from multiple locations which can take varying amounts of time, Printful's production and shipping process appears quicker on the whole due to them fulfilling their orders in-house.
---
Ease of use
Just how easy is it to find the products you want to sell and then to design them in the ways you want? Let's see which platform makes things easiest for you to get things done:
Finding products
While searching through the catalogues of both Printful and Printify might not seem like too arduous of a task, let's see how easy it actually is with both platforms to find the products you need.
With Printful you can search products by category, brand and through collections which show you options related to types of products which you might want to sell. For example, they offer collections of eco-friendly products or products which offer fast shipping to the UK. You can also filter products a number of different ways, such as by brand, branding options, colour, or material to name a few. Additionally, Printful offer a helpful setting which allows you to only see products which ship to the region you sell to. All you need to do is adjust your global default selling preferences: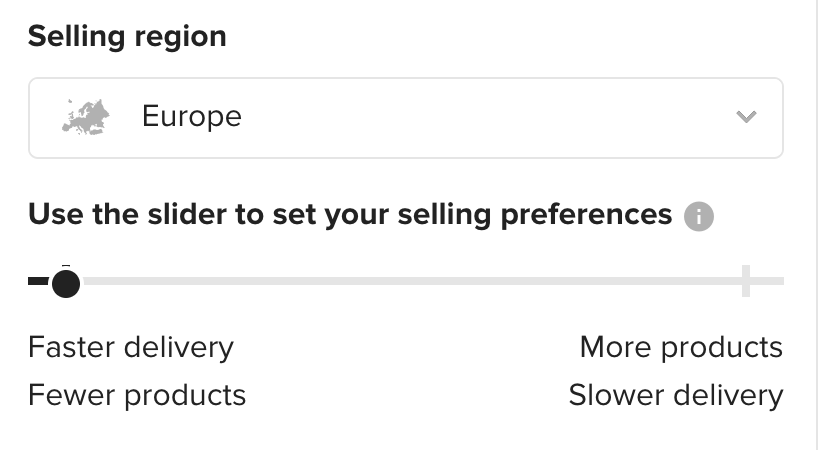 Printify have also arranged their products by key categories, such as men's clothing, women's clothing, kids' clothing, accessories and home & living. To find appropriate products within each category there is a range of filters which you can use to narrow down the options. You can filter by colour, size, brand and print provider. And while there is a filter to show products based on their fulfilment location, it doesn't offer the same useful functionality as Printful's default selling preferences as you can only see where a product is coming from and not how easily it can get to where you need it to be.
Product customisers
Printify's product customiser is very simple and straightforward. When the product loads for you to work on, you'll easily see the area(s) in which you can place your designs as they're highlighted with dotted lines. You can then choose where your design is located to upload it, or you can add some text to the product. Once you've uploaded your design(s), it's easy to resize them and to move them into the exact position you want them in (within the design area though, of course). From within the product customiser you can also choose which variants you want to sell, by simply ticking the ones you want. If you decide you want to change something after you've saved the design, simply click the 'edit design' button and you'll be taken right back to the same design screen.
Printful's product customiser also uses a drag-and-drop system to allow you to place your designs in the area you want them in. When dragging an element you'll see the print area that you will need to stay within. You can choose from a number of different ways to add elements to your product (which we'll talk about more in the next section about the range of features), and then you simply arrange the element(s) on the shirt in the way you want them to look. On the customiser you can also select which variants you want to sell. Once you've finished customising the shirt you'll then proceed to view the mockups of the product.
Editing your listings
Conveniently, when you create the product in Printify a listing is also created for you, but you can edit it as much as you like (both within Printify or within ShopWired once you've imported it). If you select 'edit listing' for the product, you'll see the different mockup images that have been created for your product. You can also view and edit the product title, the description and the prices for the different variants you offer. Printify offers you a bulk edit option for editing the price of the product, which can help you to update all variants at once.
Printful, unfortunately, doesn't create a whole listing for you, so when importing a product into your store, you'll still need to write up your own description for it. You can, however, easily alter the title and pricing for each variation as well as editing the variants you want to sell by using Printful's tools.
Winner: It's a tie!
While both Printify and Printful offer great product customisers, there is just one or two areas when it comes to finding or listing products where each could use some improvement. So on balance both platforms have a very similar ease-of-use and this round is a tie!
---
Range of features
When it comes to customising your products, how easy it is to do so is important, but so is the number of tools that you're given to do the customising. Let's take a look at the features that each platform offers:
Design elements
When adding a design to a Printify product you only really have the option to upload your own design or add some text: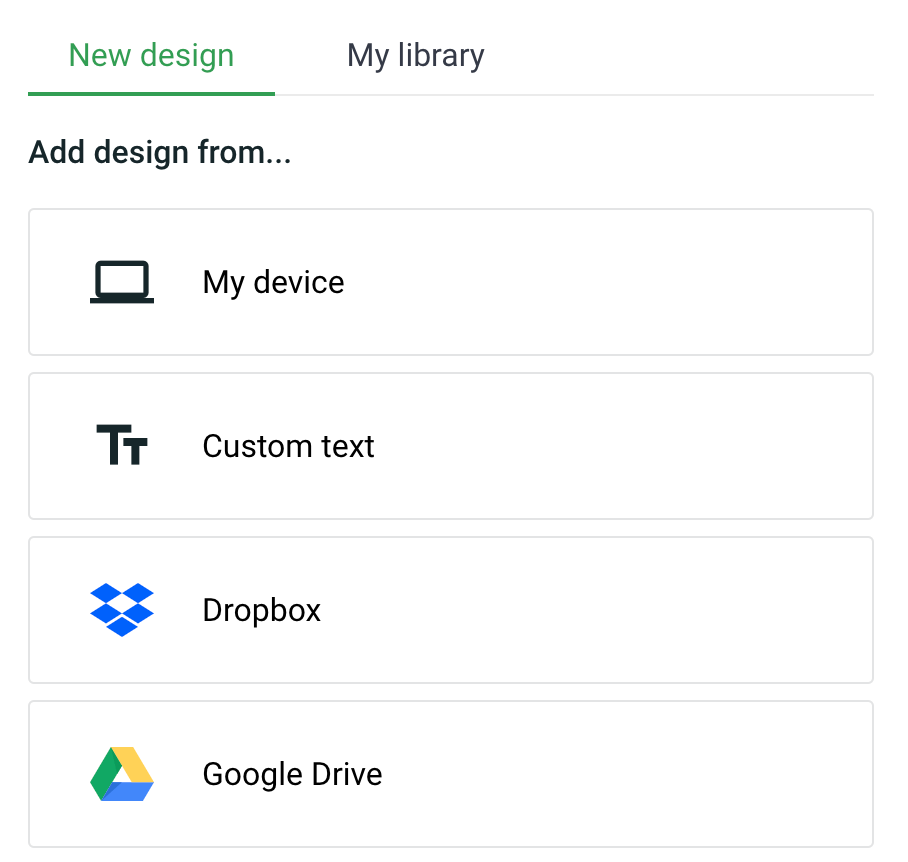 While Printify's partnership with Shutterstock allows them to provide you with an entire gallery of images which you can use in your designs, all of these designs will cost you an extra $0.99 per print, which can really hit your profits if you forget to price appropriately or if you use too many images. Printify doesn't offer any free design elements to add to your products.
Printful, on the other hand, offers a number of different options for adding designs to your shirts, including the ability to upload your own designs, a variety of clipart options to use, some quick design elements which have been created to make adding them to your design super easy and also a text option so you can write your own custom text with the ability to change size, font and overall appearance: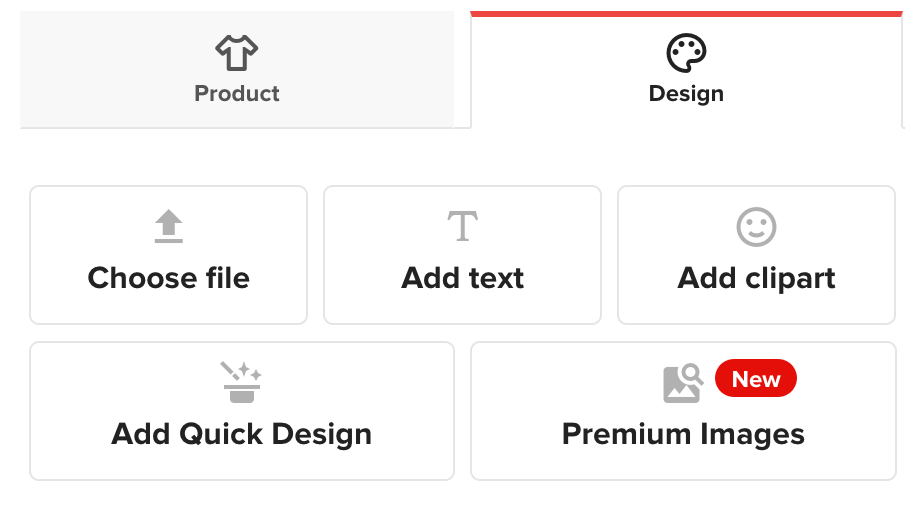 As a new feature Printful now also offers premium images (each of which comes with an additional cost of £0.75 to use) through a partnership with Getty images. With this new feature you can choose from paid images, graphics or patterns, but you do still have many options for free elements without these premium images. With all of these options Printful makes creating your own designs less stressful as you don't even need to be an artist to create some lovely products. Additionally, Printful gives you the ability to customise more aspects of a product than Printify does. For example, on a t-shirt with Printful you can customise the front, the back, each sleeve and the labels, which is really important if you want your customers to receive products with your own branding on them.
Mockups
After designing your product, you'll be able to see the mockups that the platform has created for it. Mockups are simply the images that display the product which you can use in your store to show your customers what the product looks like in a variety of ways. Mockups are very useful if you haven't purchased a sample product as you won't need to take any of your own photography to have some quality images. However, the range of mockup images provided by the two platforms does vary greatly.
Printful offers a whole load of different mockup options for you to include. For just a simple unisex t-shirt, mockup choices can include men's, women's and couple's mockups, flat, wrinkled and on a hanger mockups and mockups with different seasonal backgrounds to name just some of them. All of them will be included by default, and you just need to untick any that you don't want to use. In addition, with their Plus plan you have access to a mockup generator so you can create more mockups in the specific style you want them in.
Printify's mockup offerings pale in comparison to Printful's. For a similar unisex t-shirt there were only four mockup images included, one each of a man and a woman wearing the shirt and then a front and a back image of the shirt laid out flat. While they do offer a partnership with Placeit to allow you to create more mockups, creating the mockups on there would still take up your time and isn't as straightforward as having them ready-to-go like on Printful.
Winner: Printful!
Printful is the easy winner of this round, with better offerings for designing your products and then for showcasing it, you don't need to be an artist or find loads of other resources to get your POD business going.
---
The verdict - which platform is the best?
In our five categories above Printful and Printify both come away with an even number of wins and one tie. So what your choice will come down to is which of the categories is the most important to your business and whether you prefer Printful's or Printify's business model. Since the companies work in different ways, you might find that you simply prefer one model over another. Or maybe pricing is the most important factor to you, so you will lean more towards Printify. If a larger range of features to create your products with is what matters most, then Printful will be the way to go. There's also always the option to source products from both!
---
Using Print-On-Demand Services
Now that you've received the information about who stands out in each category, here's how to get started with using the services provided by these POD companies:
Select your POD provider
Using the comparison above, select which POD provider you'd rather work with. If you simply can't decide between the two, you can always start by using both. You might find that using both works best for your business model as there could be some products on one site that you really want to sell that don't exist on the other. This way you also wouldn't have to make compromises about quality as you'll have every service at your disposal. Of course, using both can also be a bit convoluted as you keep up with orders on multiple platforms and spend extra time figuring out which products work best to sell. Both Printify and Printful having free plans can work well for your business as you won't owe anyone extra charges if you choose to use both.
Link up to your ShopWired store
Once you've selected your POD provider, link them to your ShopWired store. This process is very simple, as all you'll need to do is install the relevant app and link your stores together. Check out our Printful and Printify help guides for a walk through on connecting your accounts and using the apps.
Check out products - checking reviews, lead time, cost
After you've linked your accounts you can look for the products that you want to sell. Be sure to check out what each product will cost you, how long it'll take for the product to be delivered and the reviews for the product and/or provider. Make sure you're aware as well that the lead time and cost of different variations of the product could be vastly different, which you will want to take into account when deciding what exactly to sell in your store.
Design your products
Next, it's the fun part! Get creative and make the designs for your product! Use the product configurator for your chosen platform and create some great products that will appeal to your audience.
Order product samples
Don't skip this step! Once you've finished designing your products, order a sample of each of them. This is the best and only real way to tell what sort of quality your customers will be able to expect. It's a great way for you to work out if you like the providers you've chosen. Switching providers at this stage will be a lot easier than it would be once orders start rolling in. While it might seem like an unwanted, added expense to starting your business, it really is essential if you want to make sure you won't be receiving too many complaints about your products.
Once you've completed these steps you're ready to start selling!