Start a t-shirt printing business
9 easy steps from zero to profitability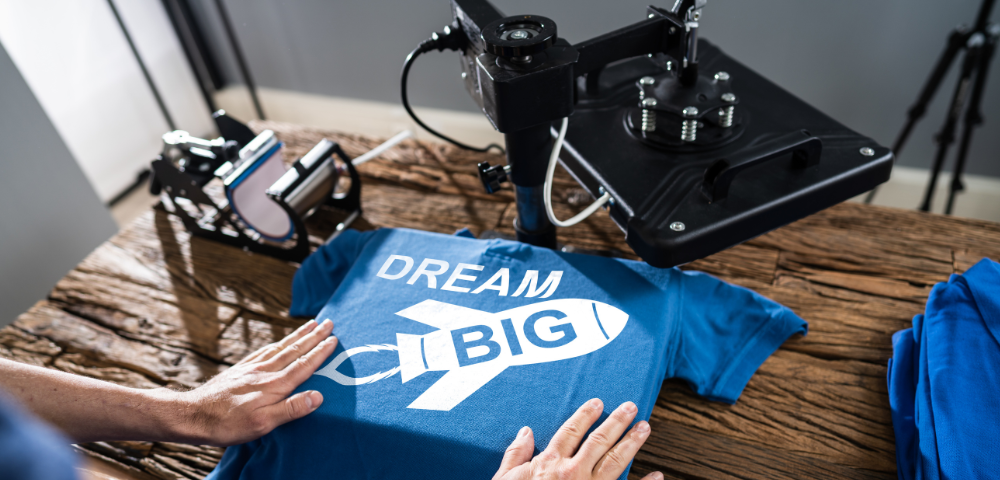 Starting a t-shirt printing business can be a fun and rewarding venture.
By 2025, the t-shirt printing industry is predicted to surpass $10 billion. That's a lot of money, and shows just how lucrative the custom t-shirt industry is.
With the rise of ecommerce, it's never been easier to start an online store and sell your products to customers around the world. In this article, we'll take you through the steps of starting a t-shirt printing business, including researching and planning, designing your t-shirts, choosing a print-on-demand provider and setting up an ecommerce store like ShopWired to market and sell your products.
Ready? Let's go.
---
Table of Contents
---
T-Shirts: A Popular Print On Demand Product
T-shirts are a staple of fashion and a versatile garment that serve many purposes. From personal fashion, uniforms, event merchandise and more. We all wear t-shirts everyday, and buy new t-shirts each year. A quick search online for t-shirts will return endless results containing different styles, colours, designs, materials and more.
But what does this mean for starting a t-shirt printing business?
Well, it means there's a huge demand for t-shirts, and where there's demand, there needs to be supply! T-shirts are also becoming more affordable to produce, making them a great option for budding entrepreneurs on a budget.
With the rise of print-on-demand technology, it's never been easier to create custom t-shirts with high-quality designs at a low cost.
So, if you're thinking about starting a business, custom t-shirts are a smart choice with plenty of potential for profits.
---
Research And Planning
Before diving into the world of t-shirt selling, it's essential to do your research and plan the vision for your business.
The first step is to research the market and your competition. What is the demand for t-shirts in your niche? Who are your competitors and what are they offering? Is there any competition at all? Understanding more about the market is vital for giving your t-shirt business the best chance of success from the start.
If you're struggling to pick a niche for your online t-shirt business, here are some tips to get you started:
1. Identify your own passions or hobbies
Is there scope to turn your own hobbies or passions into a profitable t-shirt printing business? If you're already active in certain groups, this could help you take advantage of an existing community.
For example, if you were part of a running club, you could create a new line of fitness t-shirts aimed at your fellow runners and build a brand around this. And if your fellow runners wear your delightful creations, you'll benefit from free advertising whenever they're next out and about running.
This is just one example, there are plenty of passions and hobbies that could spark the inspiration for a clothing business. If you happen to be part of any online communities or forums, do a little market research and ask people whether they'd be interested in purchasing custom t-shirts.
2. Check social media trends
Check out trending topics on social media platforms to see what people are interested in. Is there a new fashion craze emerging? Are there any current events or pop culture references that could be turned into t-shirts? Check the latest trending hashtags and topics of discussion to find out.
Exploring social media is a fantastic starting point for niche research, and it's even more informative thanks to tools like Facebook's Audience Insights. This resource helps you comprehend the demographics, interests, behaviours and purchasing tendencies of specific groups on the platform. By leveraging this information, you can gain a deeper understanding of your target audience and tailor your t-shirt designs and marketing efforts accordingly.
3. Explore online marketplaces like Etsy and Amazon
Browsing online marketplaces like Etsy and Amazon can help you identify popular t-shirt designs and styles. Take note of the best selling products and products with the most positive customer reviews, as these can give you insight into what kinds of t-shirt are in demand.
When conducting your research, don't just focus on the t-shirt itself, but also pay attention to the product descriptions, customer feedback and images. Take note of the keywords used in product titles and descriptions, as they can give you an idea of what people are searching for.
4. Attend events and festivals
If your niche holds any kind of event or festival, it might be a good idea to pop along and immerse yourself in the community. This is a great opportunity to observe potential customers, identify their needs and get some ideas for designs. Plus, events and festivals offer a great opportunity to network and make some connections in the industry.
5. Perform keyword research
Researching keywords lets you see what people are searching for online in relation to t-shirts.
To find keywords, you'll need to use tools like Google Keyword Planner, SEMrush, Ahrefs or Moz Keyword Explorer. These tools allow you to enter a seed keyword or topic, and then generate a list of related keywords along with important metrics such as search volume, competition level, and estimated click-through rate.
Conducting keyword research is the best way to find out what t-shirts people are searching for right now. Once you've identified relevant keywords, you can use these to guide your clothing business, and by strategically incorporating them into your website's content, meta titles, meta descriptions, header tags and alt tags, you can start appearing on the results page when people search for these terms.
---
Once you've established your market and identified your target audience, it's time to choose a printing method that fits your business model and budget.
In the past, printing t-shirts was expensive due to high minimum order quantities and the need for costly equipment. Now, with print-on-demand services, you can order t-shirts on-demand and integrate them seamlessly into an ecommerce store like ShopWired.
Less startup costs and money tied up in stock means profits from the get-go!
---
Choosing A Print-On-Demand Provider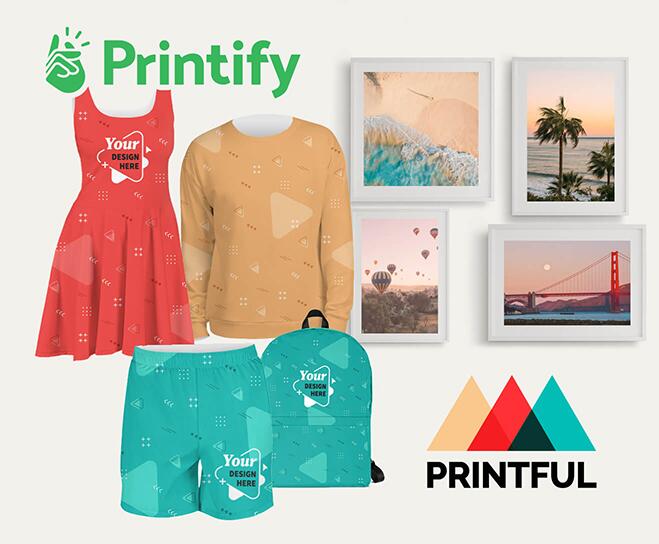 Print-on-demand (POD) is a great option for t-shirt businesses because it eliminates the need for inventory and reduces upfront costs. Instead of printing t-shirts in bulk and paying for large amounts of stock, you can upload your designs to a POD provider who will print and ship the t-shirts to your customers on demand.
Two of the most popular POD providers are Printful and Printify, both of which integrate seamlessly with ShopWired. Both Printful and Printify offer a wide range of t-shirts with plenty of customisation options, high-quality printing and a user-friendly platform for creating and managing orders.
Additionally, they both have a global shipping network, allowing for international sales so you can broaden your horizons.
Choosing the best provider will depend on your specific needs, so you'll need to weigh up each provider to explore any pros and cons.
Key things to consider are:
Do they have the t-shirts you want to sell?
Are the products good quality? (Make sure to check current reviews).
What are the turnaround times?
What are the shipping costs? (Also consider overseas shipping).
How much profit margin are you left with?
What customisation options are available?
Once you've chosen a print on demand provider, it's time for the fun part, designing your t-shirts!
---
Designing Your T-Shirts
Once you've settled on a niche, identified your target audience and decided who will print your t-shirts, it's time to start thinking about designs.
A successful t-shirt business starts with excellent designs that resonate with the people who will wear them. Whether you're an artistic genius or not, there are plenty of ways you can get the perfect designs onto your t-shirts.
For those with artistic flair, using a dedicated software tool such as Adobe Photoshop or Illustrator could help you mock up your first design in no time. For those less experienced, a more user-friendly tool like Canva is a great option with tons of presets to choose from and AI-driven design tools. You could also choose to outsource your design work to an artist or graphic designer for pro results, but remember this will probably bear an extra cost.
When designing your t-shirts, it's essential to consider the elements of a successful design. Do some research and look for inspiration and trends in the industry and preview your designs before adding them to products. Don't be afraid to get feedback from friends, family or potential customers to see what resonates the most.
---
Order Samples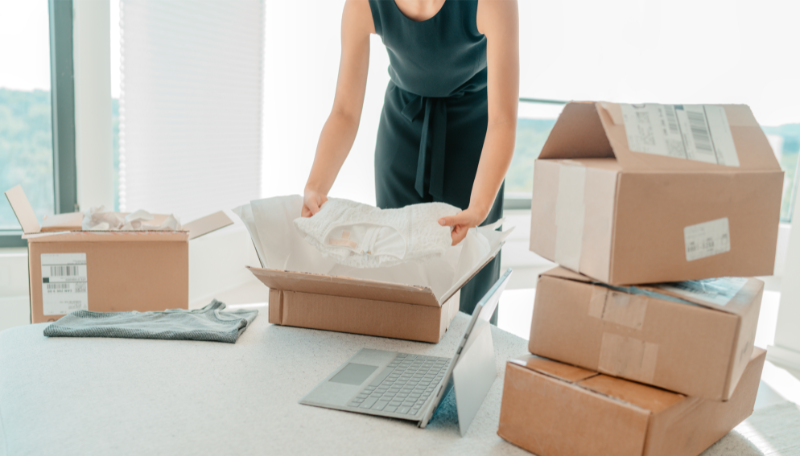 Before selling t-shirts with your designs on, it's important to order samples to get a look and feel for the quality. If you wouldn't wear them, your customers wouldn't either.
There are several things you'll want to look at when assessing the quality of your custom printed t-shirts. Put yourself in the shoes of the customer and think:
Is this quality material? Does it feel and look good?
How impressive are the colours? Do they look sharp and colourful? Are they dull and faded?
How do the logos and designs look? Are the printed graphics high-quality?
Will it survive a few washes in the washing machine?
Putting your t-shirts through their paces before starting to sell them online is essential if you want to avoid negative reviews and returns further down the line.
Evaluating your samples can also help you determine whether your chosen provider is the right fit for your t-shirt business. Making a switch now will save you from potential headaches and issues down the line, especially once orders start coming in.
---
Integrate with your ShopWired Store
Once you're happy with your newly designed custom t-shirts, it's time to start turning them into cash!
Most print on demand providers provide integrations with ecommerce stores such as Shopify, ShopWired, Etsy and WooCommerce.
ShopWired integrates seamlessly with both Printify and Printful, the UK's top print on demand providers. Integrating print on demand into your ShopWired setup is easy. Simply download the free app from the Available Apps section of your account and follow the installation instructions.
(Add screenshot here).
Once it's complete, you're all set and ready to start uploading your print on demand products onto your ShopWired store where you can take full advantage of ShopWired's ecommerce features.
---
Marketing And Selling Your T-Shirts
Time to get your t-shirts out there!
With ShopWired, you can create stunning product pages that showcase your designs. A well-crafted product page with some sharp, eye-catching images of your t-shirts and some SEO magic could boost your chances of gaining organic traffic.
Tip- images with people in them tend to outperform those without, so consider hiring a model to wear your t-shirts, or even model them yourself!
Once your store is all set up, you can start a blog post to showcase your new designs using ShopWired's free blog app. This is a great way to build excitement around your brand, engage with your audience and improve your search engine rankings. By creating high-quality, relevant content that appeals to your target audience, you can drive more traffic to your store and increase your chances of making sales.
ShopWired also lets you link your social media accounts to your store to help gain a social following, drive brand awareness and facilitate sales via multi-channel commerce. You can also set up targeted email campaigns with Mailchimp to target existing customers and new leads.
In all, ShopWired offers everything you need to start a t-shirt business. With plenty of apps and integrations available to help your business grow and succeed, you can start selling your own custom t-shirts in no time.
Simply upload your product, wait for an order to come in and sit back while your print on demand provider handles the rest.
---
Why start your print-on-demand business with ShopWired?
Easy setup
Simply connect ShopWired to Printful and import your print-on-demand products into your ShopWired account in just a few clicks.
Beautiful store themes
Create a beautiful website fully customised to your brand with one of ShopWired's free themes. Our new version 5 themes with drag-and-drop editing take website design to the next level.
Built-in marketing tools
Set up your online store for success with ShopWired's built-in SEO, conversion tools.
No transaction fees
ShopWired's starting package is £34.95 + VAT per month. Unlike other platforms we don't charge transaction fees on your sales.
---
Start selling t-shirts online today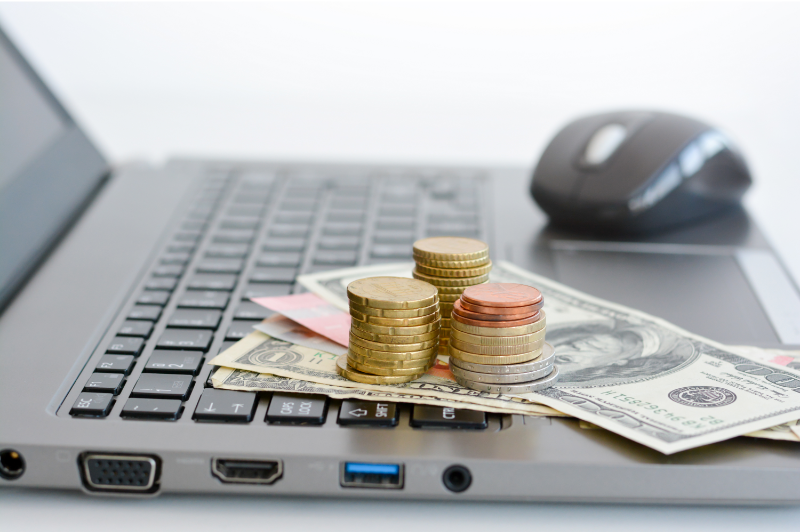 With the rise of ecommerce and print on demand, there has never been a better time than now to set up a print on demand t-shirt business.
Hopefully, this guide has given you some useful pointers on how to set up your own t-shirt empire and start building the brand you've always dreamed of. Don't wait any longer, start the journey now!