BigCommerce vs Shopify (2023 Review)
Comparing these two ecommerce platforms - from a UK perspective
In this article we'll examine BigCommerce and Shopify, two of the big beasts of the ecommerce platform world.
Shopify or BigCommerce - which of these ecommerce platforms provides the best all-round experience for UK businesses?
Selecting the ideal ecommerce platform for your online business can be a daunting task given the wide range of options available. That's why it's crucial to do your research to choose the best platform that aligns with your requirements and goals.
In this post, we're putting BigCommerce up against Shopify to see who comes out on top. We'll also look at ShopWired, a UK-based ecommerce platform to see what it offers as an alternative.
So, keep reading as we explore BigCommerce vs Shopify.
---
Pricing Plans
BigCommerce Pricing
BigCommerce has three main pricing plans to choose from:

Standard
Monthly Fee: $39/month
Online Credit Card Rate (PayPal): 2.59% + $0.49 per transaction
Additional Fees: None, there are no additional transaction fees.
Plus
Monthly Fee: $105/month
Online Credit Card Rate (PayPal): 2.35% + $0.49 per transaction
Additional Fees: None, there are no additional transaction fees.
Pro
Monthly Fee: $399/month
Online Credit Card Rate (PayPal): 2.05% + $0.49 per transaction
Additional Fees: None, there are no additional transaction fees.
Compared to other ecommerce platforms, BigCommerce is on the more expensive side. The cheapest package, at £39/month costs more than the equivalent basic packages on platforms such as Shopify and ShopWired. It's also worth pointing out that the cheapest package on BigCommerce is missing some features that we would consider key for ecommerce, including customer reviews, product filters, price lists and more.
There's also a limit of $50k/year on the Basic plan, and if you surpass the revenue threshold for your current plan, you will be automatically upgraded to the next tier.
Overall, BigCommerce might be considered on the expensive side compared to many other ecommerce platforms that offer all the essential features your store needs for less.
To unlock all of BigCommerce's features and make more sales, you'll need to pay for one of the higher packages, which will see the overall price of using BigCommerce rise considerably. It's worth pointing out, however, that they do offer a 25% discount for an annual subscription.
Enterprise
For businesses operating at enterprise level, BigCommerce also offers Enterprise packages, but you must get in touch with them for a quote on this.
Shopify Pricing
Shopify offers three primary pricing plans to select from: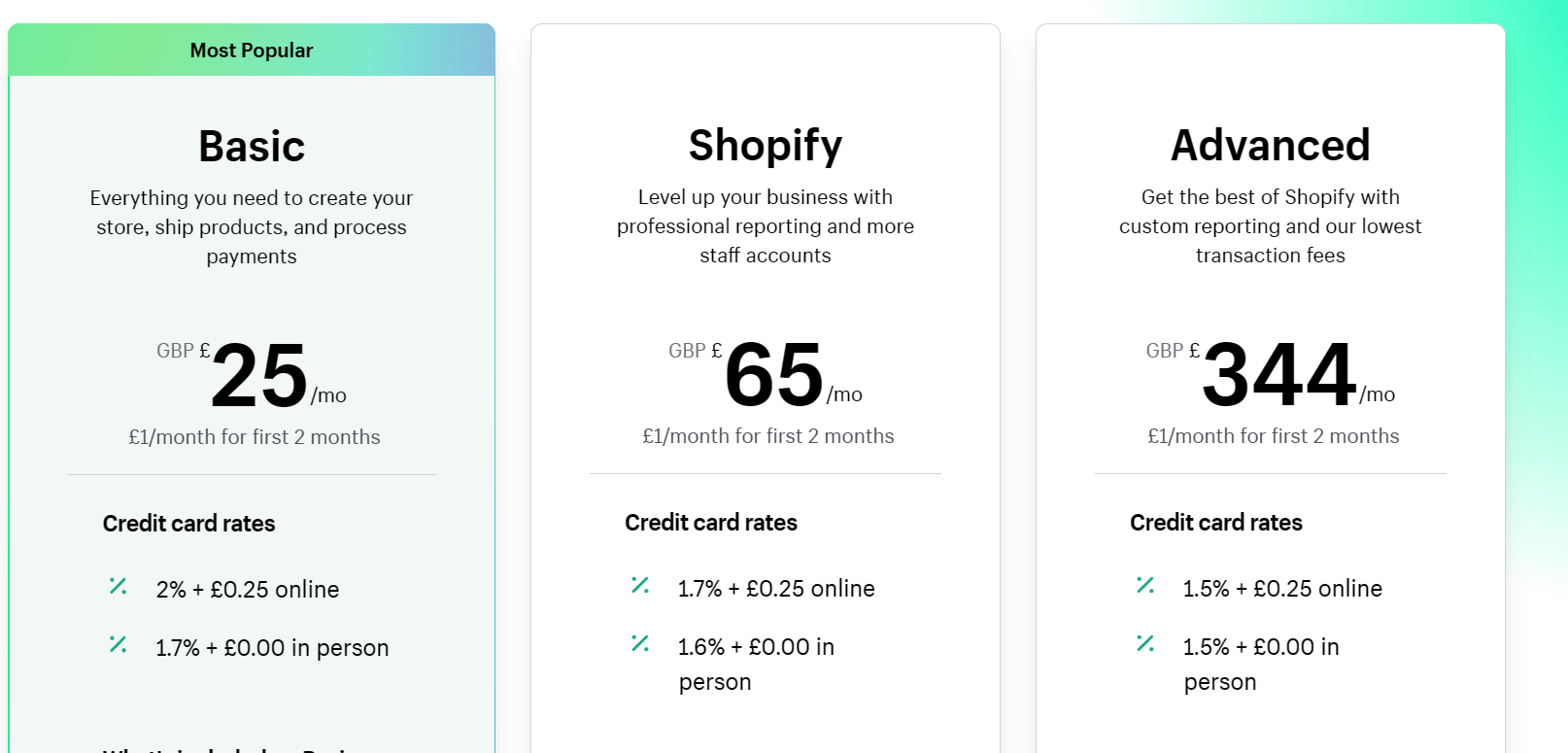 Shopify Basic
Monthly Fee: £25/month
Online Credit Card Rate: 2.% + 25p
In-Person Credit Card Rate: 1.7% + 0p
Additional Shopify Fees if NOT Using Shopify Payments: 2.0%
Shopify
Monthly Fee: £65/Month
Online Credit Card Rate: 1.7% + 25p
In-Person Credit Card Rate: 1.6% + 0p
Additional Shopify Fees if NOT Using Shopify Payments: 1.0%
Shopify Advanced
Monthly Fee: £344/Month
Online Credit Card Rate: 1.5% + 25p
In-Person Credit Card Rate: 1.5% + 0p
Additional Shopify Fees if NOT Using Shopify Payments: 0.5%
At first glance, Shopify's Basic plan appears to provide great value for money, offering a wide array of features. However, you'll need to be aware of the hidden costs associated with using Shopify, as the platform's charges extend beyond its monthly fees.
One key factor to consider is transaction fees, which apply to all transactions unless you use the Shopify Payments payment gateway. With the Basic plan, these fees equate to 2% on every transaction, causing the overall cost of using Shopify to increase significantly.
Furthermore, certain essential features that come standard with other platforms like ShopWired are only accessible on Shopify through third-party apps. These apps can be quite expensive, as each has its own separate monthly fee.
If Shopify's Basic plan doesn't sufficiently cater to your needs, the costs can escalate substantially if you opt for a higher-tier plan, such as the Standard plan at £65/month or the Advanced plan at a significant £344/month.
On a positive note, it's worth mentioning that Shopify offers the first two months for just £1 on all pricing plans, which serves as an excellent opportunity to test the platform before committing to a higher price.
We've written a more detailed review of Shopify's pricing here.

ShopWired's pricing plans strike a balance between the two aforementioned platforms. For instance, ShopWired's basic Pro plan costs £34.95/month, which is slightly higher than Shopify's equivalent plan and slightly cheaper than BigCommerce's equivalent plan.
However, ShopWired comes out on top for value for money when you factor in that there are no transaction fees and that most apps are available for free on the ShopWired App store. It's important to note that ShopWired's apps are developed in-house and supported by their own team, in contrast to Shopify's app store, which primarily features third-party apps not supported by Shopify's team, and using them or receiving support is likely to cost extra.
In terms of BigCommerce, although their Basic plan is a similar price to ShopWired's equivalent, the lack of key essential features like Google product reviews and filters is an issue, meaning you'll need to upgrade to experience an extensive list of features.
Additionally, ShopWired offers substantial savings for customers who opt for a one-year, two-year, or three-year subscription paid upfront, with discounts of 10%, 20%, or 30% respectively. This presents a significant saving opportunity for those who plan on using the platform long-term and are willing to invest upfront.
---
Free Trial
Free trials are crucial for letting you try a new platform before committing to a paid subscription.
Both BigCommerce and Shopify offer free trials to new customers, with no fees to pay as long as the subscription is cancelled before the end of the trial period. BigCommerce offers a 15-day free trial to new customers. This is a good amount of time to get to grips with the platform and set up your first online store. Shopify, on the other hand, currently only offers a 3-day free trial, which does seem rather limited and won't necessarily give you enough time to start making sales.
ShopWired's free 14-day trial is arguably the best choice here. This free trial comes with all of ShopWired's features, with all apps (including all paid apps) available to use for free during the trial period. This means you'll get a comprehensive experience of the ShopWired platform.
---
Support Options
Which ecommerce platform provides the best support?
In the competitive world of ecommerce, the level of support on hand can be a deal-breaker when choosing a platform.
Let's take a look at each platform's support options.
BigCommerce

Like most other platforms, BigCommerce provides a Help Center where you can find guides, forums, ideas and the latest updates.
If you do need to get in touch with BigCommerce directly, they have a solid in-house support options, including:
Onboarding teams
Migration teams
24/7 live chat
Email
US-based phone support
Shopify
Contacting Shopify's support team can be slightly challenging. You'll need to sift through numerous support articles and forums before making direct contact with a support representative. Accessing support from within the Shopify admin system is not available, and finding the proper channel for direct assistance may require some research.
However, once you locate the contact options for Shopify's support, they do offer various 24/7 support methods, including live chat and the ability to leave a message. The Shopify forums also host a helpful community that can potentially address some of your questions.
During your free trial with Shopify, you'll receive several emails offering assistance with various aspects of setting up your website. These messages include links to help guides designed to aid you in building your store. Although the emails are not tailored to your specific progress (for instance, you may receive an email about shipping rates even after you've set them up), they can still provide helpful guidance.
ShopWired support
ShopWired's UK-based support team is based at our UK headquarters in Birmingham, providing help through email, live chat, or scheduled phone calls from 9AM to 10PM, Monday to Friday. Emergency and critical business support are also accessible on Saturdays and Sundays.
Moreover, email support is available outside of regular business hours. To get support from the admin dashboard, simply click the "Get Support" button at the bottom of the left menu and select your preferred contact method.
When you sign up for a ShopWired free trial, you'll receive an email from a member of our specialised onboarding team, who you can contact for any assistance you may require. Throughout your trial, our onboarding team will periodically follow up with you to track your progress and help with any difficulties you might encounter. You can also reach out to the dedicated onboarding team directly with any inquiries or concerns during your free trial.
Overall, we believe ShopWired's support surpasses that of other ecommerce platforms, offering a customised and personal experience for all our customers.
---
Customer Reviews
Customer reviews offer valuable insights into the experiences and satisfaction levels of users who have tried a particular platform.
In this section, we'll explore what customers have been saying about each platform.
TrustPilot
BigCommerce Reviews

BigCommerce currently has a very poor rating on TrustPilot with a low score of 1.6/ 5 stars and a 'Bad' overall score. There have been 385 reviews at the time of writing this. It doesn't appear that BigCommerce responds to negative reviews on TrustPilot even though they have claimed their profile and can do so.
Most negative reviews mention things like poor support, a lack of new features, problems with products not showing and price increases without warning.
Shopify Reviews

Shopify also has a very poor rating on TrustPilot with a low score of 1.4/ 5 stars and a 'Bad' overall score. There have been 706 reviews, indicating many people have had similar experiences. As of now, Shopify is yet to claim their business on TrustPilot, meaning they don't respond to any negative feedback.
Some common concerns among customers include issues with support, account suspensions without explanation and difficulties receiving funds. Additionally, users have reported challenges in navigating the platform and dissatisfaction with hidden fees.
ShopWired Reviews

ShopWired is the clear winner when it comes to TrustPilot reviews, with a high score of 4.8/ 5 stars from 456 reviews. ShopWired also responds to all TrustPilot reviews and provides additional feedback where necessary. Most reviews point to the helpfulness and friendliness of ShopWired's support team, as well as the platform's general ease of use.
G2
G2.com is a well-known review platform in the US and other regions where BigCommerce and Shopify are widely utilised. Catering specifically to technology solutions such as ecommerce platforms, G2.com offers a more focused approach than Trustpilot.
BigCommerce
BigCommerce fairs better on G2, with a score of 4.2/ 5 stars. This is based on 455 reviews at the time of this post.
Shopify
Shopify also fairs much better on G2, with an overall score of 4.4 / 5 stars from 4,296 reviews.
ShopWired
ShopWired wins again, with a near-perfect score of 4.9/ 5 stars out of 91 reviews.
---
Ecommerce Features
Both Shopify and ShopWired provide a comprehensive range of essential ecommerce features on their most basic packages, including product creation, inventory management, website hosting, order processing, customisation options and complete shopping cart and payment gateway functionality. No expertise in coding or design is required; just choose a theme and begin adding your products
However, BigCommerce does have a lack of essential features on its cheapest price plan, missing out on things like Google product reviews, product filters and custom product filters. To get these, you'll need to sign up to a higher price plan which costs considerably more.

Overall though, each platform has enough features and tools on the most basic package to get started building your online store.
---
User Experience and Interface
BigCommerce
BigCommerce is user-friendly, catering to individuals of all technical levels. The routine tasks, such as overseeing your store, processing orders, adding items and analysing metrics, are straightforward and intuitive. However, initial store setup, design customisation, and delving into advanced features might require a bit more knowledge. For those unfamiliar with website design, consulting their comprehensive knowledge base or seeking support from their customer service might be necessary.
Shopify
Shopify's interface is known for its sleek appearance and user-friendly design, making it accessible for those new to ecommerce. For those seeking more extensive customisation options, Shopify's UI may lack certain features.
ShopWired
ShopWired offers a blend of user-friendliness and comprehensive features. Beginners frequently commend its uncomplicated design, which still offers a plethora of functionalities. Similar to Shopify, ShopWired's interface includes all the essential tools typical of an ecommerce platform. For those desiring more advanced tweaks, ShopWired provides the option to modify the live theme directly, allowing for deeper customisation.
---
Additional Features
When choosing an ecommerce platform, it is essential to assess not only the fundamental functionalities, but also the additional features that can help you broaden your store's potential.
Let's take a look at each platform's additional features.
BigCommerce
Most of BigCommerce's features are built-into the platform, meaning you won't need to download and install additional apps to gain new functionality. This can be a bit of a double-edged sword, though. On one hand, you won't need to worry about installing apps, but on the other hand, there's a slightly steeper learning curve to BigCommerce as it comes with so many features built-in. This could overwhelm merchants that are new to the platform, and Shopify or ShopWired might provide a better experience.
Shopify
As opposed to BigCommerce, Shopify boasts a vast selection of apps in its app store to enhance your store and streamline business processes. Although these apps are primarily developed by third parties and must meet Shopify's criteria, it's essential to exercise caution when selecting apps for your store. Some apps may not be as well-crafted as others, and a poorly designed app can cause issues with your store's data. Additionally, if you run into problems with a third-party app, you'll need to reach out to the app developers and not Shopify to get help. This could be frustrating.
Shopify does also offer its own suite of apps which extend your store's capabilities, such as uploading 3D product models, preventing fraud, connecting your store with Google Merchant Center and generating product QR codes, amongst others.
For those wanting to explore dropshipping, Shopify's Oberlo app lets you sourcing products from AliExpress. Explore Shopify's app store to discover their whole range of apps.
ShopWired
ShopWired offers a smaller selection of ecommerce apps, all of which are developed in-house. This eliminates the need to contact third-party providers for support or worry about apps malfunctioning and harming your store, business or brand. ShopWired's support team are all experts on our additional apps, and are here to assist when required.
Some of the most popular ShopWired apps let you do things like creating and managing customer quotes, offer subscription services, promote and manage pre-order products, and integrate with major marketplaces like eBay and Etsy. ShopWired also has its own dropshipping app, DropWired, enabling you to find products and place orders directly through AliExpress.
Browse ShopWired's apps and integrations page to discover more available apps and upcoming additions.
---
B2B & Trade Features
BigCommerce
Unfortunately, merchants looking to set up a wholesale section on their website will need to subscribe to a BigCommerce Plus or Pro plan, as most B2B features are unavailable on the Standard plan.
BigCommerce also does have a dedicated B2B Edition of the platform for wholesalers, but you'll have to request a quote to find out more about this, and it is likely to be on the more expensive side.
Shopify
Disappointingly, Shopify doesn't come with native B2B trade functionalities built-in to the platform. Instead, you'll need to buy and install a third-party app. The only way you'll receive B2B wholesale options is by being a subscriber to Shopify's enterprise-level Plus package, which is rather expensive at $2,000/ month.
ShopWired
ShopWired provides native support for various trade and wholesale features, which can be easily activated by installing the corresponding app. ShopWired's B2B features are some of the best around. The trade functionality lets you create distinct category and product environments for your trade clients, establish unique pricing for different customers and products and implement other pricing rules such as bulk pricing and tiered pricing.
If your business relies largely on B2B transactions, it's worth exploring the trade accounts app during your free trial to see the extensive features it provides. After your trial ends, the app costs £10/month on the ShopWired Basic plan but is included for free with more expensive plans. As a result, offering trade features on ShopWired is cost-effective and straightforward.
---
Website/Store Themes
Themes are essential for creating a store that looks good, functions well and captures your brand. Let's take a look at the theme options for each platform.
BigCommerce
BigCommerce has over 150 themes to choose from, with 15 of these being free and the rest being 'premium' themes that you must pay for. The price of BigCommerce's paid themes ranges from around $150-$300. All themes are responsive and are set up with SEO best practices in mind.
While BigCommerce does offer a nice selection of themes, it's disappointing that only a handful are available for free, especially when alternative platforms like ShopWired offer all of their themes for free.
Many BigCommerce users have signalled that customising their chosen theme isn't easy, so there may be a steeper learning curve if you want to design your store to look a certain way.
Shopify
Shopify offers around 80 themes for you to pick from, with just 10 of them available for free. The premium themes are priced between approximately $150 and $350. To help you make an informed decision, many of these paid themes provide a free trial to test them out before buying.
Shopify provides a user-friendly theme customisation experience with its drag-and-drop interface and live preview editor, making it easy to make changes and view them in real-time. You can also personalise several aspects of your selected theme, including colours, fonts and page layouts. Shopify also supports advanced customisation by default, enabling you to modify the underlying theme files as you wish.
ShopWired

ShopWired offers 20 fully functional ecommerce themes which are all free to use on any pricing plan. ShopWired also recently released the new Version 5 themes, adding a drag and drop editor that utilises sections and blocks to arrange the layout of your pages how you choose.
There are currently six Version 5 themes, with ten more coming in 2023. All of ShopWired's themes are also responsive, meaning they're optimised for both mobile and desktop.
---
SEO and Marketing Tools
In the competitive digital landscape, the right SEO and marketing tools can be the deciding factor between an ecommerce store that flourishes and one that gets lost amongst the competition.
Let's take a look at the SEO and marketing tools available on each platform:
BigCommerce
BigCommerce comes equipped with the SEO features you'd expect from an ecommerce platform. Merchants can adjust meta information, create URL rewrites and produce Google sitemaps. The platform also supports rich snippets, enhancing product visibility in search results.
For marketing, BigCommerce offers a number of built-in features to boost store visibility and sales. Marketing features include:
Promotional Banners: Design and display banners throughout your store to promote special deals, discounts or time-sensitive offers.
Discount Codes: Introduce discount vouchers tailored for new or returning customers, among others.
Gift Cards: What stands out is the ability to craft personalised gift cards for every customer, reflecting their unique buying preferences.
However, it's worth noting that you'll need to go beyond the Standard plan to gain access to the additional marketing tools BigCommerce offers. Their pricing page states that the Pro plan, at $105 per month, unlocks 'marketing tools proven to increase conversions.'
Shopify
Shopify provides an essential set of SEO tools, enabling store owners to modify meta titles, descriptions and image alt tags. Additionally, they generate a sitemap.xml for search engines. For more intricate SEO capabilities or analytics, merchants often turn to external apps available in the Shopify App Store.
ShopWired
ShopWired not only delivers essential SEO tools like editing meta titles, descriptions, image alt tags and custom URLs, but they also go the extra mile by offering personalised SEO packages. Store owners can choose a one-time audit where a ShopWired SEO specialist reviews their site and offers actionable insights. For continuous enhancement, ShopWired provides monthly packages, ensuring consistent optimisation strategies and updates, giving merchants an edge in search engine rankings.
In essence, while each platform provides SEO tools, ShopWired's dedication to offering both tools and expert advice distinguishes them.
---
Growth and Scalability
Your ecommerce platform needs to evolve alongside your business. As businesses progress, their requirements change, and the selected platform should adapt to this growth seamlessly.
BigCommerce
BigCommerce allows unlimited products to be sold on all of their plans, meaning you won't need to spend more in order to sell more products. However, if your business is looking to scale up, you may also need better support such as priority support and API support. Unfortunately, these are not available on the cheapest plan, meaning you'll need to upgrade to the most expensive Enterprise plan.
Shopify
Shopify also permits the same number of products on each plan, but if your business scales and needs additional features, you'll want to upgrade to a better package to receive the support you need. Shopify Plus, for instance, caters to large-scale businesses, boasting enhanced features and specialised support. The platform's robust infrastructure ensures uninterrupted operation, even during high-traffic events.
ShopWired
ShopWired understands the growth trajectory of online businesses. ShopWired's platform is built to ensure that as your business expands, your online store can seamlessly grow with it. With a range of plans catering to different business sizes, upgrading is straightforward. Moreover, ShopWired's in-house developed features ensure that even as you scale, you won't be forced to rely heavily on third-party apps, which can complicate operations. The unique offering of SEO packages also means that as your business grows, your online visibility can be optimised to match that growth.
---
Conclusions & summary - BigCommerce vs Shopify
Which platform is best overall? How does ShopWired compare?
Choosing the best ecommerce platform for your needs is a tough decision, and hopefully this guide has given you something to think about. We'd always recommend starting with a free trial so you can test a platform before committing to a subscription.
Many users of ShopWired tell us that they prefer to deal with a UK company and UK support team, so if you also feel more comfortable doing so, you'll want probably to give ShopWired a go.
Our favourite choice and recommendation for all UK businesses will, as always, be ShopWired!