Squarespace vs Shopify (2023 Review)
A detailed comparison of these two leading ecommerce platforms
Squarespace or Shopify - two of the best rated ecommerce platforms on the market
But which platform provides the best ecommerce solution for UK businesses?
If you're thinking about starting a business, or you're wanting to re-home your online business onto a new platform, then you might be struggling to figure out which one will suit your needs best for selling online.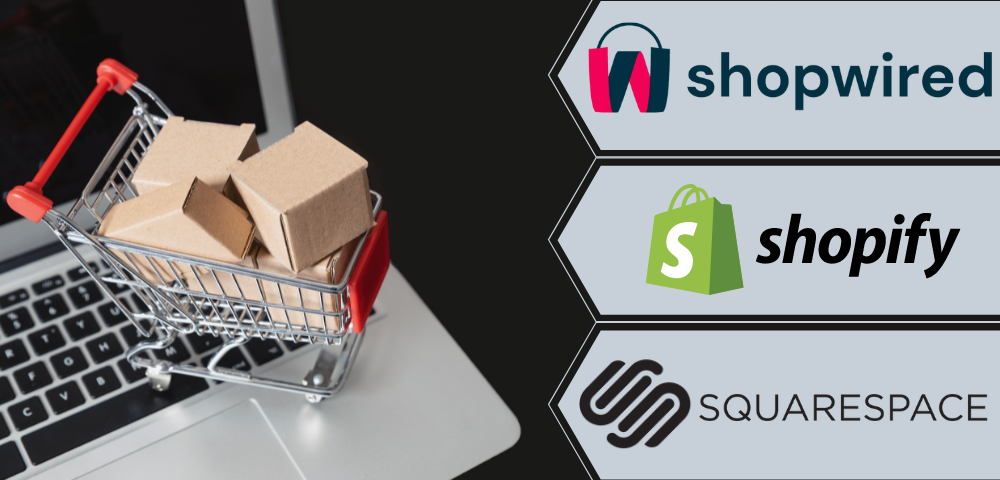 Your choice of ecommerce platform matters, so we've made it easier for you by doing some in-depth research about a number of topics on these platforms, and supplying a breakdown of it here.
While our research can help you narrow down whether to try Squarespace or Shopify, there's still no better way to get a feel for a platform then to utilise the free trial that each one offers.
Squarespace, Shopify and ShopWired all offer 14-day free trials giving you plenty of time to thoroughly test them out.
---
Pricing and Packages
The monthly price you'll pay for your ecommerce platform is sure to be very important to your business's bottom line. But before you take a look at the following numbers, it's important to remember that the same level of package from each platform won't offer you the same benefits and functions. Here are how Squarespace, Shopify and ShopWired breakdown their pricing structures:
Based on the above tables alone, it appears that Squarespace is and remains the cheapest over the range of packages, but let's take a closer look at what you actually receive with each package for all three platforms:
Squarespace
Squarespace offers a tiered pricing structure that comprises four different levels, with each higher level offering additional functionality and perks. Their most basic level has not been included in the table as it is primarily for people who are looking to create content-driven websites and offers no ecommerce functionality at all.
For our purposes we're only looking at plans which ecommerce businesses can use to create a website on which their customers can view products and place orders.
Their plans that do include ecommerce functionality start at £21 a month and rise to £37 a month for the most expensive plan. Additionally, they do offer enterprise level solutions for larger businesses, but you will need to contact them for a customised quote for this.
On the surface Squarespace's packages all seem cheaper than both Shopify and ShopWired, but upon closer examination there are some important problems with their plans.
If you elect to use their £21/month plan (the 'Business' plan), then you will also find yourself paying transaction fees to Squarespace of 3% for every order you receive in your store, and this is in addition to any fees you need to pay to your payment processor.
Other drawbacks to this plan are that customers won't be able to create accounts on your website, they won't be able to checkout on your domain and there are no ecommerce analytics offered to help you build a plan for your business.
While moving up a tier to one of their 'Commerce' plans (the first one being £24 a month) means you no longer need to pay any transaction fees to Squarespace, it does also mean that you still don't have access to some very basic and essential ecommerce functionality, namely abandoned cart recovery, subscription selling and advanced discounts capabilities.
In order to have access to this functionality you'll need to opt for Squarespace's most expensive plan at £37 a month. If you require (as most businesses will) any of this seemingly basic functionality, then you'll be paying a more expensive monthly cost than you would be with either Shopify or ShopWired, both of whom include all of this functionality on their cheapest plans.
Even on Squarespace's most expensive plan, you'll find that some ecommerce functionality that will help make running your business much simpler is simply missing.
Shopify
Shopify's plans range from £25 a month for their basic package to £344 a month for their most advanced package. Which package will suit your ecommerce business best will depend on the size of your business and what you're hoping to achieve. In addition to these packages, larger businesses can make use of Shopify's enterprise plans (called Shopify Plus) which start at a massive $2000 a month.
Basic Shopify comes with all of the ecommerce basics, such as creating and organising an unlimited number of products, managing orders and customer information, a free SSL certificate and access to POS Lite.
Just remember, that on their basic package if you elect not to use their own payment gateway, you will be paying Shopify a 2% transaction fee for every order taken on your website. Moving up a plan, in addition to everything on the basic plan, you'll be able to have 5 staff accounts (instead of 2), gain access to standard reports, create 5 inventory locations (instead of 4) and have a lower transaction fee of 1%.
As would be expected, Shopify's Advanced plan gets you access to the most perks, some of which include the ability to show calculated shipping rates at checkout, view advanced reports, set custom pricing for products in different markets and have the lowest transaction fee of 0.5%.
We've provided more details about Shopify's pricing here.
ShopWired
ShopWired's plans start at £34.95 a month, making them just a little bit more than Shopify, but you'll always know that you never need to pay any additional transaction fees. ShopWired also offers enterprise solutions which begin at £249.95 a month.
Opting for ShopWired's cheapest plan, the Pro plan, means you'll have access to all of the standard features for managing products, orders and customers. You'll also receive a free SSL certificate, the ability to create offers and discounts and unlimited support. The next tier up 'Advanced' plan comes with access to advanced reports, an unlimited number of products allowance, and B2B features and accountancy apps are free of charge.
Finally, the most expensive plan comes with many additional perks the best of which being that you have full access to all of the apps completely free of charge.
---
Who offers the best free trial?
Squarespace
Squarespace's free trial is fully functional, with no need to enter card details or choose a plan, with the exception that visitors to your website will need to use a password that you create in order to gain entry. Their trial gives you the opportunity to explore all of the features that are available throughout their plans, so that you can see which plan you're most likely to need based on what aspects you use most.
During the trial, there are messages throughout the platform explaining to you which plans certain features are available on. This clear messaging means you're not likely to get confused or frustrated by later on picking a plan which is missing some things you were counting on using.
Shopify
While you can begin Shopify's free trial without credit card details and without selecting a plan, you'll need to provide your card details in order for customers to place orders on your website or for you to manually create one in the admin system.
Providing your card details doesn't end your free trial, and you can always cancel before you're actually charged. So if you're looking to thoroughly test out your store or even looking to launch it to the public in your free trial period, you'll just want to keep in mind that you'll need to choose your plan before you can do so.
ShopWired
ShopWired's free trial gives you access to all features, and you can install any of the apps that you want to test out. While some of these apps do come with a small monthly cost once your paid plan commences, you can use as many of them as you want for free during the trial period.
Like Squarespace, you don't need to choose a plan or enter card details to be able to use all of the functionality, but visitors to your website will need a password for access.
---
Platform help & support
Comparing the support offered - Squarespace vs Shopify - who wins?
Squarespace
When editing your website on Squarespace, you'll see a conveniently placed 'Help' button which you can select if you find yourself struggling with anything. Multiple options appear for you to decide in which way you want to receive help, including the option to sign up to a scheduled webinar to walk you through the basics of Squarespace.
Strangely, contacting support isn't one of the options provided, so if you want to actually talk to a person, you'll need to find your way through their help guides to their contact page.
To talk to a member of Squarespace's support staff, you can email them 24/7 or live chat with them between the hours of 8 AM and 8 PM EST, Monday - Friday.
Upon signing up for a free trial, Squarespace will send you a generic welcome email which tells you details of your website and links to the support section of their website. With no further communication, they pretty much leave you on your own to figure out what to do to set up your store, but you can always reach out to their support team for help.
There are also forums that you can peruse to see if someone has previously had a similar issue to yours, and what solution they were offered, which might be a quicker alternative to contacting their support.
Shopify
Shopify make it a bit difficult for you to find out how to contact them as they haven't made their support options easily accessible from the admin system. However, once you have found how to contact their support, you can email or live chat with them 24/7. Like Squarespace, you can also make use of Shopify's forums which might be an easier way for you to get an answer to your questions.
Upon creation of a free trial, Shopify take a bit more of an interest with how you're finding the platform, as they send you multiple emails which contain links to some specific sections of their help website that are useful when building a store. While this approach is not personalised, it does remind you that you can find answers if you're struggling with creating your site.
ShopWired
ShopWired offers UK based support that is available on live chat or through a booked phone call from 9AM - 10PM Monday - Friday, and in case of emergencies on Saturdays & Sundays. ShopWired also say that their email inbox is monitored around the clock (24/7) so you can email them anytime and they'll respond as soon as their able to.
Accessing support is easy from the admin dashboard. Simply click the 'Get Support' button at the bottom of the left menu and decide how you want to get in touch.
When you sign up for a free trial with ShopWired, a member of the support team will send out a welcome email to you, encouraging you to get in touch if you need any help with setting up your store. Throughout the course of your free trial you can expect multiple emails, offering support and supplying you with information for what else you need to do to complete set up for your store.
ShopWired have a dedicated onboarding team who are specifically trained to help you during your free trial.
---
Public opinion and real customer reviews
What could be more telling about the capabilities and strength of a platform than the views of people just like you who are using these platforms to start their own businesses? Let's see how these platforms stack up on popular review sites.
Trustpilot
Squarespace and Shopify are both ranked as 'Bad' on Trustpilot.
Squarespace has achieved a score of only 1.7 out of 5 stars, with many reviews complaining about the lack of support they've received on the platform. While they have claimed their Trustpilot profile, they don't take the time to respond to any negative reviews.
Shopify has an even worse score of 1.3 out of 5, and also doesn't respond to negative reviews, with many reviews complaining about being locked out of their account, poor support and the additional costs on top of the monthly fee.
We have created a guide specifically about Shopify reviews, specifically from UK businesses and review websites, here.
On the other hand, ShopWired's Trustpilot score is excellent, with a score of 4.9 stars out of 5.
With glowing reviews from hundreds of users praising the support team, the ease of use and user friendly platform, ShopWired rarely receives a bad review and are always quick to respond on the odd occasion they do.
G2
On the G2 business software review website, which is based in the US, both Squarespace and Shopify fare better, with 4.4 and 4.3 stars respectively:
ShopWired started collecting reviews on G2.com in March 2022 where we have 89 reviews and scores of 9.9/10.0 for support, 9.6/10.0 for ease of use and 9.5/10.0 for ease of setup. A total score of 5 stars!
Read ShopWired's G2.com reviews here.
---
Squarespace vs Shopify - Ecommerce platform features
As expected, all three platforms offer ecommerce functionality that includes the ability to create and manage products, inventory management features, accept orders through your website and create a hosted website with your own branding. You will, however, probably be wanting more features which help with marketing and the day-to-day running of the business. Here's how each platform performs on their range of features:
Squarespace
Squarespace have a plethora of fantastic content management features especially revolving around blogging, social media linking and photo and video editing. In fact, their blogging features are much better than either Shopify or ShopWired's offerings. With the ability to determine exactly how your blog looks and connect directly to services such as Apple News, if your blog is going to be a heavy feature of your business, then you'll want to test out all of the blogging features during your free trial.
However, when it comes to ecommerce capabilities, since Squarespace was not intitially set up to be an ecommerce platform, they are lacking in quite a few areas. While they do offer all of the previously mentioned, obvious functions needed to have an online store, they are lacking in some features that would be helpful if you really want your ecommerce business to take off.
Here's a quick run-down of the ecommerce features you'll be missing if you choose Squarespace:
Multichannel selling - While Squarespace does now offer a connection with Etsy, if you also want to sell your products on Amazon, eBay or Google Shopping, then you'll need to set them up entirely separately from your Squarespace account, which can make for stocking issues and a complicated system of managing multiple avenues of your business. Using a different platform which has apps to allow you to easily sell across multiple channels would be much easier.


B2B features - Squarespace does not offer any specific B2B features, such as trade specific discounts, the ability to offer credit accounts or the ability to offer offline payment on your website. If you are a business looking to sell to other businesses, Squarespace might not be the best option for you.


Manually creating orders - There is no way within the Squarespace platform to manually create an order. If you receive orders from customers offline, such as by post or phone, then you'll have no way to create them within the platform. Additionally, if you're located outside of the US, you won't have access to a POS system, as Squarespace's own POS system is not available internationally and they offer no extensions to connect your store to third-party vendors.
Shopify
As the largest ecommerce platform in the world, Shopify boasts the largest app store, with thousands of apps, most of which were built by third parties.
While this large range does offer you many extra features, you'll want to be wary of which and how many apps you pick as not all of them will be of good quality and many of them add extra costs onto the running of your store.
Additionally, Shopify's own support team won't be able to help you with the functions of third-party apps, so you'll find yourself relying on additional support teams who might not be up to the task.
Shopify do also offer some in-house built apps which:
allow you to upload 3D models of products
help you to combat fraud in your store
allow you to create QR codes to link to your products
help you dropship with AliExpress


ShopWired
ShopWired's core platform supports a range of extra ecommerce features, including multiple ways to create powerful discounts and offers, powerful analytic reports and click + collect capabilities. ShopWired also offers a wide-range of apps, built by an in-house app development team, which easily add other important functions to your store.
These include:
Multi-channel connections to Etsy, eBay and Google (plus Amazon coming soon!)
Capabilities to create subscription and pre-order products
The ability to create quotes to send to potential customers
DropWired - a dropshipping app which connects to AliExpress
Digital products - sell digital downloads and products to your customers
Plus if you're looking for powerful B2B features which don't cost a fortune, ShopWired's 'Trade Accounts' app has you covered, allowing you to set discounts for trade customers and to create an entirely separate environment on your website that can only be seen by customers logged into a trade account. While this app comes with a small cost of £10 a month on the 'Pro' package (compared to a base cost of $2000 a month for B2B features with Shopify plus), it comes included with the top two package choices.
---
Payment Gateways
Making the decision of how you want to accept payments is huge, as you'll want to make sure you're offering enough options to not alienate anyone. What options you can offer to your customers will largely depend on who your chosen platform integrates with:
Squarespace
Squarespace only offers a measly two payment gateways for you to choose from. However, in all fairness, the two they do offer are two of the biggest names in the payment processing industry, PayPal and Stripe. But if you're hoping to shop around to find the most competitive rates out there to ensure you get to keep as much of your money as possible, then Squarespace isn't for you.
Also remember, if you opt into their 'Business' plan, you'll owe Squarespace 3% in transaction fees for every order you receive on your website.
Shopify
Shopify boasts the largest number of integrated payment gateways with over 100. Unfortunately, they'll also penalise you for using all of the payment gateways they integrate with. Any account which doesn't use Shopify's own payment gateway, Shopify Payments, will also have to pay Shopify transaction fees, which are determined by which plan you are on but range from 0.5% - 2%.
ShopWired
ShopWired integrates with over 60 payment gateways. You can easily add as many of them to your store as you like from the payment gateway page in your account. ShopWired doesn't charge additional transaction fees for the use of any payment gateway on any plan.
If you want an extensive choice of payment gateways to choose from without the hindrance of additional transaction fees from your ecommerce platform, then ShopWired will be your top choice here.
---
Ecommerce themes for your online store
The way your website appears to your customers is very important to your business. You want your store to fully reflect your brand and values and also to work seamlessly for your customers so they have a flawless buying experience. Here's what each platform has to offer for theme choices:
Squarespace
With themes and design being the very heart of what Squarespace began by doing, this is where they truly shine.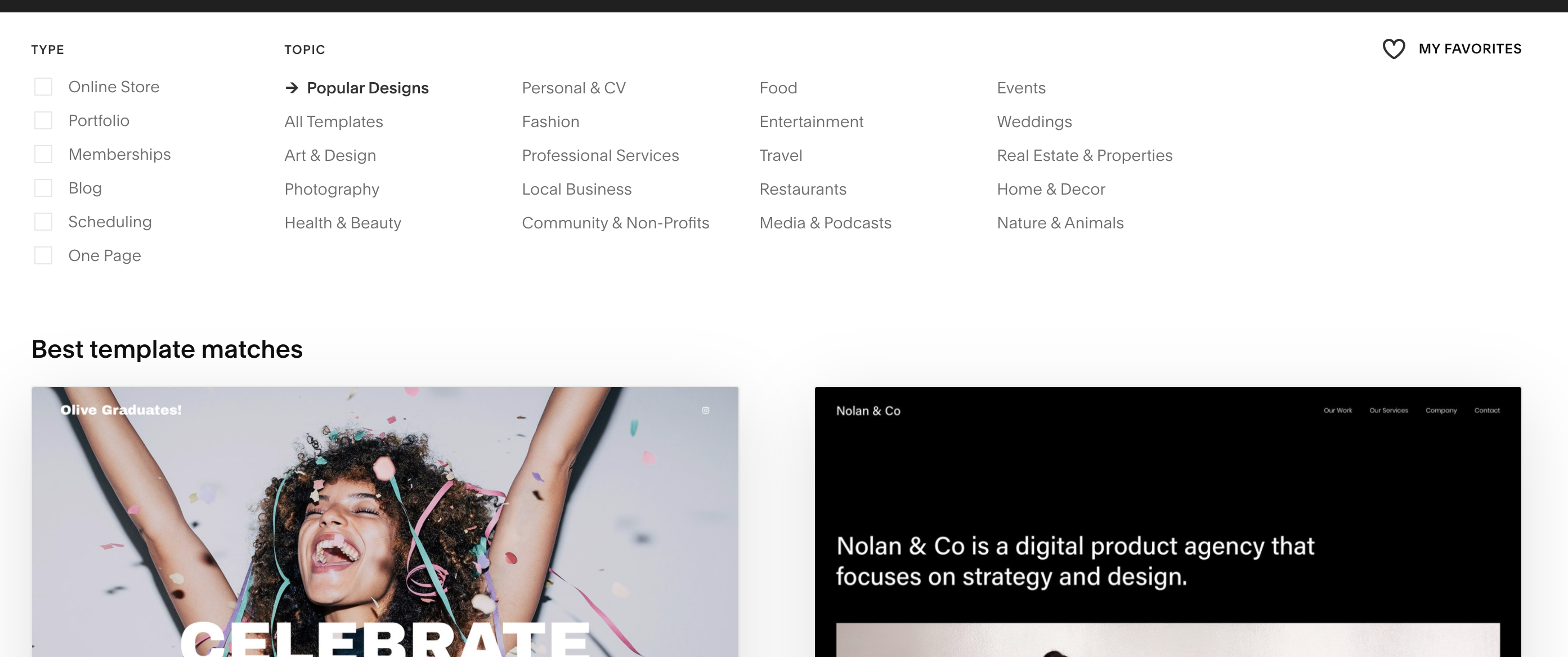 While their ecommerce features can leave a lot to be desired, if the look and ease of changing your website is what matters most to you, then you will want to take a serious look at using Squarespace. All of the Squarespace templates are provided for free and are easily customisable to your needs, with drag-and-drop functionality.
One drawback:Squarespace doesn't allow you to have full access to the coding of your website. If diving into the coding of your website, and its HTML files, sounds a bit too complicated then this might not matter at all to you. However, if you want full control over the way your website can look, then you'll be better off using Shopify or ShopWired.
Shopify
Shopify offers over 80 themes for you to choose from, but only 10 of them come with no extra cost to you. The rest of the themes range from $150-$350, but do come with a free trial so you can see if it works well for your business before buying.
Like Squarespace, Shopify has organised their themes by industry to help you find one best suited to your business.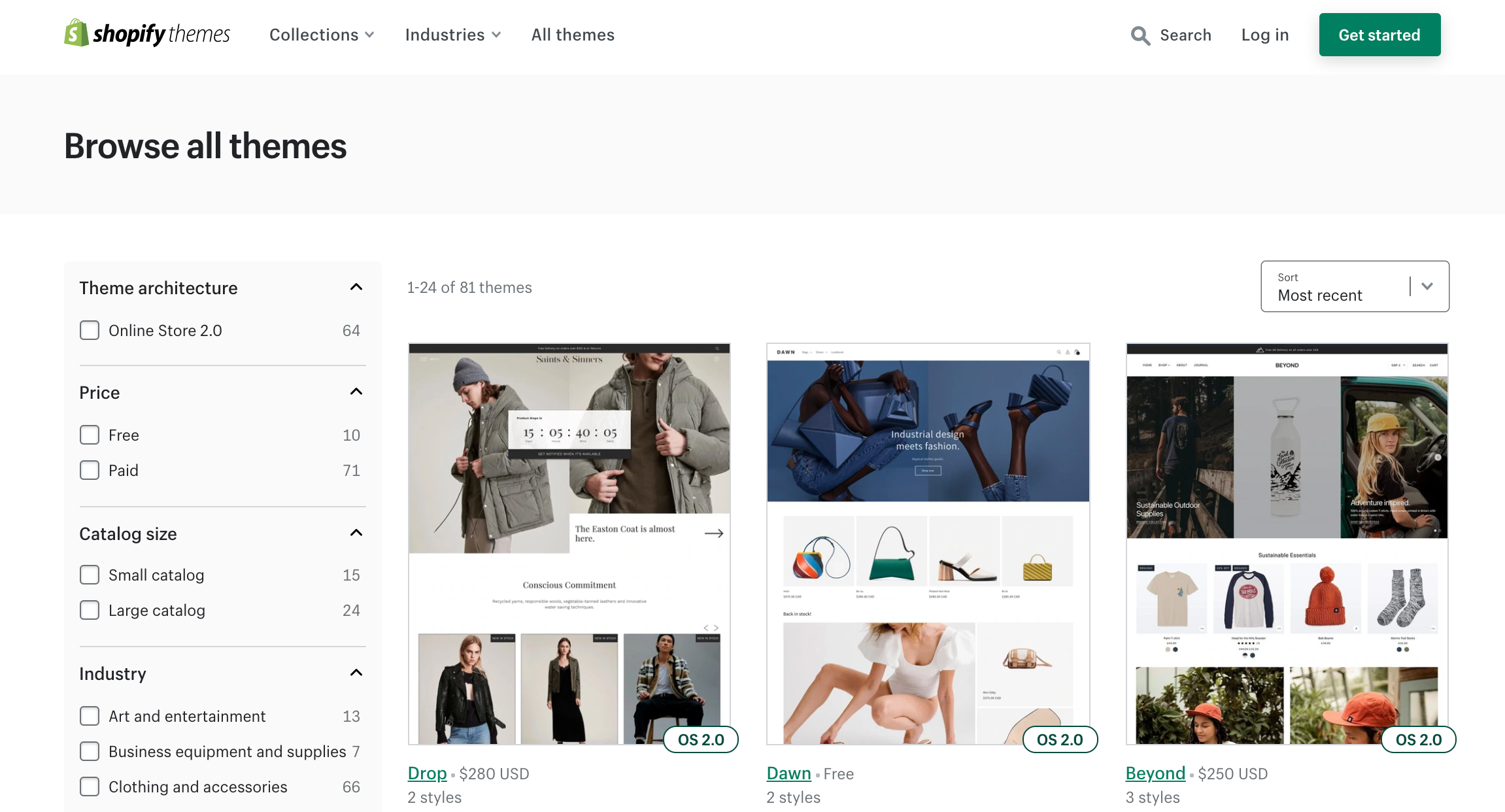 With Shopify's themes you can customise everything from colours to fonts to layout, also using drag-and-drop functionality.
ShopWired
ShopWired has 20 themes for you to choose from, all of which can easily be installed on your account at no cost to you.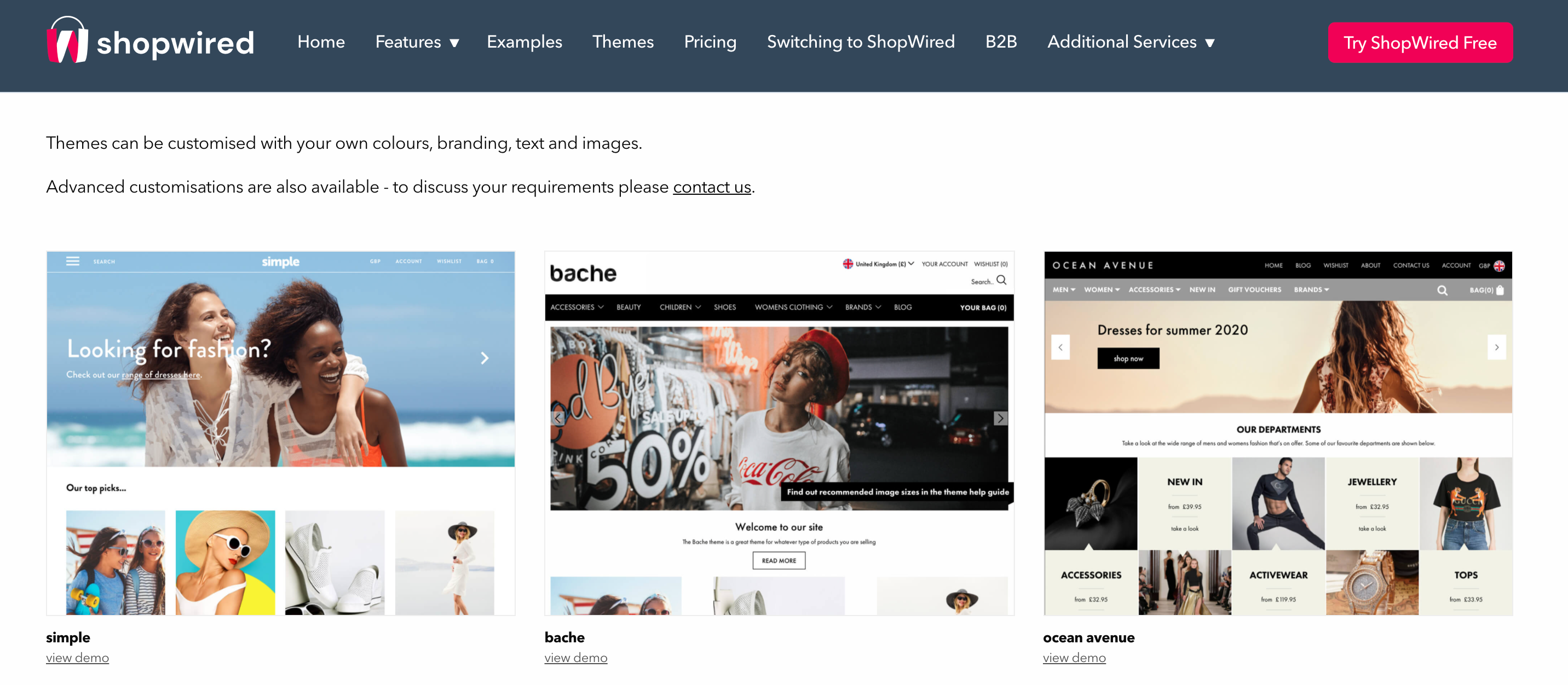 While the choice of themes on ShopWired isn't quite as expansive as Squarespace or Shopify, they are all built to be fully functional on any device and to offer a nice range of different design styles for you to pick from.
More theme choices will be added soon in addition to drag-and-drop functionality, which will help make ShopWired's themes more easily customisable.
---
Conclusions
Squarespace vs Shopify - which is the best platform?
After exploring each of these platforms, which one will be right for your business will depend on what you're hoping to accomplish and what aspects you value most. Here is a summation of when we think each platform will work well:
If you simply want to create a content heavy website with information for your viewers, then Squarespace is your best bet. However, if you're here reading this review and comparing solutions like Shopify and Squarespace then that won't be all that you want from your chosen ecommerce platform.
So if you're looking to really grow a successful ecommerce business with tools that offer you loads of functionality right out of the box, then you'll want to turn your attention more towards ShopWired and Shopify.
A decision between these two platforms depends on what matters most to your business. If you want an ecommerce platform that offers more, even if not necessarily better apps and functionality, then you'll probably want to head more towards Shopify. However, if strong support and ease of use is what you favour, then ShopWired is absolutely who you should use.
But don't just take our word for it, take out free trials with each of these three ecommerce platforms and see for yourself who you prefer.