Compare Wix vs Shopify
2023: A Review Of Who Provides The Best Platform For Ecommerce Websites
In this article we're comparing Shopify, Wix and ShopWired - three of the largest ecommerce platforms in the UK. Find out below which platform offers the best features, functionality and support for UK businesses.
Wix vs Shopify - which ecommerce platform offers the best ecommerce websites for UK businesses?
If you're creating a new ecommerce business, or looking for a platform for your existing business, you'll want to use the best ecommerce platform for your needs. Choosing the right provider for your business will determine how well your store will function, how easily you'll be able to run your business and how your website will look. Ultimately, it can determine whether your business will have the key ingredients for success.
The ecommerce space is a crowded one, with many different ecommerce platforms to choose from. It's understable that you might be struggline with which one will suit you and your business best - or even if there's that much of a difference between them.
This comparison of three of the ecommerce website builders in the UK, Wix vs Shopify and ShopWired will help you understand their key differences and hopefully assist you in figuring out which one will be the most cost effective and provide the best solution for your business.
All three of these providers offer free trials - and it would always be ShopWired's recommendation to take out a trial and evaluate the tools provided by each platform as much as possible. You may find that one platform lacks a feature which is a 'must have' for your business.
Read through our comparisons below to help you narrow down which platforms you want to test out, and then start your free trial(s) for Wix or Shopify and ShopWired.
---
Pricing & packages
We'll start with pricing. This is likely to be one of the most important aspects you'll consider when selecting a platform. Here's a quick breakdown of what each platform will cost you. Prices listed below are exclusive of any taxes that you might pay.
Enterprise pricing
Both ShopWired and Shopify offer a 'white glove' enterprise services. ShopWired's Enterprise packages start at a monthly cost of £199.95/month, and Shopify Plus starts at $2000/month. Wix does not offer enterprise pricing and its fair to say that their platform should not be considered for any business turning over more than approximately £200,000/month.
For Enterprise level stores, its clear that ShopWired offers the best value for money in comparison with the minimum Shopify cost of $2,000/month.
Wix
Wix is easily the cheapest of the platforms with the Business Basic package costing just £13/month. But this package does come with some limitations (for example, no subscription service, few shipping rate controls and no ability to list on marketplaces like eBay or Etsy).
Wix's other two plans are also considerably cheaper than either Shopify or ShopWired costing either £22/month (Wix Business VIP) or £17/month (Wix Business Unlimited). Even the Wix Business VIP plan, their top plan for ecommerce businesses, comes with various limits such as a storage space limitof 50GB.
Whilst Wix has a great theme and website customisation tool (which we describe below), its ecommerce features are limited and this is reflected in the pricing to use it.
Shopify
Shopify's basic plan offers the next cheapest option after Wix. There are however hidden costs that you should be aware of. Shopify charges don't end with just their monthly fee, they'll also add on transaction fees if you don't use their payment gateway Shopify Payments and these are 2% on every transaction on their basic plan. So in addition to the payment gateway fee you have to to your payment processor, you'll also have to pay Shopify an additional 2%.
Ontop of that, many basic features which come included with most other platforms like ShopWired or EKM, are only available with the use of third party apps - which can work out quite expensive as each has its own monthly fee.
Shopify's hidden costs are a hot topic. You can read more about them here.
If you're not suitable for Shopify's Basic plan, the monthly price ratchets up quite quickly going to $79/month for the Standard plan and a whopping $299/month for their Advanced plan.
ShopWired
ShopWired's plans fall in the middle of the price range, and with each plan we offer there are no additional transaction fees. You will have unlimited access to our dedicated support team and access to all the standard ecommerce features that your business needs.
In addition to the standard features you'd expect from any ecommerce platform, you can install apps to extend the functionality of your website, store and ShopWired's admin panel.
All of ShopWired's apps has been built in-house and are supported by ShopWired's support team. This is stark contrast to Shopify's bursting app store where 95% of the apps are built by third party developers that Shopify's support team will offer no support on at all.
The vast majority of ShopWired's apps are provided free of charge, and only a few have an additional monthly fee depending on which package you select. If you use ShopWired's top package you will pay no app fees at all.
---
The best free trial
Free trials are not built equally, so one of the aspects of your evaluation process will include how well you can trial a platform before making a commitment. Each platform operates differently and has its own quirks that you will and won't be able to deal with.
Shopify and ShopWired offer 14 day free trials that are fully functional. Wix is slightly different.
Wix
Does Wix offer a free trial? Well yes...sort of. You can actually host a website for free on Wix but if you want access to any of the premium features you'll need to upgrade to a premium plan.
When you upgrade to a Premium plan on Wix you'll need to pay the monthly fee in advanced (by entering your card details) so you'll be charged immediately. However, you have 14 days to evaluate the features and if you decide not to proceed within that time you can get a full refund.
This is a bit of a stumbling block and so overall we'd rate Wix's 'free trial' at a 5 out of 10.
Shopify
While you aren't required to input your card details to activate Shopify's free trial, you and your customers won't be able to place any orders in your store until you have picked a plan and entered your card details, so they're ready to charge when the trial ends.
While there's no harm in entering your card details as you can always cancel your free trial later, you will no longer be able to access your store as soon as you cancel your trial.
This means that to test all of Shopify's features out over the full two week period, you'll want to keep in mind that if you don't want to continue using them and don't want your card to be charged, you'll need to remember to cancel.
ShopWired
ShopWired's free trial is a stark contrast, is fully functional and gives you access to all features and all apps. Any apps that do have a monthly fee can also be trialled free of charge during the trial period.
While you're in the free trial period, the holding page for your website will stay on until you've picked a plan. Potential customers, or anyone who visits your website, will need to know your password to gain access to your holding page.
Once you've activated your ShopWired store and chosen a paid package, you can remove the holding page and start trading immediately.
---
Platform support?
Comparing the support offered by Shopify and Wix - who provides the best support?
Wix
Wix is headquartered in Israel and has offices around the world (Brazil, Canada, Germany etc.) but does not have a support team based in the UK.
Wix offers support in English 24/7 but the quality of technical support that you will get is debatable. Many reviews of Wix's support service on platforms such as Trustpilot claim that the first line support offered by Wix is inadequate and that support technicians are unable to answer simple question.
Wix is a self-service problem, so you should not expect to receive onboarding assistance whilst you create your Wix website. Wix will not proactively reach out to you to offer help and support in getting your business setup.
Wix does offer telephone support but there is no incoming phone number to call, instead you can request a call back (and an estimated time of when you will receive a call will be made available to you), or alternatively you can book a call with the support team at a time convenient for you.
Shopify
Making contact with Shopify's support team is not easy. You will first need to navigate through various support articles and forums before you will be able to make contact with someone. Support cannot be accessed from within the Shopify admin system, and will require you to do some searching to find how to receive direct support with your query. Once you do manage to find how to contact Shopify's support, they offer different support options 24/7, including a live chat. Additionally, you can find a helpful community through the Shopify forums who might be able to answer some of your questions.
When you sign up for a free trial with Shopify, you will be sent emails throughout your free trial as they offer help with the different aspects of setting up your website. Various links to help guides will be sent to you that aim to help you build your store. Whilst these emails aren't personalised to you or the progress that you're making (for example you might receive an email about creating shipping rates when you've already set them all up), you may find them of some help.
A large part of Shopify's ecommerce ecosystem is contained within the network of Shopify Experts. You will certainly be able to get assistance in setting up your store or with any support issue that you might have from a Shopify Expert, you'll just have to pay for it.
Upon signing up for a free trial with Shopify you will be sent a number of different emails with links to different aspects of their help website which might answer any questions you have. While these emails aren't quite as personalised as the approach that ShopWired and EKM take, you can still find some useful information in them.
ShopWired
ShopWired is a UK platform built for UK businesses. We provide support from our UK headquarters in Birmingham. Support is available by email, or through live chat or through a booked phone call from 9AM - 10PM, Monday - Friday. Emergency and business critical support is also available throughout Saturdays & Sundays. Email support is available out of standard business hours as well. Accessing support is easy from the admin dashboard. Simply click the 'Get Support' button at the bottom of the left menu and decide how you want to get in touch.
When you first sign up for a ShopWired free trial an email is sent to you from one of the specialist onboarding team encouraging you to reach out if you need any help at all. During your trial, one of our onboarding team will regularly check in with you monitoring your progress and helping you with anything that you are stuck on. You can also contact the dedicated onboarding team yourself who can help you with any questions you have during your free trial.
---
Public opinion and real customer reviews
Online reviews of ecommerce platforms can give you great insight into the type of service, features and support that you will receive from your chosen company.
Here's a quick breakdown of the reviews of Wix, Shopify and ShopWired on the most popular review websites.
TrustPilot
The biggest review site in the UK for businesses is TrustPilot. ShopWired is the clear winner in reviews left on Trustpilot with a score of 4.9/5.0 stars. ShopWired is also indicated as responding quickly to any negative reviews.
Shopify hasn't claimed their business profile on Trustpilot and have a very poor rating of 1.3/5.0. Wix's reviews are equally as poor, at just 1.7/5.0.
Unlike Shopify, Wix has claimed their business profile and does respond to negative reviews - but not all of them. At the time of writing, Wix has responded to 83% of negative reviews and typically replies to negative reviews in under a week.
Most reviews about Wix relate to users complaining about a poor experience, particularlly with the Wix support team. It is fair to say that a lot of negative reviews about Shopify seem to be from customers complaining about products thye have purchased through a Shopify store - for which Shopify is not to blame directly.
G2
G2.com is a review platform that is popular in the US and other parts of the world where Shopify and Wix are used. It's more focused than Trustpilot towards technology solutions like ecommerce platforms.
Both Shopify and Wix fair much better on the G2.com review platform than on Trustpilot
ShopWired (at 4.9/5.0) is still the clear winner in comparison to its closest rival Shopify (at 4.3/5.0), but Wix follows closely behind at 4.2/5.0.
---
Ecommerce platform features
Shopify and ShopWired both offer all the basic ecommerce features that you would expect to find on an ecommerce platform. Features including product creation and inventory management, website hosting, order processing, customisation and personalisation options and full shopping cart and payment gateway functionality. Wix on the other hand does not have the same full range of ecommerce features so it is wise to have a closer inspection of the features on offer on Wix before making the decision to choose it as your platform.
When looking for the right ecommerce platform you will both want to see how the basic functionality operates and also see what additional features each platform offers to expand how you can use your store.
---
Additional features
Wix
Wix does not offer any additional ecommerce features to note here. It has no ecommerce 'USPs' or functionality that isn't available on ShopWired or Shopify.
Shopify
As a larger platform, Shopify's app store contains a vast range of apps to add functionality to your store and business processes. Most of those apps have been built by third parties. While all the apps available on Shopify's app store have to meet Shopify's requirements, you'll still need to be cautious about the apps you choose to install. Not all the apps are as well built as others and a poorly made app can wreak havoc on your store's data. You'll also want to keep in mind that if you run into an issue with a third party app, you will need to contact the app developers directly to fix it. Shopify's support won't be able to assist you with fixing the app.
Shopify's own built apps expand your store's functionality by offering you the ability to upload 3D models of products, combat fraud in your store, connect to the Google Merchant Center and create QR codes to link to your products, just to name a few. Additionally, if you're interested in dropshipping, Shopify have their Oberlo app which allows you to source products from AliExpress. Check out Shopify's app store to see what else they have to offer.
ShopWired
ShopWired has a smaller range of ecommerce apps. They are all built by ShopWired themeslves, so you don't need to worry about contacting third party providers for support or worry about apps not working properly and damaging your store, business or brand.
Some highlights of what ShopWired's apps have to offer are to allow you to create and manage quotes to send to customers, offer a subscription service, advertise and manage pre-order products in your store as well as connections with major marketplaces like eBay and Etsy. Additionally, ShopWired also have their own dropshipping app called DropWired, which allows you to source products and place orders directly with AliExpress. Look through ShopWired's apps and integrations page to see what other apps are on offer as well as what apps are coming soon.
---
Trade features
Wix
Wix does not offer any features or functionality for trade/b2b/wholesale ecommerce. If selling to other businesses forms an important part of your online business, then you should probably not use Wix and look for an alternative platform instead.
Shopify
To use trade features and functionality on ShopWired, you will need to find and pay for an appropriate third party app. Shopify does not offer native trade features itself. Alternatively, if you have the budget and are using Shopify Plus (costing $2000/month) you will have access to various features that enable wholesale ecommerce.
ShopWired
ShopWired does have native support for a number of trade and wholesale features. They are activated very easily by installing the relevant app, and ShopWired's features are regarded as 'best in class' for B2B ecommerce in the UK. Using the trade functionality available you can create an entirely separate category and product environment for your trade customers, set different pricing for each customer for each product, and create other types of pricing rules like bulk and tiered pricing.
If your business is heavily involved in B2B transactions, you will want to check out the trade accounts app during your free trial to see just how many features it offers you. Once your free trial is over, if you opt for the basic plan, this app will cost you £10/month, but comes free with the more expensive plans. This means that offering trade features works out a lot cheaper on ShopWired.
---
Ecommerce themes for your online business
Which platform offers the best ecommerce themes? Wix or Shopify?
The theme you choose for your online store is perhaps one of the most important aspects of your online business. It will determine your brand, values and how easily your website's visitors can use your website and make a purchase. You will want your ecommerce website to reflect your company's values and keep your customers coming back to purchase from you again and again. Here are the offerings from each platform in regards to theme availability and customisation:
Wix
When it comes to themes, Wix probably offers the largest selection with over 150 ecommerce themes available through their website. Wix has a great system for searching through the available themes by industry, sector and theme type.
You can also use the search on Wix to find out the most popular themes and any new themes recently launched. They also have a range of 'blank themes' too which look like wireframes and are completely customisable.
Wix has a drag and drop theme customisation system which should enable users of any level of experience to create a website of reasonable to excellent quality.
Wix's platform does not allow you to edit the HTML of your website's theme so advanced customisations to your template using coding (HTML/CSS/JS) are not really available.
Shopify
Shopify's theme store contains approximately 80 themes for you to choose from, but only 10 of them are free. The paid themes prices range from around $150 to up to as much as $350. Many of the paid themes come with a free trial so you can try before you buy.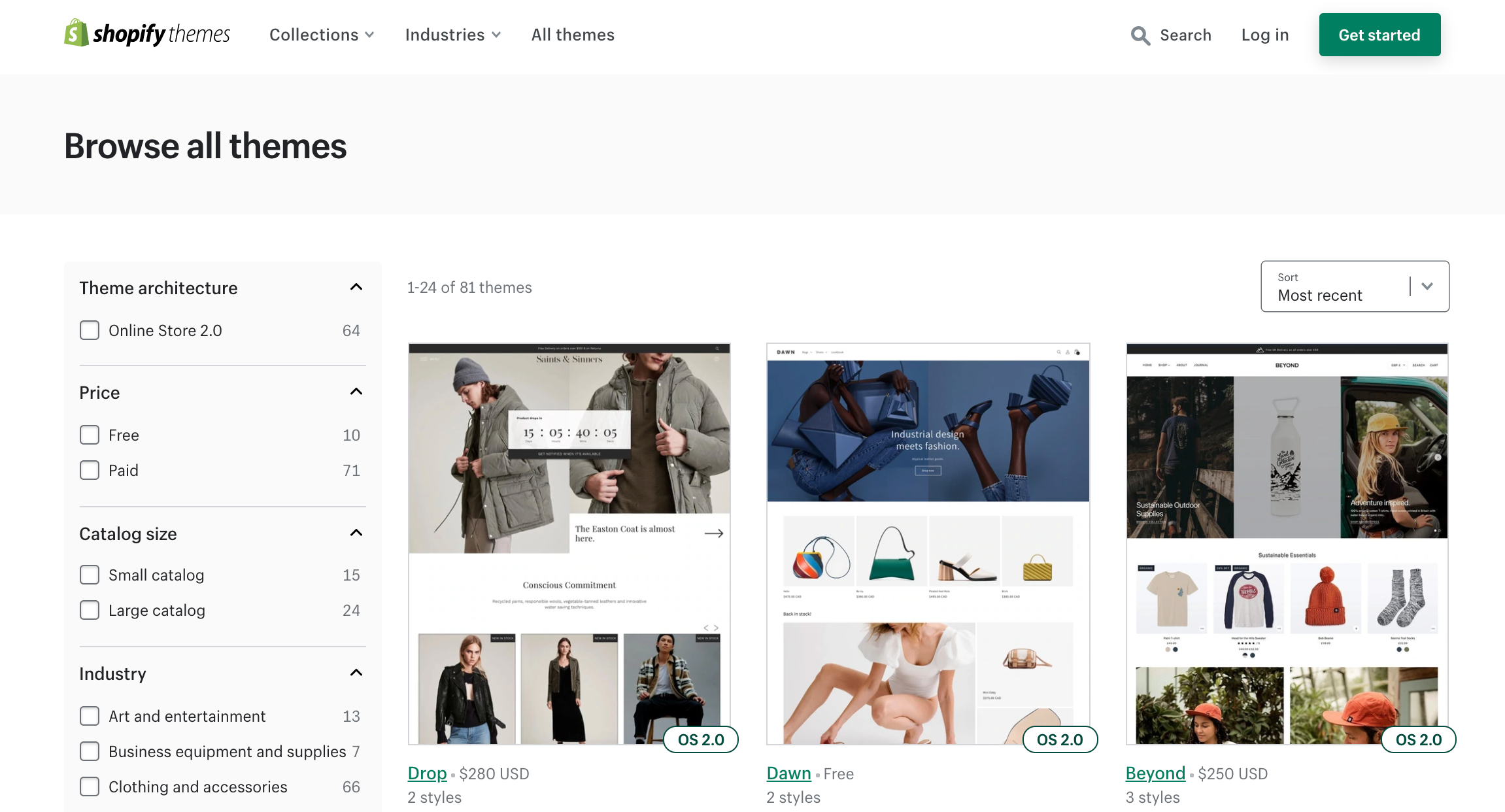 Shopify's theme customisation offers drag and drop functionality with a live preview editor. This makes adjusting themes to suit your branding a breeze.
Within your chosen theme you can customise everything from the colours to the font to the layout of each page. Shopify does offer advanced customisation as standard, so you are free to edit the files that make up your theme in as much detail as you want.
ShopWired
At the time of writing, ShopWired offers 20 fully functional ecommerce themes. All themes offered are free of charge and are optimised for mobile and tablet devices.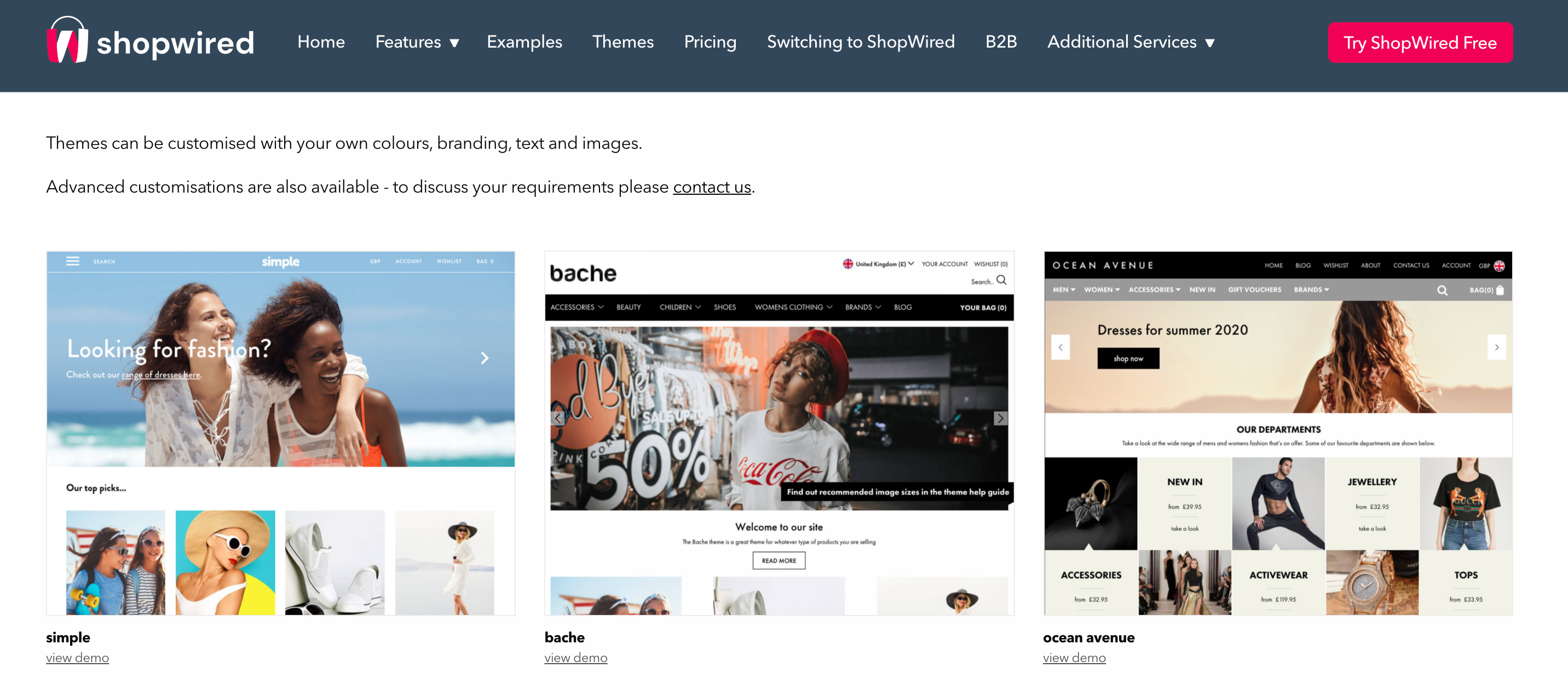 While ShopWired offers a good range of well-crafted, responsive themes, the current theme customiser doesn't offer drag and drop functionality. This means that advanced customisation without coding knowledge is not as easy on ShopWired as it is on Shopify or Wix. ShopWired's set of Version 5 themes are coming soon with new drag and drop functionality which will make ShopWired more competitive in regards to theme customisation.
Conclusions
Wix vs Shopify - which is the best platform for your business?
Choosing the best ecommerce platform is difficult. We would always thoroughly recommend that you take out a free trial of each of the solutions on offer.
Each business's requirements are slightly different and unique to them so there's no firm advice we can offer on which platform is the best for you, but we hope that our review has helped you in your journey to deciding.
Many users of ShopWired tell us that they prefer to deal with a UK company and UK support team, so if you also feel more comfortable doing so (rather than North American based Shopify or Israeli based Wix), you will probably prefer to use ShopWired.
And finally, whilst its great to have great features don't forget that the best ecommerce platforms come with great support too! We'd always recommend that you ask the support team a few 'curve ball' questions and see what type of response you get. Even if you don't have any now you never know what direction your business will travel in.
Our favourite choice and recommendation for all UK businesses will, as always, be ShopWired!