Wix Ecommerce Pricing (2023 Guide & Summary)
In this review, we'll examine the costs and pricing for businesses using Wix for an ecommerce website
Wix Ecommerce - An affordable solution for UK businesses?
Wix is a popular and versatile website builder boasting numerous users worldwide. It offers a robust array of tools and features, making it a solid solution for those looking to establish an online presence, be it a blog, a portfolio or an ecommerce store.
But how much does Wix really cost? How do their different pricing plans function? And how can you discern which plan is ideally suited to your needs?
In this guide, we'll answer these questions as we work out how much you can expect to pay to use the Wix platform. Keep reading to find out.
---
Wix pricing explained
Building a website can be a daunting task, particularly with all the various pricing structures that different platforms offer. Wix offers a diverse array of pricing plans to cater to various needs, from website only plans, to business ecommerce plans and large-scale enterprise plans.

In this guide, we're going to focus on Wix's Business and eCommerce Plans, but let's take a quick look at all of Wix's paid premium options and find out what they mean.
Website Plans
Wix's paid website plans provide everything you need to start a basic website, but you won't be able to run an ecommerce store. Wix's paid website plans are well-suited for individuals and small businesses seeking to create an online presence without ecommerce capabilities.
There are four price brackets for the website plans, ranging from £4-21 per month.
Enterprise Plans
At the opposite end of the scale are Wix's enterprise plans. For pricing, you'll have to get in touch with Wix for a custom quote depending on your budget and needs.
Wix's enterprise plans are ideally suited for large businesses and organisations that require advanced features and custom solutions. These plans offer greater flexibility, scalability and dedicated support, making them a good choice for businesses that have complex needs or expect high volumes of web traffic.
Business and eCommerce Plans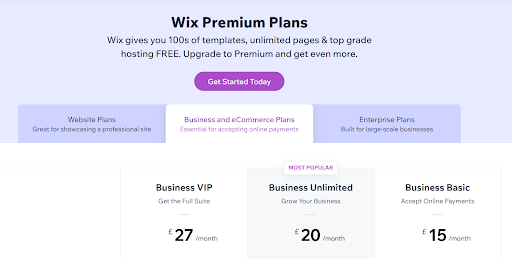 Last but not least are Wix's Business and eCommerce plans.
If you want to sell through your Wix website, you'll need one of these plans. There are three to choose from:
Business Basic
£15 per month
Business Unlimited
£20 per month
Business VIP
£27 per month
Wix's Business and eCommerce plans include everything from the Unlimited website builder package, as well as new additional features to boost your online store, including:
Unlimited products to showcase on your site
Abandoned cart recovery
Multi-channel selling including via socials (such as Instagram).
However, while it's good that these core features are available on all of Wix's ecommerce plans, each plan has some key differences and omissions you should know about.
---
Wix features by price plan
Business Basic
£15 per month
Pros:
Customers can create accounts for fast checkout and specific payment methods
Ability to sell across multiple social channels, including Instagram and Facebook
Abandoned cart recovery via email reminders to improve conversions
Unlimited products can be uploaded
Cons:
Not all currencies are accepted which could cause issues for international sellers
No advanced shipping methods
No marketplace selling functionality - which means no eBay, Amazon or Etsy sales
Wix's Business Basic plan is perfect for small businesses just starting out. It provides just enough core features to set up an ecommerce store and start making sales. And considering its relatively low cost, Wix's Business Basic plan is a solid offering compared to equivalent plans from its competitors, such as Shopify who charge £25 per month for their Basic plan.
Business Unlimited
£20 per month
Pros:
Setup subscriptions for your customers for repeat orders
Advanced shipping methods let you target more customers
Product prices can be displayed in multiple currencies to attract more international customers
Integrated sales channels with some of the world's biggest marketplaces - including eBay
Cons:
No priority support
Can't create custom reports to analyse sales performance figures
Dropshipping functionality is available - but it's rather limited compared to the VIP plan and other ecommerce platforms like Shopify
The Business Unlimited plan is a step up from Basic, giving merchants even more tools and functionalities to build an online store. This is the plan for businesses looking to take their sales to the next level. It's also more suited to merchants that sell internationally, as it features multi-currency functionality and sophisticated shipping strategies, including comprehensive order fulfilment. These features can significantly benefit those who aspire to start trading internationally by addressing two major challenges faced by online businesses: displaying accurate prices in the customer's preferred currency and ensuring the secure and trouble-free delivery of goods from abroad.
The Business Unlimited plan also lets merchants set up subscription services for customers with automatic recurring payments.
Furthermore, the Business Unlimited plan lets your business leverage Wix's partnership with the dropshipping supplier Modalyst, providing stock for up to 250 products. for those looking to set up a dropshipping business, this could be the solution.
However, the Business Unlimited plan doesn't match the premium offerings of Wix's Business VIP plan (which we'll look at next). For example, you're left with only 10 hours of video content, no priority customer support and no customised reporting to facilitate data-driven decision-making.
Business VIP
£27 per month
Pros:
Unlimited video hours allows you to sell, rent or offer subscriptions to your video content
Priority customer support- jump the queues and get help when you need it as a VIP user
Customised reports so to help you analyse sales and use insights to determine what products your customers are buying
Loyalty programme functionality - offer loyalty points, vouchers, special discounts and more.
Cons:
Storage space is not unlimited, which could cause problems when it comes to scaling up
Limited to 3,000 product reviews on your website
The Business VIP plan, which provides access to the complete range of Wix Premium business features, is tailor-made for enterprising businesses who need everything the platform offers. You'll get everything from the Business Unlimited package and more. One of the standout features is priority support, which means any issue can be swiftly resolved, allowing you to get back to business as usual without delay.
---
Wix - free plan and free trial
Wix offers a free plan for those that don't want a paid subscription.
Unlike many other platforms, Wix doesn't require any banking information to sign up for a free plan, so there's no danger of being charged for anything.
However, the free plan is rather limited and won't give you the full experience of the Wix platform. You won't be able to make sales, access support or run analytics on your website. You'll also be stuck with Wix branding across your website, which could interfere with your own branding and authority.
Wix does offer a free 14-day trial which is a better option for testing the whole platform before committing to a paid subscription. However, although you'll have full access to your chosen plan's features, you still cannot accept payments on a free trial, which is disappointing.
---
Additional fees
Payment Gateways
Wix has its own payment gateway called Wix Payments.
Setting up Wix Payments is a breeze, and it offers the flexibility to accept debit and credit cards, iDeal, and Pay Now by Klarna.
But bear in mind, transactions processed through Wix Payments are subject to a fee of 2.1% + 20p. In the UK, the smallest charge amount is £1.
Wix does facilitate payments through other payment gateways, but these will come with their own processing fees, so you'll need to check out each provider.
Renewing your Wix domain name
Each year you'll have to renew your Wix domain name.
The cost will entirely hinge on your selected domain name extension, the duration you pick, your decision to add privacy protection and local tax or VAT regulations.
You can learn everything there is to know about domain name costs in this guide.
Wix add-ons and additional features
The Wix App Market boasts over 300 apps and business tools to augment your website's functionality. While some are free, others come with a price tag.
Apps available include popular choices like Quickbooks, Mailchimp, Google Ads, HubSpot and more. To explore the full spectrum, visit the Wix App Store.
---
Themes
Wix has a store of over 800 themes to choose from (or templates as they call them). All of these are free to use and can be edited to your own specification. However, while the themes are free to use, many merchants choose to enlist the help of an expert to help with the design aspects of the website. Wix has a marketplace full of Wix experts that you can search to find one for your needs. However these will come at an extra cost, and should be factored into your overall cost of using the platform.
---
Final Thoughts
When it comes to deciding which Wix plan is right for you, it ultimately comes down to your specific needs and budget. The platform offers a variety of plans, each with their own unique features and price points, so there's likely a plan that fits your requirements.
The free plan is a good starting point if you're just looking to experiment with website design or if you have a very limited budget. However, keep in mind that this plan comes with restrictions and limitations that may not provide the full experience of what Wix has to offer.
If you're planning on running an ecommerce store or a larger business, it might be more beneficial to consider one of the Business and eCommerce plans. These provide more advanced features and tools necessary for running a successful online store.
The add-ons and additional features available through the Wix App Market also offer valuable tools to enhance your website's functionality, but remember that these might come with additional costs.
In terms of overall cost, it's important to consider not just the monthly or annual subscription fee, but also any additional costs like domain name renewal, transaction fees, and the cost of hiring experts for specialised tasks.