Sourcing Products To Sell Online
Looking for the perfect product but not sure where to start? Our guide to sourcing new products will help you.
So, you've decided you want to become an online entrepreneur and make money with your own online store.
You know it's possible, you've seen plenty of success stories, and you even know some people who have made a small fortune selling online!
But one of the biggest challenges at the start is finding the right products to sell. Whether you have an idea in mind or not, discovering a niche that has enough profit without too much competition is key to hitting the ground running and realising those dreams!
The problem is, with so many options and avenues to explore, it can be overwhelming knowing where to start looking to find in-demand products to sell.
But fear not, in this blog post, we'll share some tips and strategies for finding the best products for your ecommerce store. We'll also take a look at some of the integrations available on ShopWired that let you easily choose popular products to sell directly on your store with ease!
Table of contents
---
It all starts with a plan
If you want to achieve ecommerce greatness, you'll need to have a plan! As the old saying goes, failing to prepare means preparing to fail. But don't worry, with a solid plan in place, you can hit the ground running and find the perfect products for your online business.
So let's get started with these four simple steps to help you source the best products for your ecommerce store.
---
1. Research
Research is key if you want to find the best products to sell in your online store. By putting in the time and effort to conduct thorough research at this early stage, you stand a better chance of reaping the rewards later on.
Start by identifying your target market and understanding their needs and wants. Look for products that can solve a problem or fulfil a desire for your audience.
Tools like Google Trends, social media listening, and keyword research tools will help you identify popular products and potential gaps in the market. If there's a large amount of people online searching for the same product or solution to a problem, you could be the supply!
2. Know your audience
Once you've researched the markets and identified potential audiences, it's important to gain a better understanding of who your products will target and what types of people they are. Consider their age range, location, interests, and common pain-points. Ask yourself, who are they? What problems do they need solutions for? Why will my products provide the solution?
By answering these questions, you can identify the types of products that are most likely to appeal to your audience. For example, if your research has found you targeting gym-goers, you might consider selling a new range of personalised drinking bottles under your own brand.
3. Determine your unique selling point (USP)
Your unique selling point is what sets you apart from your competition. It's the reason why customers will choose to buy from you over others. Consider what unique features or benefits your products offer and how you can communicate them to your target audience.
For example, perhaps the personalised drinking bottle you offer is able to keep drinks cold for up to 24 hours while also being environmentally friendly and BPA-free. This unique combination of features can be communicated as your USP to attract customers who value both convenience and sustainability.
4. Create a product selection and sourcing strategy
Using the information you've gathered from your research, audience analysis and USP consideration, you'll need to create a product selection strategy. This strategy should outline which products you'll sell, how you'll source them and how you'll market them to your target audience to stand out above the competition.
This leads us nicely into the next section of this blog, so lets now explore some different ways of sourcing the perfect product once you've settled on a decision.
How to source the best products to sell online
The product sourcing game has changed considerably in recent years. Gone are the days where only pre-established businesses or those with lots of upfront capital can start a successful online business.
With the rise of the internet, and with ecommerce stores like ShopWired making it easier than ever, it's now possible to make money online without needing a huge startup budget to begin.
Here are some ways you can source products for your online business.
---
Source products from a wholesaler
One of the most common ways to source products is to find a wholesaler. This involves buying products in bulk at a discounted price and then selling them at a markup. Bear in mind, finding a wholesaler is one of the more time-consuming options when it comes to sourcing products. But these days, wholesalers are often more accessible and can be found online, through trade shows or directories, and can offer a wide range of products at competitive prices.
Here are some ways you can locate the perfect wholesaler to partner with for your business venture.
1. Use online directories
There are many online directories that list wholesalers, such as Alibaba, SaleHoo and Worldwide Brands. These directories allow you to search for wholesalers by product or industry and often provide details such as minimum order quantities and pricing.
Alibaba in particular has a huge range of products available to choose from with some really low prices. From clothing, beauty and jewellery, to technology, garden furniture and toys. Alibaba has plenty to choose from.

2. Attend trade shows
Attending trade shows is a great way to meet wholesalers and see their products in person. Trade shows are usually industry-specific, so look for shows that relate to the products you want to sell and get networking when you're there!
3. Contact manufacturers directly
If you have a specific product in mind, try contacting the manufacturer directly to see if they offer wholesale pricing or would be willing to enter a new partnership with you. Questions you might ask include:
What is the minimum/maximum number of items they can supply per month?
How much discount are they willing to provide for buying in bulk?
Can they offer a private-label product that becomes yours to sell exclusively?
What fees are involved for their services, including shipping and handling?
Delivery timeframes.
Do they have sufficient product liability insurance?
Does the wholesaler ship to your country?
Use this exchange as a chance to get yourself the best deal. Don't be afraid to negotiate and always make sure you inspect some samples before you commit to a full wholesale order. Anything you agree to now might be difficult to change further down the road.
Remember though, buying in bulk from a wholesaler may not be feasible for you if you a.) don't quite have the budget for bulk amounts of stock, and b.) don't have the storage facilities to hold the stock. For those reasons, you might want to keep reading this blog for other ways to source products without these issues.
---
Create your own products
If you have the resources and skills, creating your own products could be one of the most cost-effective and hassle-free ways to start selling products online.
The idea of seeing your proud creations turn into well-earned cash could be the motivator that kick-starts something special. Again, if this is the route you take, you'll need to do some planning and market research to ensure you're selling your products at a fair price for the work you've put into them whilst remaining competitive in the marketplace.
The sky's the limit when it comes to making your own products. From simple creations such as scented candles or soap bars that anyone can make at home to more complex products such as innovative gadgets, tech inventions and 3D-printed products. The possibilities are endless.
Many crafters and creators sell their own products on Etsy, which integrates seamlessly with ShopWired to allow you to easily sell and market your custom products from your ShopWired online store.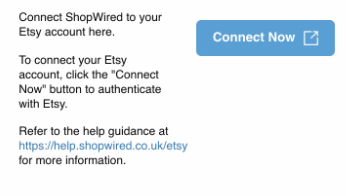 If you choose to make your own products, you'll need to do some research and identify what consumers want. Finding that perfect product can be a game-changer for your business. It could be the latest solution to a common problem, the next trending item or a unique niche product that hasn't been widely produced yet. Keep an eye on market trends and consumer demands to stay ahead of the game and create products that people will be eager to buy.
---
Go directly to a manufacturer
Perhaps you already have the ideal product in mind but you're struggling to find it. That could be because:
The product is too expensive to buy from a wholesaler or isn't available.
No one is currently making the product because it's your own original idea.
A similar product exists but you want to enhance it with your USP.
You cannot find a supplier who aligns with your goals and ethical standards.
Whatever the reason, going directly to a manufacturer can be a great solution. By using a reliable manufacturer, you'll benefit from their expert knowledge and capacity to mass-produce items. You'll have more control over the production process and can ensure that the final product meets your specific requirements.
However, there can be a few pros and cons to this approach. Let's take a look:
Pros
Lower cost per unit since you are cutting out middlemen
More control over the design and production process
Opportunity to build a strong relationship with the manufacturer for future business
Potential for exclusivity and unique product offerings
Cons
Higher upfront costs, including tooling, moulds and resources.
Lower priced items tend to come from overseas, particularly
Potentially longer lead times for production.
More risk since you are responsible for the entire production process
Language and cultural barriers if working with overseas manufacturers
It's important to do your research before choosing a manufacturer to work with. Weigh up the pros and cons before deciding who to go with and make sure you're happy with all arrangements. Be sure to thoroughly vet and verify the manufacturer's credentials, production capabilities and quality control processes to ensure a successful partnership.
Here are some resources to help you find a manufacturer who might just be able to supply your dream product:
Alibaba.com- A leading platform for global wholesale trade, offering products from manufacturers and suppliers in China.
ThomasNet.com- A directory of manufacturers and suppliers in North America with detailed information on products and services.
UKMFGUnited.co.uk- An online platform that connects businesses with UK-based manufacturers to help boost the country's manufacturing industry.
Sourcify.com- A platform that helps entrepreneurs find and manage overseas manufacturers for their products.
It's important to do your research and due diligence before choosing a manufacturer to work with. Look for reputable manufacturers with experience producing products similar to yours, and consider factors such as cost, lead times, and communication before making a decision.
---
Dropshipping
Dropshipping has become a popular business model for many entrepreneurs in recent years. Even if you don't know about it, you've probably heard people mention it.
But how does dropshipping work?
Dropshipping is a retail fulfilment method where a store doesn't keep the products it sells in stock. Instead, when a store sells a product, it purchases the item from a third party and has it shipped directly to the customer. For example, an online store might sell a t-shirt without actually keeping it in stock - when a customer places an order, the store purchases the shirt from a supplier who then ships it directly to the customer.
Sounds good, right? Here are some of the benefits of choosing a dropshipping strategy for sourcing products.
Dropshipping Benefits
You don't need to buy large amounts of upfront stock and store it
Unlike purchasing from a wholesaler or having an agreement with a manufacturer, you won't have to purchase or handle large volumes of stock upfront. In fact, the best part about dropshipping is that you never have to touch the product, it gets produced, packaged and shipped for you, and only once an order is made!
The made-to-order nature of dropshipping means you can trial new products and tweak your designs knowing that you don't have to worry about stock and costs.
Low startup costs
Because dropshipping products are made-to-order, you won't need upfront costs to get the ball rolling. Your only real costs would be a monthly fee to an ecommerce store and a percentage of the sale each time an order is fulfilled. This makes dropshipping a valid option for budding entrepreneurs on a tight budget.
With less money spent on large amounts of upfront stock, you'll have more to spend on marketing and building your brand!
Plenty of products to choose from
Most dropshipping suppliers have a wide variety of products to choose from, giving you plenty to experiment with to test what's popular amongst your target audience. Just take a look below at the array of products available from AliExpress, one of the top dropshipping suppliers.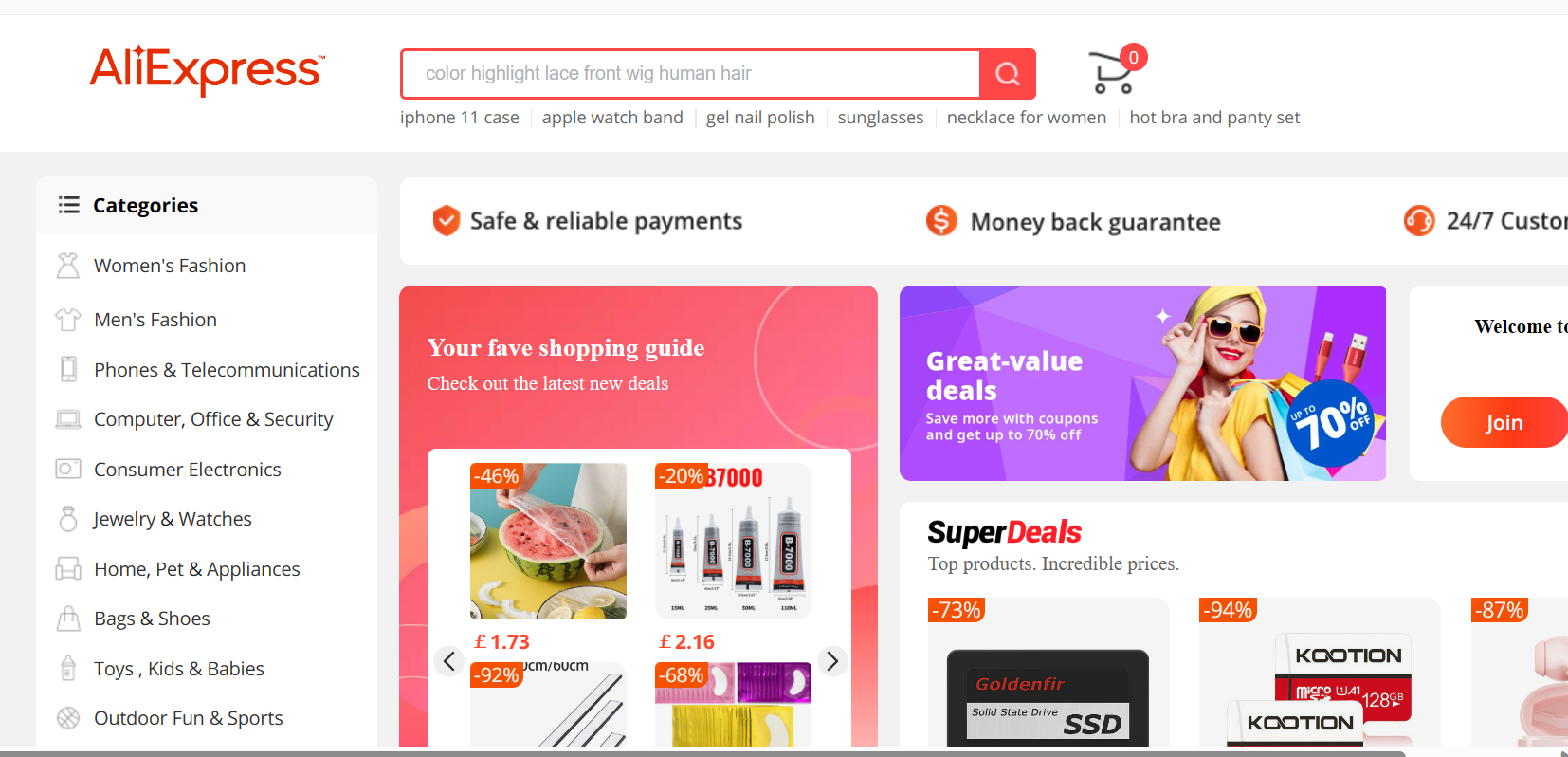 Because products on AliExpress are significantly cheaper than from western suppliers, there is great opportunity to sell them on for a healthy profit. And with so many products to choose from, there's no reason why you can't find the best products to sell online.
It's easy to get started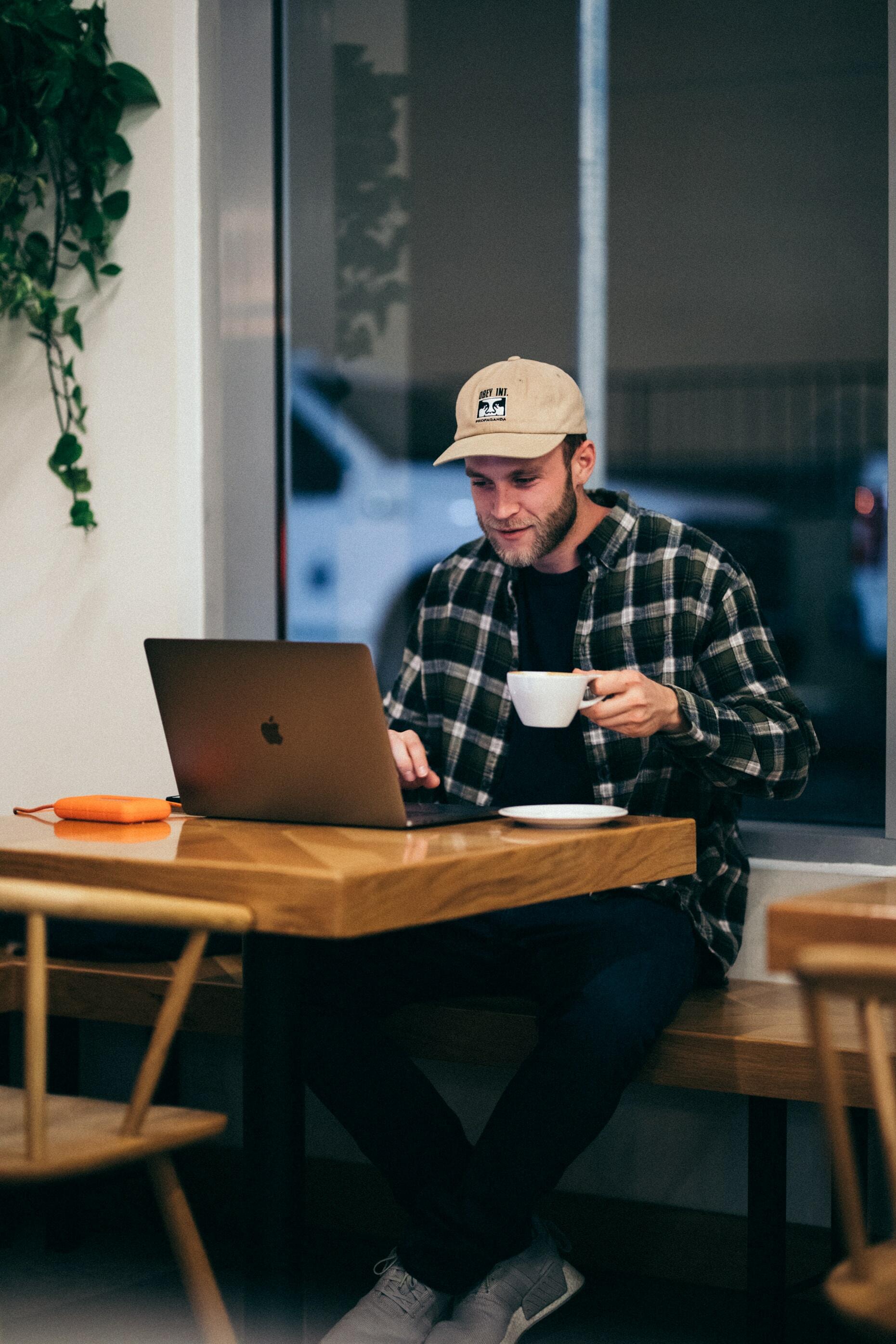 Simply sign up for a dropshipping service and start browsing their available items. All you'll need from there is an online store to market and sell them.
These days, there are plenty of dropshipping suppliers around, and many of them offer seamless integrations with ecommerce stores to let you operate and build your business from one central hub. Some dropshipping services like AliExpress let you create a storefront on their website, but using a dedicated ecommerce platform like ShopWired is a better option for building the perfect website.
With ShopWired, you can build the perfect looking store to showcase your products. You can also:
Add reviews, ratings and social media links to help boost the popularity and visibility of your products.
Collect analytics data to make data-driven decisions to drive your marketing efforts.
Manage your whole dropshipping from one centralised hub.
Access support from a five-star rated support team.
ShopWired lets you do it all, and it has some cool integrations with popular dropshipping services. Let's take a look!
---
DropWired- Dropshipping made easy

Forget shipping, forget holding stock, forget packaging and forget warehouses. Find products on AliExpress with DropWired.
DropWired is a free app on ShopWired which allows you to dropship products from AliExpress.
How does DropWired work?
DropWired has two main functions:
1) You can easily import products from the AliExpress website into your ShopWired account
2) You can easily place orders on AliExpress when you receive orders for the imported products
To use DropWired, you'll need a ShopWired account and a DropWired account. This can be set up at www.dropwired.com.
Once complete, you'll be able to download the DropWired Chrome extension, an 'add-on' that let's you import products and fulfill orders. The extension only works on Chrome, so you'll need to use this browser for DropWired related activities.
Here are some of the benefits of using DropWired to start a profitable dropshipping business.
Find & customise products
Hand-pick your product photos, write your own product descriptions and titles and customise your products as much as you need.
Set your own pricing
Dropshipping lets you choose your own prices. Make sure to conduct research to work out the market price for the products you wish to sell. Products found on AliExpress tend to be considerably cheaper than what you can sell them for in Western markets.
For example, you may be able to fulfill dropship orders on a waterbottle that costs £2.99 for you to 'buy' which you can then sell on for £20 or more.
Automatic price updates
DropWired will automatically syncs any price updates on AliExpress with the listed products on your ShopWired store. This means you'll never lose out on potential profits.
You can find out more about DropWired and AliExpress here.
Automatic stock updates
DropWired automatically syncs stock levels for products with changes on the AliExpress site (including when products become unavailable). Automating this task can save you bags of time and avoids any mishaps from orders that cannot be fulfilled due to no stock.
Order status refresh
Whenever your order status changes in AliExpress, DropWired will refresh the order status for you.
Great pricing
DropWired starts with a free for life plan with unlimited orders per month, this is the most competitive pricing available for AliExpress dropshipping services!
Dropshipping with Dropwired really is straightforward. Once a customer places an order through your store, the supplier ships the products directly to the customer without you needing to do a single thing!
Although this method of sourcing products is relatively easy and cost-effective, dropshipping should not be seen as something that will make you rich overnight.
Much of your success will boil down to your marketing efforts, brand development, SEO, and the look and feel of your online store. Remember, the markets may be saturated with people attempting to sell similar products to you, but don't let this put you off, use it as inspiration!
Check our Beginner's Guide To DropWired for more guidance on getting the best out of dropshipping with ShopWired.
---
Print on demand services- Printful and Printify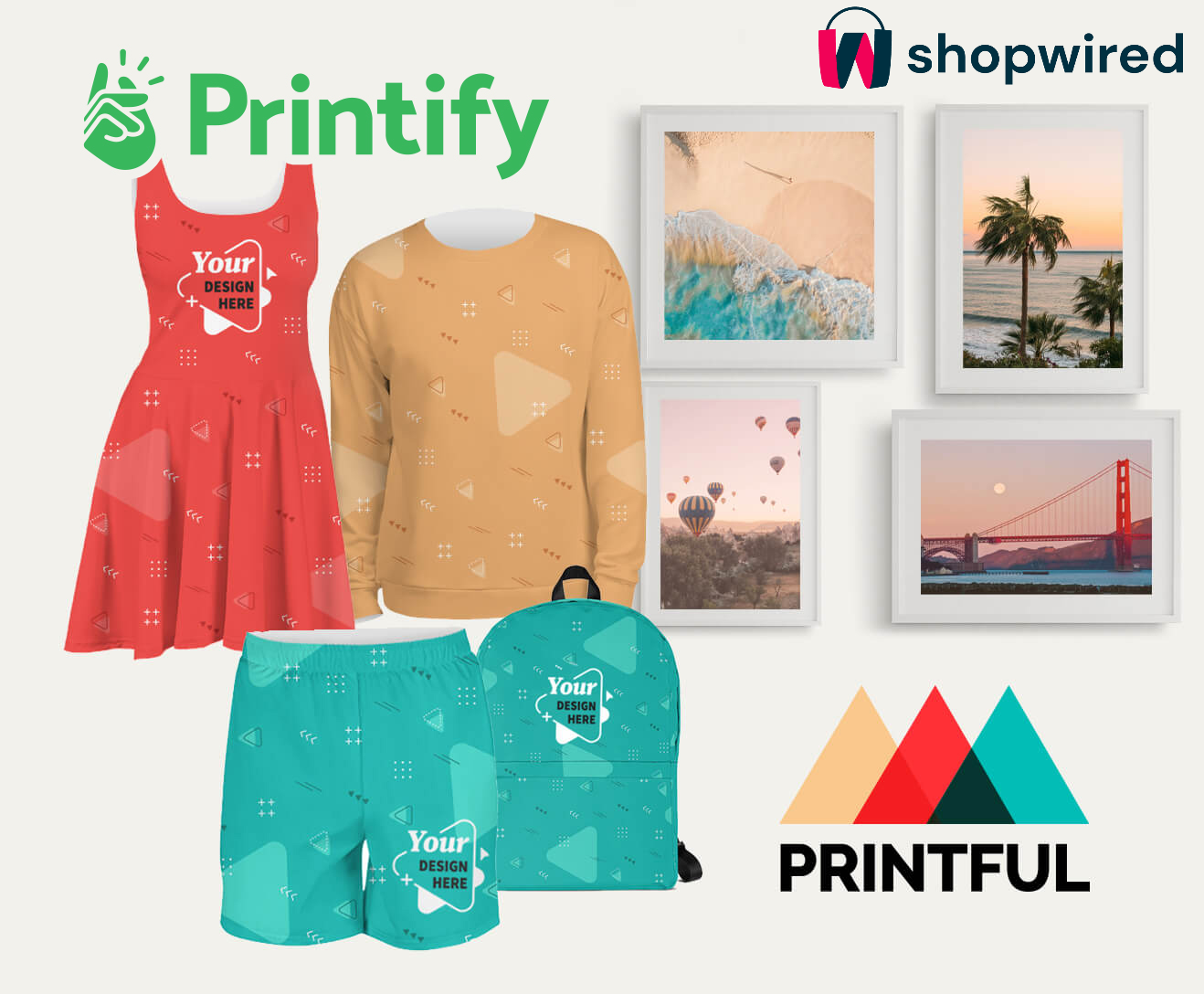 Print on demand, which is very similar to dropshipping, is another hugely popular method for sourcing products.
Print on demand and dropshipping are similar in that they both allow you to sell products without purchasing large quantities of stock upfront or holding onto excess stock. The main difference is that print on demand involves creating custom products, while dropshipping usually involves selling pre-existing products.
So how exactly does print on demand work?
With print on demand, your unique designs are printed onto "white label" products produced by a third-party supplier. This allows you to offer a wide range of products, from t-shirts and shoes to mugs and stickers. All you need to do is select a blank product, upload a design and add the final product to your ecommerce store. The possibilities are endless!
Two of the most popular print on demand providers in the UK are Printful and Printify. Both are available as free apps to download on ShopWired for a seamless experience.
Print on demand benefits
Many of the benefits of print on demand are shared with dropshipping, that is:
It's a low-cost and low-risk way to start your own online business.
It's a great way to build a brand without expensive startup costs.
It's a great way to offer a wide variety of products without the need to hold large inventories.
With just a few clicks, you can select products, upload designs and watch your custom creations come to life.
Choosing a print on demand supplier
When choosing a print on demand supplier, there are a few key things you'll want to consider, for example:
Do they stock the products you wish to sell?
Are the products high quality? (Be sure to check any available reviews from other people).
What are the average turnaround times?
What are the shipping costs? (Also consider overseas shipping).
How much does the product cost and what will you sell it for/what will your profit be?
What customisation options are available?
Both Printful and Printify offer a wide range of products to choose from with high-quality printing and an easy-to-navigate catalog.

ShopWired integrates with both Printful and Printify to give you full control of your print on demand business from within your ShopWired account.
Simply download and install the Printful or Printify app to connect your ShopWired store to start importing your custom products and automatically export orders to your print on demand supplier.
You can find out more about ShopWired's integrations with Printful and Printify here.
---
Crowdfunding
Crowdfunding has become a popular method for sourcing products to sell online.
Platforms like Kickstarter and Indiegogo let entrepreneurs showcase their unique product launch ideas to a wide audience and receive funding from backers who are interested in seeing their vision become a reality. These platforms not only provide funding, but also allow entrepreneurs to gauge interest levels and get valuable feedback from potential customers.
Successful crowdfunding campaigns can provide the necessary funding to bring a product to market and establish a loyal customer base from the outset, which is why it's a solid option if you are passionate about your idea and want to hit the ground running.
By generating buzz and excitement around your product before it's even available, you can build a community of supporters who are eagerly waiting to make a purchase once the product is released.
However, it's important to note that crowdfunding requires a significant amount of effort and planning. Creating a compelling campaign page, promoting the campaign across various channels and reaching out to backers can be time-consuming tasks. So a crowdfunding campaign may not be for you if you wish to start making profits right away.
If you do opt for a crowdfunding campaign, it's important to set realistic funding goals and timelines and to have a solid plan in place for manufacturing and shipping the product once the campaign ends.
---
Conclusion
Hopefully, this guide has given you some ideas for sourcing the best products for your online store. Ultimately, the route you choose for sourcing products will depend on your goals, your budget and the quality of products on offer.
No matter which option you choose, building your online store using ShopWired and taking advantage of its ecommerce features will give you the best chance of turning your new hustle into a money-making machine!
We wish you the best of luck :-)