Shopify Debutify Theme Review
Is the Debutify theme the right theme for you?
Shopify is one of the most popular e-commerce platforms in the world, offering users a wide range of themes to choose from to build the perfect online store. One of the most sought-after themes on the platform is Debutify, which has gained popularity for its user-friendly features and sleek design.
In this article, we'll take a closer look at Shopify's Debutify theme, highlighting its strengths, and common pain points before looking at some real user reviews to help you make an informed decision about whether it's the right choice for your online store.
We'll also do a brief comparison with ShopWired's Vivify theme, a solid alternative for merchants using ShopWired to power their online store.
So, without further ado, let's dive in!
---
What is Shopify's Debutify?
If you're an online store owner, you know the importance of having a visually appealing and user-friendly website. But building a website from scratch can be time-consuming, costly and require a lot of technical knowledge. That's where e-commerce themes come in. Essentially, they're pre-designed templates that simplify the process of building an online store.
Shopify offers a wide range of themes to choose from, but one that has caught the attention of many users is the Debutify theme. So, what makes Debutify so popular?
Shopify's Debutify theme simplifies the process of building an online store and comes with over 50 add-ons to help improve the user experience and, ultimately, increase conversions. Getting those vital conversions has often been the stumbling block for many online merchants; even with great products, the website needs to be well optimised and set up to convert.
Let's explore some of the advantages and disadvantages of Shopify's Debutify to see how far it can help the prospects of online store owners.
---
Debutify Advantages
Responsive Design
One of the main advantages of using Shopify's Debutify theme is its responsive design. This ensures that the layout and content of your online store seamlessly adapt to fit various screen sizes and devices, from desktops to smartphones. Such adaptability not only elevates the user experience for customers, but it also guarantees that your online store remains accessible and user-friendly to a diverse and ever-growing audience using different devices.
In an era where mobile shopping is on the rise, having a responsive design is no longer just an option; it's a necessity for successful ecommerce.
Layout Customisation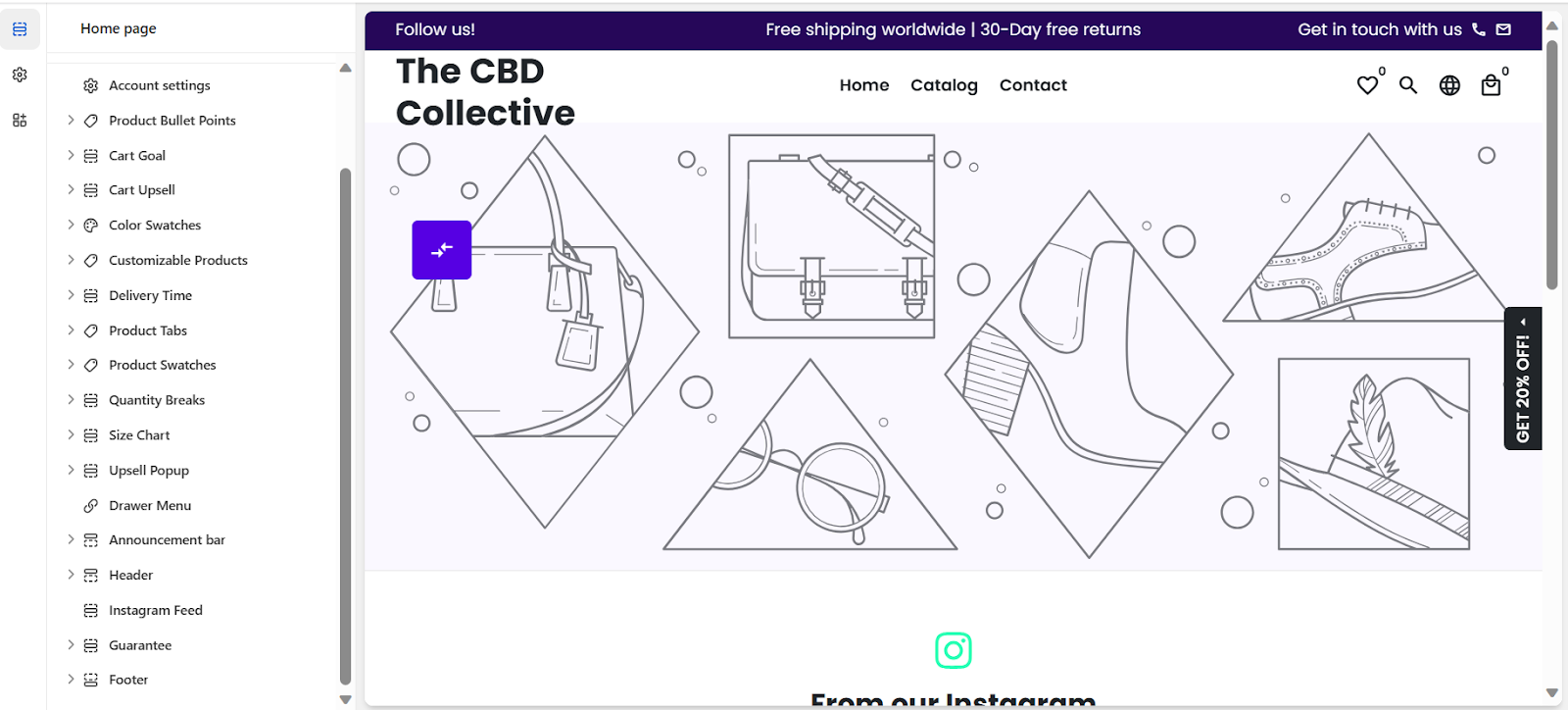 Although Shopify has plenty of themes to choose from, Debutify lets you make customisations within the theme to enhance the overall look and feel of your online store.
For most users, Debutify's native look will be good enough, but the option to make visual changes is a big plus for those who want to get their store looking exactly how they want. It;s worth remembering that without customisation, your store might bear a striking resemblance to others using the Debutify theme. Given its popularity, this could pose a challenge for brands aiming to establish a unique identity and stand out in the crowded ecommerce landscape.
There are a number of customisation options for Debutify, including:
General Theme Settings
You can change the colours, fonts and layout of your online store, upload your logo and add a favicon to appear in the browser tab.
Header Settings
The header of a website is akin to the storefront of a physical shop; it's the first thing visitors see and interact with. Positioned at the top and centre stage, it plays a pivotal role in guiding users around your website and showing them what you have to offer.
Debutify's header settings tab lets you make a host of changes to your website's header. You can change things like its size and position, you can add a search bar to let users search the website and more.
Additionally, Debutify allows you to enable a sticky header, ensuring that as users scroll down your page, the header remains visible and accessible. This feature enhances user navigation, allowing for quick access to key sections or returning to the homepage without the need to scroll back up. However, it's worth noting that while this feature can be invaluable for user experience, it comes as a paid add-on in Debutify, requiring an upgrade from the basic plan. It's a shame this feature is not included for free.
Homepage Settings
Debutify lets you customise the layout and content of your homepage, including the header image, featured collections, featured products and banner. This is great for organising your homepage and creating a layout set up for conversions. You can also set up a product slider to showcase your best products, allowing users to click-through to the main product page with ease if they like what they see.
Product Page Settings
You can also modify the product page layout, add product descriptions and images, choose how many products are displayed per page and enable product reviews.All of these features are great for optimising your product pages for conversions.
Again, though, if you want to take advantage of some of Debutify's premium product page settings, you'll need to download premium add-ons for each additional feature you want. It would be nice to see more of these available for free.
Collection Page Settings
You can customise the layout of your collection pages, choose how many products are displayed per page and add filters to let visitors easily search for products on your website.
Footer Settings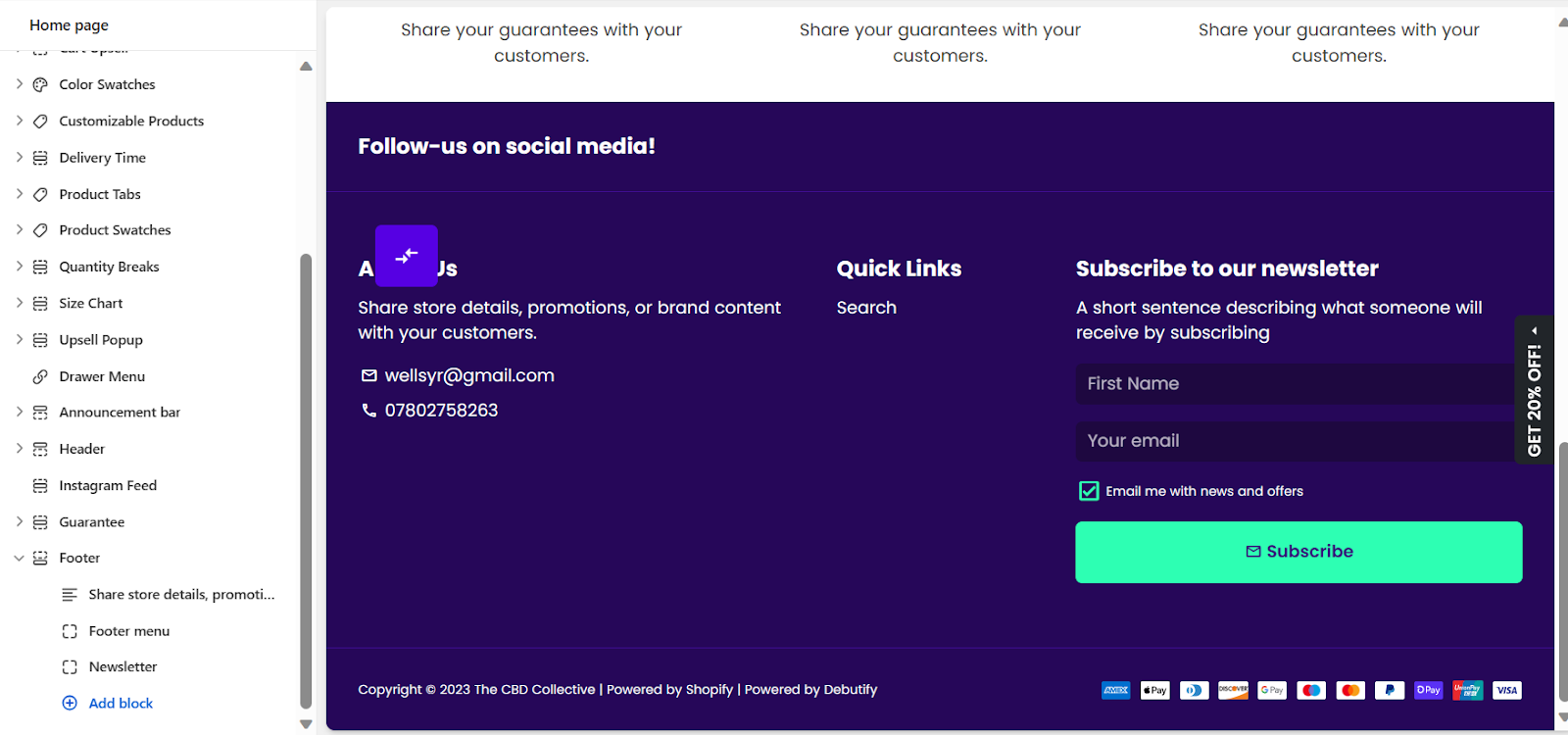 The footer settings lets you add links to your social media profiles, create a menu and even include a newsletter signup form.
All of these settings can be viewed in real-time to give you an idea of how your theme would render on both desktop and mobile.
Built-in Sales Popups and Countdown Timers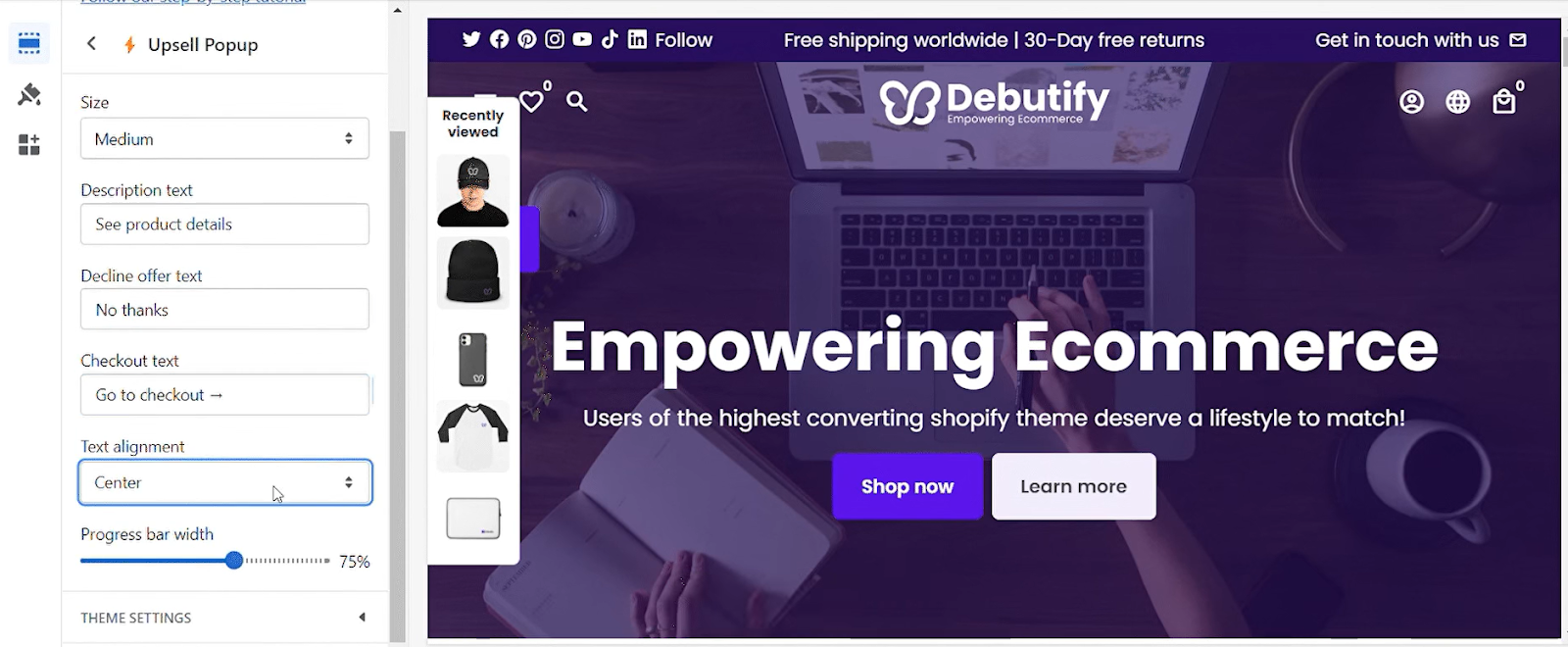 When it comes to increasing sales on your online store, creating a sense of urgency and scarcity can be highly effective. Shopify's Debutify theme comes with built-in sales popups and countdown timers that can help you achieve just that.
Sales popups are notifications that appear on your website when a customer completes a purchase or takes a certain action, such as adding a product to their cart. These notifications can include messages like "John from London just purchased this item" or "Only 3 left in stock." By showcasing recent purchases or limited stock, sales popups can create a sense of urgency and encourage customers to make a purchase.
In addition to sales popups, Debutify also includes countdown timers. These timers display a countdown clock on your website, showing customers how much time is left to take advantage of a sale or deal. Countdown timers are a great way to create a sense of urgency and encourage customers to act fast before missing out on a special offer.
The sales popups and countdown timers included in the Debutify theme are easy to use and highly customisable, allowing you to create an engaging shopping experience for your customers.
---
SEO
In the competitive world of e-commerce, having a well-optimised website for search engines is essential to drive traffic and boost your chances of increasing sales.
One of the key features of the Debutify theme is its clean code which helps search engines easily crawl and index your website without coding-issues that may plague other themes. Debutify also uses a mobile-first design, which is essential given that more and more customers are using mobile devices to shop online. This means your website will be optimised for mobile devices and shouldn't suffer significant page speed issues, which is an important factor for SEO.
In addition to these features, Debutify also includes SEO features like meta tags and alt tags. Meta tags are HTML elements that provide information about your website to search engines, whilst alt tags provide a description of an image for search engines. By using meta tags and alt tags effectively, you can help search engines understand the content of your website and improve its visibility in search engine results. However, in order to use these features, you'll need to download an app called 'Plug In SEO'.
Once the app is installed, you'll be able to perform technical SEO to optimise your website's pages for search engines. Whilst installing this feature is relatively straightforward, it would have been nice to see this feature built-in to the theme, rather than requiring an additional download and installation.
---
Debutify Add-Ons
As we said at the start of this post, Debutify comes with over 50 installable add-ons. These add-ons can help you customise your online store even further and improve its functionality in various ways. However, it's important to note that these add-ons are not free, and the amount you're able to install depends on your chosen price plan.
Debutify offers a tiered add-on system, with each pricing plan providing access to a certain set of add-ons. These add-ons are categorised into three groups: Free, Standard, and Premium.
The Growth Plan provides a selection of 9 add-ons, which includes 3 from the free category, and a mix of 6 standard and 3 premium add-ons. For those looking for more extensive features, the Pro plan unlocks up to 30 add-ons: the 3 free ones, 20 standard, and 10 premium. However, for larger brands aiming for rapid growth and scalability, you'll need to opt for the Enterprise plan to gain access to all 50+ add-ons. Whilst it's good to see this many add-ons available for Debutify, it's a shame that access to them is limited unless you're on one of the higher price plans.
Debutify's add-ons are designed to address a wide range of needs and challenges faced by online retailers. Some of the most popular add-ons include:
The social proof add-on can help increase customer trust and confidence by displaying real-time notifications of recent purchases or product reviews. This can help create a sense of urgency and encourage customers to make a purchase there and then.
The upsell and cross-sell add-on can help increase your average order value by suggesting related or complementary products to customers during the checkout process. This can help boost sales and revenue for your online store.
The email marketing add-on lets you create and send targeted email campaigns to your customers, promoting new products, deals or discounts. This can help you stay top-of-mind with your customers and drive more traffic to your online store.
The product filter add-on helps customers easily find the products they are looking for by allowing them to filter by various criteria, such as size, colour or price range. This can improve the user experience and make it more likely for customers to make a purchase.
With these and many other add-ons available, Debutify offers a great way for online retailers to customise their website and improve its functionality in various ways. By choosing the right add-ons for your specific needs, you can create the best shopping experience for your customers. Remember though, if your needs are likely to be extensive, you'll need to be one of Debutify's more expensive price plans.
So far, we've focused on Debutify's benefits. But for all that's good with Debutify, there can be some cons too. Let's take a look.
---
Debutify Cons
Limited features on the more affordable plans
One of the major downsides of Debutify is that the majority of its features are only available on the more expensive plans. For instance, to use more than nine built-in add-ons at the same time, you'll need to be on the Pro or Enterprise plan. This may be discouraging for some users since it means they have to spend more money to access all of the features.
Not the most budget-friendly option
Compared to some of its alternatives, Debutify is not the most budget-friendly option. The Pro and Enterprise plans cost £63 and £119/ month respectively, and if you're a larger business with more needs, this is quite a significant cost, especially when other ecommerce platforms like ShopWired offer all their themes for free.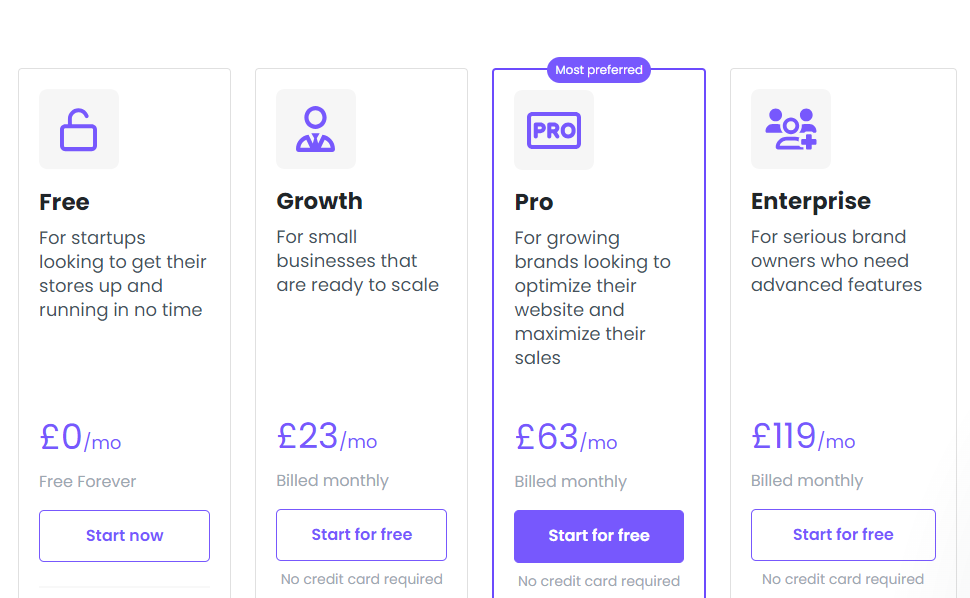 However, Debutify is still the most versatile Shopify theme for those willing to invest in a Pro or Enterprise plan.
Upgrading or downgrading plans can lead to losing features
If you decide to change your plan from a more expensive one to a more affordable one, you will lose access to most of the features you had previously. Also, when signing up, you are automatically enrolled in the most expensive plan, which comes with all the available features, and if you decide to switch to a more affordable plan, you will lose most of the features you previously had access to. This could cause major issues for online store owners, especially if they've integrated certain features into the core functionality of their site. Imagine setting up a series of premium add-ons that enhance the shopping experience for your customers, only to have them suddenly become unavailable due to a change in budget or business strategy. This not only disrupts the user experience but can also lead to potential loss of sales and customer trust.
---
Debutify User Reviews
User reviews of Debutify are generally positive, with many users praising the theme's ease of use, versatility, and range of features. One reviewer on the Shopify app store writes, "I've been using Debutify for a few months now and I'm very impressed. It's been very easy to use and has made customising my store much simpler. The built-in features are great and have definitely helped with conversions."
Another reviewer notes that they appreciate the mobile-first design of Debutify, saying, "I love how this theme is optimised for mobile. It's made a huge difference in how my store looks and performs on mobile devices."
However, there are some common complaints that users have about Debutify. One issue that comes up frequently is the pricing, with some users feeling that the more advanced features are too expensive. Another common complaint is that there are too many options and settings to navigate, making it overwhelming for some users.
Are there any alternatives to Debutify on other ecommerce platforms?
Debutify is one of the most popular ecommerce themes out there, and that's for good reason. But what about merchants using other ecommerce platforms, such as ShopWired?
ShopWired's own Vivify theme offers a great alternative to Shopify's Debutify.
---
ShopWired Version 5 Themes - Vivify
Vivify is the first of ShopWired's next generation Version 5 themes. These themes utilise a sections and block layout to give you complete drag-and-drop control over the customisation of your pages. Build the perfect looking store with minimal effort.
One major plus of ShopWired's themes is that you won't need to install countless add-ons or pay additional money to get improved functionality. With ShopWired's themes, what you see is what you get; top looks and functionality right out-of-the-box.
Unlike some platforms that nickel and dime you for every additional feature, ShopWired believes in providing comprehensive solutions from the get-go. The Vivify theme, for instance, is a testament to this commitment. Its intuitive drag-and-drop interface ensures that even those without any technical background can design a professional-looking store with ease.
Moreover, the sections and block layout offer unparalleled flexibility, allowing merchants to tailor their online store to their unique brand identity and customer needs. No more settling for generic designs or spending extra on features that should be standard. With ShopWired's Vivify, you're empowered to create a standout online store without hidden costs or complications.
Here are some of the benefits of using ShopWired's Vivify theme
Sleek and minimal design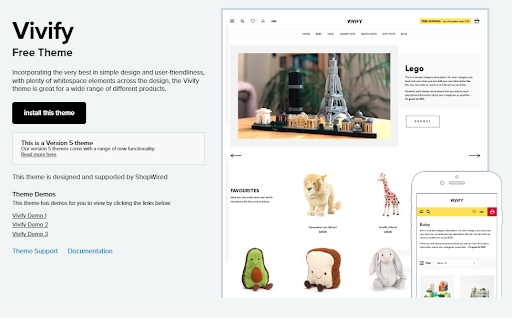 Vivify's design philosophy is rooted in simplicity and elegance. The theme's sleek and minimalistic approach ensures that your products remain the focal point, eliminating any unnecessary distractions. This design ethos not only enhances the aesthetic appeal of your online store but also ensures that your products and their details are presented in the most engaging manner. With Vivify, you can be confident that your digital merchandising will captivate and entice, leading to better user engagement and potentially higher sales.
Flexible design and customisation
In the ever-evolving world of ecommerce, having a theme that can adapt to your brand's unique identity is crucial. Vivify offers unparalleled flexibility in design and customisation. Whether you're looking to tweak the colour palette to match your brand's guidelines or rearrange elements to better suit your vision, Vivify has got you covered. Its intuitive interface allows for deep customisation, ensuring that your online store is a true reflection of your brand. No longer are you confined to rigid templates; with Vivify, your online store can evolve and grow as your brand does.
Favourites
Highlighting your best-selling or featured products is a tried and tested strategy to boost sales. With Vivify's 'Favourites' feature, you can effortlessly showcase these products right on the homepage. This not only gives your top products the visibility they deserve but also provides your visitors with a curated shopping experience. By presenting them with a selection of your best offerings right off the bat, you increase the chances of conversions. After all, there's a reason these products are favourites, and with Vivify, they get the spotlight they deserve.
No coding
With ShopWired's section and block theme customisation system, you can easily rearrange content by dragging and dropping elements wherever you want. Plus, you can preview changes in real-time and let your creativity flow without the need for coding skills or experience.
Free to use
Vivify is free to use for all ShopWired customers, meaning you won't lose out on functionality if you change package or subscribe to our cheaper subscription.
Here's what one of ShopWired's Vivify users have to say about ShopWired.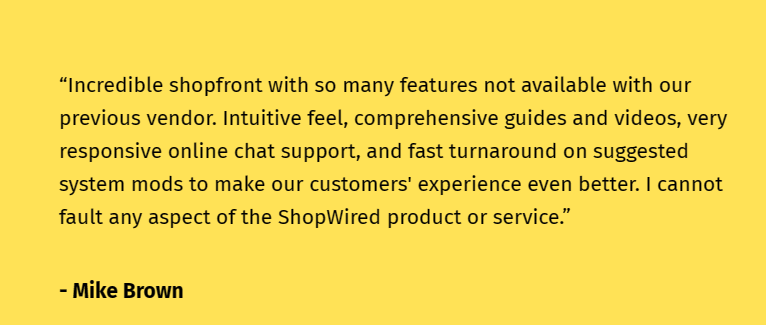 Why not give Vivify a try and unlock the power of ShopWired with a 14-day free trial.