WooCommerce vs Shopify (2023 Review)
Which ecommerce platform is better for UK businesses?
In this article we'll provide a like-for-like comparison of Shopify, WooCommerce, and ShopWired too.
Choosing the right ecommerce platform is critical. It's the foundation of your online business, impacting everything from the customer experience to your own experience when managing your store.
Two of the most well-known names in ecommerce are Shopify and WooCommerce. Shopify offers a straightforward, all-in-one solution, while WooCommerce provides flexibility as a WordPress plugin. Each has its strengths, catering to different business needs.
In this article, we'll dive into a detailed comparison of these platforms, looking at their features, pricing, ease of use and more to help you make an informed decision for your ecommerce venture. We'll also factor ShopWired into the equation too to see how it stacks up against these two platforms.
---
Why choose Shopify, WooCommerce or ShopWired?
When it comes to online selling, Shopify, WooCommerce and ShopWired are three of the leading ecommerce providers to help merchants build their dream store and start making money online.
Shopify is a globally recognised, all-in-one ecommerce platform. Known for its user-friendly setup, Shopify provides everything you need to launch and manage an online store. Unlimited product listings, robust security and a suite of marketing tools are just a few of the benefits you can expect from Shopify. Additionally, Shopify boasts a vast app ecosystem, allowing businesses to extend their store's functionality. Its cloud-based infrastructure ensures high uptime and the platform is scalable, accommodating businesses from small startups to established brands.
WooCommerce, on the other hand, is slightly different. It is an open-source plugin for websites using WordPress rather than a standalone ecommerce platform like Shopify or ShopWired. WooCommerce is a popular choice for those already familiar with WordPress, and offers a high level of customisability. It's a great fit for businesses that value flexibility and have specific requirements not typically met by other ecommerce platforms. Being open-source, WooCommerce provides the freedom to modify and customise every aspect of the store, making it a favourite for those with development skills. Plus, its integration with WordPress means businesses can seamlessly combine their blog or website with their online store.
ShopWired is the UK's top-rated ecommerce platform, offering an all-in-one solution that rivals Shopify. ShopWired lets merchants build the online store of their dreams. With dozens of built-in apps and integrations, 40+ payment gateways, responsive themes and plenty of SEO and marketing tools, ShopWired truly provides everything you need to build a successful ecommerce business in one tidy package. What sets ShopWired apart is its commitment to the UK market, understanding the unique needs and preferences of UK-based merchants. And if help is needed, ShopWired's 5-star support team is on hand to support you all the way.
Ultimately, the best choice of ecommerce platform will depend on your specific needs, technical capabilities and growth plans. In the next sections, we'll break down the key considerations when choosing between Shopify, WooCommerce and ShopWired.
---
Prices and Packages
Shopify
Shopify offers three primary plans: Basic Shopify, Shopify, and Advanced Shopify. Each plan comes with the essential features to build an online store, including Shopify's store builder, multichannel sales, Shopify's point of sale system and 24/7 live chat and email support.
The Basic Shopify plan costs £25 per month and includes all the essential features listed above, as well as unlimited products, 2 staff accounts and basic reports. The Shopify plan costs £65 per month and is a step up from the Basic plan. It includes 5 staff accounts and professional reports. The Advanced Shopify plan costs £344 per month and offers up to 15 staff accounts, up to 1000 inventory locations, advanced reports and even lower credit card rates and transaction fees.
Our article, How much does Shopify cost?, provides a more detailed review of Shopify costs.

Shopify Transaction Fees
Shopify's transaction fees depend on the chosen plan and whether you're using Shopify Payments or not. If you're using Shopify Payments, there are no transaction fees. If you're using an external payment gateway, the transaction fee is 2.0% +25p for the Basic Shopify plan, 1.7% +25p for the Shopify plan, and 1.5% + 25p for the Advanced Shopify plan.
WooCommerce
WooCommerce is a free plugin for WordPress, which means the basic software itself doesn't cost anything. However, running a WooCommerce store isn't free.
You'll need a domain name (around £12/year), a hosting plan (typically around £7.99/month) and an SSL certificate (typically around £69.99/year) to run your WooCommerce store. Additionally, while WooCommerce provides several free themes and extensions, some premium themes and extensions may come with an additional cost.
Our article, WooCommerce Pricing provides a detailed guide for UK business owners about the true cost of using WooCommerce.
WooCommerce Transaction Fees
WooCommerce doesn't charge transaction fees, but payment gateways such as PayPal and Stripe do. These fees are typically around 2.5-3% + 25p per transaction, but they can vary depending on the payment gateway and your location.
ShopWired

ShopWired offers three main plans. The basic Pro plan is £34.95 per month and includes all the essentials you need to build your online store, including customisable and responsive themes, a full content management system and plenty of marketing and SEO tools to help grow your brand's visibility. You can find a full list of the essential features available ShopWired plans here.
Next is the Advanced plan at £69.95 per month. This plan adds Advanced reports, Zapier, free trade accounts and unlimited products. The Advanced plan is for those looking to grow their business and increase their number of products.
Finally, the Premium plan at £129.95 per month adds third-party support, priority support and all ShopWired apps free of charge. Having all these apps included at no extra cost is often a dealbreaker, especially when you consider that Shopify's equivalent plan costs £344 per month and you still don't get free apps. And with many paid apps averaging around £50-£100 per month on Shopify, the costs can soon add up.
---
Platform Support
Shopify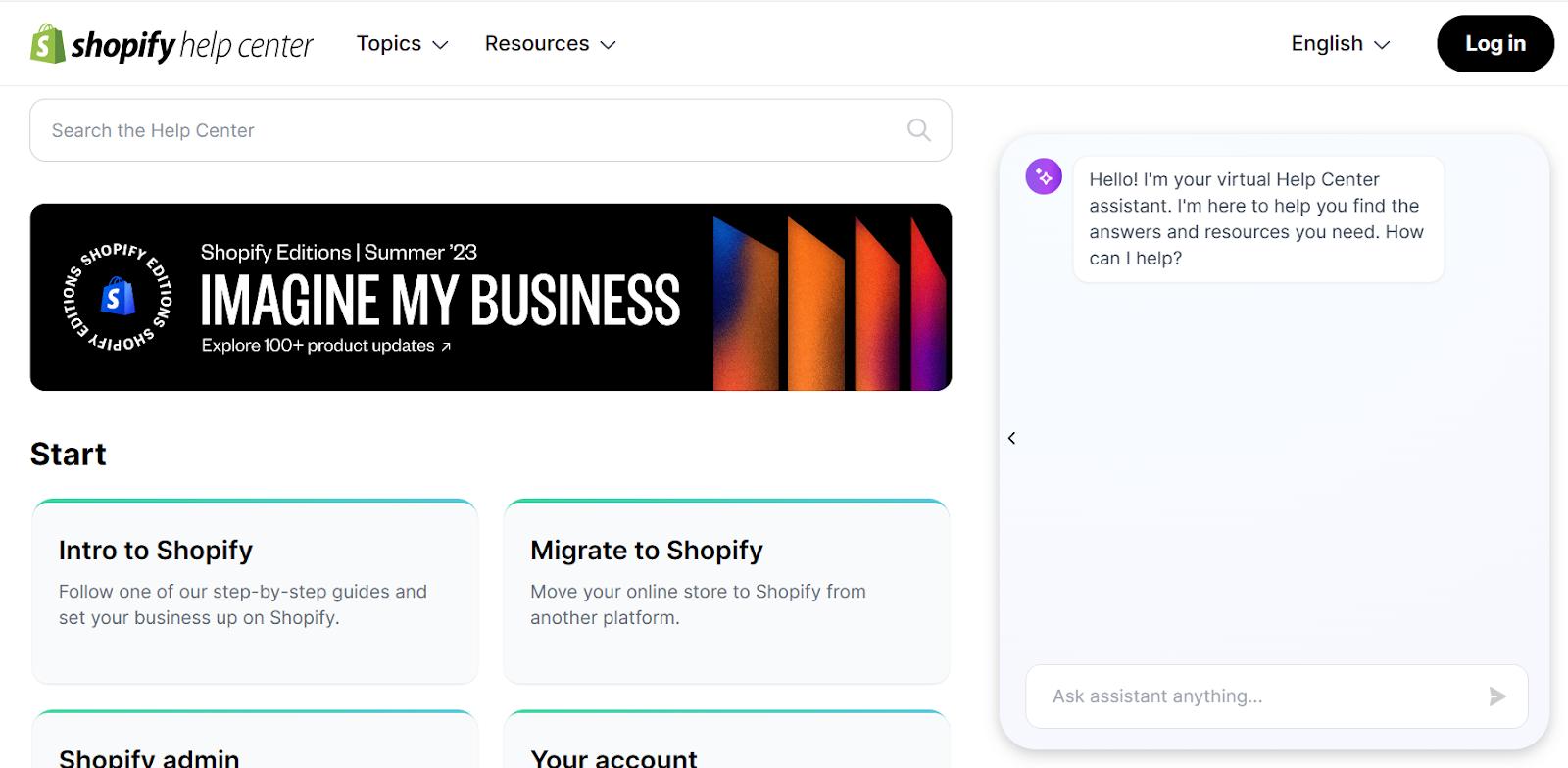 Navigating to Shopify's support services from within their administrative system might prove to be a bit of a challenge, requiring some investigative effort to discover how to secure direct assistance for your specific inquiry.
Once you do find the right method to reach out to Shopify's support team, you'll find they offer 24/7 live chat and email support. The Shopify forums also host an engaging community where you may find answers to some common questions.
However, it's worth noting that Shopify's live chat service often experiences high demand, so you may need some patience when seeking support.
After registering for Shopify's free trial, they'll send you several emails containing links to various sections of their help site, potentially answering any queries you might have. These emails might not offer the personal touch seen with ShopWired, but they still contain potentially helpful information.
WooCommerce
Similarly to Shopify, WooCommerce provides support in the form of live chat and email. They also have a Helpdesk containing answers to common questions. However, many online merchants have expressed difficulties in getting the more complex queries solved. For those queries, you'll have to enlist the help of a WooExpert. WooCommerce has a directory of these pros listed on their website with pricing ranging from £50-100 per hour.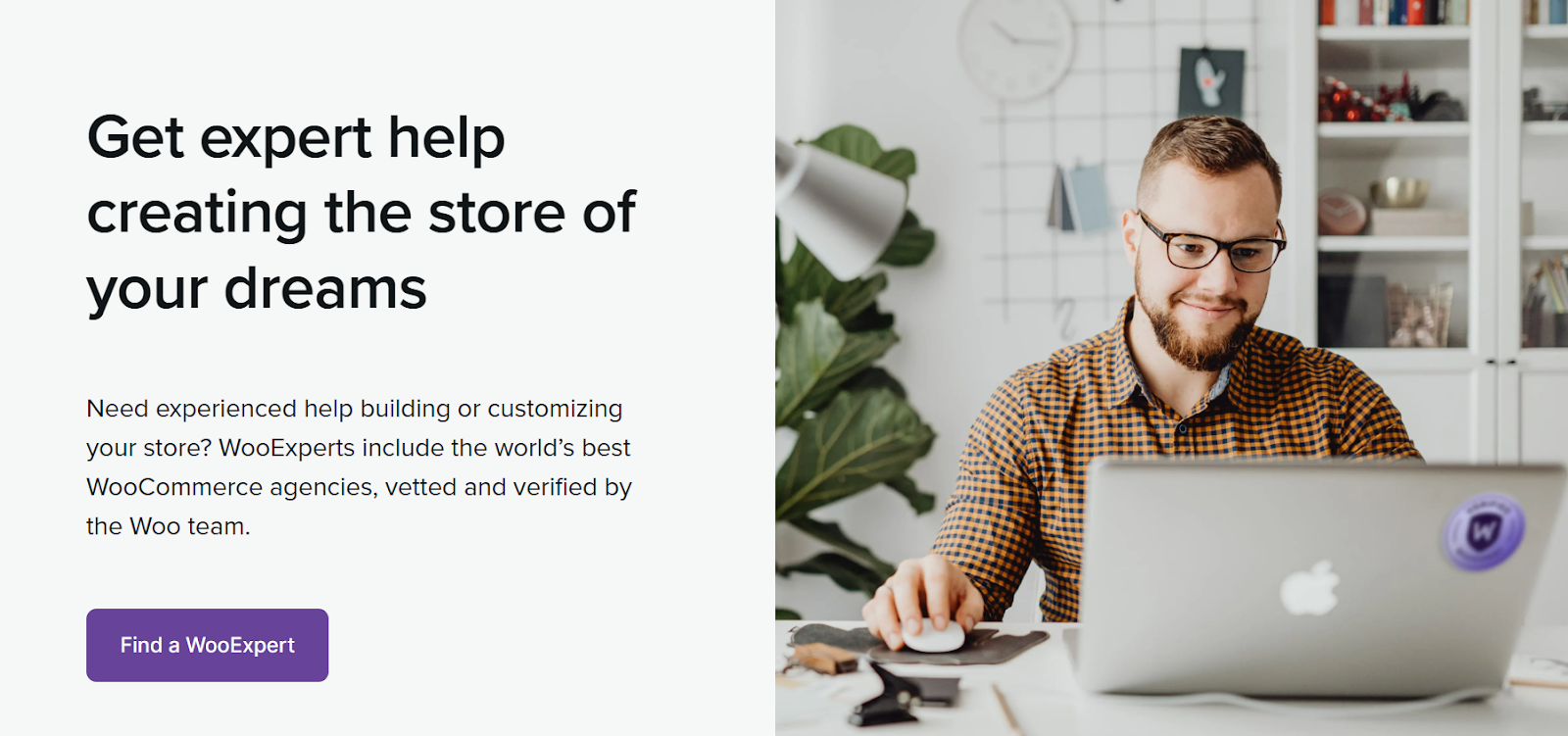 ShopWired
Stationed at our main headquarters in Birmingham, ShopWired's support team is ready to assist you via email, live chat or pre-arranged calls from 9AM to 11PM, from Monday through Friday. We also have provisions for emergency and crucial business support during weekends.
Beyond regular operating hours, you can still reach out via email by simply tapping the "Get Support" button situated in your account menu.
Once you opt for a ShopWired free trial, one of our friendly onboarding team members will offer ongoing support during your free trial period, regularly to monitor your progress and provide assistance for any hurdles you may come across. You're also encouraged to directly communicate any questions or issues to the onboarding team during your free trial.
In comparison to other ecommerce platforms, we're confident that ShopWired's support stands out, providing a tailored and personal service to each of our customers.
---
Platform reviews - which ecommerce platform has the best reviews?
Let's take a look at what score each platform gets on popular review websites TrustPilot and G2.com
Shopify
Shopify receives a 'Bad' TrustPilot score of 1.4/5 from 724 views, with 85% of all reviews coming in at 1-star.
On G2.com. Shopify does better with an overall score of 4.4/5 stars from 4,345 reviews.
We recommend taking a look through the reviews on each website to gauge some of the common points made about using Shopify.
WooCommerce
WooCommerce also receives a poor score on TrustPilot, with just 2.4/ 5 stars from 57 reviews.
Again, on G2.com, WooCommerce does much better with 4.4/ 5 stars from 1074 reviews.
ShopWired
ShopWired receives excellent scores on both TrustPilot and G2.com.
On TrustPilot, ShopWired clocks an impressive 4.8/ 5 stars from 466 reviews.
Whilst ShopWired's G2 score comes in at 4.9/ 5 stars from 91 reviews.
Clearly, ShopWired is the winner here, but don't take our word, be sure to check out the online reviews of each platform when decided which one to go for.
---
Ecommerce platform features
Both Shopify and Shopwired are all-in-one ecommerce solutions to provide everything you need to build a store.
Each platform lets you create and manage products, host your website, process orders, customise branding, enable shopping cart functionality, integrate payment gateways, establish delivery rates, select themes, and more.
However, it's worth pointing out that ShopWired offers many native functionalities and free apps, whereas Shopify's app store has more third-party apps that incur additional costs.
WooCommerce is slightly different from Shopify and ShopWired. As it's an open-source plugin, WooCommerce is more flexible and customiasble. It gives you the ability to fine-tune many aspects of your online store that would be more difficult to change on a closed platform. However, this means more technical knowledge may be required effort to set up and maintain.
While WooCommerce also allows you to create and manage products, process orders, customise branding and so on, it does so within the WordPress ecosystem. This means you'll need a WordPress website to use WooCommerce, and you'll be responsible for hosting, security and updates.
Additionally, WooCommerce doesn't have a native theme or app store like Shopify or ShopWired. Instead, it relies on WordPress themes and plugins, which can range from free to premium paid options. It also means there could be more compatibility issues and a greater need for technical support.
---
Additional Features
Shopify
As a large platform, Shopify's app store has thousands of apps that can bring additional functionality to your store. However, most of these apps have been built by a third-party, and users often report bugs and issues that affect their store. You'll also need to keep in mind that if you do run into an issue with a third party app, you will need to contact the app developers directly to fix it. Shopify won't assist you directly with fixing the app, but they will check in to make sure the app developer responds to you.
Shopify do also have their own apps, including the ability to upload 3D models of your products, fight fraud, connect to Google Merchant Center and generate QR codes to link to your products, just to name a few.
Additionally, if you're interested in dropshipping, Shopify has its Oberlo app which lets you source products from AliExpress. Check out Shopify's app store to see their full range of apps.
WooCommerce
WooCommerce, being an open-source WordPress plugin, allows for vast customizability with thousands of plugins and themes available. These extensions can add new features and functionalities to your store. However, similar to Shopify, most of these plugins are developed by third parties, so bugs and issues can arise. In such cases, you would need to reach out to the individual plugin developers for support, as WooCommerce won't directly assist with issues related to third-party plugins.
WooCommerce also offers some native extensions like WooCommerce Subscriptions and WooCommerce Bookings, which provide additional functionalities. It's worth noting that while WooCommerce doesn't have a dedicated dropshipping plugin like Shopify's Oberlo, there are several third-party plugins available that enable dropshipping functionality.
To explore the full extent of available plugins and themes, you can browse through the WordPress plugin and theme repositories, as well as the WooCommerce extension store.
ShopWired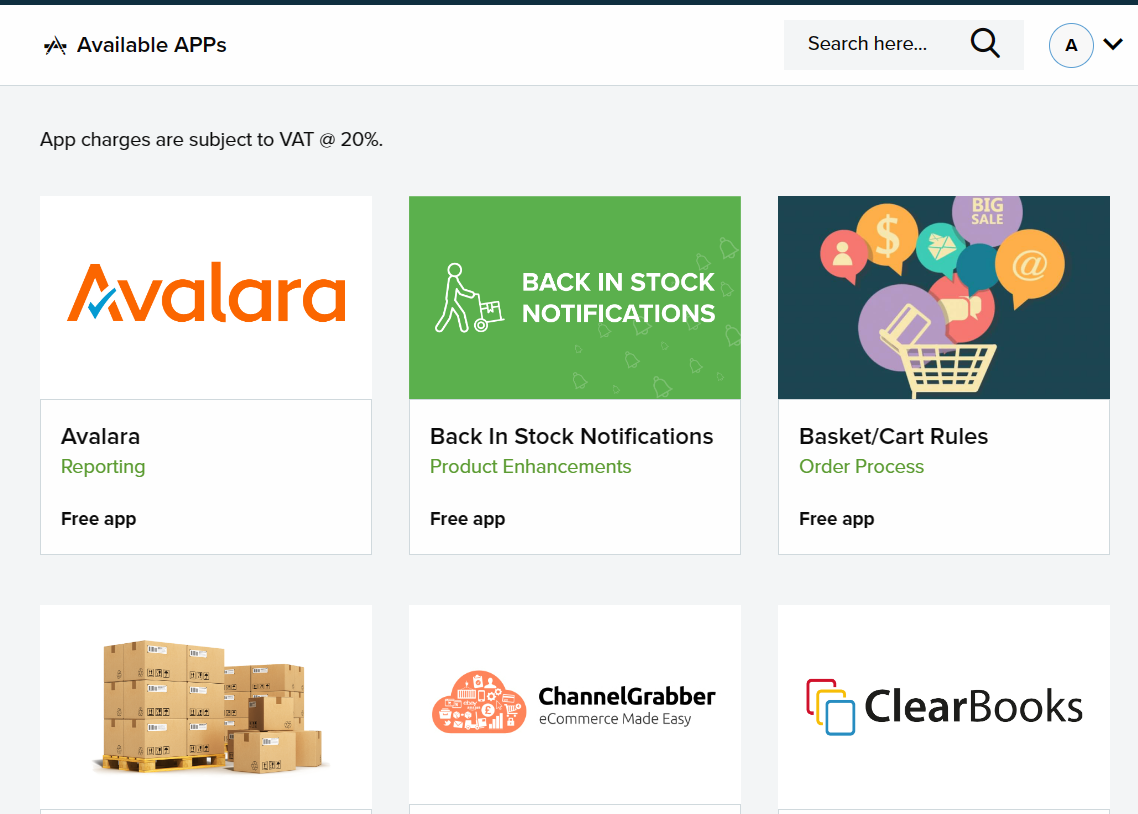 ShopWired continuously expands its suite of apps, all created by an internal development team to enhance the platform's core capabilities.
A majority of these apps are available free of charge, and the few that do come with a modest monthly fee can be accessed for free with more premium packages. Some standout features of ShopWired's apps include the ability to construct and manage customer quotes, launch a subscription service, promote and oversee pre-order products in your store and integrate with prominent marketplaces such as eBay and Etsy.
ShopWired also has its own dropshipping app, DropWired. This application enables you to source products and place orders directly via AliExpress.
Browse through ShopWired's apps and integrations page to discover additional apps on offer as well as upcoming app releases.
---
Trade and wholesale features
Shopify
To use trade features on Shopify, you'll either have to install and pay for several third-party apps or subscribe to the Shopify Plus plan, costing at least $2000 a month, which includes access to a wholesale sales channel.
WooCommerce
WooCommerce's approach to trade features is flexible, given its open-source nature and vast plugin ecosystem. To enable trade functionalities, you'll need to add specific plugins to your WooCommerce setup. Some of these plugins include Dynamic Pricing and Discounts, Wholesale Suite, and B2BKing amongst others. These plugins provide various features such as bulk discounts, wholesale pricing and the creation of separate environments for B2B transactions.
While some plugins are available for free, premium versions with more advanced features usually come at an additional cost. As such, the overall cost for trade features on WooCommerce can vary widely, depending on the specific plugins and features you choose to implement.
ShopWired
With ShopWired, trade functionalities are enabled via an app that delivers more capabilities than what's available from WooCommerce or Shopify's equivalent apps. The Trade Accounts app by ShopWired allows you to set up a distinct environment for your trade customers with different prices. If B2B transactions form a substantial part of your business, it's worth examining the Trade Accounts app during your free trial to explore its comprehensive set of features.
Following the end of your free trial, the app is available for £10/month on the Basic plan, but it's included for free with the higher-tier plans. This makes offering trade features significantly more cost-effective on ShopWired.
---
Ecommerce themes and website design
Which platform has the best themes? WooCommerce or Shopify?
Shopify
Shopify has 80+ themes for you to choose from, but only 10 are free. The rest range from $150 to $350, which means you may have to fork out more money to build your dream store.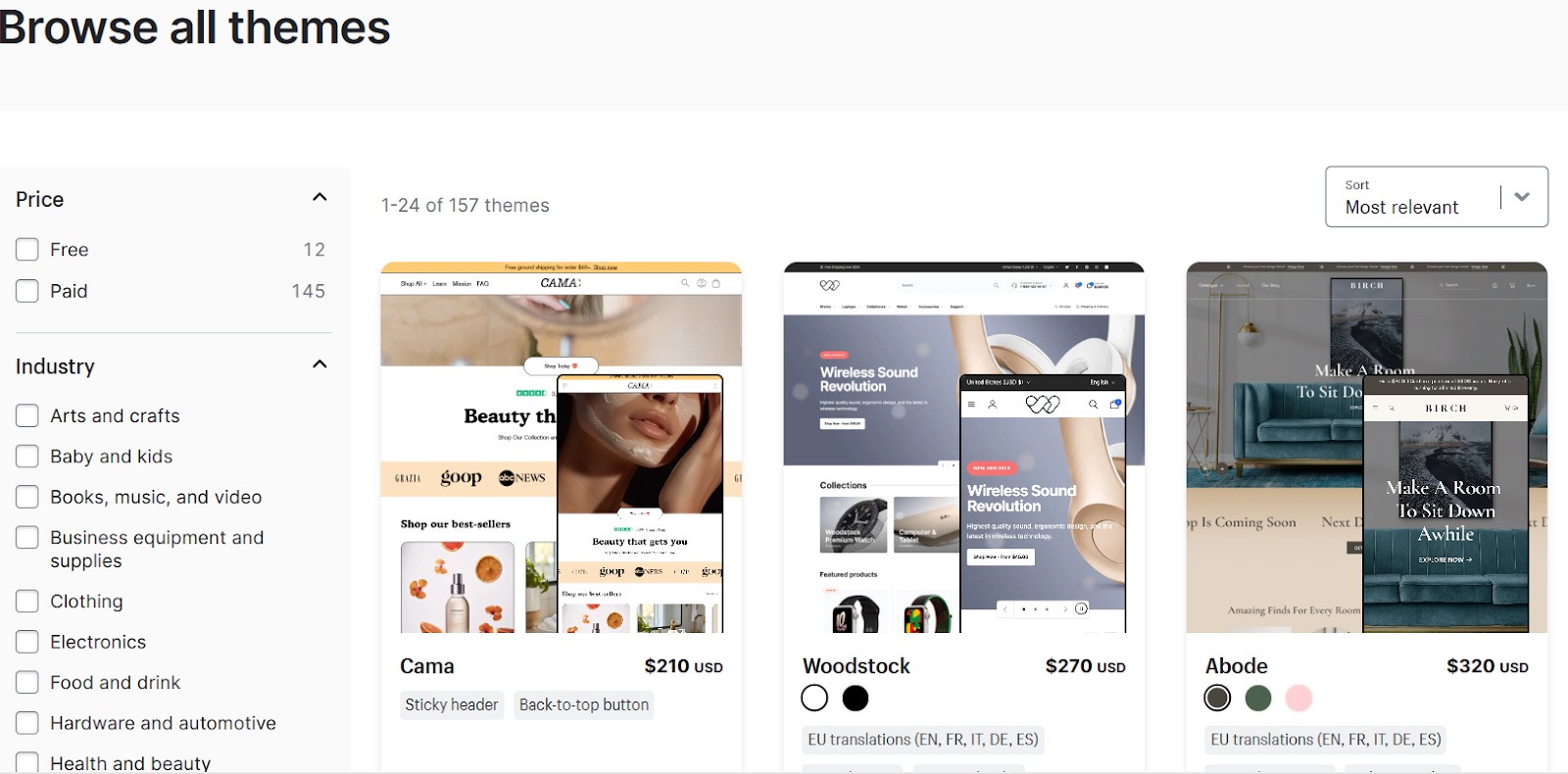 Shopify's theme customisation offers drag and drop editing with a live preview, making adjusting themes to suit your branding a breeze. Within your chosen theme you can customise everything from the colours to the font to the layout of each page.
WooCommerce
WooCommerce has its own theme store where you can download themes from the catalogue. In all, there are 69 WooCommerce themes to choose from, but only 3 of them are free, and not all of them are responsive, meaning they're not optimised for mobile.
ShopWired

ShopWired offers 20 fully functional ecommerce themes and all of them are provided free of charge. This is unlike both WooCommerce and Shopify where the best themes incur additional costs. Furthermore, all of ShopWired's themes are responsive, meaning they'll look and function just as well on mobile as they do desktop.
ShopWired also recently released the new Version 5 themes, adding a drag and drop editor that utilises sections and blocks to arrange the layout of your pages how you choose.
There are currently six Version 5 themes, with ten more coming in 2023.
---
Conclusion - Which is the best ecommerce platform: Shopify or WooCommerce? And how does ShopWired compare?
The choice between Shopify or WooCommerce will depend on your needs and preferences.
Do you want a user-friendly, all-in-one solution that lets you build an online store from the get-go? Choose Shopify.
Prefer an open-source plugin and have experience with WordPress? Maybe you'll get more from WooCommerce.
Overall, we'd recommend Shopify over WooCommerce. As a complete ecommerce solution, Shopify powers over a million stores across the world for good reason. It's easy to use, provides a good set of core features on the cheaper plan, and offers lots of third-party integrations to expand your store with further functionality. However, many of these apps come with their own monthly fees, as do many of Shopify's ecommerce themes.
So, what about ShopWired?
ShopWired bears many similarities to Shopify as an all-in-one ecommerce platform. But where ShopWired excels is that all themes are free to use, most features are available on the Basic package and most of our apps are built in-house, meaning our 5* support team can usually solve all problems in no time!
Here's a breakdown of some of the features and benefits that make ShopWired a viable alternative to WooCommerce and Shopify.
What makes ShopWired a good alternative to WooCommerce and Shopify?
One of the main reasons people choose ShopWired over other alternatives is that we are a UK-based platform, built and developed in the UK with and supported by a 5* rated support team.
Shopify and WooCommerce are bigger companies, doesn't this mean they're safer to use?
No. Bigger isn't always better. Whilst Shopify and WooCommerce may currently have a larger customer base, with millions of users on each platform, this can actually worsen the experience for users. Why? Well, although ShopWired is smaller, with around 10,000 users on the platform, we're able to value each and every customer that we have and provide more direct support. And because the majority of our apps and integrations are built by ShopWired, there's no problem we can't handle. This can't be said for Shopify's apps, which are mostly third-party and lack support from Shopify.
How does ShopWired's cost compare with WooCommerce and Shopify?
ShopWired's most basic package is £34.95 +VAT/ month, and although this is a bit more than Shopify's equivalent package at £25/ month, Shopify has many other hidden costs. In terms of WooCommerce, although it's free to use, as we've outlined in this article, the actual costs of using the platform will rise considerably once all other costs, such as hosting fees, other setup costs and extended functionality, are factored in.
Out of the three, we'd argue that ShopWired gives you the most bang for your buck, offering an all-in-one ecommerce store builder straight out-of-the-box.
ShopWired's themes are all free
That's right, every theme that ShopWired offers is completely free, including our new drag-and-drop Version 5 themes. Plus, all of our themes are responsive, meaning they'll look and function just as well on desktop or mobile. For those using Shopify or WooCommerce, you'll have to fork out extra if you want a more premium theme as not all of them are available for free.
Can I migrate to ShopWired if I already have a website with a different ecommerce platform?
Absolutely! Moving your online store to ShopWired is easy and can be completed within 7 days. If you'd prefer to make the transition yourself, we have an in-depth help guide to help you successfully migrate to ShopWired from another platform. Want us to handle it for you? No problem, purchase a ShopWired store setup package and a ShopWired migration expert will handle the entire process for you.
If you're based in the UK and want to try something a bit closer to home, why not give ShopWired a try? Get your 14-day free trial here.