A beginner's guide to DropWired - Part 3
Beginner's Guides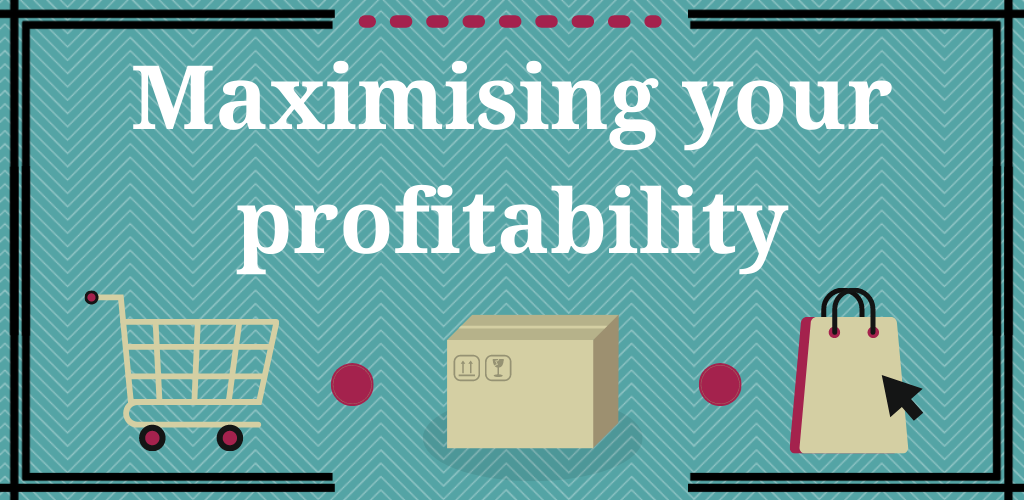 It's time for part 3 of our beginner's guide to DropWired series! In this post we'll discuss how you can use the ShopWired and DropWired platforms as well as some key online tools to help you maximise the profitability of your dropshipping store. Helping you come up with ways to get the most of your DropWired store is the goal and maximising your profits can be achieved in multiple ways.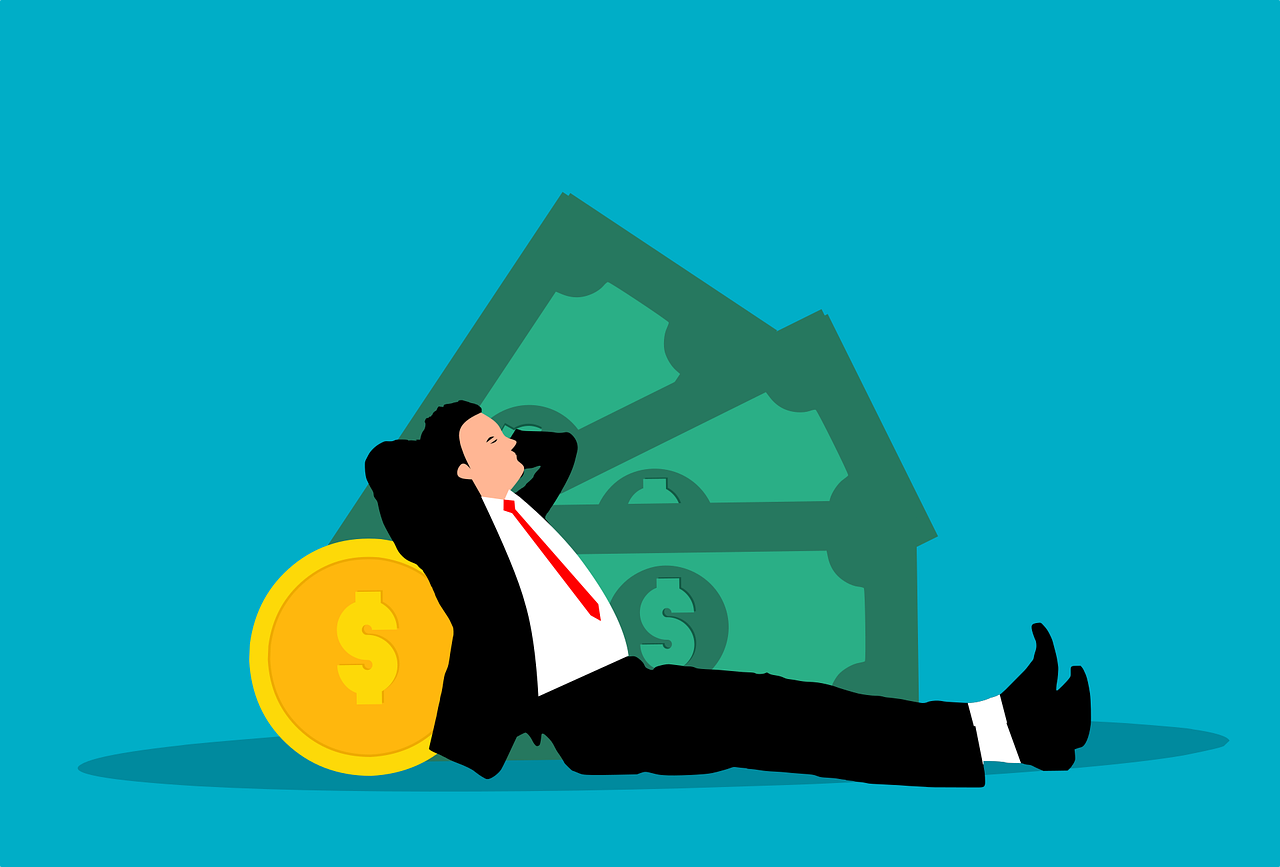 First, we'll discuss some strategies for pricing your products, then we'll walk you through how you can set up your DropWired settings to help with the running of your business and finally we'll show you how you can incentivise your customers to spend more by using key features of the ShopWired platform.
---
Pricing your products
Let's first discuss some strategies for how you're going to decide on pricing for the products you import to your store. Before we dive into it, the most important thing for you to remember when pricing your products is that you can always change your prices if you find your first pricing structure isn't working for you.
Pricing your products is anything but straightforward. You don't want to price your products so high that no one buys them, and alternatively you don't want to fall into the trap of pricing your products so low that you don't stand a chance of breaking even. It's a delicate balance, so here are some ideas to help you figure out where you stand.
---
Consider the REAL cost of each product
When pricing your products you should consider all of the costs that you have accumulated over the course of finally selling a product to a customer, and not just the price of the product itself.
Here's a breakdown of the additional costs that you might not have considered:
Shipping
While you might have found some products that ship for free, others might cost you a bit in shipping costs. We would recommend folding the price of any shipping you pay (within reason) into the price of the product itself. This way you can offer your customers free shipping which can incentivise them to want to complete their purchase. This practice won't always be viable, but free shipping always looks good to a customer.
Monthly costs
This will be the basic monthly prices of your ShopWired and DropWired accounts. Since these will be set costs every month
Any one-off costs
Did you have a bespoke theme made? Or did you pay someone to design a logo for your store? Have you purchased a tester product for each product you plan to sell? All of these one-off costs contributed to you putting that product into your customers hands and should be filtered through to your customers in the markup of your products.
Potential refunds/chargebacks
In part 1 of this beginner's guide we discussed how one of the drawbacks to dropshipping is the lack of control you have over the quality of the final product and of the shipping experience for your customers. In part 2 we offered tips and suggestions for how best to mitigate these issues when choosing dropshipping products and suppliers, but chances are you will still run into occasions where your customers aren't happy with the product you have sold them. You'll need to build into the cost of your products the potential for refunds that you might need to offer.
Marketing costs
Your marketing costs will be a huge chunk of your budget and figuring out how much of the profit of a product you should put back into your marketing efforts is really entirely up to you. But the higher you can manage to sell your prices for the more money you'll have to increase your marketing opportunities.
Once you've taken all of these things into account for how much your product actually cost you, you should also think about how much profit you need/hope to make for each product you sell. You can then use this information to determine a standard markup for your products. We find that a standard markup of between 2.5 - 3 works best for most products, but this will be dependent on the type of product.
---
Check out competitor's pricing
Once you have a general idea of a good markup for your products, you'll then want to find the range of prices that a product like yours is currently being sold for by your competitors. This will help you see if your standard markup is way off base for your product. In part 2 of this guide we showed you how to find out who your competition is. You should now use that data to gather pricing information for your products. While you don't need to do exactly what your competitors do it should certainly be a factor in deciding your own pricing. Using a service such as Skuuudle can help you quickly find and stay on top of your competitor's pricing.
Remember, however, that looking at your competitor's pricing won't tell you if people are actually purchasing the products at that price. Using a website like SimilarWeb is a great way to see how popular your competitor is. If they're receiving a lot of traffic to their website, then chances are they're doing something right with their pricing.
---
Utilise psychological pricing strategies
Utilising different pricing strategies can help your products seem more appealing to customers.
Charm pricing
Throughout your own shopping experiences you're likely to frequently have come into contact with charm pricing as it is a widely used practice that multiple studies have determined is effective in making pricing more appealing to customers. Charm pricing is the practice of pricing your products with an odd number at the end, usually '99' to make them appear cheaper. So basically, customers are much more likely to purchase a product with a price tag of '£99.99' compared to the round number '£100'. The DropWired app makes importing products from AliExpress with 'charm prices' really simple by enabling one setting, but we'll tell you more about that in a bit.
Artificial time constraints
Placing artificial time constraints on sales that you have created, by placing a countdown banner on your website, places a certain amount of pressure on customers as they'll want to rush to complete their purchase before they get stuck paying the more expensive prices. Additionally, you could also choose to import some products to specifically be 'limited time only' products. If you choose these products carefully, some of your customers will quickly make their purchases as they won't want to miss out on something that'll soon be gone forever. Placing limited products is much easier with dropshipping as you can easily just remove the product from your website once the allotted time is up, and you won't lose anything since you aren't physically carrying the stock for it.
---
Configuring your DropWired settings
The settings within your DropWired account can be configured in ways that help you maximise your profitability. We'll break those settings down for you now, and show you the best way to configure them to ensure you're doing what's best for your business.
---
The first setting in your DropWired settings has to do with if a product should automatically be an active product when you import it to your ShopWired website. This setting is entirely up to your discretion, but it will be easier if you set them to become active immediately as then you won't need to remember to do it later. However, if you want to do some more editing of the product once it is imported to ShopWired then you might want to have the product import as inactive.
---
Global pricing rules
Use the 'Global pricing rules' settings to easily help you integrate the pricing structure you've decided on. The choices you make here will determine what price the product is imported at from AliExpress to DropWired, so you can still manually change the price before you import it to ShopWired. You have the choice of using either a multiplier or a fixed pound markup for your imported prices. We would recommend using the multiplier pricing option with a value of between 2.5 and 3 as this is most likely to be the pricing structure that will work for the vast majority of your products.

If you want to utilise charm pricing, but think it'll be tedious to go through each product and change each price to end in '99', then enable the simple rounding feature and enter 99 in the box. When a product is imported the price will go through any markup you have set and will then be rounded up to 99 to seem more appealing to your customers.
---
Automatic updates
The DropWired app contains the functionality to be able to automatically update products based on stock and prices on the AliExpress website. These features are only available with a paid DropWired plan, but as they will make your dropshipping life so much easier we really think they're worth the extra cost. (Plus, in addition to these fantastic features you also get more product capacity so you can add even more products to your website.)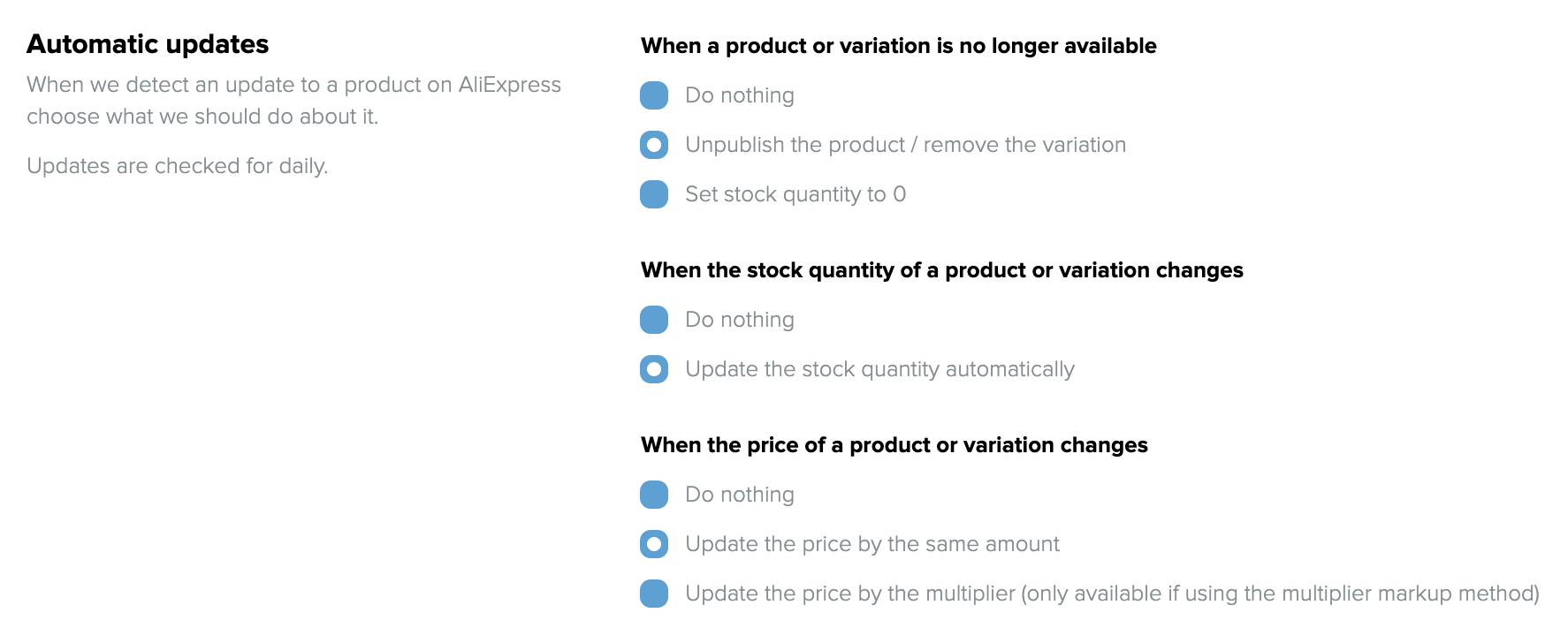 Automatic stock updates mean it's much less likely that you'll sell a product to a customer that is no longer available on AliExpress, and automatic price updates mean you won't miss out on profits due to sudden changes in price.
There are three settings for you to configure:
When a product or variation is no longer available:
When a product or variation is out of stock on AliExpress, you can choose if you want to unpublish the product/variation from your own website (so the product is no longer visible on your website), if you just want the stock quantity set to 0 (meaning that the product would still be visible, but customers wouldn't be able to purchase it) or if you want the system to do nothing. We would recommend that you either choose between unpublishing the product or setting the stock quantity to 0 as this mitigates one of the difficulties with dropshipping of selling products that are no longer available. If the product comes back into stock on AliExpress, just make sure you remember to manually go in and republish the product or set the stock quantity back to a positive number.
When the stock quantity of a product or variation changes
Using this setting you can sync stock with the product on AliExpress so you'll always know how much stock exists on AliExpress for your chosen product. Enable this setting by selecting 'Update the stock quantity automatically'.
When the price of a product or variation changes
Sellers on AliExpress have the prerogative to change the prices of their products at any time, and if they choose to raise the prices of their products you could be missing out on profit, or even worse you could be making a loss if you don't realise the prices have changed. Instead of having to frequently manually check the prices of all of your products enable automatic price updates to ensure you're not losing any money.
Decide if you want the price of the product or variation to update by the same amount as the change on AliExpress or by the multiplier (if you are using the multiplier pricing method).
---
AliExpress checkout settings
Use the AliExpress checkout settings to determine default settings that the DropWired app will use for each order you place on AliExpress.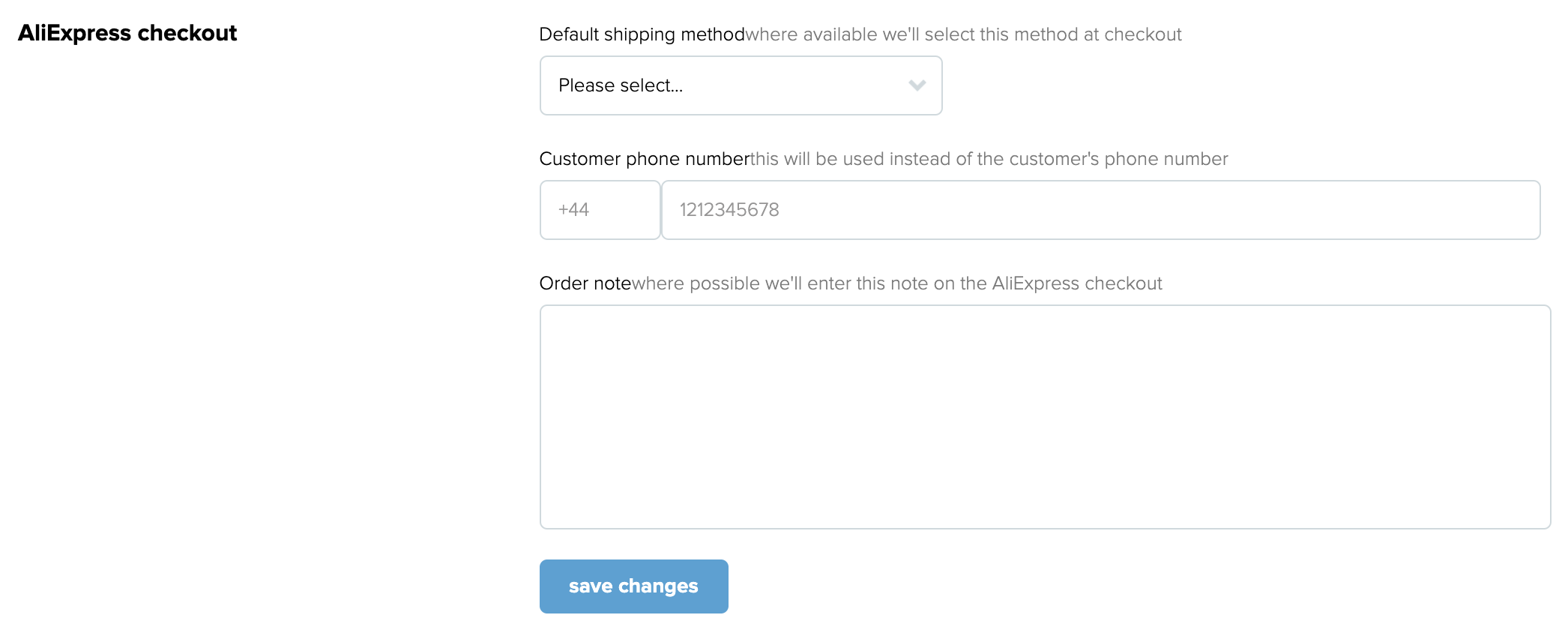 Choose your default shipping method which will be selected when you purchase a product from AliExpress if it's available for the order. Then for 'Customer phone number' enter your own phone number so that every order is populated with your phone number instead of the customers.
Lastly enter default content for the order note that will be sent to each supplier that you order from when you place an AliExpress order. You should use the order note to ask the supplier to not include their own invoice and marketing materials in the package when they ship your product. When suppliers place their own invoices in the package, your customers will then be able to see how much you paid for the product, and it just might anger them as it'll obviously be less than what they've paid to you. To avoid any unnecessarily angry customers enter a simple message like this in the order note:
"Hi! This is a dropshipping order. Please do not include an invoice or any marketing materials. Thank you!"
When you place your order for your test product include this message as a good test of whether or not the supplier will listen to your request. Going forward use suppliers you trust to listen to you to mitigate the chances of angering your customers.
---
Incentivise your customers with ShopWired resources
The ShopWired platform, which you're using to manage your website and orders, contains many options to help you incentivise your customers to spend more with you. Here are a few features you can use to sell more on your dropshipping website:
Create voucher codes
Voucher codes allow you to give discounts only to people who enter a specific code at checkout. You can create as many as you need to; just select 'Voucher Codes' in the 'Marketing' tab of your ShopWired account. Here's a few ideas of voucher codes you can create and use:
-Use voucher codes when you're first starting out to give people a special opening deal.
-Create individual voucher codes for use in your targeted advertisements or email marketing.
-In conjunction with the Abandoned Baskets app (which sends emails to customers who placed items in their basket but didn't quite manage to finish their purchase) offer a special code to customers who return to their basket and complete their purchase.
Hold a sale
Sales are super quick and easy to create (click 'Sales' in the 'Marketing' tab in your ShopWired account) and allow you to place a percentage discount on all of your products or a specific category, brand or product. Host a flash sale to encourage customers to make their purchases quickly.
Offer a rewards system
A great way to encourage your customers to spend more with you is to offer them a rewards system!
With ShopWired's 'Reward Points' app you can set a number of reward points to be earned with the purchase of each product which customers can then collect and use on future orders to receive money off their purchase. Your customers will want to spend more money in your store as they'll eventually see a reward for how much they've spent. Once you've installed the app you'll also be able to set up a referral rewards programme which allows customers to receive reward points for successfully referring a new customer to your store once they make a purchase, allowing you to gain more customers in the process.
---
Related articles
Read the rest of our Beginner's Guide to DropWired series:

Part 1 - What is DropWired?
Part 2 - Finding the right products
Part 4 - Gaining and keeping customers